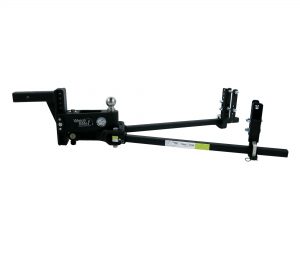 Trailer hitches that work harder, do you know your tongue weight?
New Weigh-Safe "True Tow" scale hitch for fine tuning adjustable tongue weight with weight-distributing-hitch built in and sway-control.
Read the review and to buy Weigh-Safe  hitches, click here….
Weigh Safe Hitch with scale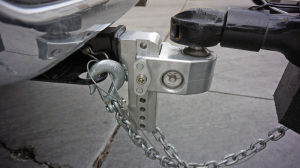 Look at that hitch, it's the best looking part of my truck and brings my trailer up a few notches. I love technology with a purpose. New technology in truck receiver hitches have come a long way from adjustable height aluminum stingers. I've found a remarkable hitch at SEMA, winning awards and drawing crowds in Vegas at the largest aftermarket trade show. This Weigh-Safe beautiful billet aluminum adjustable, locking receiver hitch has a built in trailer tongue scale.
On a bumper pull trailer, if you have too little tongue weight, the trailer can sway and be dangerous. Some trailer have their axles too close to the middle and are susceptible to sway anyway. If you have too much trailer tongue weight, your truck or SUV will squat excessively, aim your headlights to the stars and stress your trucks rear axle, brakes and suspension. You can also be too light front axle weight and wonder on the road like a station wagon from the sixties. We all need adjustable hitches to level out the trailer for better braking and handling, this Weigh-Safe hitch has it all and comes with both 2 in. (10,000 lb rated) and 2 5/16 in. (12,500 lb trailer rated) stainless steel balls. Order…
Watching the hitch dial (above picture) allows you to move your trailer cargo and check the dial to see when you've reached 10-15% depending on your tow vehicle recommendation. You could drag your trailer to a scale and weigh your rig a few times to get the tongue weight. Or know your trailers tongue weight each time you hook up any trailer. www.Weigh-Safe.com has a sharp looking hitch that is a piece of useful art! It comes in several drop heights and a 2 in. receiver shank or 2.5 in. shank both rated at 1500 lb tongue rating. A new way to be safer with your trailer and know why.  Order…
Beautiful billet aluminum adjustable hitch manufactured from a block of military grade (similar to the new Ford F150 skin) 6061T6 aluminum billet. This high quality aluminum will out last your trucks and look good doing it 10 years from now. No worry about rust or corrosion even what comes from magnesium chloride on the roads in snow states that replaced salt for snow and ice removal. Order…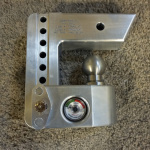 Do you know your trailers tongue weight? That might be a question a lawyer will ask you if you are involved in an accident. Commercial operators using pickup trucks towing trailers aren't the only ones that get sued in trailer accidents. Besides liability issues, an unsafe trailer can also limit your vehicles warranty if you are out of tongue weights limits specified in the owners manual. Weigh-Safe is a great tool to help you properly load your trailer to keep you and your family safe on the road. Weigh-Safe receiver hitch can also be reversed to store the ball inward towards your truck out of the way, picture above left.
As an automotive journalist, I test trucks with trailers. So tongue weight is important to properly evaluate trucks towing ability. With Weigh-Safe I know what weight I'm putting on the trucks rear axle. I can move trailer cargo to get my 10-15% tongue weight on bumper pull trailers. Whether I'm moving cinder blocks, horses, tractors or ATV's, I can now adjust my load for the best use of brakes, bearings and suspensions. This makes safer trailering. When loading heavy equipment or trucks on flatbed trailers, you can zero in on were to chain down the load for optimum tongue weight, you may only need to move the load inches.
With horse trailers, you know which stall to put the big horses, you can move saddles and tack to dressing room or rear tack room. On RV travel trailers, I know where in the trailer to store my boxes of fishing supplies.
With boat trailers, you can move gas tanks, ice coolers or might need to adjust the brackets holding the boat in place. Most boats have surge brakes controlled by how fast the tow vehicle slows down. Meaning your don't have a manual control for the boat trailer brakes. If your trailer isn't loaded right and sways, you won't be able to correct it with an in-cab brake controller.  Order…
Now you know your trailer is balanced, maximizing axle bearing capacity and axle brakes. Weigh-Safe hitch is height adjustable with a locking pin, this is important to level the trailer for better braking.
Weigh-Safe makes their own solid stainless steel ball that won't wear off like chrome or zinc coated balls. Weigh-Safe hitch has a one year warranty, made in Utah USA. It's all about safety and load management to prevent trailer sway or fishtailing.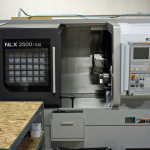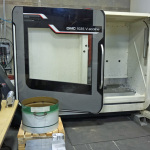 Lathe that makes the solid stainless steel balls, left picture.
CNC Milling Machine using military grade 6061T6 aluminum billet blocks (eg. 2015 Ford F150 body, Cimarron horse trailers,) picture right.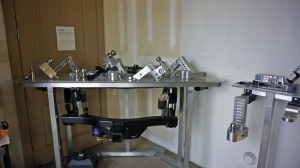 Different sizes of drop and shanks
For questions or to order: www.weigh-safe.com  phone 855-366-9988
Weigh-Safe receiver hitch video's: