New Weigh-Safe "True Tow" scale hitch for fine tuning adjustable tongue weight with weight-distributing-hitch built in and sway-control. Unique one of a kind hitch has it all in the Weigh-Safe aluminum adjustable receiver hitch tongue weight scale
MrTruck review
SEMA interview with Weigh-Safe engineer

Overview of True Tow

Install

Questions, here is explanation of how True Tow works, Click here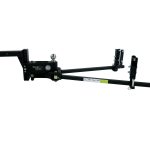 Buy Here, complete system.
Trailer tongue scale hitch, buy below
Do you know your trailers tongue weight? That might be a question a lawyer will ask you if you are involved in an accident. Commercial operators using pickup trucks towing trailers aren't the only ones that get sued in trailer accidents. Besides liability issues, an unsafe trailer can also limit your vehicles warranty if you are out of tongue weights limits specified in the owners manual. Weigh-Safe is a great tool to help you properly load your trailer to keep you and your family safe on the road.
On a bumper pull trailer, if you have too little tongue weight, the trailer can sway and be dangerous. Some trailer have their axles too close to the middle and are susceptible to sway anyway. If you have too much trailer tongue weight, your truck or SUV will squat excessively, aim your headlights to the stars and stress your trucks rear axle, brakes and suspension. You can also be too light front axle weight and wonder on the road like a station wagon from the sixties. We all need adjustable hitches to level out the trailer for better braking and handling, this Weigh-Safe hitch has it all and comes with both 2 in. (10,000 lb rated) and 2 5/16 in. (12,500 lb trailer rated) stainless steel balls.
1500 lb max tongue weight, 10-15% tongue weight of trailer loaded weight.  Read MrTruck's review and video's on Weigh-Safe, click…
---
ws4-2 with a 4 in drop and 5 in rise. 2 in receiver shank, complete hitch with two balls, 2 inch ball rated at 8,000 lb trailer, 2 5/16 in ball rated at 10,000 lb trailer
Order now $299… Free Shipping, comes with Free lock
---
ws4-2.5  with a 4 in drop and 5 in rise. 2- 1/2 in receiver shank, complete hitch with two balls, 2 inch ball rated at 8,000 lb trailer, 2 5/16 in ball rated at 12,500 lb trailer
Order now $319… Free Shipping, comes with Free lock
---
ws6-2 with a 6 in drop and 7 in rise. 2 in receiver shank, complete hitch with two balls, 2 inch ball rated at 8,000 lb trailer, 2 5/16 in ball rated at 10,000 lb trailer
Order now $319… Free Shipping, comes with Free lock
---
ws6-2.5 with a 6 in drop and 7 in rise. 2- 1/2 in receiver shank, complete hitch with two balls, 2 inch ball rated at 8,000 lb trailer, 2 5/16 in ball rated at 12,500 lb trailer
Order now $339… Free Shipping, comes with Free lock
---
ws8-2 with a 8 in drop and 9 in rise. 2 in receiver shank, complete hitch with two balls, 2 inch ball rated at 8,000 lb trailer, 2 5/16 in ball rated at 10,000 lb trailer
Order now $329… Free Shipping, comes with Free lock
---
ws8-2.5 with a 8 in drop and 9 in rise. 2- 1/2 in receiver shank, complete hitch with two balls, 2 inch ball rated at 8,000 lb trailer, 2 5/16 in ball rated at 12,500 lb trailer
Order now $349… Free Shipping, comes with Free lock
---
ws10-2 with a 10 in drop and 11 in rise. 2 in receiver shank, complete hitch with two balls, 2 inch ball rated at 8,000 lb trailer, 2 5/16 in ball rated at 10,000 lb trailer
Order now $349… Free Shipping, comes with Free lock
---
ws10-2.5 with a 10 in drop and 11 in rise. 2- 1/2 in receiver shank, complete hitch with two balls, 2 inch ball rated at 8,000 lb trailer, 2 5/16 in ball rated at 12,500 lb trailer
Order now $369… Free Shipping, comes with Free lock
---