How Many Trailer Tires Do You Have? www.TusonRVBrakes.com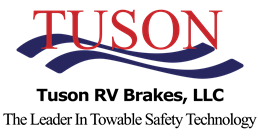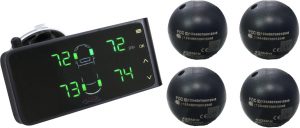 New technology just released, Space Balls or Tuson TPMS ball sensor for tire pressure and tire heat. No valve stems, just a ball that you slip inside your trailer tires and it transmits tire pressure and temperature to your cab monitor with the Tuson Trailer Tire Pressure Monitor. The balls start rolling at low speeds then go into orbit like Centramatic balancers do and stick to the tire as trailer speed increases. The ball sensors will start sending the temperature and air pressure readings to your truck quicker than normal valve stem sensors.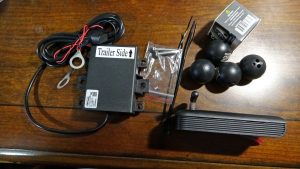 Simpler to install,  no need to measure your valve stem size. Long life batteries. Stop having blowouts, know how your trailer tires doing. Includes One (1) TPMS In Cab Receiver with 12 Volt DC Accessory Plug. One (1) RF Repeater and One (1) Power Pack with Power Cable. Features: Monitors Pressure & Temperature for Up to 10 Tires Per Vehicle Memory, Stores Up to 3 Vehicle Memories, Monitors Trailer Battery, Long Sensor Life.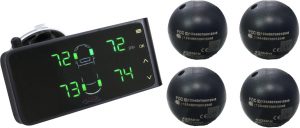 For 2-4  trailer tires: Free Shipping, order 4 TPMS Ball Sensor System  $459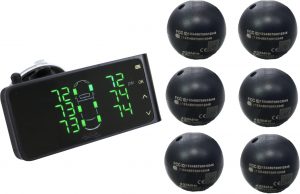 For 2-6  trailer tires: Free Shipping, order 6 TPMS Ball Sensor  System $579
For 10 trailer tires: Free Shipping, order 10 TPMS Ball Sensor System $779
Other Tuson Tire Pressure Monitor options below.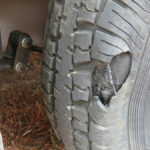 For 2-4  trailer tires: order 4 valve stem system  $368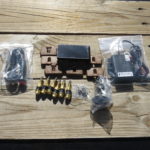 For 2-6  trailer tires: order 6 valve stem system $409
For 10 trailer tires: order 10 valve stem system $629
Trailer tires are the bane of my existence.  In the last couple of years, I've had 5 trailer blowouts. And each time I had bent trailer fenders, broke clearance lights and demolished license plates along with expensive trailer tires. So I went to 14 ply tires (G rated). But that wasn't enough, trailer tires are close together and throw nails at each other.  Don't believe someone that says trailer tires are better than truck tires. Only a handful of trailer tires are any good.  If you do much trailering, you know what I'm talking about.
New Video about all the Tuson TPMS for all trailers and Dual Wheels
Why it cost me when I didn't you Tuson TPMS on my RV trailer
Tuson Trailer Tire Pressure Monitor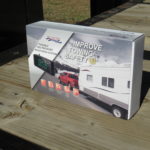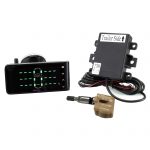 To protect my expensive 14 ply trailer tires, I wanted a tire pressure monitor system. What I found was the screw on valve stem monitors the size of golf balls. You know the ones horses like to step on or chew if you tie them to a trailer.  And at $50 a pop, they are easy to steal. I did find a set that had the sensors inside the tire and had higher pressure but you had to hard wire the monitor and receiver on the truck. I wanted something I could move to whatever truck I needed that day.
Then the clouds parted and the sun came out when I was at a trailer convention last month in Indiana. Low and behold Tuson RV had just what I was looking for. I use Tuson DirecLink trailer brake controller and their Tuson Sway Control on a horse trailer and they are top notch.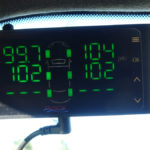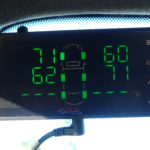 Everything I was looking for, the tire pressure units are inside the tires out of the way, just one repeater on the trailer to amplify the wireless signal to the truck and just a wireless receiver monitor in the truck cab. But wait there's more, I can use it with any truck or SUV I trailer with.  Just unplug the cord from the cigarette lighter and put it the next truck. And those 14 ply tires have high pressure. It's very hard to find a tire pressure monitor system that goes above 80 psi. Tuson goes to 203 psi, yes 203 psi. And it also shows the tire internal heat. Just like racing at  Indianapolis 500, you can know the tire temperature and pressure in real time.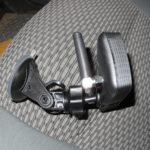 So imagine going down the road with a load of Quarter horses, prize bulls or that $100,000 backhoe and it's 98 degrees out with 85 percent humidity. Your front trailer tire just throws a couple 16 penny nails off the road and into the rear tire. Now if just the tire temperature went up, it might be a trailer bearing going out. But if air pressure is dropping and heat is rising, pull over and change the tire before that blow out takes out your trailer fender and a $15 tire repair turns into a $150 new tire. www.TusonRVBrakes.com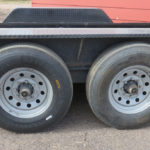 If you're hauling animals in the heat, knowing a tire has a slow leak so you can get some air at the next town, will head off a disaster while you would have had to change a tire on the side of the road with no air going thru your trailer to cool off your animals. I've changed too many trailer tires in the rain and snow with semi-trucks flying past me in the ditch.
Now you can know what you can't see. Real time tire pressure and temperature.  Low battery alarm, high pressure alarm, low pressure alarm, high heat alarm. Can't use slime with TPM on truck or trailer or car.
My Load-Trail tilt trailer has heavy duty fenders, so they didn't fly off in a blowout and hit a passing car but I did have to use a 12 inch crescent and hammer to get the fender back in place. Same  tire pressure unit manufacture makes them for Toyota and Nissan.
order 4 valve stem system  $368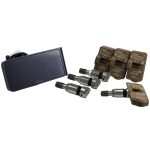 RV TPMS4W4V
LCM Model : 1
Sensor Model : 4
Stem Valve Size: both 0.453-0.625″ Trailer valve stem, RV coach valve stem, Dualies Cab monitor works with up to 3 trailers
RF Repeater : 1
(Frequency 433.92 MHz)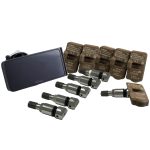 order 6 valve stem system $409
RV TPMS6W4V
LCM Model : 1
Sensor Model : 6
Stem Valve Size: both 0.453-0.625″ Trailer valve stem, RV coach valve stem, Dualies Cab monitor works with up to 3 trailers
RF Repeater : 1
(Frequency 433.92 MHz)
order 10 valve stem system $629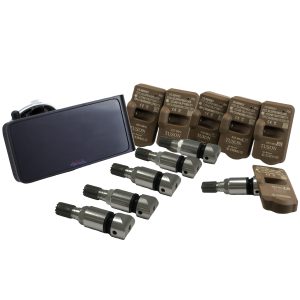 RV TPMS10
LCM Model : 1
Sensor Model : 10
Stem Valve Size: both 0.453-0.625″ Trailer valve stem, RV coach valve stem, Dualies Cab monitor works with up to 3 trailers
RF Repeater : 1
(Frequency 433.92 MHz)
Tuson Trailer Tire Pressure Monitor