Trucks towing Trailers and Trailering Accessories
Gen-Y Hitch Heavy Duty Receiver Hitch Sale
The New Logan Coach Trailer, Alive and Well  a division of Titan Trailers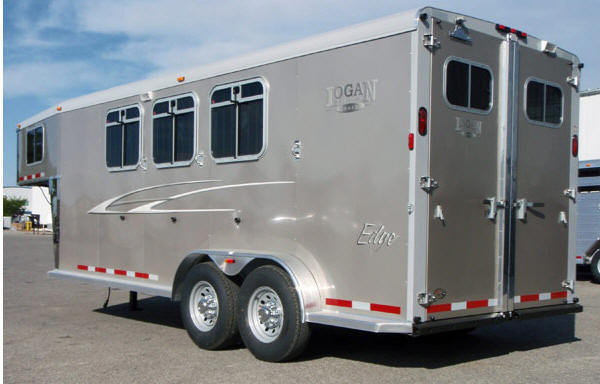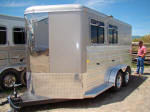 Logan Coach Horse Trailers: A horse trailer to get excited about! My last Logan Coach trailer review, I called Logan the most improved horse trailer. They did it again, truly building a horse protection transport that also protects itself from your horses for lasting good looks. Just as our country is climbing out of the recession, Logan Coach took action to become part of Titan Trailers and be one of the economic survivors with volume buying power for supplies and freight. An efficient leaner Logan sticks to what they do best, galvanized steel frames, aluminum skin and good looking value. Call it the resale value trailer. Bottom line, "beauty of aluminum and strength of steel." One of the few composite trailer brands that can go head to head with high end aluminum trailers for longevity.
| | |
| --- | --- |
| As reviewed on RFD TV     |   |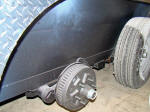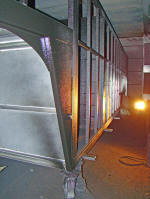 Tubular metal framing is galvanized inside and out and coated with Vortex rubber coating like your truck bedliner. Talk about protected ! Besides your horse going potty on your trailer, you have acid rain and the magnesium chloride on the roads in the winter replacing salt for melting ice. Corrosion is the long term enemy that Logan Coach  builds trailers to withstand.  All Logan Coach horse trailer framing are galvanized inside and out with Flo-Coat protected triple-coat corrosion protection steel that is then covered with Vortex rubber coating. Vortex is similar to pickup truck sprayed on bedliner which dramatically increased structural integrity on a truck bed, becomes armor on Logan's frame. This Vortex armor on the steel tubes and inside the trailer's corrugated galvanized sheet metal, also is a noise dampener.
I talked to the Vortex company at SEMA, saw the  video of a cement cinder block coated with Vortex and dropped from a 5 story building, it bounced! In the display was a tile coated on one side with Vortex and then beat with a hammer. It stayed together. My thinking was a rubber mat on the kick wall was better for protection, but now I'm convinced that Vortex can handle anything a horse can do to it. Vortex rubber coating is amazing stuff, horses can kick it and dodo on it and it stays put. Like an alien membrane protecting the steel. It's even reparable!  I want to coat my truck with it. Pictures (above left, right) show Vortex sprayed in fender wells, frame, bulkhead and gooseneck.
Logan's outside skin is painted aluminum. So no paint booths, no over spray and orange peal paint. Tread Brite Gravel Guard on bumper pulls stops road rocks.    http://logancoach.com/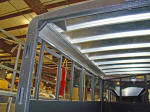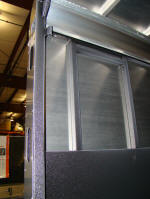 Logan armor, all the steel is galvanized Flo-Coat and coated with Vortex rubber so any nicks in the Vortex is still protected with the Flo-Coat zinc. Outside skin, roof, bows, cove, fenders, running boards and stalls are aluminum. Now the part that the horse abuses the most as well as the road abuses, is the floor; exclusive "Whiz Proof," drains the floor urine. Of course it's coated with Vortex rubber coating on wood floors and aluminum floors. Below are the pictures of the aluminum floor, galvanized Flo-Coat steel frame with aluminum planks spaced for drainage with a angled wedge to prevent splash back, then all that is coated with Vortex rubber. Talk about armored !
Logan Coach Horse Trailers: Whiz Proof Floor, as Good as it Gets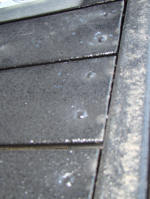 This has to be one of the longest lasting floors in the industry. That's where resale value starts. No place for electrolysis with triple-coat corrosion protection.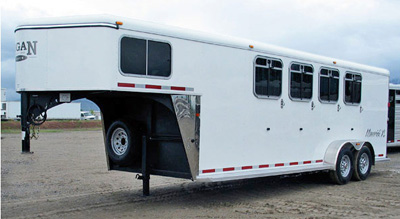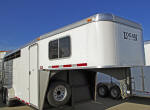 Stainless steel nose or painted aluminum, and wedge nose or tapered. All Logan's have aluminum exterior skin.Using 3M VHB bonding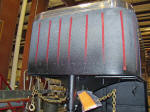 system (red tape right) for less rivets, smoother look and easier to repair. The gooseneck nose is Flo-Coat galvanized  sheet metal then aluminum sheets are bonded on the nose  You can see in the picture above, the Vortex rubber coating covering the gooseneck, bulkhead and jack. Logan Coach models range the spectrum with the high end XTR to the economy Rebel all with aluminum skin, galvanized steel, Vortex and torsion axles.   http://logancoach.com/
Galvanized Flo-Coat; zinc inside and out, Flo-Coat has 3 layers, hot dipped Uniform Zinc Galvanizing, Conversion Coating, Clear Organic Coating

This model year there are more standard features on the top model XTR which comes in 7′ 3″ or 8′ wide with Logan's optional Prestige Living Quarters. Logan Coach aluminum skin is .050 thick, optional aluminum interlocking extruded siding is.100 thick. Edge and Razor models are 7′ tall 7'3″ wide. Maverick and Rebel models are 6'9″ wide, picture above left. On trailers without mangers, Logan has an oversized rear stall large enough for a box stall for a mare and foal.

Logan Coach trailers reengineered to be lighter with more aluminum components and better utilization of steel reinforcement. Pooling engineering techniques with Titan Trailers has improved Logan's trailer building efficiency. Continuing to build their own Prestige Living Quarters  with factory warranty, factory support and now Logan Coach is taking on outside Living Quarters repairs, refurbishing or custom building Living Quarters in all trailer brands. Compare Logan's prices to conversion companies.
Your Horses Comfort Zone for the Road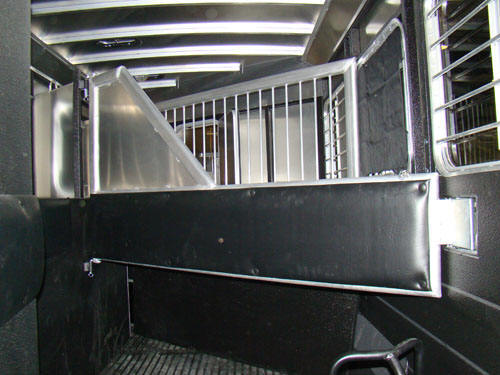 Now isn't that inviting! I love aluminum dividers. It's about protection, comfort and looks. Just walk inside a Logan, see the aluminum roof, aluminum dividers, the Vortex on galvanized frame. You'll have a hard time keeping your horse or neighbors out of your Logan. One of the largest stalls in the industry; 135″ stall length 40″ wide.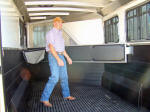 It looks great inside with black Vortex rubber coated metal, aluminum roof, bows, cove and dividers with black divider pads, hock and pole protectors.
| | | | |
| --- | --- | --- | --- |
| | | | |
| Stall divider locks open | Wide, large stalls | Inverted stall pad up front |  helps your horse balance |
| | | | |
| Stall latches simple, sturdy… | and repairable | Jail style stud wall | Horse bulkhead to roof is finished well |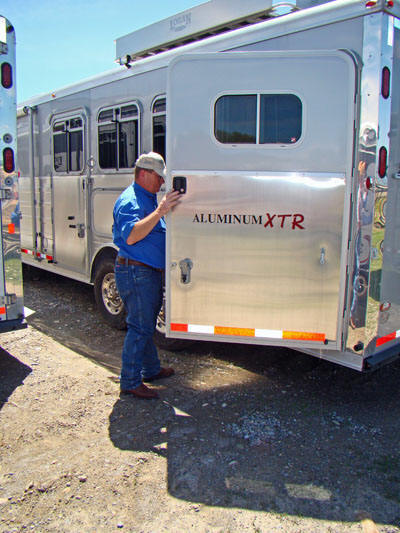 No that's the way it's suppose to open, side tack. And why not, the horses are tied on the left side of it. Has a hand latch and slam latch. You could haul your teenagers back there.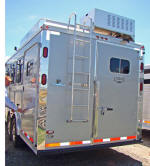 I like the optional double LED tail lights. With the rear side tack, you have one large door for loading horses.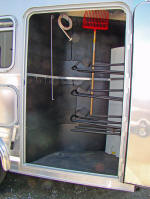 A tack room with all the goodies and a big door. Easy access to saddles.An 8 ft. wide trailer makes big doors and mangers possible.
Logan Coach Horse Trailers: It All Starts with the Strength of Steel
| | | | |
| --- | --- | --- | --- |
| | | | |
| Floor jig aligns the steel tubes and axle frame | This floor built for holding tanks | An 8′ wide trailer | Wall jig |
| | | | |
| Neck jig | When you use a galvanized steel, it's easy to…. | frame when you don't have to attach to aluminum frame | Yes bumper pulls get Vortex rubber coating |
Razor model with aluminum interlocking extruded siding on the lower 1/2, it's the thick stuff .100

Deluxe Trim Package; Stainless steel cam latch covers, stainless nose wrap, tail light bracket, rear header, tie ring plates and gusset covers.
| | | | |
| --- | --- | --- | --- |
| | | | |
| Galvanized Flo-Coat; zinc inside and out, Flo-Coat has 3 layers | Corrugated interior walls, spaced flooring for drainage and less corrosion | Logan was the first trailer factory I toured that had smooth light cutouts | Future one piece aluminum roof |
| | | | |
| Spun aluminum roof corners | Logan Coach makes their own fenders | 3M VHB bonding system for aluminum sheet metal | Car trailer |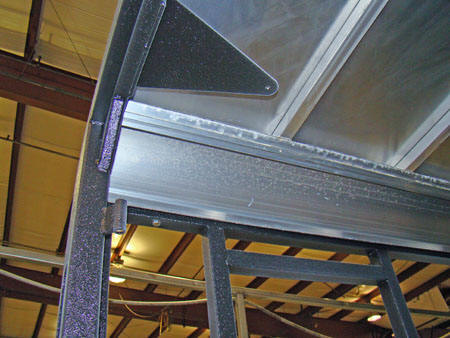 Vortex rubber coated galvanized steel frame, premium extruded aluminum edge cove, aluminum bows and roof protect against corrosion from the road, weather and horse fluids.Aluminum skin 3M bonded tape on the outside, Vortex covered galvanized inside walls. A trailer made to haul manure, urine and it's source.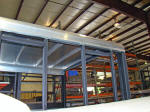 A composite trailer using a combination of materials to work together to protect your horse and your investment just like your truck.
Logan Coach Horse Trailers
| | | | |
| --- | --- | --- | --- |
| | |   | |
| Corrugated galvanized liner, 3M tape for painted aluminum outside skin, UV protected | 16 gauge corrugated kick walls with Vortex rubber ready for the back kick |  Vortex, because it's rubber, can expand and contract, good to have on walls. Rubber mats on walls can bubble up | Stainless steel tail light bracket |
| | | | |
| Floor and walls all coated with Vortex rubber coating | Aluminum roof and coves on next…. | then cover it up with 3M and aluminum sheets | I've spent enough time working on trailer wiring on the road, I appreciate it when manufactures put wire in junction boxes |
| | | | |
| --- | --- | --- | --- |
| | | | |
| Lead rope hoops have wear plates | Mangers coated with Vortex | your horse can hurt it | Logan keeps improving it's siding, this competes with the best |
| | | | |
| Covered roof cove, you can see the Vortex steel wall frame | Big drop down windows | Fly screens, don't drive with the windows down without them | |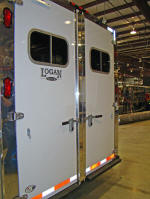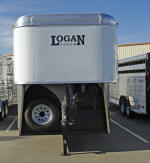 Covered cam latch has a refined expensive look. Rear independent doors make it easy to get to tack room without disturbing your horses. You know if you open their door, they get ready to unload. Stainless steel trim brings out the style that turns heads.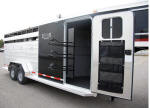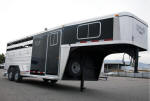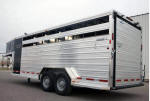 Stockman trailer has reinforced galvanized frame, aluminum siding interlocking extruded .100, the thick stuff.
Trailhead package on bumper pulls has a cot and separate tack door, nice for a weekend ride. Tread Bright Gravel Guard on bumper pull trailers keeps your nose shiny. My tri-color paint gelding below has happy feet when I pull out a Logan.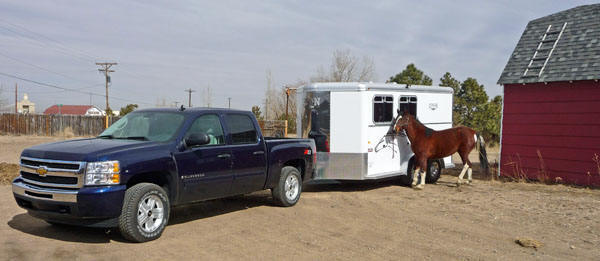 Sexy, Silver Eagle motorcycle trailer  http://logancoach.com/Trailers/SilverEagle/silvereagle.html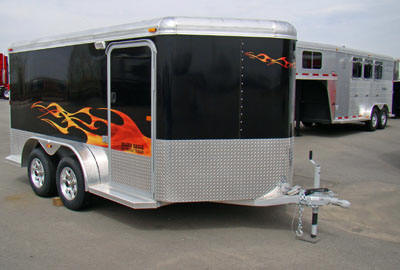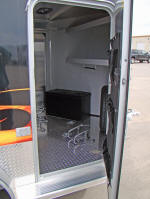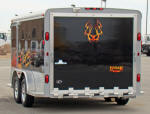 The cool look, it would be fun to just tow around town, take to Sonic on a Friday night.
Yes the outside skin is aluminum, galvanized framing and inside skin. Insulated walls, doors and ramp. Doors on each side, lots of lights, bike wheel chocks, tie downs, tool box, 110 volt and much much more.
Logan Coach Horse Trailers: Ultimate Sport Hauler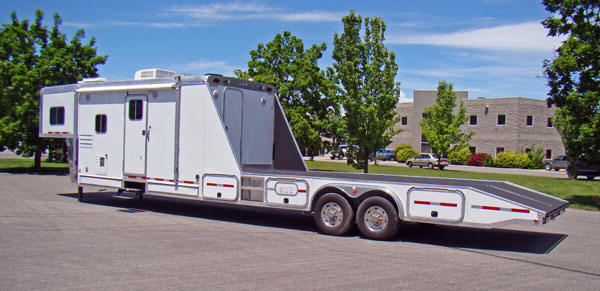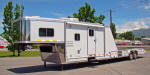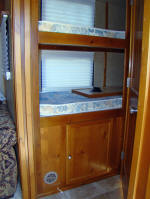 Ultimate toy hauler, who wants the fun machines in the same room with diner. Bike and ATV fuel fumes aren't good inside. Keep the mud and fumes outside. Large enough to haul your truck, Jeep, ATV, mudder, motorcycle, Jet Ski…. I could see this backing down the boat ramp.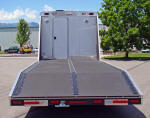 8′  or 8'6″wide 7'6″ tall galvanized tubular frame aluminum .050 skin, aluminum roof, Vortex rubber coating deck aluminum ramps, water tight storage, 22 floor plans. 22′ deck, from sliders to generators.
8 year structural warranty, 2 year hitch to bumper warranty on XTR, Edge, Razor and Warmblood
Go to the Logan Coach website and get all the option choices Transwest

It's official, Dave Smerchek, owner of Titan Trailer Manufacturing headquartered in Waterville, Kansas, purchased Logan Coach April 8, 2009.  Plans are to continue producing the Logan Coach brand trailers in the same town they originated in, Logan, Utah, as a division of Titan Trailer Manufacturing, Inc. This union will allow Titan to expand to the West and Logan Coach to expand to the East with an economic advantage in volume and transportation costs.  Logan Coach is keeping their current dealer support team for a seamless transition to new ownership.

 October 2009 by H. Kent Sundling
Have you towed a Logan Coach lately