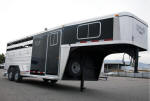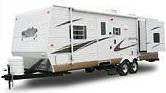 Truck and Trailer Accessories with trailer reviews and accessory install articles
Towing Accessories Reviewed, Tested and Sold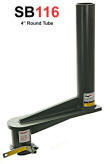 Now there's help for the short-short beds. New from PopUp, the SB116. The long short bed solution. It's "16? inches of extension. Before you loose your pickup trucks rear window or worse, check out the solution. Shortbed trucks are the most popular. But the trailer manufactures don't know it yet. Finally backup with the tailgate down and without hitting the propane tanks. More…

Stop tire cupping, vibration and premature wear on those expensive truck, RV & trailer tires. Centramatic automatic wheel balancers have been saving money on tires for semi-trucks for over twenty years. Now you can automatically balance your tires, wheels, hub and rotors or drums while you drive. A balanced tire doesn't cup, vibrates less & lowers the tire sidewall temperature from less flexing, giving you longer tire life. 5 year warranty, made in the USA. More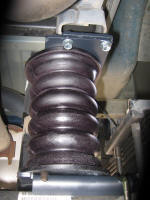 The airless bag to prevent your sag and improve your ride! For trucks with campers, trailers, commercial bodies and all other loads..
SumoSprings (the world's first and only "airless airbag" suspension system for trucks and vans) are manufactured from an advanced high grade, closed cell polyurethane foam; ideal for the tough truck underbody environment. The product underwent testing in extreme conditions ranging from blistering US desert summer days to the frigid Canadian winter nights. Combining heavy loads with extreme terrain and… More…
NEW and Improved You're going to love this newly redesigned PopUp 2 Hitch.  Smoother acting and trouble free.  They've made the best hitch even better.  One pull of the handle to raise the ball is all it will take to convince you that this is the hitch you want.  Simply pull the rod to raise the ball and push to lower it from your trucks wheel well.  More info….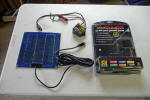 New 7 watt solar panel. Battery Maintenance and Pulse Technology Conditioning with Solar can Double your Battery Life. Batteries keep us rolling and give us conveniences in our trucks and trailers. But if you don't maintain them, you'll be stranded and surprised. I run a lot of toys from my eight 12 volt outlets in my truck, from my pop cooler to my motion detector in the trailer. Diesel trucks use two batteries for extra power to start a diesel engine. Living Quarter horse trailers usually have two deep cell batteries that can be drawn down and last a long time. With 4 batteries between your truck and trailer, proper maintenance is as important as checking our trucks oil level. SolarPulse Industrial Solar Charging System is a product that reenergizes the sulfates and charges your batteries with FREE sunshine, more…
Gen-Y Hitch heavy duty adjustable drawbar for today's powerful trailering trucks

Cody Hitch Protect your Living Quarters gooseneck investment in your horse trailer. Cody Cushion from Cody Hitch has one air bag, and a double hinge. Up, down and front to back cushion. They will adapt to Cody Hitch, B&W and Popup truck bed hitches. With today's Living Quarter horse trailers, you need protection for the fine cabinets and mirrors. Back ordered indefinitely.
MrTruck's Top Picks, Truck, SUV & Trailer Accessory Store, ENTER




Safe, Secure Ordering, Questions on Internet orders 303-883-1300   We don't share your information

Eureka! Saddlematic ™ Revolutionary Motorized Saddle Rack. Finally you can stop wrestling your saddles in and out of your trailer and lifting them over your head. Saddlematic will bring your saddles to you. See the whole story and how they work. Click here…

Popup Industries RV3 5th-Wheel to Gooseneck Adapter Do you have too many hitches for all of your different trailers?  There's bumper pull, gooseneck, fifth wheel, you name it there's just too many combinations out there sometimes. Pop up industries helps out here by offering their fifth wheel to gooseneck adapters. This handy little product allows you to tow your fifth wheel camper using the gooseneck hitch you already have in the bed of your truck thus eliminating one hitch from your collection. Pop up industries has been around for years starting with their PopUp Gooseneck ball hitch and now with many hitch extensions for short bed trucks, More…
Bumps be gone! Pulling a trailer with this coupler is like riding on a cloud. It absorbs up to 59% of the bumps, jolts and jars that make towing hard on you, hard on your cargo and hard on your equipment. Living Quarters horse trailers really need this to save bedroom cabinets.  Simply swap it out with the coupler on your gooseneck. More….


Cimarron Trailers define custom horse trailers. With 250 options making 56 models, it's easy to have it your way. Why not, Cimarron trailers will out last your trucks. Have yours built for your needs not your neighbors. Come see my tour of the Cimarron trailer factory in Oklahoma.  Read how this progressive company in OK is using the best ideas to…


Transwest (TrailerWest.com) Horse Trailer Inventory, Click…
Transwest Used Truck Inventory; Light Duty, Medium Duty, Heavy Duty
Truck and Trailer accessories with trailer reviews and accessory install articles


With 5 clutch discs, you won't be able to loose power through your torque converter lock up clutch slipping any more. ATS Diesel Performance torque converters allow you to two the big trailers your diesel engine was designed for.   More…

Hummer H2 proved to be a great trailer tower. Equalizer wdh made it a easy pulling a 34′ travel trailer from Nevada to Colorado in December threw mountain passes and snow storms.


EZ – Connector, RV Pro Plug and Max Brake Wireless Trailer Light Tester Those of use that tow trailers every week know how many times we drop the coupler on the ball and plug in the wire connection (and wiggle the connection for contact.) Spent my share of nights with a flashlight in my mouth in the rain as I work on trailer lights. Fuel injection and electronics make our trucks more trouble free, now trailer wiring and electronics make tracing trailer wire problems a breeze. What do you do when you don't have someone to check your trailer lights while you run the blinkers and light switch? The rest of the report…
How do you hook up your short bed truck? Short beds are increasing their popularity while decreasing their length as with the 2003 Dodge 2500/3500 standard bed at 6'3″. You still need the trailer weight far enough forward from your rear truck axle for steering control, balance, and efficient and effective brake and spring use. Pop Up has extensions for gooseneck and 5th wheel trailers. Read More…

Read my Weight Distributing Hitch article. WDH is common with RV travel trailers as they should be will most bumper pull trailers. This is an important subject for trailer safety to have the best control for a trailer that has leverage on your truck or SUV . Click…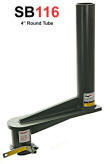 Now there's help for the short-short beds. New from PopUp, the SB116. The long short bed solution. It's "16" inches of extension. Before you loose your pickup trucks rear window or worse, check out the solution. Shortbed trucks are the most popular. But the trailer manufactures don't know it yet. Finally backup with the tailgate down and without hitting the propane tanks. More…
Check out the latest in laws and loopholes concerning your trailer.
To the left is the PopUp Short Bed Extended Coupler. A well made gooseneck tube extending your trailer coupler 9 inches. It is fitted with a Fulton automatic coupler. Short beds are gaining popularity and we need solutions. Click for more.

Transwest  Truck Trailer RV, selling Hart, Cimarron and Logan horse trailers. Whether you are new to horse trailers & need some extra help or you're a veteran and want the best trailers, you owe it to yourself to visit Andrew Lyons and his crew of horse folks. Buy your horse trailer & truck together or separate and get the right advice on matching your needs the first time.
New & Used Trailers–Trucks made for Towing–Trailer Repair & Upgrade–Truck Performance Products.  Read more about where MrTruck asks trailer questions.  Call Andrew Lyons 1-800-909-7071 email [email protected]

H. Kent Sundling, Email Publisher/Webmaster/Ad manager. 303-883-1300