MrTruck Recommends: Transwest Truck Trailer RV for luxury trailers and RV's @ TrailerWest.com

Andrew Lyons, General Manager of Transwest Truck & Trailer is what I would call a trailer guru. I've interviewed him about cutting edge trailer technology and visit him often for the latest and greatest innovations for safer towing with the growing size of trailers and increased power in trucks. Andrew grew up on an Australian ranch, 150 miles from the nearest town. This made him a resourceful independent thinker, having to repair his vehicles without running to the parts store. And this is what makes Andrew the right person to repair your truck and trailer right the first time. Andrew came to the US to train horses and understands what horses like in a trailer too! I pick who advertises on my website and I only pick one per category. It's easy for me to recommend Transwest Truck & Trailer and be the only trailer dealer on my website.
Quality Horse Trailers, Largest Inventory, Decades of Experience, Towing Knowledge, and a large selection of Specialty Tow Vehicles, this is what I call a Complete Trailer Center. Read about each category below.
New & Used Trailers–Trucks made for Towing–Trailer Repair & Upgrade–Truck Performance
#1 Horse Trailer Sales, New and Used, Steel & Aluminum
#1 in Hart aluminum trailer sales. Transwest Truck and Trailer, is the largest "Hart" horse trailer dealer. I live in Colorado and see Hart horse trailers all the time, on the highway and at horse sales and shows. From the quality and strength that I see in these aluminum trailers, you will be hearing more about them in the rest of the country soon! Manufacturing trailers since 1968, a year before we landed on the moon, Hart offers custom built trailers as well as a full line of models including a trailer for Miniature horses.
The floor on these trailers are interlocking aluminum tongue and groove, with I-beam cross members on 6 inch centers. Try to find that on any other trailer! All Hart roofs are 5/8″ thick "ENCOR" fiberglass reinforced structural panels with a R2 thermal value for the ultimate in temperature, quietness, and strength. Tubular frames and upright posts instead of C-channel, with stainless steel bolts used everywhere and double framed doors. Even the rear butt bar folds to the left instead of the right, to avoid a backing injury.  When Andrew orders your trailer as he does for the trailers he has in stock, he picks the best axle rating and tire rating to fit your trailers individual loaded weight. Ask him about the low profile goosenecks available from Hart.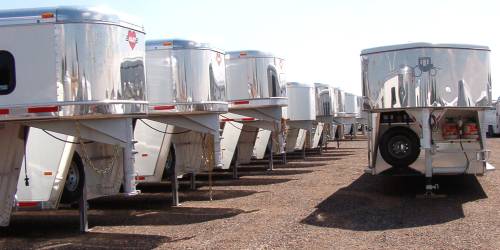 Hart, the Beautiful Trailer. Such smooth lines and sheet metal, look at the corners, front and back.
Large selection of Living Quarters with generators & sliders.
 Logan Coach horse trailers are designed to protect you and your animals while traveling. It's easy to recognize the quality design, attractive appearance, all  galvanized steel construction. The only manufacturers in the world to use galvanized sheet metal and structural tubing. Galvanized steel offers greatly enhanced rust protection over standard black steel. This means you can be assured that our trailers will remain both structurally sound and looking great for years to come. With Logan Coach, you get the strength of steel with long-lasting durability and performance other companies simply can't match.
Formed fit walls, precise engineering and advanced building techniques allows Logan Coach to bend sidewalls around  vertical support columns. Not only does this give their trailers stronger vertical seams, it also keeps welds on the inside of the trailer walls, giving our trailers a cleaner look and a smoother finish. Enhanced Structural Integrity, Logan trailers are engineered for safety and feature thicker sidewalls and additional vertical support columns. These enhancements assure increased structural integrity in the event of an accident or rollover.
A better roof, Logan Coach is the only trailer company to build a roof using acrylic adhesive. Other companies use VHB tape, an inferior quality bonding agent that attracts water and one that, over time, will draw moisture into the seams and weaken the roof itself. Logan uses the latest in modern automobile manufacturing technology to create a bonded roof and sidewalls. Notice how much cleaner and smoother the roof is because there are no rivets and no outside welds.
3-Year Paint Warranty, Logan Coach uses high quality automotive paint and we confidently warrantee the paint on our trailers for a full three years. Our competitors can only warrantee the paint on their trailers for one year. How can we make such a promise? Auto industry experts and clinical tests have shown that paint typically ceases to adhere to a surface because the surface under the paint has begun to deteriorate. Because our paint is applied onto durable, rust-inhibiting galvanized steel, you can be confident that the paint on a Logan Coach trailer will look fresh and new for many years to come. Remember, it's what's on the inside of your trailer that keeps the outside looking good.
Larger stalls (with adjustable slam-latch dividers) the stalls in a Logan Coach trailer are among the very largest in the industry meaning that you can transport any horse with ease (even a Warmblood!) They are so confident you will see a difference that we invite you to bring in your own horse and see the difference for yourself! Separate flooring in tack rooms, Logan installs separate flooring in our tack areas and our trailer compartments. This means water, urine, and manure will not slide under the bulkhead wall and get your expensive tack and other equipment wet and muddy.
#1 Truck sales made for towing large Trailers.

Transwest sells used trucks and the big ones. I know when I upgraded to bigger trucks, I never got to work on them much anymore . Go look at the size of those axles, brakes, trannies, engine brakes, diesels, tires, fuel tanks and then count the gears! In Colorado we have these tall hills with snow on them year-round. A truck with a loaded trailer pushing it, can get some speed on the fast side of the mountains! It will surprise you how much brake pad you can use up, when you're scared to death!

Trailers are growing, both horse and RV. It takes a larger truck to stop and control those heavy trailers. There's a reason Transwest Truck & Trailer stocks so may larger trucks, dually one-tons are popular. It will surprise you how much better braking and handling the larger trailers is with duals on your truck. Transwest has duallies from F350, 3500's to the F550, C5500's and larger with custom beds. Don't forget to ask about the right truck accessories which Transwest Truck & Trailer has, such as exhaust brakes, diesel chips, automatic wheel balancers and all types of hitches.
Trailer Performance Upgrades and Repairs.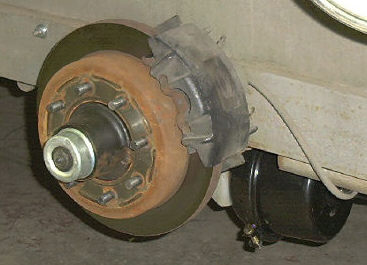 You're looking for safe dependable towing and advice on what upgrades will meet your needs. TT&T has those products and can answer your questions on which ones you need. Don't take chances with your precious cargo. Here is a few of the services and products Transwest Truck and Trailers can match you with.
| | |
| --- | --- |
| Disc Brake Conversions | Hydraulic Brake Conversions |
| Welding and Fabrication | Total Trailer Rebuilds |
| Air Rides | Wiring-Hitches-Hydraulic |
| Insurance Bids and Work | Trailer Accessories Installed |
| | |
| --- | --- |
| Living Quarters Repaired | A/C-Heat-Electrical |
| Winterization, Spring Checkup | B&W Turnover Ball |
| Kodiak Brakes | BrakeSmart Controller |
| Werm Flooring | Outlaw LQ Conversions |
Master Brake Systems
Master Brake Systems, oh my! Way back when, 20 years ago I was replacing magnets left and right on my electric trailer brakes, I envied the bigger hydraulic dump gooseneck trailers. A lot of them had electric over hydraulic brakes. And I had my magnets. So I gave up on trailer brakes and went to dually trucks for stopping power. Electric over hydraulic brakes seem to disappear for a while and I hadn't heard about them for years. Then I saw Transwest's axle display at the National Western Stock Show in Denver. They're back! Now this isn't the vacuum system that has a pump on your truck and the long hose to your trailer.
This ElecDraulic system from Master Brake System's is self contained with it's own electric gear driven brake booster. Now this is advanced, it has it's own battery and uses your trucks battery if it needs it, and charges your emergency breakaway disconnect battery. With it's micro processor it will self diagnose, give you proportional braking, and can, as an option give you ABS on your trailer.  And I haven't even got to the part about how much better hydraulic trailer brakes are, with less fade, reduced maintenance costs and faster brakes. There is a reason your truck has hydraulic brakes.
The Master Brake Systems, ElecDraulic unit fits snugly under your gooseneck. This is what I like, 13″ disc rotors, greaseable hubs and air ride. Big difference on what the right brake system can do for your safety and peace of mind. With the more powerful diesel pickup trucks coming out each year, I know you can pull more weight, pull it faster, and now the with all these trailer accessories, you can stop this bigger trailer, smoothly and safely!
"BrakeSmart" trailer brake controller.
Don't stop here, Master Brake Systems has just came out with a "BrakeSmart" trailer brake controller. It will run electric or hydraulic brakes and talk about power! My test drive with Andrew was smooth. When you are applying the brakes, you don't know you have a trailer on back! The is no jerk when the trailer brakes kick in. This was pulling a trailer with electric brakes too. The controller is programmable to fine tune your trailer braking requirements but why? It's automatic and self adjusting, it knows if you have electric brakes, hydraulic brakes, air ride, loaded or empty trailer and detects and displays trailer brake system problems. You will have a full trailer brake at any gain setting and there are 16 gain settings. Sometime in the near future the Master Brake Controller will be able to run a systems check on your trailer and adjust settings on your truck. This is the best trailer brake controller for electric or hydraulic systems.

Kodiak disc brakes.
The "Big Three" truck makers from Detroit, all have 4-wheel disc brakes standard now. I was glad to see this. Disc brakes fade heat better, brake better and are cheaper and easier to replace. I live in a mountain state. Going down hill will test brakes in a hurry. Kodiak replacement trailer disc brakes are 10″ to 13″ vented rotor heavy duty brakes. The brake dust falls threw the rotors instead of sitting on the bottom of your drums and you don't have to pull the hubs to work on them.
Outlaw Conversions, One more thing, I saw on my visit to Transwest Truck & Trailer, is the Outlaw LQ horse trailer conversions. There is a big difference in what you see between an average RV trailer and what Outlaw Conversions does to a horse trailer! I wish my house had the quality Oak cabinets that were in this horse trailer. I go to a lot of RV shows a year, looking for the latest and greatest, and I've seen several $100,000 plus RV's that didn't have Outlaw's kind of quality! Some of their upgrades belong in Faith Hill tour bus! Ask Andrew about them,

Horse Trailer Permanent Flooring Systems
he next trailer accessory that Andrew showed me, was the new Werm Flooring Systems. His shop was "pouring" a floor of a horse trailer while I was there. First the mat was removed, the floor cleaned, dried, and coated to bond with the Werm flooring. This left a non-slip, permanent floor that matched up with the walls and flush at the tail-gate. No more pulling the heavy floor mats out to clean them and dry the floor underneath them. It's just how I like my truck floor, all rubber and easy to clean!
This is a trailer accessory that Andrew Lyons showed me, the  new Werm Flooring Systems. His shop was "pouring" a floor of a horse trailer while I was there. First the mat was removed, the floor cleaned, dried, and coated to bond with the Werm flooring. This left a non-slip, permanent floor that matched up with the walls and flush at the tail-gate. No more pulling the heavy floor mats out to clean them and dry the floor underneath them. It's just how I like my truck floor, all rubber and easy to clean!
You will see more and more trailer manufactures offer this great product as a factory option, and why not. We all have too many chores than we need now. Trailers can take up a lot of your precious personal time, that should be spent enjoying what the trailer hauls for you. You know if you neglect your trailers floor, it will cost you later and might even cause a disaster going down the road loaded. Nobody wants a breakdown on the road. A trailer can hold it's value over the years and the floor is one of the most important factors in the resale value.
Can you imagine cleaning your trailer this easy? No tugging, lifting, drying rubber mats and then reverse the process putting the mats back! This permanent coating reduces slipping, prevents corrosion, always stays in place and bonds to aluminum, metal and wood. This is just what you wanted.
| | | | |
| --- | --- | --- | --- |
| | | | |
| The floor coated, primed and walls taped ready to be Wermed! | Don't forget to give your old mats to your neighbor. | Thicker than rubber mats, Werm is trowled like cement. | Dries to a non-slick surface like sprayed-in truck bed only thicker. |
Truck Performance Upgrades.
You want experience helping you pick the right power for your expensive truck. Andrew Lyons tests these upgrades on his trucks. He knows what works and what's a waste of time. And there is a difference with performance for towing. Let Andrew show you the right balance to protect your investment as you increase power and fuel  economy.
| | |
| --- | --- |
| Edge Diesel Programmer | aFe Cold Air Intake Systems |
| US Gear Exhaust Brakes | Centramatic Auto Wheel Balancers |
| TripleLok Torque Converters | Bully Dog Exhaust |
| B&W Turnover Ball | SuperSprings, RideRite Air Bags |
| | |
| --- | --- |
| ATS Propane Kit | Bedliners |
| | |
| --- | --- |
| Directions: Interstate 25, Exit 240 at Colorado Highway 119 | Address: 10725 I-25 Access Rd. W. Longmont CO 80504 |
| | |
| --- | --- |
| Phone: 303- 776-1643 | Fax:  303-776-2170 |
Logan Coach Horse Trailers, Stock Trailers, Galvanized steel frame, Aluminum skin
Cimarron Custom Horse Trailers with New Thinking Strength and Beauty!