Logan Coach, Beauty of Aluminum and Strength of Steel, Making Improvements with New Ideas.
It's official, Dave Smerchek, owner of Titan Trailer Manufacturing headquartered in Waterville, Kansas, purchased Logan Coach April 8, 2009.  Plans are to continue producing the Logan Coach brand trailers in the same town they originated in, Logan, Utah, as a division of Titan Trailer Manufacturing, Inc. Logan Coach Horse Trailers, Stock Trailers, galvanized steel frame, aluminum skin.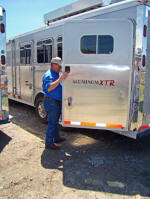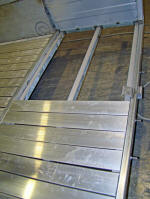 The New Logan Coach; an efficient leaner Logan sticks to what they do best, galvanized steel frames, aluminum skin and good looking value. Call it the resale value trailer. Bottom line, "beauty of aluminum and strength of steel." One of the few composite trailer brands that can go head to head with high end aluminum trailers for longevity.  Always improving and keeping it's roots with galvanized Flo-Coat steel frame coated with Vortex, more..
I'll take a mountain view any day. Logan Utah, nestled in-between snow covered mountains, is the home of Logan Coach by Carriage Industries LLC. A well organized factory with more framing jigs than I've seen in one place, keeping the 8 trailer models consistent. The Prestige interiors (in-house LQ conversions) are just up the street. I've towed dozens of Logan's in my truck reviews and can say Logan is one of the most improved horse trailer lines I've used. Logan was the first trailer to build an all galvanized trailer. All Logan's feature galvanized steel chassis, either aluminum or galvanized skin and triple wall construction.


Starting in1985, Logan was just in the steel trailer business and then in 2004 they added the XT and XTR aluminum skinned horse trailers as consumer demand for aluminum skin trailers continues to grow. I toured the Logan factory, seeing new innovations I hadn't seen before. Like the rod on the drop down windows that you can easily reach and control how the window opens no matter what your height is (picture left). Even the slam latches on escape doors (right) are lower than I've seen on other horse trailers. I would say that Logan thinks as much about what women need in a trailer too instead of the average cow poke.


All roofs are one piece aluminum that is built separate and added to the trailer chassis. The roof bows are taped, corners and sides are taped. There are several features on Logan trailers that are just plain hard to do, from a manufacture stand point but are better for consumers like the spaced aluminum floor option that allows urine to drain immediately. This floor takes extra framing and cutting, but it's a welcome improvement. And then it's covered in Vortex (truck bedliner), then the mats.


Becoming more popular in horse trailers, truck bedliner, a Vortex coating is used in Logan's. Logan has Vortex rubber coating lined walls, floor, neck and bulkhead on galvanized metal, enhancing long lasting looks and durability. It's worked for truck beds for decades, why not horse trailers? Some Logan trailer models use diamond plate in bulkheads and bumper pull noses.
Logan's 8 trailer models keeps the plant at capacity. In house engineers allow changes on the fly. The Aluminum models are XT and XTR, Galvanized steel models, Edge, Wrangler, Maverick, straight load Triple Crown and Stockman livestock trailer. Logan Coach also makes a Toolsafe cargo trailer and the Silver Eagle, a popular motorcycle trailer.
The new Edge horse trailer line, have aluminum exterior and painted galvanized roof radius. These trailers are 6'9″ wide with standard drop windows on the headside and sliding bus windows on the tailside. The steel Wrangler trailer has two upgraded models, the Maverick with a sealed tack room and Maverick XL with drop down feed doors.  Below, the stainless steel hinges, latch covers, rear door trim and corrugated polished aluminum siding on the XTR, bring out the fancy side of Logan.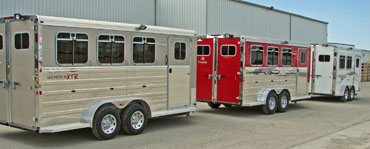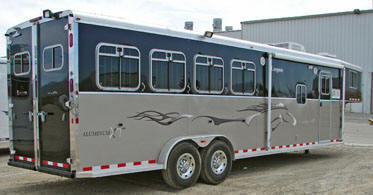 Aluminum Skin XT and XTR Models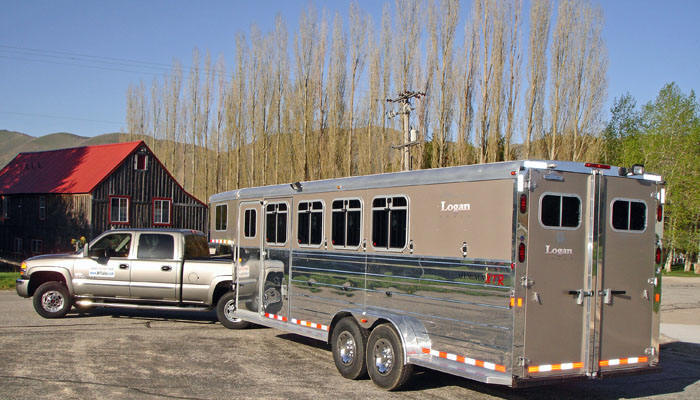 XTR's has plenty of bling-bling with aluminum wheels, fenders, running boards and corrugated polished aluminum sides. XT and XTR have an aluminum extruded radius edge with a channel reinforcing that fits into a groove (left). The aluminum .050 thick exterior skin is taped and riveted. XT model has standard Douglas Fir floor with optional aluminum or Rumber floor. XTR comes standard with the quick drain aluminum floor. Triple walls all the way from floor to roof. Aluminum rear doors with stainless door opening and cam latch cover trim.
Optional jail stud divider front stall in XT and XTR, next new for 2006, aluminum floor, which is spaced for fast drainage. It's coated with Vortex, then the rubber mats go in.  Picture at right, lot's of tools come with the XT and XTR, from hat rack to muck fork in the expandable tack room.
Tack Rooms


Left, the popular corner side tack room option, opens forward, the opposite of most. Makes sense, that's where the horses will be. Swing out saddle rack with strut makes getting to the saddles a breeze. You don't have to unlatch and re-latch it, a hydraulic strut controls it. Tack walls are modular so you can add accessories, racks. Six pieces drop into slots to expand your tack racks.
Piano hinge on collapsible rear tack is strong, even available with a manger. Mid tack walk through door is huge. A walk through tack room is super convenient. Unirack saddle and blanket rack has moveable bars. Everything is very adjustable so you can load the tack room the way you want and then change it. Under the manger are additional hooks for organizing the extra "stuff." accessible from the outside doors.

Window fly net option covers the whole window. Logan uses oversize stalls on the standard 7'3″ wide gooseneck trailer. Everyone seems to have a larger front stall because of the thickness of the divider but Logan has a larger rear stall also. Warm blood length stalls on 7'3″ and 8 wide. Goosenecks have more room in front of your truck tailgate with a 9'7″ nose, 7ft. ball to bulkhead distance. Nice to have room in there, it gets old banging you head on the metal neck unless you like that kind of thing. Separate flooring areas for horse compartment has a lip on the floor to wall seam to keep the urine out of the tack room and LQ's. E-Z key system, one key fit's all the locks of course. Galvannealed steel 2×6 inch tubing gooseneck frame, all metal neck and floor supports .120  thick framing, floor and neck. 1 1/2 x 1 1/2 normal frame post tubing. .065 thick posts .083 in horse area 1 1/2 x 3 upright posts in neck. Double framed windows. Double upright post, breast wall, neck wall and bulkhead.
This shelf in the nose isolates the bedroom cabinets for less flex protecting the woodwork. Every nose has outside sheets of 16 gauge galvanized metal the entire nose for strength and  then covered with stainless. This helps reinforce the roof as well as the nose. Interior walls galvanized 48″ and then covered with Vortex, above kick wall is aluminum wall.

Formed fit walls with advanced building techniques allows Logan Coach to bend sidewalls around  vertical support columns. Not only does this give their trailers stronger vertical seams, it also keeps welds on the inside of the trailer walls, giving their trailers a cleaner look and a smoother finish. Double posts where sheet metal is crimped between the posts, not butt welded. Standard Douglas Fir floors are 2 inches thick or more. Floor supports are on twelve inch centers, but closer with optional Rumber floor.


Front side tack or super closet for extra room where you need it. Dexter Easy-Lube torsion axles on all trailers except the Wrangler which has leaf springs. Bull Dog couplers and jacks. Warranty 5 years on chassis and skin. You can have custom graphics. It's evident that Logan keeps up on the popular options horse folks are talking about.


Above, plenty of metal working machines at Logan. They have more framing jigs than I'm seen anywhere. This assures that the trailers are uniform.
Right, one piece aluminum roof rolls on to it's jig. Precision is needed here as the roof if built separate and added to the walls.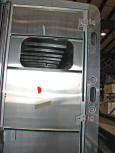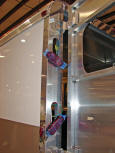 Clean cut holes for windows and lights. One of the best jobs of making smooth holes I've seen. Nice to know if you have to replace a light later on, that you won't cut yourself. A good job where you don't see it reflects overall quality.
Thick Stainless Steel and aluminum replaceable hinges are made by Logan. Quick door coupler and slam latches are fast. The enclosed cam door latches are unique with a refined finished look.

Cam latches are inside escape door wall where you don't see it. On rear doors, the cam latch system is enclosed in stainless or painted box depending on model. Look how low the slam latch is on the escape door. Convenience and ease of use is evident on Logan's.
Big improvement for reaching and controlling the feed doors for all height folks. You pull the rod and then fold the door down with it. Lock nuts on window rod keep window shut. You'll see this feature catch on in the industry. Next picture is the wire junction box, you want the wiring done right for the long haul. Right pictures, stall latches are simple and work well.
Pads, Pads and Pads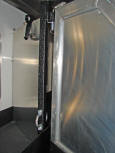 Hock deflector pad in the door corner (above), another unique feature. You can see the Vortex on the walls. Headache bumper over rear door is a good idea. Padded manger is Vortex coated and padded stall divider, seeing a theme here? Aren't you glad Logan is looking out for your horse. Even the stall divider post is Vortex coated (right).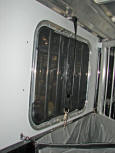 Logan Coach loads it's trailers with goodies. Like horse ties, hay bags, hat racks, muck forks, water hose, Logan's can come from the factory will all the equipment you need. Got to like the E-Z change tire jack and padded tack box.
Axles, Braces and Structural Integrity
Where axle opening is framed to the walls, there are 3 boxed cross members welded together. This also extends out for running boards and fender frame.  Axle opening has tremendous reinforcing, the frame ties the trailer to the axle trolley. Tall inside fender keeps your horse from climbing.
Super structure for holding tanks and skid plate for the outlet hoses. Isolated angle-iron frame separating horse floor and LQ or dressing room, keeping urine out of the people place. Plenty of caulking.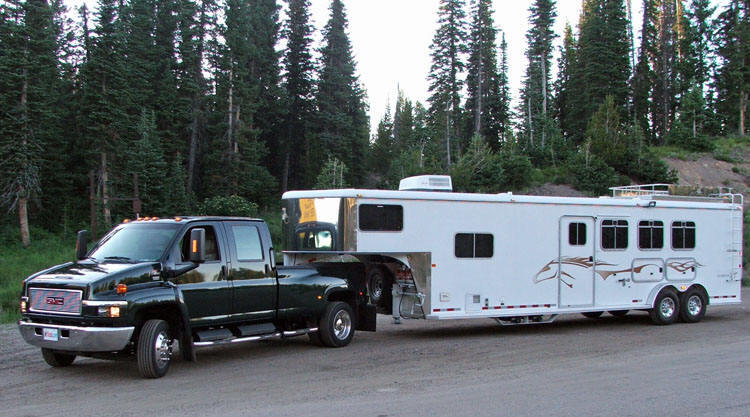 Roof masked off, to coat the chassis. One piece aluminum roof sealed seam. Well done roof bows, this is where the jigs shine.
Corner radius caps with ears and ribs to reinforce top corner piece. Plate slides inside the top rail aluminum extrusion for reinforcing inside the C-plate.
Framing
Spider web angle braces for the neck to wall attachment. Looks like a house roof truss.
Even the neck fits into a jig, this is how you make uniform trailers.
The Neck
Stainless trim, looks sharp. Logan trademark radius neck gusset curve.  Vortex coated steel. Covered neck option seen below.
Stud stall, a ventilated stud wall. On a bumper pull I towed, the stud wall folded up.
Eight' Wide Aluminum Ultra LQ www.LoganCoach.com


Generator fuel tank above, enclosed bulkhead on 8′ wide Ultimate, 8′ wide's have side tack, 13′ short wall standard on 8′ wide All 8′ wide's have enclosed bulkheads and hydraulic jack. On 8 wide, great slope on inside fender, right.
Standard FeaturesTraditional Logan Coach wedge nose
• 8′ Wide
• 12′ x 13′ living area
• Two (2) 30# LPG tanks w. auto switch over
• CO2, LP, fire, and smoke detectors
• 14′ 2-step awning
• Single leg hydraulic jack
• 8000# axles with 14 ply "G" rated tires
• Enclosed storage under GN
• Pass thru door from bathroom to 1st stall
• Two (2) side tack rooms (one in front and at rear)
• Manger in each stall except 1st stall
• 1st stall escape door
Furniture

• Ultra leather sofa w/ dual leg table
• Optional dinette Sleeper w/ table
• Queen size inner spring mattress
• Custom full-length mirror w/ frame
• Rustic custom cabinet pulls w. choice of options
• Magazine rackKitchen

• Two-burner recessed cooktop w/ cover
• Convection oven/microwave
• Power vent hood w/ 12v light
• 6.0 refrigerator
• Double sink
Valences, Blinds, Pillows, Comforters• Day/night shades (all windows)
• Custom valences (all windows)
• Wood framed/trimmed windows
• Comforter
• Bed pillow shams
• Bedroom toss pillows
• Lounge Pillows
• Privacy CurtainHeating & Cooling• Air conditioner w/ thermostat
• 16,000 BTU ducted forced air furnace
• Fantastic vent over bed
Cabinets, Wood & Doors• Optional cherry or maple
• Cabinets over dinette
• Cabinets under dinette
• Drawer under fridge
• Cabinets under and over sink
• Two drawers under stove pantry
• Wardrobe closet with shelves next to fridge
• Two cabinets w. mirror in GN nose
• Full height cabinet on passenger side GN
• Swinging wood bathroom door
Water Systems• 12 volt water pump
• 10 gallon DSI water heater
• 60 gallon fresh water tank
• 55 gallon black and grey tanks w/ single termination
valve and skid plate protection
• Sewer hose w/ attached fitting and carrier
• Water monitor system
• City water fill
• Winterizing kit
• Exterior water faucet on drop wall
Bathroom• Vanity w/ underneath storage
• Medicine Cabinet with door and mirror
• Double wardrobe closet w/ shelves
• Shower w/ glass door and sky light
• Standard toilet and sink
• Custom three piece bath set
• Power Vent
Lighting & Electrical
• Pre- Wire for Generator w/ remote switch and voltage meter located in last manger compartment
• 4.0 Onan Generator (optional)
• 45 amp power converter w. 35′ power cord
• One outside 110 volt receptacle passenger side
• Custom vanity lighting in bath
• Two 12 volt Swivel spot lights in GN nose
• Two 12 volt swivel spot lights under cabinet above dinette
• Two 12 volt custom wall lamps (dinette area)
• 12 volt in-direct/dome lights in ceiling (bath, GN, and living area)
• Two deep cycle batteries wired for vehicle recharge w/ lockable box
• Wall switches for Separate 12 volt lighting
• Lighted exterior grab handle
• 17″ LCD Flat screen TV
• Second 13″ LCD flat screen TV w/ swing out arm (optional)
• AM/FM CD/DVD player
• TV antenna w. 12 volt outlet and boost
• Four (4) interior speakers and two (2) exterior speakers interior
• Allantee soft touch walls and ceiling w/ wood trim
• Vinyl flooring
• Wains Cot wall paneling
In House Living Quarters

Disappearing Sink above commode>>
LQs are done "in house" with Logan called Prestige Interiors, making them more affordable and warranty issues are handled easier and faster with just one source. Logan is truly a trailer you can say has the "biggest bang for the buck". Talk about options, it's a long list. LQ 3/4″ floor ceiling particle board. 7/16″ thick walls.
All Living Quarter 7'6″ tall. Logan's "step" is a box. Homey look with a multitude of colors.
Super closet, left. Logan is one of the most space efficient LQ's in the market.
Wonder how they get the floors so flat? Trailers wait for all the boxes to go inside. Lots of details go into a Living Quarters.
Factory LQ advantages, they know where everything is. Miles of wires go in a LQ. Faucet in the bulkhead.
 I've watched a few travel trailers get built. Horse trailers are tanks compared to most of the RV industry.
In the constant improvements that happens at Logan Coach, the nose supports change to a sub floor in LQ for cabinets to not take impact from gooseneck/truck. You've got to protect the nice woodwork in LQ's.
Roomy bedroom, nice folding couch arrangement, the sliding sink is a hoot, it disappears. Factory LQs are economical.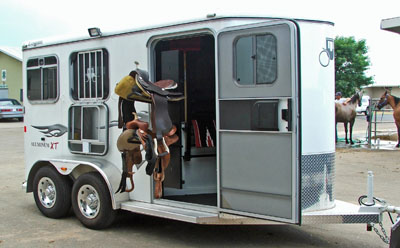 Love that swing out saddle rack, just push or pull. Large door on dressing room.

I've had the opportunity to tow several Logan Coach trailers. Even towed a Logan Contender up Pikes Peak(14,000 ft) with a GMC Quadrasteer on the same road as the International Pikes Peak Hill. Climb. (see article)

  I've towed Logan's over Trail Ridge ( tallest continuous highway in US). They pull easy, simple to use & my horse models step in smartly. The graphics are eye catching along with the diamond plate nose guard & fenders.
I like the width at 7'3″. This is a comfortable width for trailing and visibility. The trend is 8′ wide for LQ's.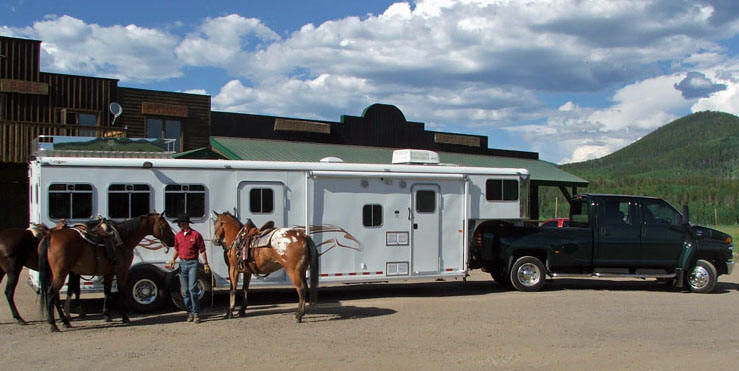 I towed a 3 horse LQ Logan Coach Aluminum XT to Steamboat Colorado from Denver and it towed straight and easy through the Rockies.  At Steamboat Lake Outfitters, we tied 3 horses to the outside D rings. The D rings are welded to the double post for the stall divider. Waldo the Appaloosa, reared and went down making the other horses jerk hard. The D rings held. Heavy duty like the rest of the trailer, made for decades of use, triple wall construction in the stall area and doors, you know, where the kicking occurs.
In my review I'm not going to list the options you can find on Logan Coach's website or brochures. My job is to report on what you don't usually get the chance to see. I've got a cool job!

 For more info www.TranswestTruckTrailerRV.com  for extra trailers and horse models at www.SteamboatOutfitters.com
I always end up with extra pictures. But you might see something below that would answer a question or cause you to ask one.