Horse Trailer Living Quarters in Many Shapes and Sizes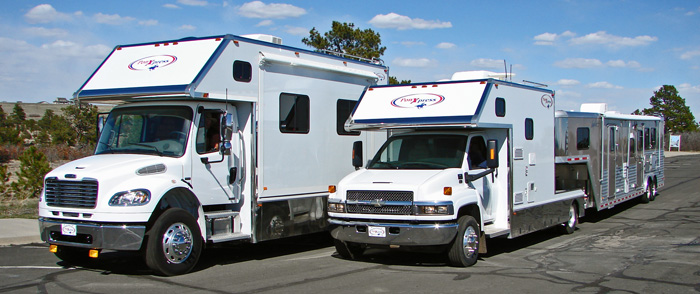 Should you go truck camper and bumper pull horse trailer, RV towing a bumper pull trailer, a LQ horse trailer or even a Toterhome towing your horse trailer? There are trailer Living Quarter options with a bumper pull LQ like a Lakota  2 horse bumper pull, with a manual tip-out wall or the popular LQ gooseneck with slide-outs for maximum room in your mobile home away from home. Find out after reading the Horse Trailer Living Quarters in Many Shapes and Sizes review.

For those with advanced trucking skills and the right license, you can even go doubles. That's towing a 5th wheel RV towing a bumper pull horse trailer. This could get you a 25′ short wall if you need the room. This is a popular combination with 5th wheels towing boats. LQ's are measured as short wall in trailers, meaning the short wall from the front of the trailer called the bulkhead back to the closest angle of the first stall in a slant load. Most LQ's or RV's or slide in truck campers are 8 to 8.5′ wide. This makes good trailer mirrors important.

A popular LQ option with trail riders are the slide-in truck campers. These units are the most maneuverable for off road. Truck campers were the rodeo circuit choice, being replaced now with LQ gooseneck trailers. A slide-in truck camper gives you camping options when you're not taking horses too. The down side for truck campers, beyond side winds, are equipping the truck trailer combination properly for safety and weight restriction. With a camper that sticks out past the rear of the truck, you'll need a receiver hitch extension for clearance between the truck and trailer in turns . Using a receiver hitch extension lowers by 1/3, the tongue weight rating of your trucks receiver hitch. You'll need to know your trucks payload capacity, axle capacity, trailer capacity and Gross Combined Weight Rating. If that's too complicated be sure to get some help. Asking questions is a good thing.
A camper can use up the majority of your trucks payload rating, not leaving much for the loaded tongue weight of your trailer which is also part of your trucks payload. Your trucks owners manual will have your payload weight rating. So add your campers loaded weight to your loaded trailer's tongue weight and subtract from your trucks payload and see if you any capacity left for passengers. Hard sided campers weigh the most. Truck campers also have relatively small water and waste holding tanks to keep the weight down. A soft sided, "popup" camper," will save you weight that you might need for proper payload. Because of all the weight requirements on your truck, generally you need a 3/4 ton or 1 ton truck. Ford for 2008 model, has a F450 pickup with a factory truck bed that meets the payload needs of larger campers towing trailers.
Horse Trailer Living Quarters in Many Shapes and Sizes
Diesel pickup trucks have the most power, but because they weigh more than a gas version, this lowers what's left for a trailer and or camper. Manufactures rate all this by the rule of Gross Combined Vehicle Weight Rating, the max weight of truck and trailer. So the more the truck weighs, the less is left for the trailer. My truck for instance is a F250 with a little over 2200# payload. I have a max gooseneck/5th wheel rating of 15,600 lbs. and 12,000 lbs. bumper pull rating. You don't want to exceed the payload or axle rating by the trailer tongue rating. So back to the 2200 lb. payload of my F250, if I have a slide in camper that weighs 1600 lbs., then I only have 600 lbs. left for the trailer tongue weight, me and fuel.
Attaching the camper to the truck is important ranging from a Happijac system of attaching the camper to the truck bed and bumper or attaching to the trucks frame with a Torklift system. I recommend using a weight distributing hitch on the trailer to spread out the weight to all axles of the truck and trailer. This very is important for bumper pull LQ trailers. Back to my F250 truck example with the class V receiver hitch rated by Ford at 12,000 lb bumper trailer (conventional) capacity, using a receiver hitch extension is only good for 1/3 less, or 8000 lbs. for the trailer. Rule of thumb for bumper pull trailers is 10% tongue weight, 800 lbs which puts me over my factory payload rating.
For the longest camper, you need the long bed truck which is 8 ft. A 11 ft. camper will stick out 3 ft. A 3000 lb camper will be in the one ton class depending on the year. Truck manufactures seem to increase the payload and trailer capacity each model, whether they changed anything or not.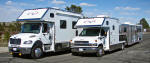 The idea of towing a trailer with an RV's has always interested me. At the All American Quarter Horse Congress in Ohio, you can see dozens of RV's with trailers. Imagine having your living room behind your seat.  Closely related to RV's is the new class of trailer haulers called Toterhomes. Toterhome's are the ultimate transportation for towing horse trailers. They're very usable utility luxury cruisers, that turn tight with the ride of the best RV Coaches. Made for trailers, with truck frames, underneath storage and most have fantastic visibility. Smooth enjoyable rides for your next adventure where you can "take it with you!" How much better can it get than to have you home behind your seat. With kitchen, living room, bathroom and guest bedroom just 10 feet away, imagine the possibilities. These are rigs that only need to stop to fuel up. The down side to RV coach's and Toterhome's are truck and house are one. If your Toterhome brakes down and goes to the shop, so does your house.
From what I see, the most popular and fastest growing segment for taking your house with you, is the trailer Living Quarters. Bumper pull LQ's come and go in popularity. The latest entry, is the new Lakota HUT (horse utility trailer) introduced at the All American Quarter Horse Congress in Ohio a few years back. What was different from other bumper pull Living Quarter trailers that I've seen over the years, was a mechanical tip out room. The tip out panels open by hand with the help of hydraulic struts. This allows for the couch to fold out into a bed. The couch also doubles as seating for the dinette.
Surprising amount of room and all the necessities like a bathroom with toilet and shower. Stove, refrigerator and sink, what else would you need. A trail riders dream. Some of the national forests and back country make a large LQ trailer impractical. Usually the other solution for deep off-road adventures was a truck camper and trailer. Lakota's compact 8′ wide 2 horse slant with a folding rear tack room, is well laid out and very similar to a large LQ. It even has the rear LQ access door to the first stall.

If you ever get the chance to go to the All American Quarter Horse Congress in Ohio, do it. I don't know of a bigger horse trailer display including the NFR. Almost every Living Quarter equipped trailers, are there. With as many features and designs as one can imagine and trailer manufactures put their best foot forward with new designs. Cimarron had a LQ gooseneck with a slide-out in the neck and basement storage with the gooseneck having a 6′ ceiling.
Horse Trailer Living Quarters in Many Shapes and Sizes
I travel to trailer factories and watch them get welded together. Most trailer manufactures design the shell (front part of the trailer left unfinished) for the conversion companies placement of refrigerators, AC, vents, stoves etc. and for the proper reinforcement for weight and opening size. A typical LQ will add 6 to 8000 lbs. to the trailer. This means towing a LQ trailer is basically loaded all the time. This also means the angle of the torsion axles or air bag axles for wheel travel and ride characteristics along with tires size, load rating and axle rating, all is important. You can buy a LQ trailer will all the figuring done for you can custom order all the features you want and proper capacity specs worked out between you and the dealer.
Most horse trailer manufactures have engineers that review the plans you and the dealer put together on a custom built LQ trailer to ensure it's safe. Horse trailers can last decades, so plan well what you want and for the future resale value of your trailer. Well built LQ goosenecks do hold their value. Because of the cost of the trailers and length of time you may own it, consider having an extra stall just for storage that can be used for another horse later on. You can look through online trailer listings such as www.HorseTrailerWorld.com to see what size of trailers are the most popular and what is the scarcest. A common statement you hear with sales folk is to buy a 3 horse even if you only need 2 stalls, because of resale value. Which coincides with what I just said, but on the other hand, try to find a 2 horse gooseneck LQ and they seem to be rare, so the resale value is fine right now.
Another option is to finish a LQ yourself. Yes it may save you some money  if you are very talented at building or remodeling houses. There are so many details to consider, insulation, wiring, converters, invertors. vents, bracing, plumbing and even the escape windows in the neck. If this is an option for you, be sure to pick a solid trailer that can handle the extra weight on the neck frame, axles, floor etc. Factory LQ's have extra bracing in the roof for AC's and vents. The nose frame and floor has to be reinforced properly to keep cabinets and mirrors from cracking. Then there is those wonderful holding tanks. Fresh water, grey water and black which all had to the weight of the trailer. Factory LQ trailers have reinforced and designed flooring for these tanks. Some even have skid plates to protect the tanks and are positioned in front of the axles to prevent being dragged off. Hawk trailers have an interesting design with the LQ floor elevated to have room for the holding tanks flush with the horse floor.
Should you get slide-outs in your LQ? Very popular in the RV industry, they do give you more room and an open feeling. We all like room. Bison trailers, coping the RV industry has the only flush floor slide-out in a horse trailer, so you don't trip getting to the dinette. This is not easy as the floor of a horse trailer is usually part of the frame where it's not on most RV's, so cutting the floor for a flush slide out floor takes a lot of reinforcing and engineering. Other conversion companies have masked the step up of a slide-out with couches that appear flush with the floor. Be sure to ask your salesman about the mechanism of the slide-out, is it hydraulic, or electric, is it self adjusting and how do you maintain it.
Horse Trailer Living Quarters in Many Shapes and Sizes

More popular options I see at horse shows are mud rooms, bunk beds and larger closets that can be anywhere. You never can have too much storage. Another reason mangers are so popular is the extra enclosed storage. You can have storage under the bed in the gooseneck, with struts to open the Queen size bed.


Some trailer manufactures make their own in-house LQ, such as Logan Coach, Lakota, Integrity, Bison, to name a few. Featherlite use to make their own LQ, but now contract to Sierra Conversions. Factory LQ's generally cost less than custom conversions and their dealers can handle LQ warranty issues directly. But options and models will be limited. The majority of trailer manufactures will use several conversion companies and some dealers will use a different conversion company than the trailer manufacture. Horse trailer LQ conversion companies such as Outlaw, Sierra, Bunkhouse, G2 etc, will build you anything you want for a price. The interiors in display trailers at Congress and the National Finals Rodeo in Vegas are awesome! The woodwork, lighting, plasma TV screens, entertainment centers, bars, Italian cut class shower stalls, skylights, alligator skin covered couches and automatic awnings, all change the feeling of road trips.
Carbon monoxide and smoke detectors are standard as well as many other safety features if the trailer has the RVIA sticker. This is the Recreation Vehicle Industry Association symbol. Read more about what's required for this label at http://www.rvia.org
With LQ's you may want a generator. AC and microwave will require at least a 3500 watt generator. A manger is an nice place to have your generator or in the hay rack is popular on large trailers. Be sure the exhaust from your generator is properly routed out of the trailer. Each year we see on the news, someone dying from carbon monoxide poisoning because of the wrong use of a generator.

Look at a typical RV travel trailer and then compare to a horse trailer Living Quarters. Horse trailers are tanks compared to light travel trailers. As with a RV, your LQ may qualify as a second home with interest tax deductions. Have fun deciding which option works best for you. Having a LQ, makes every horse event, a family vacation. Remember your LQ is your castle. Next issue we'll cover trailer judging 101.
MUST Have LQ Accessories:
The Latest Innovations in LQ Horse Trailer Accessories:
Cimarron's six foot gooseneck bedroom ceiling. No cave, just walk into the bedroom. LQ's are moving toward the features of RV's. Having an LQ makes horse events mini family vacations.
Horse stall camera's with monitor in LQ, truck and rear of the trailer from Agcam. See what's happening. Move the camera's around with their magnetic base. Enjoy your trailers inside, while watching your horses outside in their portable corral.
Armadillo armored garden hose, from Great Terrain for dependable water supply. Your horses can't chew threw it,
Popup Gooseneck Cushion Coupler, protect your LQ investment from neck shock. Mirrors and cabinets make the gooseneck bedroom like home. Bouncing down the road is hard on your LQ.
Kodiak hydraulic disk brakes. The extra weight of an LQ translates into more research on more powerful dependable brakes. Your truck has hydraulic disc brakes for decades now on the front and for at least 7 years on the rear. Hydraulic brakes is becoming more common on the larger LQ trailers.
Centramatic Wheel Balancers. I've only found one brand of horse trailer that balancers the trailer tires at the factory. Your truck tires are balanced. Why wouldn't you want your LQ trailer tires balanced? Reduces the vibration in your expensive trailer.