SumoSprings are SUPER for Front, Rear and Air Bag Replacement
No leaky air, no frozen air lines, no squeaky overload springs, just a better ride for your truck or RV. SumoSprings for RV's,trucks, SUV's, Vans, improved ride with closed cell polyurethane
For Trucks and Trailers
Now for Trailers, video coming soon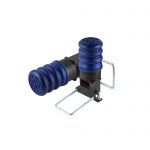 TSS-106-40: New for "spring under axle" for each trailer axle. For trailers with less room between axle and trailer frame. Best way to add a SUMO like shock absorber to control your trailer axle movement. It works well on your truck, now you trailer can have a smoother ride with less damage to your trailers suspension. $224.99 per axle, click to order
Sold as a pair (left and right) one axle
Maintenance-free
Reduces and absorbs vibration
500 (lb) Capacity at 50% Compression
Reduces overall cost of ownership
Improves overall driver control and ride comfort
Compress up to 80% of original height with full memory rebound
Increases safety
progressive spring rate with superior damping properties
Made from patented micro-cellular urethane
Will not leak or rupture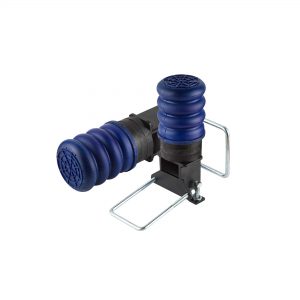 TSS-106-47: New for "spring under axle" for each trailer axle. 5000 to 8500 lbs. GWWR. For trailers with less room between axle and trailer frame. Best way to add a SUMO like shock absorber to control your trailer axle movement. It works well on your truck, now you trailer can have a smoother ride with less damage to your trailers suspension. $244.99 per axle, click to order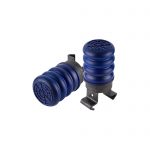 TSS-107-40:  Popular "spring over axle" for each trailer axle. For trailers with more room between axle and trailer frame. Best way to add a SUMO like shock absorber to control your trailer axle movement. It works well on your truck, now you trailer can have a smoother ride with less damage to your trailers suspension. $203.99 per axle, click to order
Trucks below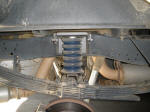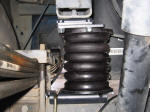 The airless bag to prevent your sag and improve your ride! For trucks with campers, trailers, commercial bodies and all other loads.
Click Product Finder Below For The Best Truck FIT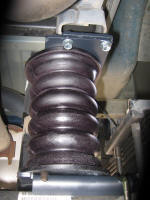 Responding to customer requests and feedback was the motivation for producing the world's first and only "airless airbag" suspension system for trucks and vans –SumoSprings.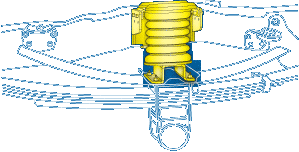 SumoSprings are manufactured from an advanced high grade, closed cell polyurethane foam; ideal for the tough truck underbody environment. The product underwent testing in extreme conditions ranging from blistering US desert summer days to the frigid Canadian winter nights. Combining heavy loads with extreme terrain and temperature conditions over eighteen months of testing ensures their performance in any similar conditions our customers might encounter.
Highest Quality Polyurethane Available Delivering Unsurpassed Dynamic Performance
High Compression Rate with Full Memory Rebound
Compressible up to 70% of their Original Height Making them Ideal for High Dynamic Loading Versus the Typical 20% Compression for Material used by Other Manufacturers
Extremely Durable Material with Excellent Abrasion, Cut Resistance and Low temperature Flexibility
Engineered Surface Profile Provides Minimal Transverse Expansion – Unlike an Air Inflated Product which Expands Laterally when Compressed, the SumoSprings Compresses in on Itself when Under Load
Leak Proof, Rupture Proof, Maintenance Free Load Support
Capable of Supporting Loads from 3,000 to 10,0000 lbs. – Load Rating is per Pair – Never Exceed Your Vehicle's Gross Vehicle Weight Rating (GVWR)
These Variable Rate Springs Provide Better Handling and Stabilization for Slide-In Campers, Trailer Towing and Commercial Applications
Bonded to both the top and Bottom Mounting Plates so they Enhance the Vehicle Suspension whether Riding Empty or Carrying the Maximum Load
Supplied with No-Drill Steel Brackets and Mounting Hardware for a Quick, Easy Installation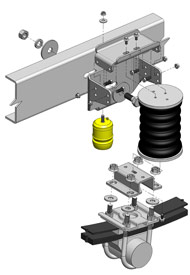 SumoSprings are manufactured in a propriety multi-stage hot casting process resulting in a unique closed cell microcellular foam with the following characteristics:
1. Minimal expansion under loading, will work in confined spaces.
2. Compressible to 70% and extendable to 30% of its unloaded height with full memory rebound
3. Excellent abrasion resistance, highly resilient to oils, salts and UV rays.
4. No possibility of a system failure due to leaking air, No air lines or compressors.
5. Closed cell foam wont rupture and can be punctured without loss of performance
6. Indifferent to weather extremes, can handle temperatures ranging from – 40 degrees to + 200 degrees Fahrenheit.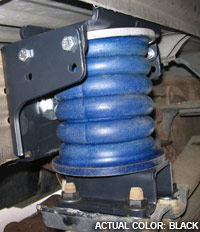 Installed SumoSprings offer the following benefits to our customers:
1. Zero maintenance required ever.
2. This aligns with our company motto of "fit it and forget it" for each of our products
3. The microcellular foam material delivers a progressive, cushioned load engagement producing a smooth, comfortable ride for the driver.
4. SumoSprings kits have all been designed to be "no-drill" installation.
5. All kits ship fully assembled in the box to facilitate a quick, easy, bolt-on installation.
6. Levels your load and maintains front end alignment for safer driving.
7. Reduces sag, bounce, sway and bottoming out.
8. All proudly made in the USA.
From listening to our customers' feedback, SuperSprings International engineers designed the SumoSprings air spring to fit most competitors existing airbag bracket systems with very little or no modification required at all. If you need to replace your damaged or leaking airbags contact SuperSprings for your leak-proof, maintenance free alternative. Replacement air bag SumoSprings below.
Simply "Fit and forget "your SumoSprings today.
Rear SumoSprings> Fit Chart, Front below
Make
Year
Part #
FORD
Pick Up Truck
MrTruck Prices
F250/F350 SUPER DUTY (2×4 & 4×4) – No 5th wheel
1999-2010
SSR-101  $489.99
   F250/F350 SUPER DUTY (2×4 & 4×4) – No 5th wheel
2011
SSR-103  $589.50
   F250/F350 SUPER DUTY (2×4 & 4×4) – with 5th wheel
1999-2010
SSR-102  $589.50
2020 Ford F250 4×4
2020
SSR-127-54

$305.99

  Ford F-53 Class A Motor Home (16K-22K GVWR)
1999-2009
SSR-180-54-1 Maxim $639.99
Ford F-53 Class A Motor Home (16K-22K GVWR)

(Ford Transit) 2020
350

2008-2016

350 Front Sumo Springs

350 Rear Sumo Springs, Single rear wheel

SSR-183-54-1 Maxim  $637.99

CSS-1195 $173.99 Retail 10% off Code JourneyBetter $156.59

SSR-121-54 $275.99 Retail

10% off Code JourneyBetter

  (Excludes Thor models)
GENERAL MOTORS
  2500 Suburban, 2500 Yukon
2000-2010
SSR-202  $203.99
Pick Up Truck
   2500 SIERRA, SILVERADO, 2500HD (2×4 & 4×4)
2001-2010
SSR-201  $489.99
   3500 SIERRA, SILVERADO, 3500HD (2×4 & 4×4)
2001-2010
SSR-201  $489.99
New 3500 SIERRA, SILVERADO, 3500HD (2×4 & 4×4)
2020 plus
SSR-203-40-2 $489.99
Workhorse W20, W22, W24 Class A Motor Home
2001-2009
SSR-280  $637.99
DODGE
Pick Up Truck
   RAM 2500 (2×4 & 4×4) RAM 3500 (2×4 & 4×4)
2002-2011
SSR-301  $489.99
JEEP
JK WRANGLER
2007-2010
SSR-401  $189.99
Both single and dual rear wheel trucks
Do not exceed GVWR
Front SumoSprings
For trucks with snow plows, winches and other front-mounted accessories.
Product Description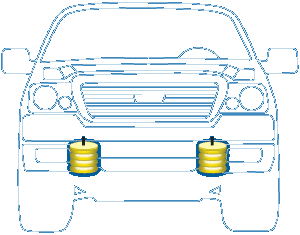 All SumoSprings utilize patented micro-cellular polyurethane foam formulated with exclusive additives. The resulting combination of exclusive raw material and engineering design produces a graduated spring rate curve which results in progressive compression under load and variable road conditions. This produces a smooth ride and provides additional load support.
Features & Benefits
Manufactured in a proprietary casting process the finished material possesses the following properties:
• The highest quality polyurethane available delivering unsurpassed dynamic performance.
• High compression rate with full memory rebound.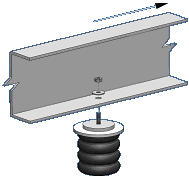 • SumoSprings are compressible up to 70% of their original height making them ideal for high dynamic loading versus the typical 20% compression for material used by other manufacturers
• Specifically designed and formulated for the tough truck underbody environment
• Extremely durable material with excellent abrasion, cut resistance and low temperature flexibility.
• Engineered surface profile provides minimal transverse expansion – unlike an air inflated product which expands laterally when compressed, the SumoSprings compresses in on itself when under load.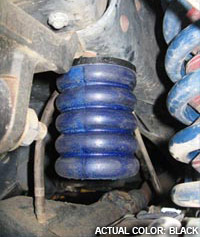 • Patent pending
Front SumoSprings – permits a far smoother load engagement than other products. More than a mere bump stop, this variable rate spring with load capacities of up to 3,000 pounds* eliminates the unforgiving "banging" effect produced by similar front-mounted products. Front SumoSprings are ideal for snow plow, winch and heavy duty replacement bumper applications. They will maintain the original factory ride and only provide additional support when needed. The kits ship complete with all mounting hardware required for a quick, easy installation – typically less than 30 minutes.
All SumoSprings kits are manufactured and assembled in the USA.
*Load rating is per pair – Never exceed your vehicle Gross Vehicle Weight Rating (GVWR)
Front SumoSprings > Fit Chart
Make
Year
2×4
4×4
FORD
Pick Up Truck
MrTruck Prices
   F250 / F350 SUPER DUTY
1999-2004
SSF-101  $188.99
SSF-103  $188.99
   F250 / F350 SUPER DUTY
2005-2010
SSF-101  $188.99
SSF-102  $188.99
Cab & Chassis
   F350 SUPER DUTY
1999-2004
SSF-101  $188.99
SSF-103  $188.99
   F350 SUPER DUTY
2005-2010
SSF-101  $188.99
SSF-102  $188.99
F 53 Class A Motor Home (16k-22K GVWR)
2008-2016
SSF-183-40-1  $611.99 Full Kit Maxim
GENERAL MOTORS
Pick Up Truck
   1500 HD SIERRA, SILVERADO, DENALI
1999-2006
SSF-201  $152.99
   1500 HD SIERRA, SILVERADO including Classic
2001-2010
SSF-201  $152.99
SSF-201  $152.99
   SUBURBAN, YUKON XL 2500
2000-2010
SSF-201  $152.99
SSF-201  $152.99
   2500 SIERRA, SILVERADO, 2500HD
1999-2010
SSF-201  $152.99
SSF-201  $152.99
   2500 AVALANCHE
2002-2006
SSF-201  $152.99
SSF-201  $152.99
   3500 SIERRA, SILVERADO, 3500HD
2001-2010
SSF-201  $152.99
SSF-201  $152.99
Cab & Chassis
   3500 SIERRA, SILVERADO Single rear wheel
2006-2010
SSF-201  $152.99
SSF-201  $152.99
   3500 HD
2007-2010
SSF-201  $152.99
SSF-201  $152.99
Workhorse W20, W22, W24 Class A Motor Home
2001-2009

SSF-203.99

DODGE
Pick Up Truck
   RAM 2500
1994-2002
SSF-302  

$178.99

   RAM 2500
2002-2010
SSF-301  $178.99
SSF-302  $178.99
   RAM 3500
1994-2010
SSF-301  $178.99
SSF-302  $178.99
Cab & Chassis
   RAM 3500
1994-2010
SSF-301  $178.99
SSF-302  $178.99
 JEEP
   JK WRANGLER
2007-2010
SSF-401  $150.99
Do not exceed GVWR
Rear SumoSprings > Airbag Replacements
Leaking Airbags?
Eliminate leaking airbags by installing replacement SumoSprings bellows that are LEAK PROOF, MAINTENANCE FREE and provide you 'fit it and forget it' peace of mind.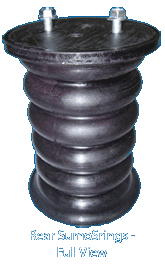 SumoSprings rear suspension systems consist of two primary components; the steel bracket attachment system and the microcellular foam airsprings, airbags or bellows (photo).
SumoSprings bellows are the world's first and only maintenance-free, leak-proof airbags.  Additionally, they have been designed to fit existing competitive airbag bracket systems as replacements for ruptured or leaking airbags.
The SumoSprings bellows are manufactured from patented microcellular polyurethane foam. The combination of raw materials and engineering design produces a smooth ride; provides additional load support; is LEAK PROOF and completely MAINTENANCE FREE.
The SumoSprings bellow top plate has a 4-hole drilling pattern which aligns perfectly with the top bracket of all the Firestone™ and Airlift™ airbag systems cross referenced below. The SumoSprings bottom plate has a centered, single hole. Where this does not correspond with the existing lower bracket system a single 7/16" diameter hole will need to be drilled to complete the installation. (See notes)  Bolts are supplied with the SumoSprings bellows for attachment to the existing bracket system.
Firestone™ / SumoSprings / Airlift™ cross reference sheet.
The SumoSprings will replace all the Firestone (Ride-Rite) and Airlift air spring item numbers listed below with little or no adjustment required. (See notes) Kit numbers are listed to more easily cross reference the appropriate air spring number.
Firestone™

SumoSprings

Airlift™

Rear Kit
#
Air Spring
#
Note
Item
#
Rear Kit
#
Air Spring
#
Note
2025
6781
SSR-050
57105
50284
1
2029
6859
1
SSR-050
57125
50284
1
2032
6859
1
SSR-050
57131
50201
1
2040
6873
SSR-050
57202
50201
1
2061
6764
1
SSR-050
57203
50284
1
2065
6859
1
SSR-050
57208
50201
1
2071
6781
SSR-050
57212
50201
1
2080
0335
1
SSR-050
57215
50201
1
2085
0335
1
SSR-050
57216
50201
1
2101
6781
SSR-050
57217
50201
1
2109
6781
SSR-050
57219
50201
1
2116
6781
SSR-050
57221
50201
1
2153
6781
SSR-050
57224
50201
1
2173
6762
SSR-050
57242
50251
1
2176
6781
SSR-050
57250
50201
1
2190
6781
SSR-050
57237
50201
1
2213
6762
SSR-050
57291
50201
1
2220
6781
SSR-050
57298
50201
1
2249
6781
SSR-050
57340
50251
1
2250
6781
SSR-050
57345
50229
1
2251
6781
SSR-050
57347
50201
1
2253
6781
SSR-050
57394
50201
1
2255
6781
SSR-050
2264
6781
SSR-050
2286
6781
SSR-050
2299
6401
1
SSR-050
2304
6781
SSR-050
2330
6401
1
SSR-050
2350
6397
1
SSR-050
2355
6781
SSR-050
2361
6397
1
SSR-050
2362
6781
SSR-050
2377
6397
1
SSR-050
2382
6781
SSR-050
2384
6397
1
SSR-050
2398
6401
1
SSR-050
2400
6401
1
SSR-050
2403
6766
2
SSR-050
2404
7325
1
SSR-050
2407
6397
1
SSR-050
2425
6781
SSR-050
2430
6397
1
SSR-050
2442
7325
1
SSR-050
2445
6397
1
SSR-050
2446
7701
1-2
SSR-050
2447
6397
1
SSR-050
2450
6401
1
SSR-050
2452
6781
SSR-050
2455
6781
SSR-050
2458
6397
1
SSR-050
2460
6781
SSR-050
2478
6781
SSR-050
2484
6781
SSR-050
Note1:
Original Firestone™ and Airlift™ applications have two 3/8-16" tapped holes in the bottom bracket plate.  Drill one 7/6" diameter hole in the center of this lower plate to accommodate the SumoSprings bellow.
Note 2:
Use the 3/8-16" set screw and fender washer in one of the upper plate holes to prevent rotation.
SumoSprings Replacement Airspring Item #:  SSR-050  $322 retail  MrTruck price: $290 Click to order
Heavy Duty #:  SSR-080  $355 retail  MrTruck price: $320 Click to order
SumoSprings > Limited Warranty

Your SuperSprings™ product is covered by the Limited Warranty explained below that gives you specific legal rights. This Limited Warranty is the only warranty made in connection with your suspension stabilizer, SumoSprings. SuperSprings™ neither assumes nor authorizes any vendor, retailer or other person or entity to assume for it any other obligation or liability in connection with this product or Limited Warranty.What is Covered?Subject to the terms, exclusions and limitations herein, SuperSprings International, Inc. Warrants to the initial retail or fleet purchaser only that its SumoSprings suspension stabilizer shall be free of defects in material and workmanship for:
Two (2) years
This Limited Warranty extends only to the initial retail or fleet purchaser with respect to use upon the vehicle the SuperSprings™ product is first installed. The term of Limited Warranty shall be measured from the date of purchase. SuperSprings™ reserves the rights to: (a.) require claimant's proof of purchase as a condition of this Limited Warranty, (b.) make future revisions to its Limited Warranty without prior notice. ALL OTHER EXPRESS OR IMPLIED WARRANTIES INCLUDING MERCHANTABILITY OR FITNESS FOR A PARTICULAR PURPOSE ARE HEREBY DISCLAIMED.
What is Not Covered?
Your Limited Warranty does not cover any damage arising or related to any vehicle, product, or component combination other than the SumoSprings suspension stabilizer. Your SuperSprings™ Limited Warranty further does not cover vehicles, products or components supplied by us or others that SuperSprings International, Inc determines to have been damaged by or subjected to:
– Vehicle use in excess of GVWR combined vehicle weights/ tow ratings or other OEM design specifications or limitations.
– Normal wear and tear, deterioration of spring shape or rating, alteration or failure to maintain. – Scratches or defects in product finishes (powder coating, paint, etc.) or damage due to shipping.
– Misuse, including products used other than as recommended in the current SumoSprings application guide or the instructions.
– Racing or other vehicle competitions or contests. Accidents, impact by rocks, trees, obstacles or other aspects of the environment.
Remedy Limited to Repair / Replacement.
The exclusive remedy provided hereunder shall, upon SuperSprings Internationals' inspection and option, be either repair or replacement of product or parts covered under this Limited Warranty. Customers requesting warranty consideration should first contact the independent distributor from whom you purchased your SumoSprings to obtain a Returned Goods Authorization number. All removal, shipping and installation costs are customer's responsibility. If a replacement part is needed before yours can be returned, you must first purchase the replacement part. Then, if SuperSprings™ deems your part warrantable, you will be credited the purchase price. Your warrantor is SuperSprings International, Inc.If you are unable to submit a warranty claim through your distributor contact SuperSprings™ customer service at 800-898-0705 or the address indicated below.
Other Limitations – Exclusion of Damages – Your Rights under State Law
In consideration of the purchase price paid, neither SuperSprings International, Inc. or any independent SuperSprings™ distributor are responsible for any installation or removal costs, time loss, rental costs, or for any incidental, consequential, punitive or other damages you or third parties may incur in connection with any product purchased. Your exclusive remedy hereunder for covered parts is repair/replacement as described above.
This Limited Warranty gives you specific rights. You may also have other rights that vary from state to state. For example, while all implied warranties are disclaimed herein, any implied warranty required by law is limited to the terms of Limited Warranty described above. Some states do not allow limitations of how long an implied warranty lasts and /or do not allow the exclusion or limitation of incidental or consequential damages, so the limitations and exclusions herein may not apply to you.
©SuperSprings Int., Inc. 2008. All Rights Reserved.
MrTrailer – Trucks Pulling Trailers and Trailer Accessories.
Sulastic Rubber Springs Overload helper for trucks, vans and SUV's