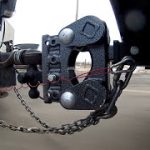 See our Bumper Pull (receiver hitch) torsion cushion adjustable hitches. Gen-Y Hitches
Shocker Hitch: Gooseneck Cushion Couplers to protect your trailer. Take the jerk out of stopping and starting with a trailer and improve the overall ride. Your horse will thank you and the hay will stay on the trailer.  to buy click….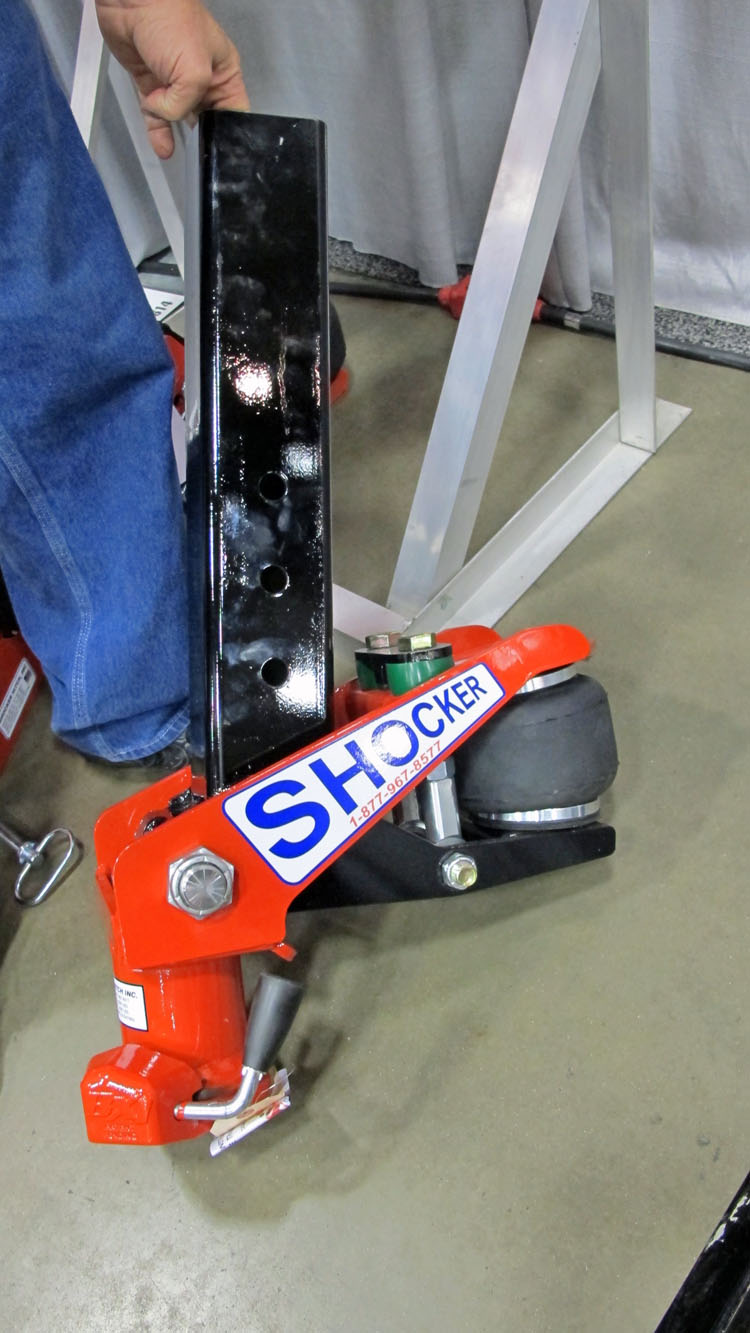 Cody Cushion air bag ball improves road impact on your trailer. Popup Cushion Coupler absorbs shock between your truck and trailer
Protect your Living Quarters gooseneck investment in your horse trailer. Cody Cushion from Cody Hitch has one air bag, and a double hinge. Up and down and front and back cushion. With today's Living Quarter horse trailers, you need protection for the fine cabinets and mirrors. This winter in Colorado, made record potholes. Can you imagine the impact in the neck of your trailer over each hole. 4500 lb. tongue weight rating. It's hard to measure just by feel, but you can notice a difference in stopping and starting. I pulled a 4 horse Logan Coach gooseneck from Logan Utah to Denver. I could tell when I took off with the trailer, that the Cody Cushion took most of the starting jerk away. Cody takes the jerk out of your trailer ride, starting and stopping, and smooth across railroad tracks. Having the gooseneck cushion in your truck bed, lets you use it on all your gooseneck trailers. You insert the Cody Cushion in the ball socket of your gooseneck hitch. You can easily adapt the Cody Cushion to Cody Hitch, B&W and Popup truck bed hitches. Trip your hitch latch to secure Cody Cushion in your truck bed hitch, air it up so the air bag arms are parallel and you're ready to go. Even if the air bag fails or leaks, there are stops to keep the ball from dropping too low and metal stops so the air bag doesn't overinflate. Semi trucks have air axles, air cabs and air seats, why not have an air gooseneck.
The unique Cody Cushion lets you enjoy the ride qualities of an expensive air ride system like the big rigs. Increasing driver comfort by ironing out road seams and bumps isn't the only advantage of the Cody Cushion. By smoothing the hammering action between the trailer and hitch, the air cushion ride saves wear and tear on your tow vehicle, trailer, load, and the hitch itself.

New Cushion Coupler, more cushion, less space!!
Pulling a trailer with this coupler is like riding on a cloud. It absorbs up to 59% of the bumps, jolts and jars that make towing hard on you, hard on your cargo and hard on your equipment. Living Quarters horse trailers really need this to save bedroom cabinets. Simply swap it out with the coupler on your gooseneck now – and, Walla! Instant gratification. Trailers keep getting larger with more weight on your truck. You need a buffer between your truck and trailer.  to buy click….
The CC 2 Cushion Coupler costs hundreds less than air-bag style couplers – and its maintenance-free. The remarkably smooth ride comes from a patented system that uses world famous Timbren cushions combined with other proprietary shock-dampening technology
You don't sacrifice strength for smooth towing. With a gross trailer weight rating of 24,000 pounds and 8,000 pounds maximum tongue weight, this cushion coupler will take you wherever you're going in remarkable comfort. The rubber inside the tube works as a guide for up and down motion as well as dampening front to back vibration. Designed to apply trailer cushion at different tongue weights, Cushion Coupler will work with a loaded or empty trailer or anywhere in between
Installation of the new cushion coupler was a snap, just loosen the two adjustable coupler tube wedge bolts and the old coupler falls out, watch your toes. Slide the Cushion Glide Coupler up the neck tube and retighten the two wedge (set) bolts and you are ready to go. I did measure first were the old coupler was, so I have a place to start adjusting the new cushion coupler. We used model CC1 with a 4000# tongue weight rating.
The biggest difference I could see was in slowing down, speeding up, starting and stopping. The Cushion Coupler took the shock out of the movement. Have an improved ride is nice but reducing the jerk between the truck and trailer impressed me. I drive in heavy traffic in Denver and try as you might to allow room between you and other drivers and the gap just keeps filling in with those little cars. So when your truck pitches forward in a panic stop, this coupler can help cushion the jolt and rebound from the sudden stop,  to buy click….
It even matches the color of your gooseneck and your spare tire! The bottom of the Cushion Coupler is tapered inward ball guide to allow easier ball hookup, even if you aren't perfect at backing up your trailer. Now of course the ultimate test was Kenny Browns wife, Sandy. She drove the truck and trailer at the end of our grueling test drives while Kenny and I rested in the barn near the refrigerator. And Sandy's quote was "the hitch makes the truck and trailer ride better." What else can I say except that Kenny just got back from a 2000 mile trip from Ft. Collins Colorado to Farmington and Clovis New Mexico and back, hauling a couple of mares (approximately 2400#'s) using the CGC. This long term test was successful, Kenny noticed less horse motion from the trailer verses other similar trips. He also stated that his F250 felt more like the stability you notice with a dually.
For less stressful trailering, the CC1 is dramatically less expensive than an air ride hitch, no maintenance, it's automatic and easy to install. Proven to be a strong heavy duty coupler, the tests of the Cushion Coupler at U-Haul Tech center in Tempe, AZ for its ability to support the proposed SAE test loads without breaking or separating from the hitchball, passed all the different trailer load directional force tests dramatically beyond what you could do to the hitch in the real world.
Happy horse, fun ride, less fatigue on everyone. If you are ordering a new trailer, tell them you want the Cushion Coupler in lieu of the standard coupler. It's an option on most horse trailers.
Most folks have their trailers loaded most of the time, but if you do pull an empty trailer often, you can add a spacer under one of the three Timbren Rubber Cushions. Using a "1/4" to "3/8" washer under one cushion, would soften the ride when pulling empty or with a light load. As the load increases it kicks in the other 2 cushions. The rubber cushion will still compress over the spacer washer when loaded, but will soften the empty trailer ride. Ask for the spacer washer when you order. Set the coupler at the proper height loaded and leave it alone, it will ride a little higher empty but not enough to matter, you have to take in account that the trailer when empty is also running a little higher- it equals out.
If your truck has air suspension, which helps the ride, you still have a fairly solid connection between the truck and trailer. The Cushion Coupler will still cushion the impact between truck and trailer, inside the coupler, is a solid steel square shaft that slides in a rubber type sleeve similar to a torsion axle. This part of the coupler also absorbs shock, as does a torsion axle
The CC1 was designed as a direct replacement for you're current coupler. It is about 1/2″ taller unloaded than the current Stallion or Hammerblow models but it shortens up loaded so it will have to be set a little lower than a solid coupler, so a person with a tall truck can level out the trailer which they couldn't do before. The CC in its current configuration should fit all trucks coming out of the factory today,  to buy click….