GooseneckCushion.com

All these hitches are made in America
Trailer cushion, Cody gooseneck cushion, Shocker Hitch, Popup CC2 Cushion, Gen-y Torsion
Watch the video's of the hitches MrTruck has tested and uses:  Gen-Y Executive kingpin to gooseneck.  Gen-y Gooseneck Torsion Suspension. Gen-y Torsion Receiver Hitch. Gen-y Receiver Hitches . Gen-y Hitch new Glider torsion hitch. Gen-y Hitch Factory Tour . Gen-Y Hitch Best Built . Gen-Y Hitch SEMA. Gen-Y 32k Receiver Hitch . Gen-Y Hitch gooseneck review with Morgan . Gen-Y Hitch Interviewing Carl. Gen-Y Hitch vs. Jack-Hammer. 
Shocker Air Cushion Hitch Video's:  Shocker Air Hitch Review at 2021 NATDA. Shocker Air Hitch Bob Interview  .  Shocker Air Receiver Hitch
Popup Cushion Coupler absorbs shock between your truck and trailer. Shocker Hitch air cushion for receiver hitches and gooseneck. Cody gooseneck cushion, Shocker Hitch, Popup CC2 Cushion and the New Gen-Y Gooseneck Torsion improves trailer ride. Gooseneck Cushion Couplers to protect your trailer. Take the jerk out of stopping and starting with a trailer and improve the overall ride. Your horse will thank you and the hay will stay on the trailer.
Gen-Y Hitch Heavy Duty Receiver Hitch Sale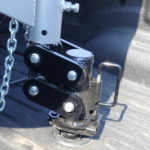 New from Gen-Y Hitch, Gooseneck Torsion Suspension Coupler 4 in. Round & Square. Made in Indiana Now you can isolate your gooseneck trailer bounce from your trucks bounce. Improve your ride, with Rubber Torsion Hitches only 10% of the trailer inertia transfers compared to 100% using a hard connection hitch giving you the ultimate control. Greatly increased braking control since all the weight on the tow vehicle and trailer is distributed evenly giving you increased positive contact when breaking and maneuvering.  Read More…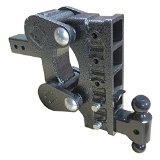 Gen-y Gooseneck Torsion-Flex coupler for smoother ride, isolating truck and trailer bounce and 5th-wheel Torsion-Flex Read more…
Gen-y Bumper pull adjustable receiver hitch and Torsion-Flex receiver hitch. Click for more….
Shocker Hitch, New: FREE Shipping, Gooseneck Surge with New Shift-Lock  30K coupler.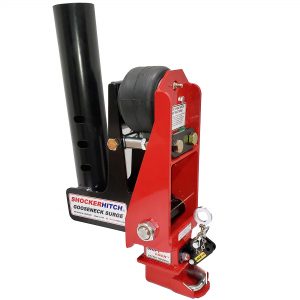 Gooseneck air bag cushion coupler for 4 inch round tube, 4 and 4.5 in square tube. New 9″ Gooseneck Air Hitch & Coupler for short bed trucks. Add to Shopping Cart $1299.99 Free Shipping
Nine inch offset picture left, standard coupler picture ri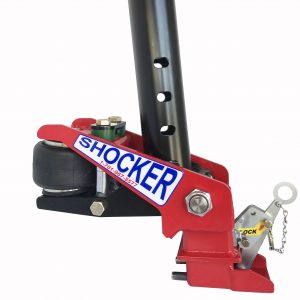 ght
Heavy duty coupler to improve your gooseneck trailer ride for your Living Quarters, horses and cargo. 30,000 lb, 6000 lb trailer Add to Shopping Cart $1249.99 Free Shipping
For more video's on Shocker Hitch, Click….
 Made in North Dakota  Not available in Canada or Australia  
 Popup Gooseneck Cushion, Coupler for your Trailer.   New Cushion Coupler, more cushion, less space!!
Pulling a trailer with this coupler is like riding on a cloud. It absorbs up to 59% of the bumps, jolts and jars that make towing hard on you, hard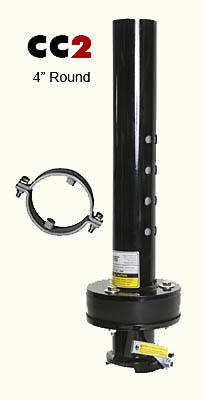 on your cargo and hard on your equipment. Living Quarters horse trailers really need this to save bedroom cabinets. Simply swap it out with the coupler on your gooseneck now – and, Walla! Instant gratification. Trailers keep getting larger with more weight on your truck. You need a buffer between your truck and trailer. Made in Kansas
The CC 2 Cushion Coupler costs hundreds less than air-bag style couplers – and its maintenance-free. The remarkably smooth ride comes from a patented system that uses world famous Timbren cushions combined with other proprietary shock-dampening technology. Order the CC2 $773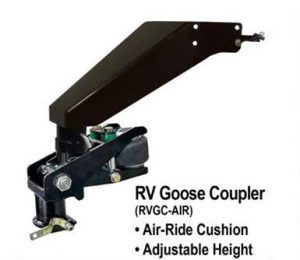 Easy Quick Install below, just slide out the old coupler tube and slide in Cushion Coupler. (picture right) New Clamp for hard to fit horse trailers like Logan Coach and Merhow
And All New for Short-bed Trucks (below)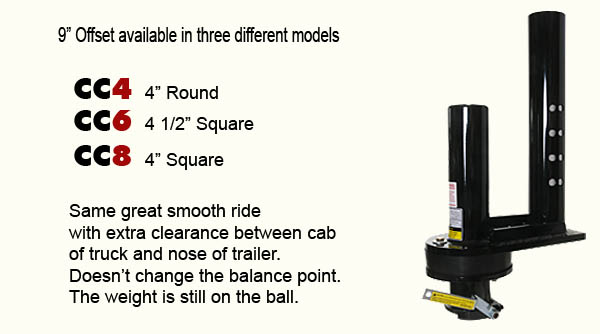 CC4 – was $907 (4″ Round) CC6 – $907 (4.5″ Square) CC8 – $907 (4″ Square)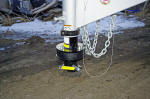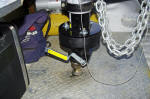 All Popup Gooseneck Cushion Couplers are now BLACK Powder Coat. You don't sacrifice strength for smooth towing. With a gross trailer weight rating of 24,000 pounds and 8,000 pounds maximum tongue weight, this cushion coupler will take you wherever you're going in remarkable comfort. The rubber inside the tube works as a guide for up and down motion as well as dampening front to back vibration. Designed to apply trailer cushion at different tongue weights, Cushion Coupler will work with a loaded or empty trailer or anywhere in between
We've tried several different cushioning type couplers. Popup was the only one that didn't push the truck in a panic stop. Not that you want to immediately stop at highway speeds, but, in an emergency, stopping and then having your trailer push you can be dangerous. Any coupler that allows fore and aft movement allowing truck and trailer to move separately, will move independently in a panic stop and surprise you. Get the Cushion Coupler that will smooth out your ride and be safe stopping in the real world.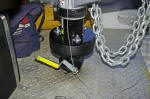 The CC2 Cushion Coupler fits standard 4" I.D. round gooseneck coupler tubes. The self-latching cast coupler has a handy hitching guide and is "V-19" Rated at 28,000 pounds. It latches when the trailer is lowered onto the ball and releases remotely. CC2 has 8,000 lb tongue weight.
For more details & history design. Order the CC2  $773
I love it!  Compared to a standard coupler the PopUp Cushion is like the difference between night and day. I have driven about 500 miles with it and it really makes a big difference. One of the more interesting things about it in the rear saddle compartment of my trailer, my saddles were always falling off of their racks. Since I have put the coupler on, the saddles have ridden better on the racks. If it is that much easier on my saddles, I can only imagine what it is like for my horses. The ride in the truck is also better. No more bucking and jerking. There were two really positive points that were consistently brought up: they liked the latching mechanism and the fact that it was maintenance free. As well as the fact that it cost half of what an air ride system cost. "RJP, Dodge Rodeo National Program Manager.