Why not a 2-ton Medium Duty?
Medium duty truck or heavy duty: More and more choices of trucks oh my! The term medium duty truck covers a lot of territory. It use to refer more to 2-ton trucks. Since 1998 the 1-½ ton trucks are coming back. In the "Forties and Fifties" a 1 ½ ton truck was a common size. By the "Sixties" farmers needed more capacity and the 2-tons took over the market of medium duty truck. Now you see more and more big rigs on the farms that have all grown to match economics of size. The market for pickup trucks has once again become competitive.
Bigger diesels created bigger trailers and so on. A one-ton use to be as big as a pickup grew to. With trailers growing over 15,000 #'s truck manufactures have brought back the 1 ½ ton's with the Ford F450 and F550, GM HD cab and chassis, Dodge HD cab and chassis 4500 and 5500 and the new GM C4500 and C5500. With the growing trailers it's so important to get the numbers in line for the maximum capacity of your truck. You need to know the GVWR (Gross Vehicle Weight Rating) of the truck and the trailer. You need to know the GCWR (Gross Combination Weight Rating,) what the two together weigh. You need to know each GAWR (Gross Axle Weight Rating.) and you need to know the tongue weight of your trailer whether the tongue is a ball or mini-fifth wheel in the bed or a receiver hitch drawbar.
Now the other category of medium duty trucks, the 2-tons. I have worn out my share of trucks. No I really mean I wore them out! When I was done with them they were worth about $20 a ton for scrap metal. The springs were arced the wrong way, the box was gone, and you couldn't tell what color the engine was from the oil dripping off it. But by then I could replace the starter, alternator, u-joints or clutch with my eyes closed.
Being a rancher/farmer meant my truck had to pay for itself with use. Being overloaded most of the time is what got the job done. I hauled livestock, hay, wool, tractors, balers, backhoes, buildings, trees and whatever "kind of fit" the trailer. I was overweight, over width, and under trucked. No not me, the truck!
After I replaced another set of u-joints in the drive shaft, I thought maybe I'm working my 1-ton dually too much. It had 300,000 miles on it and my Korean replacement door from the last time I jackknifed the trailer was leaking so much air I couldn't hear the weather report on the AM radio. So time for my next workhorse. I saw an ad for some furniture van body 2-ton trucks. They had 90,000 miles on them so they were already broke-in. My neighbor and I each bought one. Mine was a C65 Chevy. I took the 18 ft. van body off, leaving a flatbed and added a recessed gooseneck ball to the rear of the rear axle. I pulled a 32 ft. flatbed triple axle trailer with it and had 12 feet to haul cargo behind the cab in front of the gooseneck. That was the most reliable truck I ever pulled with. It had a 366 cu engine and a 5-speed manual transmission with an electric 2-speed Eaton axle. I loved that truck and couldn't hurt it. Ten gears, I was in heaven! If even rode nice. I couldn't tell it was loaded, it had low axle ratios and would pull anything 70 MPH. Tires cost more but they also lasted longer. The most expensive repair I did to the truck was replace the king pins in the front axle. The next 100,000 miles were all trailer miles. So I do like bigger trucks with bigger brakes, trannies, axles and springs.

If you also decide you pull too much weight for a 1-ton, (Ford F350, Dodge 3500, GM 3500,) now the next decision is between new and used. One of the nice things about a used big truck, (two-ton or 26,000 GVWR) is they can last like an "Eveready Battery Bunny." If you go out to farm country, you can find the old "Over The Road" rigs that are 30 years old plus still hauling corn or hay. Some trailer dealers also sell big trucks even conversions that are classified as an RV. The rental businesses like U-Haul, Hertz or Penske sell thousands of used 2-ton trucks a year. Penske is friendly with GM so a lot of these used van trucks can be found at new GMC franchises. Hertz is friendly with Ford but also sell there own trucks and used cars. Several of the 2-ton used trucks that U-Haul, Hertz and Penske would have will have the a low profile kit with just 16 in. tires, so they won't be any harder to climb up into than a 1-ton. Some of them will even have Allison automatics, probably AT545 and a few diesels. I think my truck came from Mayflower originally. It had a hydraulic lift, which I used a couple of years and then took off. So check out a few of the big moving companies also.
Most of the 2-ton trucks will have 6 to 10 gears in the manual transmission or 4, 5 or 6 speeds with an automatic transmission. These trucks are made to be loaded all the time. My 2-ton gave me the least amount of trouble hauling loads and pulling trailers. It's also nice to have a heavy truck pulling the trailer. It gives you more control when you brake going down hill keeps the trailer behind you instead of trying to pass you. And if you were to loose your trailer brakes, these big trucks with their extra weight and size of the brakes, will stop you better than a 1-ton, (Ford F350, Dodge 3500, GM 3500.)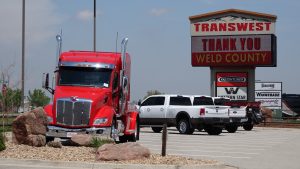 If you choose a new big truck, (2-ton, medium duty) choices range from Ford F650, F750 to Freightliner M2, International 4700, Peterbuilt T-330 and Kenworth T-300. And with the big boys you can get engine or exhaust brakes, crew cabs, any diesel engine you want, more gears, air ride and air seat. Yes air seat! The diesels in these medium duty trucks are very powerful, with a whole other realm of torque reaching over 1000 ft.#'s. Now the biggest down side is the cost. So it's a bigger decision. You can finance or lease for a longer term. And they have a better resale value. You are also looking at a truck designed for one million miles instead of a target of 300,000 miles for a good pickup truck diesel.
Another consideration is drivers license. I had a Class A drivers license in Colorado, which would let me drive anything in the old days, and I could have grand fathered in with the CDL license but I wasn't smart enough back then to see the need.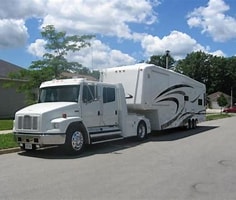 This is a gray area for the whole country. Pickup trucks pulling trailers and big trucks pulling gooseneck trailers seems to confuse the DOT, (Department of Transportation.) I know some people who get tickets because they are over 26,000 GVWR (Gross Vehicle Weight Rating) and don't have a CDL and log books and I know people who have never been pulled over with rigs that look totally commercial. Even with national CDL's you would think there is some kind of constant rule but each state DOT seems to not know what to do. 10 years ago in Colorado when I pulled everyday, I never stopped in a port with a loaded trailer even when I hauled large round bales 12' wide. But when I went through Nebraska even with a stock trailer, I had to stop at the ports. Now the portable ports in Colorado would stop everybody.  With the newest trend in the 2- ton trucks that are 26,000 GVWR but you add a trailer and you could be over the legal GVWR again. The one thing the DOT does agree on is RV's. Pull a fifth-wheel RV or a horse trailer with Living Quarters and I haven't seen where they require a CDL or logbook.
Another problem with a big truck and a short wheelbase and a single rear axle is the bounce. Some people ad weight to the rear frame so when not pulling a trailer is will bounce less. A nice heavy flat bed will help. If you always are hooked to a trailer it won't be a problem. My truck had a 18' flatbed, so I did use it without the trailer to haul things. It worked well for me but not everyone wants that long of a rig with a trailer.
Now as with any trailer pulling truck, you need to know the GCWR (Gross Combined Weight Rating,) with combines the truck and trailer. Also you need the tongue weight, as well as the axle ratings. All this combined to give you the big picture for your big truck option. Come visit my website www.MrTruck.com. Good Big Truck'n. Kent Sundling (MrTruck)
Medium duty truck or heavy duty
Medium-Duty Trucks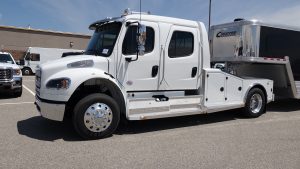 Transwest sells their conversion, "Summit Hauler using Freightliner M2 with Cummins diesel and Allison Automatic 6-speeds. These are crew cabs with rear seat folding into a bed. Special trough beds available in 5th wheel and gooseneck. Storage compartments built into the side of the bed. Cummings diesels with engine brakes and air wheel brakes. These big trucks are called hauler trucks. See more details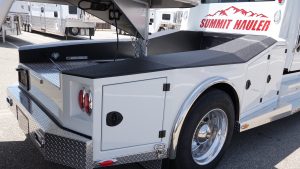 Although the parking lots of cutting and reining shows aren't filled with medium-duty trucks, their numbers are growing. A discussion with several manufacturers revealed the reasons why some people are making the move to larger tow vehicles.
According to Dennis Schwalbe of Muenster, Texas, it's for the pulling power combined with the comfort. His company, Body By Schwalbe, outfits Peterbilt's for towing big trailers. The two models they produce are an extended cab and a four to 6-door, crew cab-type vehicle. In the past Body By Schwalbe custom outfitted the interior and the bed; now the company sells their modified trucks "stock" to Peterbilt dealers. The buyers can then send them to a conversion company and have options installed from there.
What Dennis and Kathy Schwalbe do, after receiving a basic truck from Peterbilt, is to reform it to suit the needs of horse people. They knock out the back of the cab and add a box, similar to an extended cab of a light-duty truck, or fashion a roomy back seat with its own set of doors. Power comes via a Cummins diesel. Horsepower tops out at 275 with torque measuring 800 pounds-feet. Gross vehicle weight rating is 26,000 pounds. Although the trucks are big, as medium-duty vehicles, a commercial driver's license is not required and you can skip the interstate truck scales.  Schwalbe truck website
Although Dennis formerly roped calves and team roped, he no longer has the time. He has 300 Peterbilt's on order and a shop full of trucks to finish. Ed Crow, who started Sport Chassis – custom medium-duty Freightliners – and now works as a consultant after the company was recently bought out by Freightliner, has plenty to say about the benefits of medium-duty trucks for towing multi-horse trailers.
"In truck language, medium-duty trucks are called class five vehicles," Crow began. "Their rated as a ton and a half vehicle. A Ford F450 and F550 are also rated as ton and a half vehicles. With a bed on our Sport Chassis trucks, they weight close to 12,000 pounds.
Crow said it would great for the horse people to learn about the towing capacity of medium-duty trucks because there is plenty of confusion about towing ability.
"Everybody looks at horsepower and other features, but the important thing to understand is wheel size, braking and towing capacity according to what the manufacturer says. All the makers give towing specifications but many people don't understand it. In fact, before I got into this business I didn't understand it."
Contrary to conventional wisdom, Crow said the GVWR – gross vehicle weight rating – doesn't have anything to do with towing a trailer.
"The GVWR has to do with how much you can carry on the truck," he said. "That rating is important if you outfit it to be a beer truck or dump truck. Anybody with a trailer should be concerned with the GCWR – the gross combined weight rating. The GCWR is based on the weight of the truck and the weight of the trailer together. That's what horse people need to know about."
Crow said that the GCWR comes from the manufacturer and can be obtained by asking your dealer for the information. Another important consideration is tongue weight.
"A horse trailer with living quarters has twice the tongue weight of a trailer without living quarters, all things being equal" Crow said. "A 30-foot trailer without living quarters has the tongue weight of about 2,500 pounds. The same trailer with living quarters has a tongue weight of almost 5,000 pounds. It's the way they're designed and built."
By way of illustration of the GCWR, Crow said that the Ford 450 and 550 has a GCWR of 26,000 pounds, meaning if your truck weighs 10,000, your trailer should weigh no more than 16,000 pounds.
"Our trucks and the Internationals have a GCWR of 40,000. The truck itself weighs 12,000 pounds, so we can haul 26,000 pounds. Now, any one-ton has a towing capacity of around 12,000 to 13,000 pounds, meaning the weight of the trailer they could pull."
Medium duty truck or heavy duty
Crow then turned the subject to truck life.
"The Freightliner or International of Ford F650 or F750 are designed to run 1,000,000 miles. The light-duty trucks seldom go over 250,000 miles. That's another factor people should look at."
Crow also pointed out that although medium-duty trucks are more cost effective over the long haul – they cost almost twice as much as a light-duty truck but last three to four times as long – they're not for everybody.
"If you don't have a very big load, you sure as heck don't need a very big truck. There are two things you have to look at: how many miles am I driving and what kind of loads am I carrying. A cutter living in California hauling a six- or seven-horse trailer to Fort Worth several times a years needs a Ford 650 or a Freightliner or International.
According to Crow, liability is another overlooked concern. If a person exceeds the recommended towing capacity and an accident happens, that person is open to a lawsuit..
"Inline diesel engines are where the big torque ratings come from. The V8's run a little smoother, but they run at a higher rpm and their life expectancy is lower."
Transmission is another important consideration. Crow said there's a difference between the manuals and the automatics.
"With Freightliner, you have a choice between a six-speed, a seven-speed, a nine-speed or an automatic, which are four-, five-, or six-speed units."
According to Crow, the advantages of a manual over an automatic is cost, over $10,000. The fuel economy is minimal, maybe one to two miles per gallon better with the manual. Crow said the higher cost of an automatic comes down to question of paying for not shifting gears. Most Sport Chassis models are sold with automatic transmissions.
Another conversion company, Joe Madore Manufacturing in Oklahoma City, Okla., does conversions on International medium-duty trucks.
The company customizes the 4700 line of International, what International calls the low profile model. It's a factory crew cab that's low enough to accommodate a gooseneck hitch. It's also easier to get in and out of the cab.
Madore said his models have a huge bed, which adds another degree of function. Measuring nine feet long by eight feet wide by three feet high and equipped with side panels, it's big enough to haul a large load of feed or equipment.
Medium duty truck or heavy duty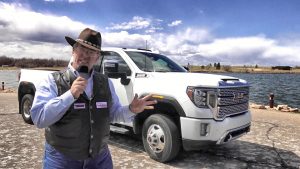 "The way we designed the bed," Madore explained, "was for a guy to unhook the truck from the trailer and use it around the farm or ranch."  At 188 inches, the wheelbase is considerably longer than a Ford 350 or Chevrolet 3500 crew cab, but according to Madore, the International will turn tighter than both, making it practical for city driving.
There's a choice of manual or automatic, although the truck comes standard with a Spicer seven-speed gearbox. Madore points out that because the truck will last up to 1,000,000 miles, you can get good resale value even after the truck is seven or eight years old. Like most medium-duty conversion packages, it's fully customized with everything you'd find on a light-duty truck, including power steering and brakes, tilt steering wheel, AC, CD player, power windows and a generally plush interior. Weight of the truck is 12,000 pounds, GVWR is 26,000 pounds, while the GCWR is 40,000 pounds.
Light-Duty Trucks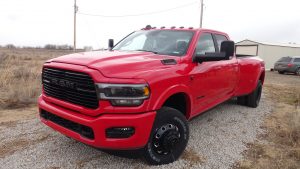 According to Bubba Cahill of Henson Dodge in Madisonville, Texas, one of the best features of a Dodge Ram truck Cummins diesels, besides the greater pulling power over a gasoline engine, is the fuel mileage.
"My wife pulls a six-horse trailer and she gets 17 miles per gallon fully loaded." Cahill said. He's a former cutting trainer (for 15 years) and his wife trains all-around horses for AQHA competition, making them well aware of what it takes to move horses down the road in comfort and safety.
"The Cummins motor is one of the best diesels out there," he said. "It's been proven in tractors and forklifts for years before they ever put it in Dodge trucks. I've had people come back here after putting 250,000 to 300,000 miles on their trucks and their engines are still running fine." Other recent engine upgrades are the 24-valve models and the six-speed automatic transmissions.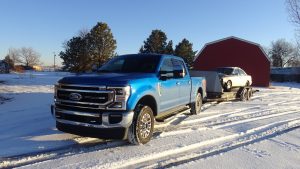 Medium duty truck or heavy duty