Have you Towed a Logan Coach horse trailer Lately?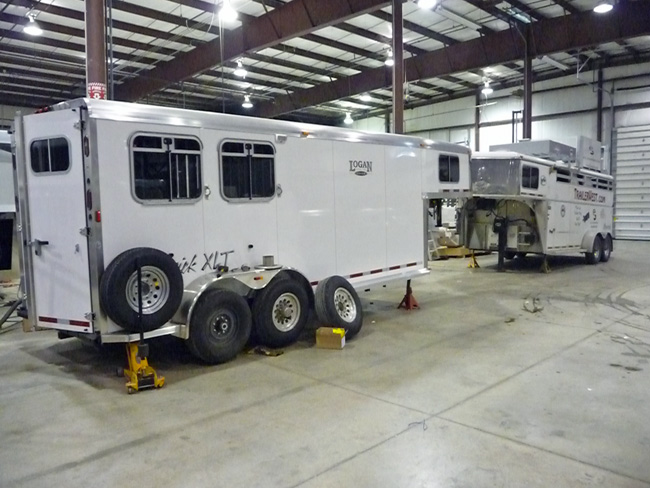 (Picture above, new trailer left, old trailer right)
I traded in my 2008 Logan Coach for a 2010. Not because I wore out the old one (it just had 60,000 miles on it), but I wanted the new features and a small Living Quarters from Logan's conversion company, Prestige. My old trailer had galvanized steel frame and galvanized steel painted sheet metal. My new Logan is galvanized tubular steel frame then coated with a heavy duty truck bed liner type called Vortex. Basically everything else is aluminum. Like the old Ford commercial, have you towed a Logan Coach lately?
Looking at it from the outside, looks like an aluminum trailer and inside, the stall dividers, roof bows, coves, walls are aluminum. The steel frame you see in the walls are black because of the Vortex coating. The contrast of silver and black inside has a great look. When I'm at horse auctions, I tour the parking lot and look at the condition of horse trailers. I see many Logan's spanning many years. They are holding up well. That's a good way to judge a truck or a horse trailer, find older models and see if they are aging well. Logan Coach's 25th anniversary last year, one of the first trailers to use all galvanized steel. A strong good looking trailer that cost less than an aluminum trailer.
Logan armor on it's galvanized steel is Vortex, like a heavy duty truck bedliner, you can hardly drill thru it, quiets the interior and doesn't bubble like rubber mats on the kick wall. Besides your horses and cattle going potty on your trailer, you have acid rain and the magnesium chloride on the roads in the winter replacing salt for melting ice. Corrosion and electrolysis are the long term enemy for trailers.
I went from a wedge nose to tapered option. I like the look, went from open side to drop down windows to seal better when I go East and a rear independent doors instead of one big door because of our wind.
One of most improved trailers I review, Logan is a composite like your truck, made from many types of metal. Aluminum dividers, roof bows,  painted aluminum skin is 3M taped, no rivets to expand and tear. For a smoother look and easier to repair, no paint booth needed, so no over spray and orange peal paint. The gooseneck nose is galvanized  sheet metal then aluminum sheets are bonded on the nose. The  galvanized corrugated inside kick wall is coated with tough Vortex. One of the largest stalls in the industry; 135″ stall length 40″ wide with a larger rear stall. All trailers have torsion axles. Factory, Prestige Living Quarters allow Logan dealers to service the whole trailer.
Titan Trailers bought Logan Coach last year. Increases buying power for supplies.  Logan Coach trailers reengineered to be lighter with more aluminum components and better utilization of steel reinforcement. Pooling engineering techniques with Titan Trailers has improved Logan's trailer building efficiency. 8 year structural warranty, 2 year hitch to bumper warranty on XTR, Edge, Razor and Warmblood trailer models.
Aluminum spaced floor is Whiz Proof. First thing you look at on a used trailer is the floor. Pulling mats is a pain, most people put off that chore. It's the urine that gets through the mats and sits on floors that causes the most corrosion. Logan has slotted aluminum floor planks that lets the ammoniated urine leave the trailer. Imagine a horse trailer without work. You might even have the energy to ride your horse.Vortex rubber coating covers the floor, even the rubber mats have channels for urine to run away. Extruded aluminum floor is gapped for drainage and coated with Vortex, a floor that you can just hose off. This has to be one of the longest lasting floors in the industry. That's where resale value starts.
(picture) One of the largest stalls in the industry; 135″ stall length 40″ wide.
Stockman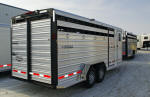 Another trailer from Logan Coach that has changed dramatically is the Stockman. It was a painted galvanized steel trailer. Now, aluminum siding and roof with the Vortex coated galvanized steel have that silver and black look that gets noticed. When I load my neighbors coyote scared cows, I want all the latches where I can reach them from outside the trailer. While crazy cows are trying to run over me and kick you, you need trailer tailgates that will slam shut to latch and unlatch while standing on the running board. Stockman has the same Vortex coated Whiz Proof floor under the rubber mats that lets the urine leave the trailer. The tailgate has the slam latch, butterfly latch and latch for the sliding rear door. The Stockman is a combo with horse ties inside and out and optional tack room.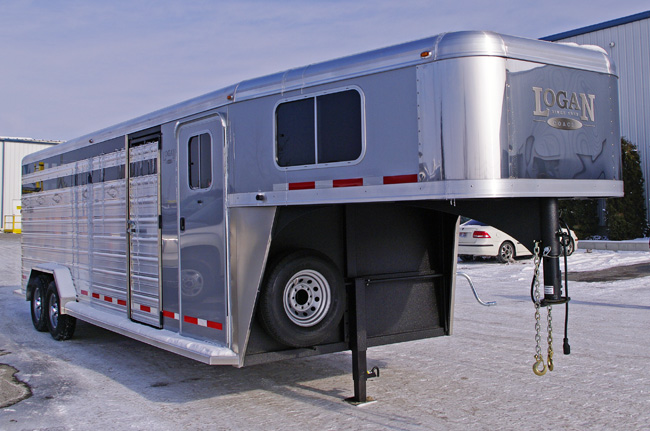 Thanks to Transwest Truck Trailer RV www.TrailerWest.com for review trailers