MrTrailer.com

"We're here to answer those tough horse trailer & RV trailer questions, save you money, & review new trailers, accessories & hauler trucks." Visit our new forum, as we search for the "Truth about Trailers."  Andrew Lyons, for trailer info 1-800-909-7071  Email  Horse trailer accessories.

Living QuartersHeadquarters
Transwest Truck Trailer RV Opens Second Site
Posted: 05 Jul 2012 01:06 PM PDT from RV Business
Transwest Truck Trailer RV of Frederick, Colo., has announced it is expanding its full line of recreational vehicles to the product offerings at a second Transwest location in Fountain, Colo. Transwest Trucks of Fountain is located at 6880 E. Champlin Drive in Fountain. The Fountain location will support the same RV product lines as the 
more….
I appreciate good tools that last. Cowboy Creations tailgate is heavy duty. My factory tailgate has the smile in it from the last big round bale I unloaded from my truck. River Rock makes a small 1AA LED flashlight that will run 30 hours between batteries. It's bright focused beam has one of the sharpest light circles…. More…


Cimarron Trailers define custom horse trailers. With 250 options making 56 models, it's easy to have it your way. Why not, Cimarron trailers will out last your trucks.
Equine Motorcoach™ in lots of ways. Tom and Carolyn Stinnett have been putting the finishing touches on our 2012 transport that is touring the United States at a variety of horse shows. They have added the Saddlematic 180 that not only swings 
180 degrees out of the way when not in use, but electrically lowers and lifts for easy saddle loading and unloading. EUREKA Specialty Products, LLC, worked with the Stinnetts to engineer and manufacture this innovative mechanism. More on Saddlematic….
Do you need a one ton or a two ton? One class wins acceleration, the other wins braking; Starting in 2011, the big three raised the GCWR from 26,000 lbs to 30,000 lbs on 1 ton dually pickup trucks. That's CDL territory, GM quit making C4500-7500. So they need to rate their 3500 high enough to compete. But Ram and Ford aren't going to just set in the sidelines.
Each new model pickup truck year has an increase in towing capacity. What is the limit? Truck manufactures don't know, they work off demand. The new SAE trailer towing standards that start in 2013 will help, but at some point with 20,000 lb plus trailers, you are going to need a heavy truck with big brakes.  More…

AutoFlex has a complete pickup truck leaf spring replacement with an air suspension. It bolts on the same place as the factory leaf springs. Self levels, improves ride, braking, steering and handling. Comes with compressor, tank, dump valve and tap for using onboard air for your tires etc. Also a complete trailer air suspension. AutoFlex Review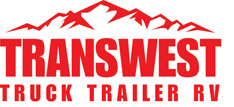 Standing out from the crowd to maintain product quality and customer service is what has made this company successful for the last 30 years. Transwest only carry premium lines of products: Cimarron and Logan Coach horse trailers, Outlaw Conversions & Summit Haulers. Also used hauler trucks for towing the big trailers. With a 22 bay service shop open until midnight, Transwest is franchised for GMC, Freightliner and Western Star. For RV Coaches equipped to tow trailers, Transwest sells American Coach, Georgetown, Itasca and Renegade.   More…
New Truck Repair Technology comes to Horse Trailers

If you follow my articles, you know how big a fan of new technology I am. At the new Transwest Truck Trailer RV facility, is an awesome machine called a Road Simulator. Looks kind of like a dyno, but does use rollers to test brakes rolling resistance and balance.  Transwest uses it to test all their new horse trailers so they are ready for your roads. It can find just a torn axle seal leaking on the brakes. It would surprise you how many "new axles" on new trailers are over greased, limiting your trailer brakes ability.  With the kind of traffic we pull trailers in, testing brakes becomes routine. And worn suspension maybe be causing your rig to ….More….
Kodiak Hydraulic Brakes, Quality and Life Saving Power:I tow my horse trailer around the country to horse expo's. Generally folks towing trailers are more cautious, especially towing horses. But in cities traffic backs up and even when you try to leave proper stopping distance in front of you, cars will just fill in the gap. So now what do you do? On my last trip from Denver to Oklahoma, on I-25 during rush hour, there was of course an accident, the cars in front of me slammed on their brakes. So I had to slam on my brakes, and guess what? I could stop as fast as the cars. Read the rest..

Finally ABS brakes for trailers !Fast, smooth and safer than any brake system we've tried. We took our test trailer to the race track, smoked the brakes, burnt the seals and proved how dramatically superior hydraulic disc rotors, electric-hydraulic actuators, ABS modules and a trailer brake controller that networks with your trucks computer can be. Electric brake drums didn't stand a chance in our side by side comparison. A big step toward safer trailering on our crowded highways and unpredictable weather patterns. Share this detailed report about the difference ABS trailer brakes can make.
Behind the Scenes of MrTruck's segments for Equestrian Nation on RFD TV
If you go to the National Western Stock show this month, you'll see a horse trailer on it's side. Not something you see every day. Makes it easy to see how the floor and roof are made. The Cimarron horse trailer is in Transwest Truck Trailer RV's booth. That thinking outside the box is why I go to Transwest to shoot video for my segments. I've been in many trailer dealerships and factories around the country and haven't seen a shop equipped like Transwest. If they don't have a piece of equipment they need, Andrew Lyons (General Manager) will build it.More….
New features with EZ-Connector;they've always come with dummy plugs to keep the connector ends clean and give you somewhere to store your trailer plug. Well now the female end comes with a self-closing door instead of a dummy plug and the storage end for the male plug has a self-closing door. The truck end (female plug)  door has an over size O-ring to keep the connector pins clean. It also has metal embedded in the door for the earth magnet to draw the…… Learn more…
Step Above trailer ladder. I've said it before, most folks don't use their hay racks. Mainly because it's too hard to get to. A big share of factory hay rack ladders don't cut it. Too narrow, flimsy or just plain scary.

Step Above is a slide-out aluminum ladder that makes the roof of your trailer an easy trip and safe. Having the right angle slanted away from the trailer takes the work out of climbing a ladder just like your step ladder you use around the house. Step Above slides out to the ground, just the right slope for climbing. More…
2011 Heavy- Duty Hurt Locker Ultimate Truck Towing  Comparison
PickupTrucks.com and MrTruck.com present the 2011 HD Pickup Truck "Hurt Locker" Towing Test. Towing at the trucks max capacity, we travel, deserts, mountains, extreme grades and trailer brake test at 100 degree plus temp. Part one,   Part two…
GMC Sierra 3500HD Wins Best Overall HD Truck; 2011-08-15 DETROIT – The GMC Sierra 3500HD won PickupTrucks.com's "Heavy Duty Hurt Locker" comparison test, a grueling showdown among industry heavyweights that included towing 19,400-pound fifth-wheel trailers up and over some of the most demanding grades in the United States. 2012 HD Upgrades announced….
Cimarron's New EZ Angle Hay Rack Ladder Do you use your hay rack? Most horse trailer rack ladders are not easy to climb nor are they very heavy duty. Cimarron knows how to make ladders that don't bend or flex, one of the best factory hay rack ladders in the business. You can lift your bales, gas can, bags of feed and spare tires right up the ladder. Having the ladder pull away from the trailer at 22 degrees makes it less work. It's hard to climb straight up a barn style ladder. More….
GanderLock, when you're serious about Protecting your Gooseneck Trailer and Tack
Protect your trailer as well as your expensive saddles, bridles, tools and flat screen TV. Goosenecks are different from bumper pulls, if you just lock the coupler, the thief's loosen the set bolts, slide out your adjustable coupler and put their own back in and away goes your investment. Think about what happens when your trailer gets stolen, arguing with insurance companies, banks and the police.  I've been lucky not to many things stolen, but when it happens it makes you sick.  Read  the Review…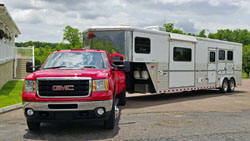 2011 Heavy Duty GM's, More Power, More Frame and More Suspension:
For 2011 GM went massive truck improvement, as in frame, suspension, payload and towing ability puts Chevy and GMC HD trucks at the top of their segment. It's improvements we all want and of course the power and fuel mileage have also improved. The new suspension keeps the power under control and tires planted on the pavement. The new exhaust brake adds stopping power to grade shifting from the Allison tranny and larger brake rotors this year. Read the review….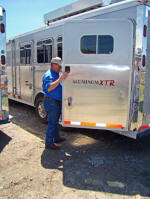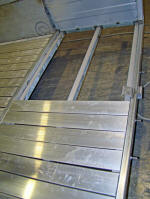 The New Logan Coach; an efficient leaner Logan sticks to what they do best, galvanized steel frames, aluminum skin and good looking value. Call it the resale value trailer. Bottom line, "beauty of aluminum and strength of steel." One of the few composite trailer brands that can go head to head with high end aluminum trailers for longevity.  Always improving and keeping it's roots with galvanized Flo-Coat steel frame coated with Vortex, more..


Cimarron Premium Trailer Review, 10 Years to the Top; Even in the current recession, Cimarron Trailers is improving, expanding and zeroing in on efficiency. The factory is staying the same size, but putting out 25% more trailers. There is a handful of aluminum trailer manufactures at the top in premium trailers. None surpasses Cimarron current models. The top trailers need smart engineering, custom doors and windows, top components, strong beautiful welds etc. The result is quality uniformity on all trailers from roof to axles. Where else would you build horse trailers, but the heart of  More…
SUMMIT HAULER M2 Sale


Summit Hauler M2 Freightliner hauler conversions. Custom wood, lighting, CB, overhead DVD, camera's, LED's, console, steering wheel, tool boxes, grill guard, big brakes, bed and more.
MrTruck.TV presents this weeks video:

Trisha Killion

816-454-7340

Hybrid Air/Torsion Axle with 8 inches of travel, almost 3 inches of drop for lowering the trailer to load. It's a soft ride that will keep your horses fresh when you arrive at your next event. The price will surprise you.  The whole story….
Melissa's Horse Sense (Melissa Brawner)
Horse Blankets
  "Oh mom, it is just awful!  Those poor horses are just standing out there in the all of that snow.  They are probably freezing!  Can we put coats on them like the horses in the barn?  Please?"  The kindhearted requests came frequently from our foster kids.  Most of these youngsters have never been on a farm and do not know much about farm life, but it warms my heart to hear their requests.  It opens doors for discussion and learning, and best of all, the animals can crack through the shell that develops around More…
 Buying and Selling Horses at Auction. I walked up to the stall, circling  More…..
Preparing for Foaling. Many of the horse industries have their mares foaling as More…
Finding a Good Farrier By Melissa Brawner;  Finding a good farrier can .. More…..
Introducing Horses By  Melissa Brawner One of my favorite things   More…
Introducing our horse editor, Melissa Brawner. Enjoy her educational articles sharing her experience raising horses in Colorado. The first article is about "Starting Foals.""Beginning basic training sounds a bit extreme with a foal, but it is…  The foal learns to…..
Eureka! Saddlematic ™ RevolutionaryMotorized Saddle Rack. Finally you can stop wrestling your saddles in and out of your trailer and lifting them over your head. Saddlematic will bring your saddles to you. New electric model and a swingout for your rear tack. See the whole story and how they work. Click here…
| | | |
| --- | --- | --- |
| | Acres of Freightliner M2's with the Summit Haulerconversion. You won't find a better selection ofhauler trucks for your big trailers. | |

MrTruck's Top Picks, Truck, SUV & TrailerAccessory Store, ENTER

As the popularity of Living Quarters in Horse Trailers grows, they become more like RV's, and 5th wheel RV's are converting to more gooseneck type hitches.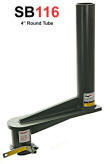 Now there's help for the short-short beds towing horse trailers and racecar trailers. New from PopUp, the SB116. The long short bed solution. It's "16" inches of extension. Before you loose your pickup trucks rear window or worse, check out the solution. Shortbed trucks are the most popular. But the trailer manufactures don't know it yet. Finally backup with the tailgate down and without hitting the propane tanks. More…

Transwest Truck Trailer RV, Visit our new facility on I-25.  Large selection of LQ horse trailers, Haulers and Toterhomes. Super, full service shop, for trucks, trailers and RV's. 15 paved acres of trailers & trucks.  More…

New Hart, Cimarron, Logan Coach horse trailers. Large selection of Living Quarter's. Large selection of hauler trucks, Freightliner M2, Ford F650, C4500 & bigger. Call for prices, 1-800-909-7071
Transwest (TrailerWest.com) Horse Trailer Inventory, Click…
Top Horse/RV Trailer, Truck & Accessory Reviews and News

Stop tire cupping, vibration and premature wear on those expensive truck, RV & trailer tires. Centramatic automatic wheel balancers have been saving money on tires for semi-trucks for over twenty years. Now you can automatically balance your tires, wheels, hub and rotors or drums while you drive. A balanced tire doesn't cub, vibrates less & lowers the tire sidewall temperature from less flexing, giving you longer tire life. 5 year warranty, made in the USA. More
NEW and Improved You're going to love this newly redesigned PopUp 2 Hitch. Smoother acting and trouble free.  They've made the best hitch even better.
One pull of the handle to raise the ball is all it will take to convince you that this is the hitch you want.  Simply pull the rod to raise the ball and push to lower it from the wheelwell of your truck.More info….
Andrew Lyons, Email ph.1-800-909-7071 MrTrailer/Manager.
H. Kent Sundling, Email Publisher/Webmaster. Hosspuller, Forum Moderator