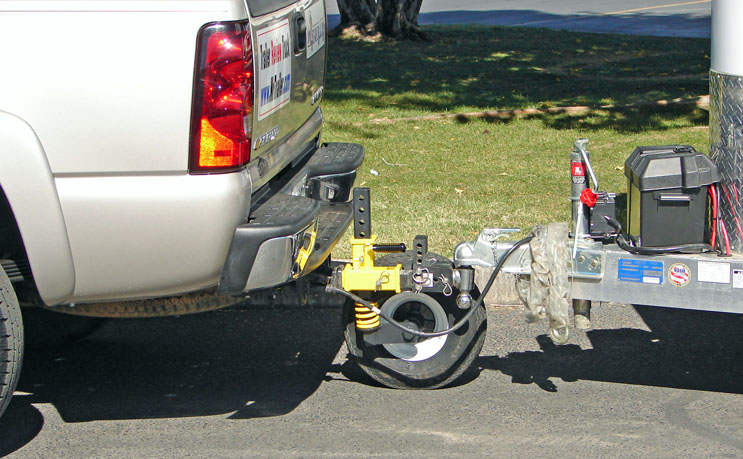 Free Shipping in the Continental 48 US States
| | |
| --- | --- |
| Dually wheel unit for $1129,order now. 6-ply tires are 5.7 x 8 Load C, rated for 1800 lbs. total @ 65 mph! The 97 pound DUALLY Hitch Helper fits any 2-inch receiver hitch. Dual Coil springs give a smooth towing ride. Easy Height Adjustment. Powder Coating resists corrosion. One Year warranty. | Single wheel unit for $599, order now 6-ply tire is a 5.7 x 8 Load C, rated for 910 lbs @ 65 mph! The 50 pound Hitch Helper uses your existing 2-inch receiver hitch. Coil spring gives a smooth towing ride. Easy Height Adjustment. Powder Coating resists corrosion. One Year warranty. |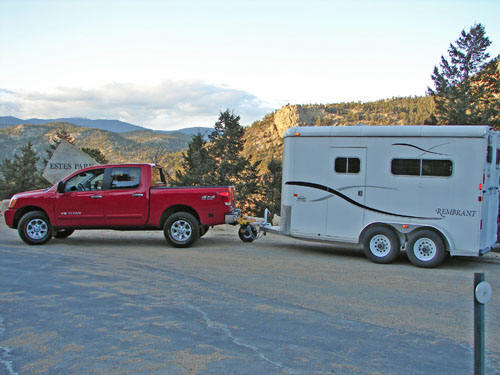 Updated review: As part of my 2006 Nissan Titan review, I took a 2006 Logan Coach Rembrandt horse trailer for a spin up to Estes Park next to the Rocky Mountain Park.

Scenic winding roads around mountains, was a good test for the Hell-Ya. I had the wheel down helping support some of the tongue weight on the way up and wheel up for no weight on the way back.

Yes I could tell the difference. I could take the curves faster using the Hell-Ya Hitch Helper with less steering effort and more control. Stability is a good thing towing trailers, especially in the

mountains.
Towing was smoother.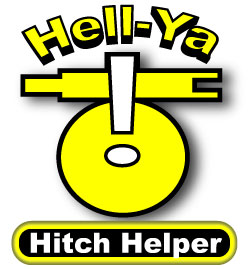 While at the SEMA convention, looking for new towing products, I found one. I'm old enough to remember the "Long Long Trailer" with Desi and Lucy from the forties. Well at least the reruns. In the movie they bought a long travel trailer to pull with their car. The salesman then sold them a device that attached to the hitch of the trailer with wheels on it, to keep the trailer hitch from dragging.
The Hell-Ya Hitch Helper reminded me of that Lucy movie. Not a bad idea. I towed a new Featherlite SURV toy hauler to Vegas to review on the way to SEMA. At one point in Nevada leaving a gas station, I found those dips in the road that sneak up on you. And yes I scraped the tongue jack, which was all the way up. I was thinking "if I just had a wheel on the hitch to prevent this". And low and behold at SEMA (Specialty Equipment Manufactures Association) in the new products section was "Hell-Ya." I found their booth and after waiting inline to talk to the president of Hell-ya, Bob Cremer, arranged to try one out on my way home to Denver (700 miles). On the "way home" is always a tricky event going back through the Rockies on I-70 in November (snow) over Vail Pass (11,000 ft) and the Eisenhower tunnel with it's famous 7% grade at around 11,000 ft.

Hell-Ya did keep the nose heavy trailer from dragging the jack again and some of the wavy pavement between Salida and Green River through Utah, bounced less. Toy haulers are tongue heavy when you don't have ATV's or cargo in the back. Even curves seemed easier to handle.  I adjusted the Hitch Helper to one hole above where the tire was touching the ground before hooking to the trailer. Towing the 8000 lb Featherlite SURV, level with a 2004 Chevy HD 2500, from Denver to Vegas and then back again to Denver after attaching the Hell-Ya, measured again and found the truck set up an inch higher with the Hell-Ya. Of course I had to be extreme in my testing to prove value, so I overloaded the Hell-Ya with a 1250 lb tongue weight. It was a average of 75 degrees F and I traveled between 65 and 70- mph. The trailer towed better with the Hell-Ya and curves felt safer with less trailer feedback.  Hell-Ya which slides into your receiver hitch, has a 6-ply tire that is spring loaded. The Hell-Ya Hitch Helper is rated for 1000 lbs of tongue weight. There are advantages helping your tow vehicle reduce tongue weight. A level truck or SUV has better steering control especially if you can transfer weight forward. Hell-Ya is well built with the similar components as a receiver hitch and is powder coated. It has height adjustment, easy to hook up and take off. You may need to add a couple of links to the safety chains.

I've tried Hell-Ya on travel trailers, tested it on horse trailers and will with a slide in camper this spring.  This may be the next big thing in towing. Boat trailers should benefit from the Hell-Ya Hitch Helper as for some unknown reason, the majority of boat trailer manufactures especially those using torsion axles, don't like weight distributing hitches. Makes no sense to me, not all WDH's will affect the surge brake coupler system found on most boats. Having some trailer tongue weight on the Hell-Ya spring loaded tire does take some sway from the trailer. I'd like to try the Hell-Ya on some of the expansion joints on the freeways of California, where the bouncing Porpus action of a bumper pull trailer can drive your crazy. Hell-Ya Hitch Helper now offers a dual tire hitch.

Here I drive through a dip and the Hell-Ya kept the trailer jack from bottoming out.