MrTrailer – Trucks Pulling Trailers and Trailer Accessories.
Hart Aluminum Horse Trailers and review of the factory

"Their name's on every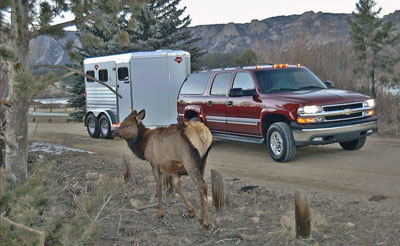 trailer. "The welds are like art at Hart, because the Hart's take seriously just how well their trailers are built. It is their name on each trailer and that makes them particular. After watching a few Hart trailers being built, I was thinking of ordering one for a tornado shelter. Truly impressive the extra reinforcing that goes into the trailers, and most of it is covered up with trim so you don't see the extra gussets,

fishplate and camber bar in the frame. On the other hand the radius corners, smooth lines and beautiful welds make them seem like art. Like a crafted sculpture from Oklahoma. Hart Trailers, Aluminum Horse Trailers, review of the factory and horse trailers. Starting in 1968 making steel horse and stock trailers, switching to aluminum in 1991, Anthony and Kay Hart oversee the daily operations in the family business. So many details by craftsman in these custom trailers. Hart's are built the way my dad did things, made to be passed down from generation to generation. If the national insurance institute, crashed horse trailers, Hart would start with a 5 star rating. It appears that folks trade horse trailers about every 3 years. Resale value becomes very important and looking at a trailer purchase as an investment makes since. These are not "price point" trailers, the proven quality of Hart's, puts them in the top tier of horse trailers. Hart website 1-888-810-4278


Long time favorite with horse trainers, and other professionals, Hart's can be found at most horse events. These are full time trailers, that can take on the road each week for decades. I've seen a Hart gooseneck 9 horse with over 1,200,000 miles on it towed by a Kenworth truck to horse races all over the country. It comes into the shop every couple of years for new axles and then is good again for hard coast to coast driving. I looked the trailer all over and couldn't find cracks, just the worn out axles, brakes and scuffed up fenders that met a lot of gate posts at race tracks. Those big rig trucks can be hard on goosenecks. The longer Hart goosenecks have a double gusset bracing the gooseneck tube and neck floor.


As the trailers get longer, Hart engineers more strength with 25′ or longer having double boomerang gussets in the neck and a foot longer attachment plates in the steel axle trolleys. More 5″ wall posts are used after 25′ and the posts in the neck walls go up to 5″. Hart taller trailers have additional reinforcing also, more details below.


Hart has a very organized trailer factory. All one building with some passage ways to what's been added on. I've used Hart trailers for years to review trucks and SUV's, looking through my archives turned up over 3000 pictures. Sorting them took days. I have way too many favorite pictures in this collection. In the truck business we call it "eyeball appeal" these trailers draw attention.


Makes you drool doesn't it. The smooth rounding corners, awesome logo with hearts on the fenders and reflective tape. And then chrome and black! 3000 pictures later, I finally finished my review. Lots of details, when I review trailers, I try to bring out their unique qualities that I think are important. If there are different details you want to see in future reviews, just email me. [email protected]
Floor: It alls starts upside down just like a new truck.


Shown upside down above, the floor extrusions are I-beam on 6″ centers with interlocking sections. T-beam side mainframe is continuously welded to floor extrusions the full length of the floor. The same mainframe is used for the neck and nose. The mainframe is 6061 aluminum alloy with 46,000 p.s.i. structural strength. Aircraft quality aluminum is used throughout the trailers. As seen left and right, the rear bumper plate welded on the floor extrusions are gusseted and extremely braced.
Frame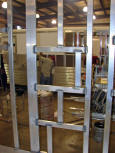 Any opening gets more bracing. Here you can see (left top) the step with it's roller bearings and cleanable channel, and there is a 1/4″ plate welded to the mainframe because of the dressing room door opening. Massive framing sums it up.  Framing is done similar to a house, with bracing it square and plum. This makes it easier on the Living Quarter conversion to line cabinets up straight and appliances fitting properly. Corners are gusseted in all directions. Hart website

The wall meets the roof with a 6″ radius top rail above. Next is floor riser/bulkhead bracing. Nose section has 1/4″ aluminum plate, but of course it's covered, even the majority of welds are on the inside so what you see is smooth lines of polished aluminum. Below left is the rear corner brace. It's 3 gussets and a fish plate. Next picture it's covered up and a good looking finished tailgate corner. Then next picture, the bottom of the same corner post and more bracing. You get the idea that these are armored cars.



Extreme window framing right. Box header above window in 7'7″ tall trailer.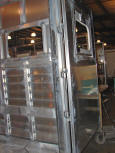 Where a horse can kick, Hart reinforces with extra wall frame tubes. Now that you see what's behind the kick wall, go ahead and load that rodeo stock.
Optional 5/8″ kick wall mat available on butt side.



Horses load well in Hart's, makes the horses look better too! Optional enclosed bulkhead at right makes a classy look.
Roof
I'm a fan of fiberglass roofs and of course they have to be built right. They are cooler in the summer, less condensation, quieter than the "teapot" tin roofs. All HART roofs are 5/8" thick fiberglass reinforced structural panels with a R3 thermal value. The HART roof is a structural grade polypropylene honeycomb core material with a 1/16" layer of fiberglass resin and woven matting top and bottom, finished on both sides with a gel coat. The gel coat finish provides a high gloss panel, with long-term protection

built in to these strong roofs. The one piece Fibertech honeycomb roofs are secured with cam-bolts every 6 inches. Thick Silicone seals the roof edge seams. The Fibertech roof is 20 degrees cooler in the summer than aluminum. Steve Back jumped on the one piece fiberglass roof panels for me several times.




Nose has 1/4″ aluminum plate on the inside, call it a super gusset. It's welded from the inside. Steel boomerang fish plate is bolted for more strength in the neck support. The neck floor is another piece of art that you won't see.  Lot of pieces to build a Hart neck.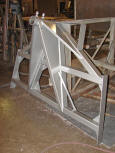 Massive steel gooseneck frame with double neck pipe gusset angles and structural reinforcing. Hart website
More boomerang fishplate below. On 25′ and longer trailers, there are two boomerangs, one is inside mainframe extrusion. The neck frame is the T-beam mainframe joined in the angles with steel boomerangs, bolted instead of welded for additional strength, stainless bolts (7 bolts each side!) & Mylar tape to isolate the aluminum from the steel.

The necks below are reinforced so many places. Where the roofline connects the wall to the neck frame, Hart trailers are double framed and the top radius is boxed where the nose starts to narrow. You'll see plate angled gussets inside the bulkhead and outside. Roof bows are larger at the wall/neck attachment.
Doors and Windows



Hart doors are custom made for each trailer. The doors aren't added to the trailer but built into walls. The doors are actually double framed for rigidity and strength. All the doors are insulated. Door jams are formed into a channel with the weather-stripping recessed into the channel for an automotive type seal that you are use to in your truck. Right, double pin striker plate in the doors.


Windows feature tinted automotive tempered safety glass, closed cell foam seal tape behind the full perimeter frame and are silicone sealed around the outer edge for a double seal. Hart website
Hinges

Hinges are 1/4 thick aluminum extrusion stock with 1/2″ stainless steel pins, stainless steel washers between the hinge halves and stainless steel caps.
Tall Trailers with Muscle
Hart tall horse trailers (7'7″) have a 4″x6″x1/4″ box headers above openings and rear gate frame in the whole rear of the trailer. It needs to be seen to be believed. The box header takes the flex out of openings like sliders, windows and doors so they all will work for future generations of horse folk. Hart website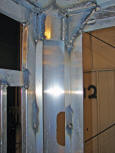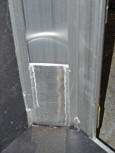 It's hard to visualize just how big the box header is for the extra gussets in the rear door corner on the tall model as well as along the wall at openings like windows & doors.
This is why I call it a tornado shelter, (left) all this is covered up in the corner, so you won't see it. To the right shows how the bottom of the post is reinforced at the tailgate also.
Now combine the corner top gussets boxing in the corner post and add the 1/4″ box header across the top of the gate on the tall model and add the 1/4 " box header to the inside of the corner upright post and you have an armored trailer.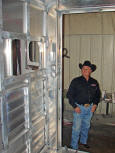 You can see sales manager Randy Stamper standing next to the corner that has the box header (4x6x1/4) rear post and crossover beam, see how massive it is. Quite the roll bar. For wall openings, the box header is added. It ties to roof and wall. I took several pictures of it as the size of the beams amazed me.
 Axles; Hart Aluminum Horse Trailers and review of the factory

Heavy duty axle trolleys. Axles are Dexter Torflex independent torsion axles with E-Z lube.  Axles are boxed in with the aluminum floor and wall. Hart uses Dexter axles with a different articulation angle for LQ trailers for the extra load. Axle frames have different length attachment plates depending on length of trailer. Rolled rocker panel covers axle trolley floor attachment. Wires to the brakes run in conduit with rear junction boxes for easy access and protection.
 The STEP
Usually steps are a problem on horse trailers, getting dragged off or sticking in or out. Hart, like the rest of their trailer, builds the step for battle. Yes that's sealed ball bearings ( 4 of them) in the slide out step, with the channel to the outside for easy cleaning. It also has a spring loaded pin that auto locks. If you are going to have a step it might as well be a reflection of the quality of the rest of the trailer.
Wiring

Electrical box under the neck for easy access. Hart uses conduit tubing for wiring harness with junction boxes to the brakes. All electrical wiring runs overhead, encapsulated in a top roof rail. Rubber mounted sealed beam tail lights, rubber mounted sealed beam dome lights and dual bulb sealed beam marker lights for long life and easy maintenance. Hart website
Living Quarters
The mainframe is reinforced for the Living Quarter slider opening with a 1/2″ by 3.5″ aluminum plate welded in a bow for a stiffening camber. You won't see this extra strength as with most of Hart's extra beef, it's covered with rolled rocker panels
Above, the Hart slider uses a hydraulic HWH scissor. It is suspended with two slide rails. Aluminum 1/4 inch plate 2 feet wide goes from floor to ceiling for added stiffness and strength on both sides of the slider box.


One slider size, 8'6″ with three windows and of course the slider box is reinforced. Slider LQ's get double jacks, just the way I'd do it. Right picture shows bottom of slider box. Above right, floor frame rails are deeper for holding tanks
Outlaw conversions for Living Quarters are popular on Hart's. 45% of Hart's are converted with a Living Quarter. Hart constructs LQ trailers for easy conversion with framing in place for refrigerator, sinks, AC, vents, ducts, working closely with the conversion company for a custom fit. Hart trailers are built plum so the conversion fits and stays put.
  Mats



Cutting mats is another art form. Hart minimizes wheel well angle as much as possible. Look at the mat lip on the escape door, right picture. Hart website
Stall Dividers
 The original fold-down Safety Bar Grill. Spring loaded stall dividers have three hinges per divider stall. Slam latches are flush inside divider away from your horse with a simple one handed mechanism. New styling innovations coming on the right.
Tack Room; Hart Aluminum Horse Trailers and review of the factory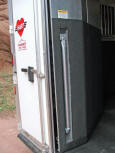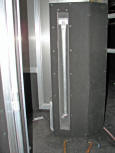 Mid tacks, closet tacks, broom closet and moveable tack rooms. I like to fold the rear tack and use the trailer for everything. The above right pictures are the butt bar that folds out of the way into the folding tack wall. Mid tacks (left) are large

| | | | | |
| --- | --- | --- | --- | --- |
| | | | | |
| Side compartments vented for your generator. | Roof hay rack, struts and a lid available. | Hay rack ladder has non skid rungs. |  End stall divider telescopes. | Manger in escape door is new. |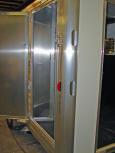 Look at those lines! Rear corners catch your eye. It's the same radius extrusions used in the roof edge. This makes a smooth strong corner with less wind resistance. This trailer has the rear side tack that's becoming popular.
Here's a celebrity horse model, Dozer from the movie "Dumb and Dumber". The Clydesdale on the right was 1/2 of the team that pulled the sled up to the Aspen Lodge. Dozer is from Sombrero Ranch in Estes Park. Next I'm driving a new Durango with a "Hemi" towing a Hart "Miniature Horse Trailer" through the Red Rocks Amphitheater. Then a Cadillac Escalade on the Continental Divide, in May last year there was still 5 ft of snow on the side of the road. I had fun with a Suburban Quadrasteer herding elk by Estes Lake. Next I was trying to get the bugs out of a 2003 F250 in the Rockies. 12,000 ft is a good place to test trucks. The last Hart I towed was with a 2007 Tahoe, seen here with a Buckskin show stallion. Hart website


(Left) All the Hart trailer tires are radials and spun balanced.(Right) Last thing on the way to you is the acid wash.

Same building where it all started in 1968. Chickasha OK, horse trailer capital of the world. I can't see how anyone could tour the factory, see what's under the skin and not be impressed. The beauty, strength and quality is there, you have their name on it.

Visit the Hart website  ph. 1-888-810-HART
Thanks to: Buckskin stud "Got TIme To Rock" provided by Sonshine Acres
"Big Boy" Quarter Horse gelding provided by Animal Angels Horse Rescue

Thanks to Transwest Truck Trailer RV for review Hart horse trailers at www.trailerwest.com


Hart Thoroughbred aluminum 2 horse straight load with a ramp. This Hart model is made for the Thoroughbreds and Warmblood's with the trailer axles set back farther to support the weight.  Beautiful trailers.
The Thoroughbred trailer is 6'8″ wide, 7'7′ tall and 11′ long stalls. Comes with double rear doors, ramp, removable stall divider and full height escape doors for each side. The front dressing/tack room with full size door is carpeted.






You know I like ramps. Yes they can be slick when it rains, so is the trailer floor and the ground etc. My trucks running boards are slick when it rains, but I still use them to climb up. Big stalls on the Hart Thoroughbred model, made for the big ones.





Full size escape doors on both sides with running boards make it easy on the handler. Butt bars latch from the inside out so the horse helps you latch it instead of working against you. Open of the rear doors and haul horses and Harley's.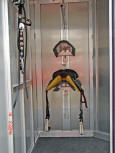 Right amount of windows and vents. Inside is all lined. Fiberglass roof is cool and strong, I can even stand on it, jump on it. My 300 pounds of fun is per square foot if I stand on one leg. The door latches are as strong as it gets. Roomy tack/dressing room.
Extra Pictures; Hart Aluminum Horse Trailers and review of the factory
Infinity QX56 towing a Hart horse trailer through Red Rocks
Horse Trailer Air Ride Suspension