2004 Infinity QX56 4×4 Luxury SUV, Hart Medallion horse trailer and  Tow-N-See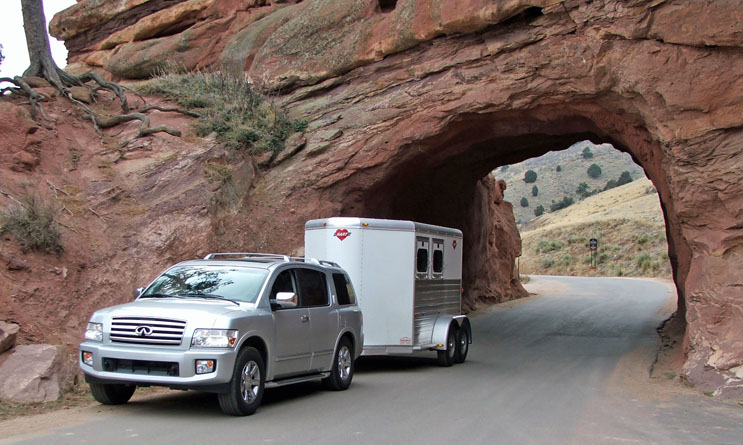 2004 Infinity QX56 SUV and Hart aluminum horse trailers are both upper scale and make a good looking couple. The new 2004 QX56 is the first Infiniti model assembled in North America. It's a vehicle that you feel safe in. A full size SUV is suppose to make you feel safe, but the QX56 is loaded with safety features, such as air bags in every pillar, Intelligent Cruise Control, Smart seat belts, GPS, backup camera, backup sensors, tire pressure monitor and a dash light that brightens a cloudy day. This gives you a relaxed, safer ride swimming upstream with the other salmon on I-25 at rush hour. SUV's can be as versatile as mini-vans but you look cooler even with 12 cup holders. Infinity QX56 towing a Hart horse trailer through Red Rocks.
The QX56 came out late in it's first year so my review vehicle came out late, but  the QX56 hasn't changed much for 2005 and has the mechanical and chassis features shared with the Nissan Armada. Using the same 5.6L on.com/pagead/show_ads.js">
The QX56 came out late in it's first year so my review vehicle came out late, but  the QX56 hasn't changed much for 2005 and has the mechanical and chassis features shared with the Nissan Armada. Using the same 5.6L DOHC Endurance V8 gas engine as the Titan and Armada with 315 hp and 390 lb-ft torque. The engine is all aluminum with cast iron cylinder liners. I like the gated floor shifter for the 5-speed auto transmission. You can shift manually which is nice with a trailer in the mountains. Tow capacity is 8900 #'s for the All-Wheel-Drive model I had. Vehicle Dynamic Control (Nissan's version) is almost standard on the larger SUV's now for computerized direction control on slick surfaces. Active Brake limited slip, which is basically traction control, does keep both rear wheels working.
Power lift gate, from the keyless remote, or the rear door button or front button is handy when both arms are full. The rear auto-leveling air suspension does a nice job of leveling the SUV. But with a trailer attached it's a little slow and never was quite level. Another reason to have a weight distributing hitch.
A big comfort plus, are the smart seat belts. I have two people in my family that are always complaining about their seat belt being too tight. Smart seat belts do work and stay looser until needed.
Reminding me of resetting my computer at home, you know, control-alt-delete. I had to shut off the QX56 to reset for the cruise and ac to work. I'm ready for the self-healing computers. That's what I named my computers in my office, "Crash and Crash More."
Using body on boxed frame, Dana axles. and standard rear auto-leveling air suspension, along  with front and real stabilizers give you have a solid suspension.. The QX56 has a smooth car like ride with 4-wheel independent suspension, using 18 inch tires. Having a Rear Independent Suspension with coil springs means more movement with a trailer though. It would be wise to use a weight distributing hitch. 123 inch wheelbase and 206.9″ overall length equals a maneuverable size for the SUV.
The QX56 looks massive with it's waterfall grill that reminds me of a sperm whale nose. With all the help from electronics, driving long distance couldn't be easier. Other vehicles have backup sensors and GPS, but put the QX56 in reverse and automatically you see what's behind you in the GPS screen. Very nice for backing up to trailers and parallel parking.
But the best gadget is the "Intelligent Cruise Control." This is on my Christmas list. I've heard of this on Jaguars a couple of years ago. Now I can use cruise control again. With all the traffic on Interstates, you have to be 100 miles from Denver normally to use it. But with Intelligent Cruise Control even towing a trailer, paces you with traffic. Set the speed you want and the laser sensors measures the distance to the vehicle ahead of you and throttle and brake actuators speed you up or slow you down. It won't completely stop you, but you should do some of the driving yourself.
Intelligent Cruise Control is wonderful, you don't have to keep braking in traffic. A good safety item with 3 settings for how far from other cars you want to stay. It will brake or accelerate itself when there is a vehicle in your lane. I tested it towing the Hart 2-horse trailer on I-25 through Denver and it was amazing. Not a good place to use it with all the on ramps but it did work.
QX56 running boards are usable at the right height for cab entry. LED tail lights are bright on the QX56 and the Hart trailer.  The cabin has real wood on the steering wheel, door handles and center console. Luxurious inside with 10-way power drivers seat, 8-way passenger seat, adjustable brake and gas pedal and the heated seat control is on the console instead of bumping it on the doors like some cars.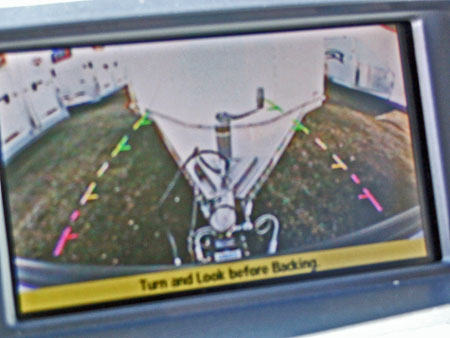 I love GPS, it helps me find streets before I drive past them. And Nissan has one of the best, but when you put the QX56 in reverse, the GPS screen shows what's behind you from the tailgate camera. You can actually see the ball, see the hitch directly above the ball for backing up to trailers. It's so cool, even just backing up is easy with parallel colored line on the screen that show you how close to an object you are. You can use the colored lines to park parallel with the curb or the car next to you. Makes parallel parking child's play. Oh yeah, this even works at night.The only blind spot is behind the drivers side B-pillar. It's a wide pillar and you have to move around a bit to see what's coming.I haven't read the whole owners manual that comes with the QX56. It's the size of College dictionary.
For us older types, the QX56 has an adjustment for how long the blinker stays on. The front passenger seat folds down so with the 2nd and 3rd rows of seats folded flat, you have room for ladders and carpet and those big corner posts. Remote open and close tailgate is nice as with all the toys, made for me. HID xenon headlights are as bright as you can get legally. They do show you what's in the ditches wanting to cross the road.
In the Luxury 4×4 SUV class, the QX56 is a good value.  Having all the luxury features you could want, the 2004 QX56 4×4 I drove, had a MSRP of $54,980. This was with the Smart Vision Package for $1100, Entertainment System Package at $1600 and a Power Sliding Glass Sunroof for $1200. EPA rated the gas mileage at 13 mpg city and 18 mpg on the highway. (More pictures below.)
Hart Medallion 2 horse slant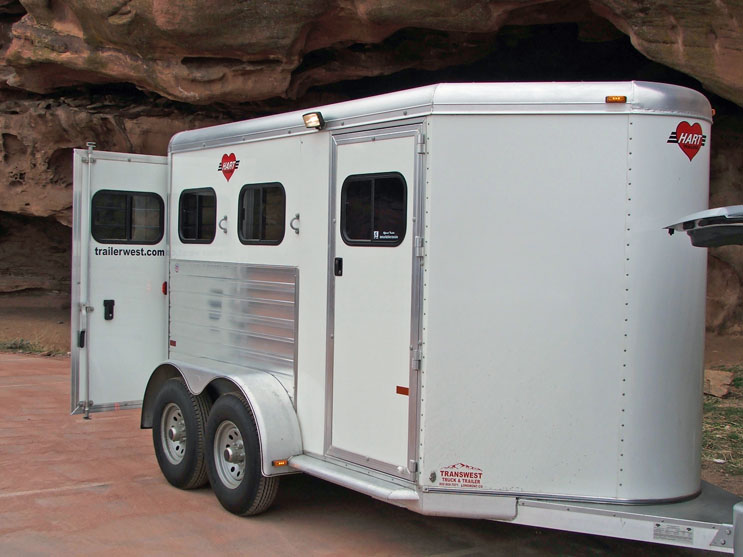 When I think of a beautiful trailer, I think of Hart aluminum horse trailers. The molded rounding sheet metal reminds me on an Audi car with German workmanship. The welds tell the story with heavy duty frames, necks and floors. I've seen 8 horse slant Hart trailers with more than a couple hundred thousand miles on them and no cracks.The heavy duty hinges on thick doors won't need replaced, that's why they're welded. The Medallion is Hart's most popular model. Structurally the same as the more expensive Ultimate and Classic models, the Medallions are all 6'8″ wide.
Lately I've seen more folks looking for a fiberglass roof for being cooler and lighter. Hart uses insulated honeycomb 5/8″s thick fiberglass roof panels. It's light, cool and quite compared to the popping noise some metal roofs make on the road. Try walking on a Hart roof. They are well supported. The top is gel coated like a boat. Basically hail proof. The saddle rack moves to the dressing room or back to the tack room. Transwest Truck and Trailer adds screens to the drop feed windows. I noticed the door to the dressing room has an extra lip that seals against the rubber door gasket. That will keep more of the water and dust out. The rear stall divider telescopes in to fit flush against the tack wall to avoid contacting the incoming horse. The butt bar folds into the wall out of the way. (More pictures below.)
Tow-N-See Extended Towing Mirrors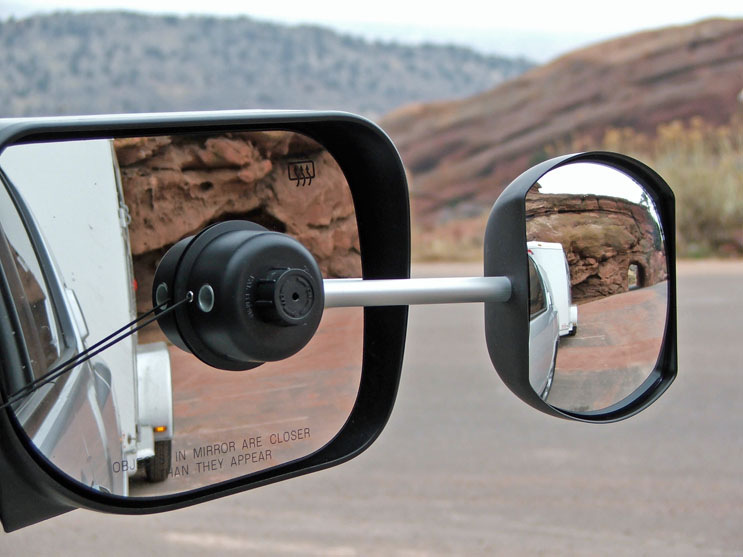 At an RV show last winter I came across the Tow-N-See Mirrors. The unique thing about them was that you could adjust them with your power mirrors. They attach to the factory mirror with suction. All you do is twist the knob and the suction cup sticks to the mirror. Now that's easy, no bolts or clamps or drilling. They attach fast and come off by just unscrewing the knob. The aerodynamics of the shape of the mirror, like lift from a wing, help to keep the mirror stable. It's so important when towing, to be able to see the rear corner of your trailer and to be able to look down at the trailer tires occasionally.
And the mirrors come in flat or concave. I use the concave on the right side, but it would be nice to use concave on both sides to get as much "around the corner" vision as possible. The standard mirrors on the QX56 work well up to about a 6.5′ wide trailer. Tow-N-See Mirrors come with a safety cord to loop over the factory mirror so you don't loose the mirror if you run into the garage door and forget you have them. If your factory mirror folds in, so will the Tow-N-See. Since they attach so easily, you could use them on all your towing vehicles. I end up with several drivers in my vehicles and I have to adjust the mirrors daily. Most extention mirrors have to be adjusted manually, that would be a bummer. When towing I move my mirrors often, looking at tires, looking at clearance lights etc. I'm spoiled by power mirrors, this is a good solution for extended towing mirrors. They are $26.95 a piece. Made in the Colorado. (More pictures below.)
Infinity QX56 4×4 pictures Just a little shorter than a Suburban
Remote control tailgate

You can see the trailer ball on the GPS screen
Hart Medallion 2 horse slant aluminum horse trailer pictures
| | | | | |
| --- | --- | --- | --- | --- |
| | | | | |
| Butt bar folds away | Extra lip seals against rubber gasket | 5/8″ honeycombed fiberglass roof panels, solid roof | Padded walls, padded doors, padded floor | Rear stall divider telescopes in when open |
 Tow-N-See Extended Towing Mirrors pictures
| | | | | |
| --- | --- | --- | --- | --- |
| | | | | |
| Just turn the dial | Attach fast | Adjusts with factory mirror | Good look | Aerodynamics stabilizes |

 Red Rocks near Morrison Colorado. Yes they have concerts there.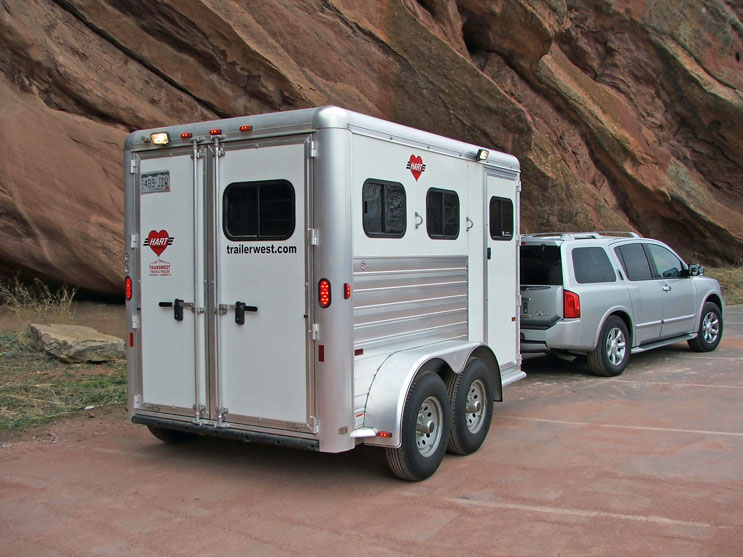 Hart has beautiful sheet metal. It's art, look at the corners and edges. LED lights everywhere with spot lights at the doors add to the versatility.
Thanks to Transwest Truck & Trailers for the Hart  horse trailer, www.TrailerWest.com and Tow-N-See www.Tow-N-See.com


MrTruck's Top Picks, Truck, SUV & Trailer Accessory Store, ENTER