Gen-y Gooseneck Torsion Suspension Coupler 4″ Round & Square
Gen-y Pegasus and Spartan Torsion-Flex Gooseneck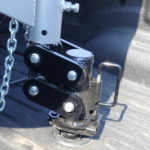 Same price just tell me which one you want. ph. 303-883-1300
Call me for low pro forward  models, 11 in. and 5 in. extended coupler models for clearance with bed rail
Ball Size 2

5/16 inch

 and 3 inch

 25K, 30K LB. Towing Weight

3K & 5.5K, 7K LB. Tongue Weight
Order Here: FREE SHIPPING Add to cart  $1031.99
4″ Round (2k-3.5k) tongue wt./25,000 lb trailer) Manual Latch-  GH-7002
4″ Square (2k-3.5k) tongue wt./25,000 lb trailer) Manual Latch-  GH-7012
4″ round (2k-3.5k) tongue wt./25,000 lb trailer) Low Profile-  GH-7004
4″ square (2k-3.5k) tongue wt./25,000 lb trailer) Low Profile- GH-7014
4 1/2″ square (2k-3.5k) tongue wt./25,000 lb trailer)- GH-7015
4 in round (3k-4.5K) tongue wt. 25,000 lb. trailer- GH-7044 (click to add to cart)
 Pegasus low profile 5 inch offset for short-bed trucks
Order Here: FREE SHIPPING Add to cart  $1146.99
4″ Round (4k-5.5k tongue wt./25,000 lb. trailer) Manual Latch-  GH-7062
4″ Square (4k-5.5k tongue wt./25,000 lb. trailer  ) Manual Latch-  GH-7072
4″ round (4k-5.5k) tongue wt./25,000 lb trailer) Low Profile-  GH-7064
4″ square (4k-4.5k) tongue wt./25,000 lb trailer) Low Profile- GH-7074
4 1/2″ square (4k-4.5k) tongue wt./25,000 lb trailer)- GH-7075
NEW 30,000 lb. Coupler with 2 5/16 inch or 3 inch
FREE SHIPPING  Add to cart  $1203.99
4″ Round (5.5k-7k tongue wt./30,000 lb trailer)-  GH-7082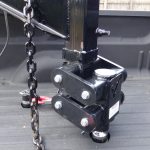 4″ Square (5.5k-7k tongue wt./30,000 lb trailer)-  GH-7092
4″ round (5.5k-7k) tongue wt./30,000 lb trailer) Low Profile-  GH-7084
FREE SHIPPING   Add to cart
4 in. square tube, 3 in. coupler ball (7K tongue wt./30k trailer)  $1260.99
Gen-y Gooseneck Torsion Suspension Coupler 4″ Round & Square
Now With FREE Shipping
Watch video for measuring your trailer for Gen-y goosenecks and 5th wheel
Safety
With Rubber Torsion Hitches only 10% of the trailer inertia transfers compared to 100% using a hard connection hitch giving you the ultimate control.
Ultimate Control
The tow vehicle and trailer track independently giving you greater control and added safety by reducing sway and trailer bounce.
Greatly increased braking control since all the weight on the tow vehicle and trailer is distributed evenly giving you increased positive contact when breaking and maneuvering.
Safeguards Against Uncontrollable Road Conditions
Bumps, potholes, expansion joins, curves, hills, and other drivers can be a hazard, keeps you under control when confronted with these conditions.
Saves Gas and Tire Wear
The 90% smoother ride allows you to glide instead of bounce increasing gas mileage.
Saves You Money
Reduces trailer and content fatigue. Metal fatigue caused by traditional towing results in your trailer and its contents taking a beating. Products increase life and help hold value
Arrive Alive
Reduces driver fatigue to help ensure everyone (family, friends, pets, horses, and livestock) arrives alive.
Gen-y Gooseneck Torsion Suspension Coupler 4″ Round & Square FREE Shipping:
Features
Heavy Duty Rubber Torsion Flex Cords, Eliminates Shock Transfer

No Airbag to Maintain, No Bearings to Crush or Wear Out, Virtually Maintenance Free

Built-In Mechanical Tongue Weight Scale for Balanced Safe Loading

Reduces Trailer and Content Fatigue

Eliminates Most Surging, Bucking, and Chucking

Increase the Life of the Electronics Found Throughout Your Truck and Trailer

Increase Ride Quality

Improve Overall Safety

Increases Your Quality of Life, You Deserve a Gen-Y Torsion Hitch

Comes Standard with the Gen-Y Versa-Ball & Pintle Lock

Powder Coated for a Tough Durable Finish Giving Longer Life and Increased Visual Appeal.

Engineered using Solidworks the world's most recognized engineering software.

Protected under Patent # 9,505,281 B1 & US D773,345S
All Gen-Y products are rigorously tested and exceed the SAE-J684 Weight Testing Requirements. Never exceed recommended capacity on any trailer tow coupling or vehicle receiver hitch.
10 Year Warranty on All Moving Parts — Lifetime Guarantee on Rest of Components — Made in the USA
You may also like…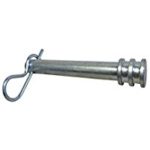 Hitch Pin – 3/4″ Hitch Pin, 5 1/4″ Usable Length