H. Kent Sundling (aka MrTruck) spent 20 years wearing out pickup trucks and trailers as only a farmer could. MrTruck moved to the big city to sell trucks in a quest to save the farm. After selling trucks for 10 years and being named by Ford as one of the top four truck salespeople in the country, MrTruck now reviews trucks, SUV's, trailers and accessories for magazines and websites. With over one million miles towing trailers, MrTruck helps match the right truck or SUV to tow your trailer.
2005 Ford F350's TowCommand trailer brake controller, Towing a Featherlite, and reviewing TireStep. Plus Elk Herding at Estes Park.
Winter in the Rockies (above), the naked trees show off the rocks in the Colorado Rockies. I drove the redesigned Ford F350 Lariat Crew Cab to Estes Park, towing a Featherlite 2 horse slant. The curves and steep grades in the High Country, will test a tow vehicle. Mountains are the perfect environment for demonstrating Ford's new factory optional integrated trailer brake controller, where going down the fast side of the hill, can be scary. The trailer brakes activated seamlessly, and provided more braking power with truck speed even on a new empty trailer that can be more touchy before the brakes glaze in.
Last summer at the Ford Proving Grounds in Arizona, I first drove the new 2005 Ford Super Duties off road and pulling the heaviest of trailers on Fords oval track and on the winding Arizona interstate. The Ford 2005 Super Duty has few changes to the body, but the muscles have gone threw the gamma rays like the Hulk. Yeah the Tonka Hulk. As heavy duty pickup trucks improve at a dramatically faster rate than say just ten years ago, faster improvements means better choices. Though the new Ford 05 F350 has a 5 foot shorter turning radius, it feels even better compared to the last model wide swinger. "I can make a U-Turn with a trailer on my street."
The Ford, new this year, TowCommand trailer brake controller is built and engineered jointly with Tekonsha who is famous for their Prodigy trailer brake controller. With adjustable gain in a digital readout, the Ford "built into the dash" trailer brake controller was smooth braking even pulling a 15,000 lb triple axle conventional trailer. We did the fast lane changes and panic stopping on Ford's oval track at their Arizona Proving Grounds. TowCommand being different from most aftermarket brake controllers, ties into the trucks hydraulics', so it senses truck brake pressure and can apply trailer brakes as fast as the truck's brakes. Master Brake Systems BrakeSmart trailer brake controller was the only controller that I knew of that tapped into the trucks hydraulic lines in modern trucks.
Before ABS came to trucks in the eighties, most trailer brake controllers worked this way, activating by the trucks brake hydraulic action. And in an emergency situation with the trucks ABS activated, Ford's new TowCommand can reduce the trailer brake pressure (gain) as it communicates with the truck's computer for faster reaction time with proportional trailer brake control, to prevent the trailer brakes from locking up. TowCommand also will tell you in the digital readout if your trailer wires disconnect from the truck. All these features will make towing your trailer in heavy traffic less hectic. Next to the TowCommand in the picture below, are optional toggle switches you can use for a snow plow, lights, hot tub, etc. Nice, having a factory switch panel wired for accessories. I use to have many wires dangling from my trucks fuse box for my accessories.
The red trailer icon means the trailer wire connection is disconnected. Minus and plus buttons control trailer gain. Finger tab below buttons is the manual trailer brake control. I would have put the new TowCommand trailer brake hand control on the left side of the accessory hole and the 4 auxiliary toggle switches to the right. Though it's not much of a reach. TowCommand increased pressure to the brakes as I gained speed, this makes the brakes at slower speed more manageable and no lockup even on a new empty trailer that are touchy anyway before the trailer brake pads are glazed in.
Nice thing about a aftermarket trailer brake controller, is you can take it to the next truck. Though Towcommand is reasonably priced compared to top end aftermarket trailer brake controllers and the labor to install it. There is also an advantage to be able to pull into any Ford service center when on the road and have the trailer brake controller fixed. I'm glad to see safety as a key feature in the trucks that tow the longer and heavier trailers each year. TowCommand only works with electric trailer brakes.
The built in, TowCommand" trailer brake controller, higher payloads and trailer capacity are real improvements that impress me more on the new 2005 Ford Super Duty, than all the chrome and fancy paint. And there's nothing wrong with turning tighter for a smaller circle either. The new front suspension changes improve the handling and steering with trailers. Now, with Fords first tracking bar in a Super Duty to stabilize the axle with coil springs, it is large, greaseable and adjustable. Learning from Dodge truck tracking bars, with wear problems 1994-2002.
For 2005 Ford has increased the wheel size on F250/350 to a standard 17″ wheel with an 18″ option. The brakes are larger on all the Super Duties. As introduced last fall, the 05 F350 has a capacity of !5,000 #'s of conventional trailer. The receiver hitch available for Super Duty F350 dually, called class V is a 2.5″ for larger drawbars. It comes with a reducer so your 2″ weight distributing hitch and drawbars will still work. The Class V receiver hitch is rated 6000#'s for weight carrying hitch and #15,000 #'s for weight distributing hitch. The F350 dually is rated to tow 17,000#'s of gooseneck/5th wheel trailer and with the optional TowBoss package, can be raised to over 19,200#'s.
TowBoss Package – F-350 DRW pickups only. Requires the Power Stroke 6.0L diesel engine, the TorqShift automatic transmission, and the TowCommand System (TowCommand System not required when ordered with King Ranch). Includes the 4.30 limited slip rear axle and increases GCWR to 26,000 lbs.
For the improved 2005 Super Duties, Ford increased payload and trailering capacities with real changes, not just numbers. The frame is thicker, the axle tubes are thicker, and more gussets at cross members. The new Super Duty's turning radius is shorter, the steering is tighter, the brakes are larger, thicker larger wheels, improved ride and an industry first, optional trailer brake controller built into the dash that activates the electric trailer brakes the same time as the truck hydraulic brakes. The only puzzling change to the 2005 Ford Super Duty, is the diesel power barely increased. But the gas engines for 2005 do have more power with 3 valves per cylinder, variable cam timing and now use the TorqShift 5-speed automatic transmission used in Ford's 6.0L Power Stroke diesel.
The pickup truck diesel power race, pushed to 600 lb-ft of torque by Dodge at the start of last year, looks to be what most folks have measured the category leader with. It's bold of Ford not to leap frog the competition and only raise the torque to 570 for it's 2005 models. Ford has instead decided to be the leader in capacity and braking, which I'm glad to see safety as a key feature in the trucks that tow the longer and heavier trailers each year.
These new 2005 Super Duty's will be welcome news for folks who tow heavy 5th wheels, travel trailers and horse trailers. As heavy duty pickup trucks improve at a dramatically faster rate than say just ten years ago, faster improvements means better choices. Ford found it's limitations in the past Super Duty line F250 thru F550 and the changes made for 2005 will be welcomed by the truck owner who works their trucks with large loads and trailers as 90% of Super Duty owners do tow trailers.
HitchMate's TireStep from Heininger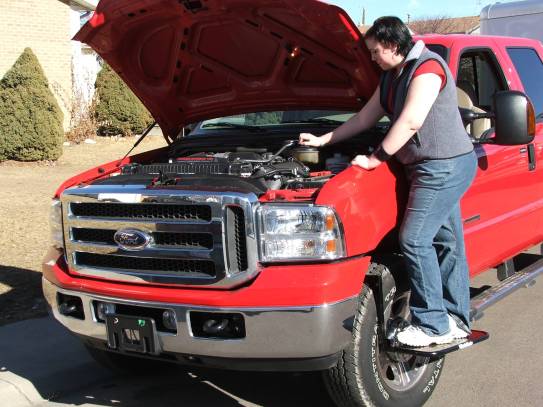 Each new truck model seams to be taller. I think they should include a step ladder that folds into the door. And you need a 55 gallon drum to stand on to check your oil. At last years SEMA convention I spotted the TireStep from HitchMate. I've used a one piece solid tire step when I worked for the county. It was handy, heavy and took up floor space. The HitchMate Tirestep is light, adjustable for different size tires and adjusts for height. What else could you want? Oh yeah, it folds twice and with it's own travel bag that will fit behind your seat. You can bet it travels with me incase I need to reach the engine, wash the windshield and you know you can use it on your horse trailer to reach the drop down windows or even use it on the rear truck tires to reach over and latch the darn gooseneck coupler and safety chains. TireStep could be handy on SUV's for actually using the cargo rack for reaching  the bikes or skies. I jumped up and down on it, so you know it's built right.
TireSteps even work with Fords new 18″ tires on Super Duty. They also have a TireStep made for the big rigs and RV's. I can see where TireStep would be handy for washing the top of your truck or SUV. I've seen steps that clamp on a boat trailer frame for access, but the TireStep would be ideal for working on boats too. I'll end up using mine for a seat at tailgate parties. Setting on tailgates scares me now, too far to fall unless you have another product from HitchMate, the TruckStep which is a retractable step that fits your receiver hitch. But that's in a future review, stay tuned.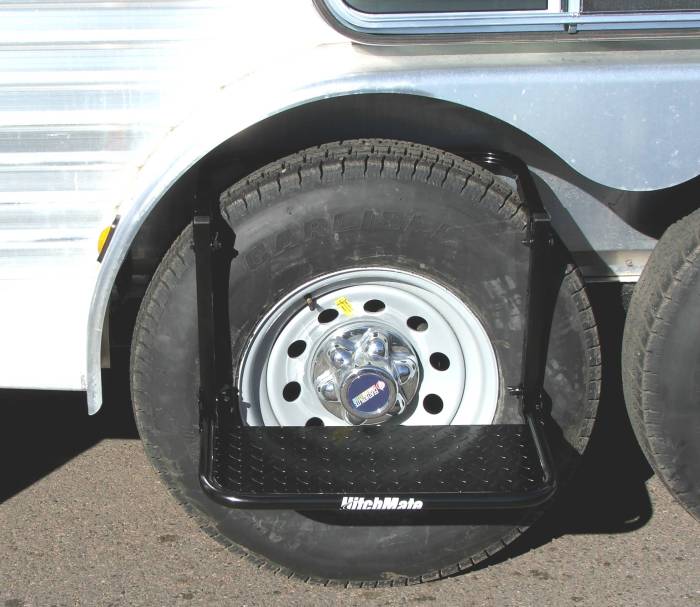 Featherlite 8551  2-horse slant 7×16
The Featherlite 8551 aluminum two horse slant I borrowed from Max-Air Trailer Sales, could be towed by a 1/2 ton truck or full size SUV easily enough with a 7000 # GVWR. A well built trailer by the oldest aluminum horse trailer manufacture. A wide screened door with a window to the dressing room, makes a comfortable place to get ready .This trailer has a full length running board which I like to use to drop the feed doors and the largest section of it is bolted on, incase you cut a corner and take out your neighbors mailbox. The rubber coated tie rings and feed bag rings don't rattle on the road.
Featherlite has researched and experimented with different size rear doors. With the popular rear tack, Lonny Smith of Featherlite told me their research showed equal rear doors is what customers wanted. This gives of course your horse and show saddle room to easily load. The adjustable saddle rack is easy to take out and move to the dressing room too. I used a trailer similar to this at the All American Quarter Horse Congress for a booth out of the weather. I took the saddle rack out, folded the divider against the wall and had an open air office. This is how you haul hay, motorcycles and move those teenagers to college. But do clean it before loading horses again. Which is easy to do with the rubber walls and floor mats.
With 30 elk, you'd think I could get a couple to walk in the trailer. They must have heard about Ty Murray riding elk in the snow in the Rockies. What could be better, in the Rockies, at Estes Park, elk horses mountains and sunshine. Were is John Denver when you need him?
For more information on Featherlite trailers, see Max-Air Trailer Sales at Fort Collins 1-800-456-2961 and Featherlite's websitewww.fthr.com/trailers/horse.asp  For more information on HitchMate's Tire Step go to http://www.heininger.biz/hitchmate.html . Thanks to Sombrero Ranches where we ride horses in Estes Park Colorado and use them for trailer modeling.