Cadillac Escalade ESV Platinum and B&W's new Tow & Stow receiver hitch towing Hart Medallion
This is luxury, the 2005 Cadillac Escalade. It's leading in sales in luxury SUV category. Twin screens for the DVD, keeps both 2nd and 3rd row youngsters busy watching "The Incredible's" again.  But for me there are heated and cooled cup holders. And they work, keeps my coffee at the right temperature until the last drop. How about hot and cold seats? Yes it's real, this Cadillac has it all and a touch screen for GPS and climate control. You get spoiled real fast, making it hard to go back to a plain SUV. It would take another page just to list the standard features.
Powered by the Vortec 6.0L, 345 horsepower, with all-wheel drive, automatic rear leveling, 20″ chrome wheels, more chrome, and bling bling. Then all the latest safety technology including Stabilitrak Stability System which prevents roll over and helps steer your intended direction on slick services. The list price is $70,675. With highway driving I did get close to the 17 mpg it's EPA rated at, and 11 mpg towing a trailer in the mountains. What a ride, smooth, hot coffee, warm seat, the kids are quiet and I look important driving it.
Only in Colorado, these pictures below were taken the same day, May 27th. Trail Ridge opened early this year. Going over Trail Ridge at 12,000 ft. (right,) still had snow taller than the Escalade on the side of the road. Then just a hour later down the road, green meadows, elk, and trees again. I tested the Hydro-boost brakes as I counted the elk crossing the road. Same system used on diesel pickups for more brake pressure.
Besides beautiful, the Escalade is very functional. The gauges are laid out well, even a transmission temperature gauge. I especially like the tire pressure readout. I had a blow out coming back from the SEMA aftermarket convention, in Vegas this month on my project truck and knowing all 4 tire air pressures could have prevented that.  The full center console is the right width. In most SUV's the center console is too wide and my right leg is rubbing on it. With the Escalade, I could stretch out and enjoy the ride. 5 stars for hat room too, my widest brim Stetson, fit without hitting the headrest or A pillar.
 I pulled a aluminum Hart Medallion 3 horse slant through the Rockies. They looked like they were made for each other. And easy towing trailer by this 1/2 ton Caddy. I stopped at the Grand Lake Sombrero Ranch for couple of horse models. I was lucky enough to get a celebrity Belgian named Dozer. He was in the movie, Dumb and Dumber teamed up on the sleigh in front the the Aspen lodge. Not sure why I'm always offered a plow horse to ride when I do a photo shoot. They tell me it's so I'll be higher to get better pictures, but I think it has something to do with my spare tire.
The Escalade's automatic leveling suspension is great with a trailer. It's also the fastest acting I've reviewed, as soon as the load changes, it levels you out. But remember to use a weight distributing hitch, it has rear coil springs and they move more with a trailer.
The 2005/06 will be good deals as the 07 will be out shortly this spring. The Escalade 2007 shares the GMT-900 platform along with the other full size GM SUV's and trucks coming out later. The '07 Escalade features new power train, chassis, safety and interior systems. The 2007 Escalade will have a new 6-speed auto transmission, a new 6.2L all-aluminum V-8 engine with variable valve timing technology delivering 403 horsepower and 417 lb-ft of torque.
Cadillac Escalade 2007 will be available in the first quarter of 2006, with extended-wheelbase Escalade ESV and Escalade EXT models to be introduced later in the year.
2007 CADILLAC ESCALADE: VEHICLE HIGHLIGHTS
All-new distinctive exterior design
All-new spacious interior with superior refinement
Powerful 6.2L all-aluminum small-block V-8 with VVT rated at 403 hp (301 kw)
Efficient six-speed automatic transmission with Drive Shift Control
Stronger frame chassis with responsive coil-over-shock front suspension and rack-and-pinion steering for the best ride and handling in the segment
Standard roof-mounted head curtain side air bags and StabiliTrak stability control system with new rollover mitigation technology
New radio family, including available navigation radio with touch-screen control
A myriad of luxury features including factory installed 22″ chrome wheels, climate controlled front seats, power fold and tumble 2nd row seats, remote start, power articulating running boards, power liftgate and IntelliBeam headlamps
Enhanced four-wheel disc brake system
Tow & Stow Receiver Hitch
 B&W sent me their latest hitch, the Tow & Stow receiver hitch. The usually high quality that B&W is known for, I like all the adjustments. With 3 ball sizes and height adjustment, it's just what I need with all the different trailers I tow. And just what we've asked for, it tucks underneath itself so you don't knock your shins on the ball when you aren't using it. It rated for Class IV at 10,000 lbs of trailer and maximum 1000 lb tongue weight. They even come in Mossy Oak camouflage or the Browning logo with 3 sizes, 6″, 8″ or 10″. I'll be using this hitch often.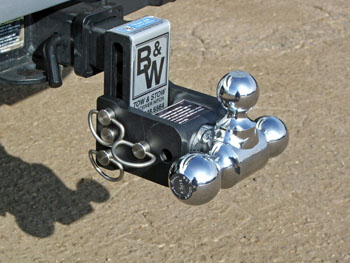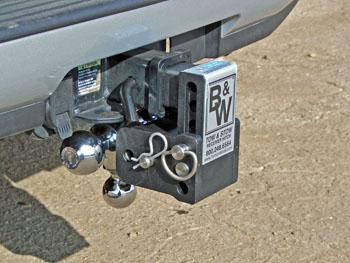 The B&W Tow & Stow can come with a two ball combination or three. I use mostly 2″ and 2 5/16″. Black powder coat takes all the abuse and cleans up to look like part of your truck. It's adjustable in 1″ increments with quick pins. The Tow & Stow has a one year warranty.
Thanks to Transwest Truck Trailer RV for the Hart trailer at www.TrailerWest.com , B&W for the Tow and Stow atwww.Turnoverball.com and Sombrero Stables for the horses at www.Sombrero.com