Side Tracker, The Easy Hitch Alignment Tool
"One Person Trailer Hook-up"
Good ideas come from necessity. Rick Weber (above), while a contractor. worried about his workers hooking up his trailers. It would take them a long time and when he would investigate what was taking so long, much to his surprise he would find an employee standing between the truck and trailer signaling to another employee that was backing up the truck. Visions of hospitalization and workman's comp convinced Rick that he needed a better way for his workers safety and speed. An idea was born and Rick formed a new company to research and develop the solution. (Look at the trailer jack above with Side Tracker installed, moving trailer towards Weber.)
I use trailers weekly and can back up to a trailer if there's room to be straight inline with a trailer, but if at an angle or in mud or snow, you can't get there the first try. Especially mud and snow, you can get inline with the trailer coupler, but usually on one side or the other. With mud and snow, you may never get close enough. But with Weber's Side Tracker, just get your ball and coupler lined up one side or the other, crank the trailer sideways and you are connected. You can't just "kick over" today's heavy trailers.

Picture left, the Side Tracker on a bumper pull trailer moves the trailer jack back out of the way of your truck tailgate when down. New jack placement also makes cranking the trailer jack easier since it's closer to the trailer axles. Side Tracker comes with standard hand crank or optional power track with electric or hydraulic power.
So slick moving your trailer sideways to the ball. The more you use, the move you love it !
Pictures below show the trailer coupler moving sideways. It's so cool to use your trailers jack to move the trailer left or right to match your ball to the coupler. You know the story, you back up, get out of your truck, see how close you are, try it again then you are too far the other side of the ball. Each time you back up, you have to judge the distance from the trailer to the truck again as well as trying to move the truck over the right amount. Once you've used the Side Tracker, you won't want to hookup with out it, it's a happy smile device!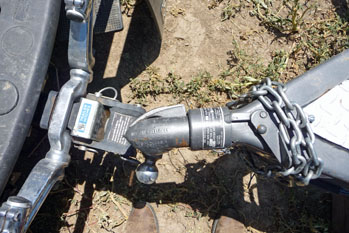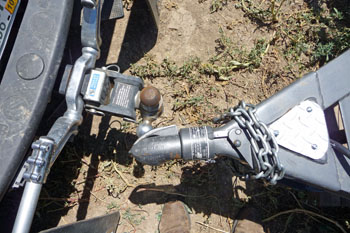 Pictures below demonstrate the Side Tracker moving the trailer sideways. Easy, fast and safe way to connect to your trailer, may also save some marriages. Having someone help you hook up your trailer, isn't always possible and even if you can talk your spouse into helping, the exchange may turn nasty.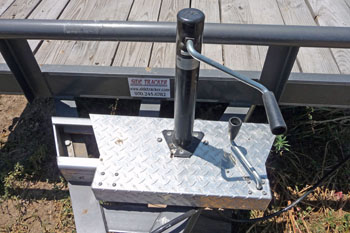 On gooseneck/5th wheel trailers, Side Tracker has 20 inches of movement or 10 inch to each side from center of the jack. On bumper pulls/tag-a-longs/travel trailers, there is 11 inches of movement or 5.5 inch from center of the jack. Another benefit of Side Tracker for gooseneck and 5th-wheel trailers is to move your trailer closer to a wall in a storage building. You can move your trailer 20 inches sideways.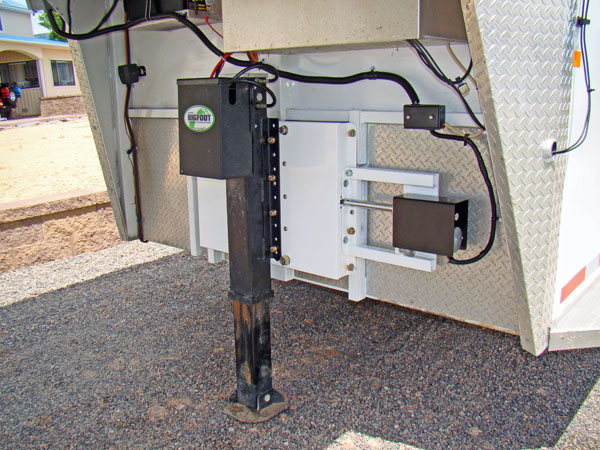 Side Tracker attaches to the bulkhead of gooseneck and 5th-wheel trailers. Double jack applications will be available. The standard manual crank systems for Side Tracker works well on gooseneck trailers and bumper pull trailers. An electric and hydraulic option will be available. The one pictured above is electric powered on my gooseneck trailer. Left picture is a hand crank manual Side Tracker on a gooseneck trailer.


Picture left, here with a 8000 lb jack option. Use your existing jack or upgrade.Picture right, your truck tailgate can hit a standard jack if you need to lower it when hooked to your trailer. Side Tracker repositions your trailer jack back out of the way.
| | | | | |
| --- | --- | --- | --- | --- |
| | | | | |
| In mud or snow it's almost impossible to back up to a trailer straight….. | …and it's not easy to hit the target in good weather…. | …but when your trailer coupler moves sideways, it's a whole lot easier | Side Tracker comes power coated or deck plate | Bumper pull model just bolts to your trailer tongue |
| | | | | |
| Gooseneck install | Weber removes the jack | Rearranging the bulkhead | Side Tracker gooseneck frame bolted to sub-frame | This model is electric |
| | | | | |
| --- | --- | --- | --- | --- |
| | | | | |
| Jack brackets | Primed for painting | Matching jack brackets to jack | Side Tracker sub-frame is welded to trailer bulkhead | Universal bulkheads kits will be available |
| | | | | |
| Jack goes back on | With a hydraulic jack you can have a hydraulic Side Tracker | Jack moving up and going sideways | Complete unit looks sweet ! | You can  see how much movement the gooseneck/5th wheel model has |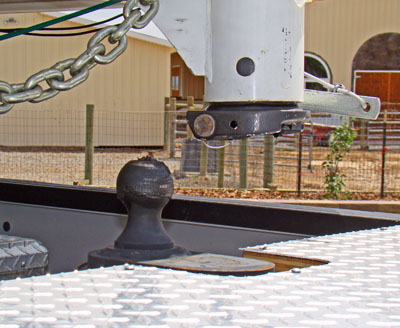 Finally a hitching solution for horse trailers, RV trailers, car/cargo trailers and more.