Safr Aluminum Horse Trailers fill the void left by Brenderup for fuel saving trailers
Easy Towing Rock Solid Rugged Aluminum Horse Trailer
Part One is about the Drive, Part Two will have more Details.
Building Trailers now for select dealers, for release to the public September 2011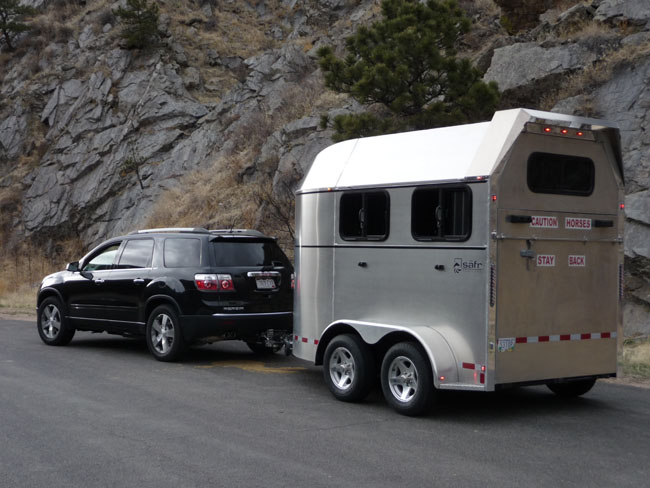 It's all about shape for fuel economy, slant roof sides, radius nose and rear wing. Like a HD Brenderup, similar weights and tongue weights. The Safr aluminum horse trailer two horse straight load with ramp, weighs 2300lbs with a light tongue weight and a 6000 lb. GVWR.  Their trailers are low to the ground, axles are spaced for stability and weight distribution which prevents teeter totter action and protects hoofs from getting stuck between the tires. These days we all want better fuel mileage towing our trailers.  Even if fuel prices go down, we know they'll go back up. An all aluminum horse trailer that's light and aerodynamic for easy towing, may be part of the answer to affording our horse passion.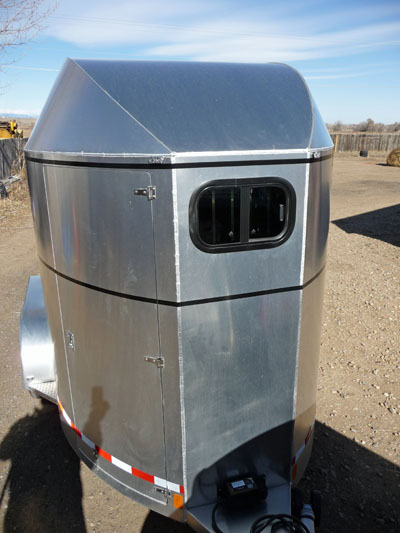 Why not build a trailer to be aerodynamic, lowering wind resistance to improve fuel mileage and using the air to stabilize the trailer. It should be a priority with trailer manufactures now and if not now when, when fuel is $10 a gallon? It's about function not just beauty. But Safr is a good looking trailer, no one will call it the "outhouse trailer." It's time to change the way horse trailers are designed.  And handling should be a design function.
Safr Trailers tows similar to Brenderup's European design with no sway. I tried making Safr sway without horses on curvy mountain roads. The swing was two times and back to center. With horses at 60 mph and 45 mph wind gusts, Safr 2h was very stable, tracked well and didn't move the GMC Acadia towing it.
Safr uses Solidworks 3D modeling and Auto CAD. Solidworks modeling can simulate a virtual wind tunnel to help determine the shape that tows easier to improve fuel mileage and to stabilize how a trailer moves with air pressure.  Safr trailers are designed to withstand a roll over. With the philosophy of safety that make seat belts in cars, the law. What has been proven, keeping you in your car is better that letting you fly out. Same for horse trailers, keeping your horse inside is better than letting them fall out in a crash.  The controversial shape of a Brenderup with the rear wing is similar to Safr's rear spoiler to deflect air down at the rear of the trailer to brake up the vacuum at the rear of trailer that lets semi trucks suck a trailer off course when they pass you.The Safr shape tows easier which is why mid-size SUV's can tow them.
The roof angles to the sides, the nose is round and tapers up to match the roof angles. This is a design you'd expect if NASA made horse trailers. The roof has a ceramic coating for insulation.
All marine grade aluminum 6061 T6 skin is .125 thick continuous welds no tape, no rivets, makes it very solid,  a no flexing horse trailer that lets the suspension do it's job. A skid plate truss starts under the tongue and goes to the front axle 1/4″ thick which forms a skid plate. The Safr Trailer design originates from a 30 year history of custom trailers sold around the world. Now being mass produced for the US market place.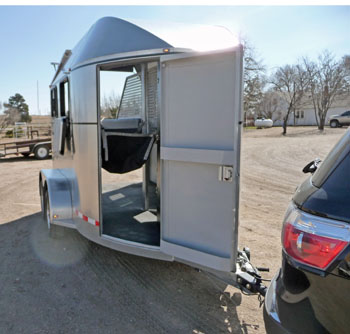 All marine grade aluminum, this light weight and shape allows Safr Trailers to be towed by smaller vehicles like this mid size GMC Acadia SUV. The skin is thicker aluminum than most trailers. All aluminum frame, ¼ inch thick frame under the floor. It's a heavy duty solid trailer and it tows that way with very little flexing for structural integrity. I just towed it 300 miles with the GMC Acadia in the Rockies, on winding windy mountain roads. It tracked well, cornered well, was easy to control with two big quarter horses.I was surprised when the Acadia didn't squat when I first hooked it up. This was my first proof of how low the tongue weight is.  The GMC Acadia is 4 wheel independent SUV that means rear independent coils not leafs. That type usually sways more than the sold mono beam axles with leaf springs. But the Acadia towing the Safr didn't sway.
The axles are Dexter EZ Lube torsion, spread apart for better handling and less flats. The Dexter torsion axles are soft tuned at 3000 lbs. each. This trailer is a straight load ramp, they will offer slant loads and a unique reverse load I want to try next. The ramp lift is a torsion rod like newer truck tailgates have. The top door is European style with struts. There is a double door option.

The trailer is tall at 7'6" , 7'8″ to top sheet, 6 ft. wide so you can see around it with regular mirrors. The ramp has one cam latch and is a low angle.  On the inside it's double walled up to the stall pads. All the lights inside and out are LED.Picture left, Safr parked next to a Brenderup Baron L. Big difference, the Safr is taller, wider and lower to the ground.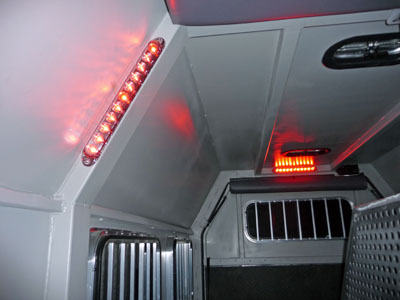 Two brake options, electric or mechanical surge. All the wiring is two wire, which is unique so the ground goes to the same place in junction boxes. A good thing to have, ground wires can be a constant problem in trailer wiring. Safr has the ground wire going only to the truck so it's always grounded when coupled to the tow vehicle. I don't know of anyone else doing that.  There are also two junction boxes. The inside lights are red with hi and low intensity. Red is suppose to sooth your horse.

Horses are color blind, red is green, a soothing color. Red preserves your night vision which is why cockpit lights are red. Truckers I know put red lights on the floors of their trucks to get their eyes working and not get hypnotized by the white lines in the road. All  LED's.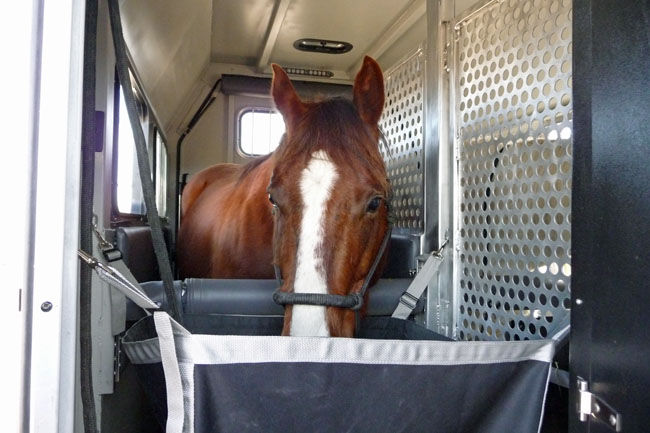 This 15.3 hand Quarter Horse has lots of room and great ventilation space above, stall and head divider are made for ventilation.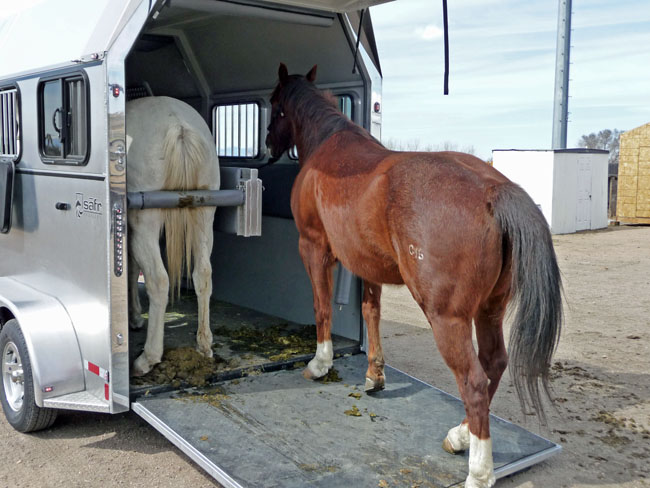 The ramp is a slight angle, low to the ground. Safr is built low to the ground to get it's center of gravity as close to the ground as possible for stability. European top door with gas struts. The ramp uses a torsion rod like newer truck tailgates use instead of struts.Picture right, the Quarter Horse has more than enough room in the heavily padded stalls. You've get to see how thick and large the pads are.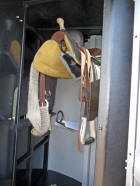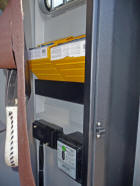 Tack room is a large tack locker, not a dressing room. Has saddle racks and blanket bar. The tack locker hides the spare under the floor.Safr tires are balanced, now there are three horse trailer manufactures that know why all tires need balanced to last.  I guess horses don't tell on them, about vibration from unbalanced tires anyway.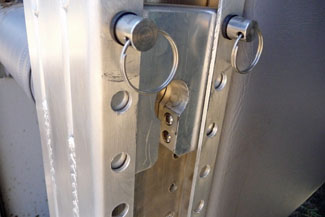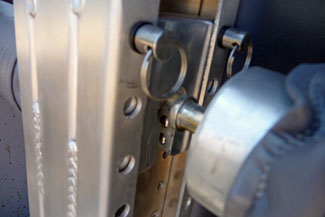 The adjustable breast bar and butt bar snap in place with spring loaded ball bearings. This is a safety factor as a lot of horse wrecks in straight load trailers are from horses climbing over the breast bar. With Safr Trailers, you can adjust the latch pressure from 200-250 lbs of force to drop the bar down. So a horse jumping over a breast bar will just push down the bar not get tangled. Spring loaded ball bearings are the latch.