MrTruck's at 29,051 miles on the Safety Hitch and counting. Towed in California, Texas, Colorado, Utah, Wyoming, Kansas, Missouri, Illinois, Indiana, Ohio, Wisconsin, Iowa, Nebraska, Arizona, and New Mexico Nevada so far. Automated Safety Hitch adds an axle to your pickup truck!
Automated Safety Hitch, Inc.
1311 North Grand Ave. Suite 300, Gainesville TX 76240
(940) 320-3008
EMAIL [email protected]
Now you can tow goosenecks and 5th wheel trailers with your SUV.
A man and his machine, Joe Jamieson, the Henry Ford of trailer safety. An aeronautical engineer, well known in the world of aircraft, Joe is a problem solver. He hauls his horses in trailers like the rest of us, but with a twist. Joe thinks towing is an evolutionary process and should improve issues of safety and ease of use. Now with thousands of miles towing with the Automated Safety Hitch, I understand it's importance and fun. I can take my rig, which at times is 72 ft. long, weave in and out of hotel parking lots, small gas stations and switchback mountain roads. But on the highway, the extra stability of the Safety Hitch keeps your rig straight when the semi-trucks come flying by with their swerve causing suction. Now you can yawn with one hand on the wheel as the mobile billboards pass you as they suck the leaves out of the ditch.

The improved Automated Axle Steering Control System is now available. This will enable you to automatically enjoy the stability and controllability features of your Automated Safety Hitch System while also enjoying the maneuverability and turning features, simply by utilizing your tow vehicle's turn signal system and flashing system. Your steering axle will normally be locked straight ahead. As you approach your turning point, you need to place your signal lever to indicate your direction of turn at least one hundred yards from the turn. The axle control lock lever will automatically raise after approximately seven flashes allowing the axle wheels to steer. As your turn signal lever returns to the neutral position and your turn signal stops flashing, the axle control lock lever will reposition itself so that as soon as you are finished turning it will automatically re-lock the axle.
You do not want to have your turn signal on for highway ramps and clover leaf turns. When exiting the highway, simply momentarily activate your turn signal for a few flashes and release the turn lever making sure that the turn signal has stopped flashing by the time you reach the high speed turns. Also, you will now have the convenience of backing with The Automated Safety Hitch System axle locked or unlocked simply by using your flashers. Without the warning flashes on, the axle stays locked. With your warning flashers on, the axle will be unlocked.
Website Automated Safety Hitch adds an axle to your pickup truck!
You migh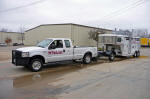 t ask, why not just get a dually? The long list is near the bottom of the review, but think about the tongue weight of your trailer on two truck axles instead of one, on two sets of leaf springs instead of one, two sets of axle brakes instead of one. A dually just gives you two more tires to buy and makes you 8 feet wide all the time not just when you tow. Call it an inline dually, only used when you need it.


The never ending improvement program from Automated Safety Hitch, brings the latest safety technology to again improve the way your trailer tows. It's a auto-lock for the steer axle, the Automated Axle Steering Control System.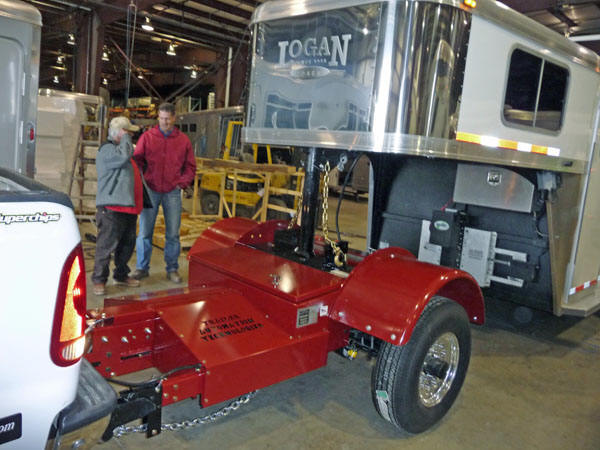 It looks complicated until you understand it. The four features that standout the most using this new trailer technology is, improved braking, lane to lane direction changes staying in your lane (turning corners,) stability and jackknifing with purpose. The Automated Safety Hitch attaches to a 3 point Class V receiver hitch on your vehicle. The connection can articulate vertically for uneven ground, railroad crossings providing an independent suspension. But horizontal movement is solid giving you the safety and stability of a 9 ft. longer wheelbase. A longer wheelbase is a known factor for safe towing. This longer wheelbase is the secret to tighter lane to lane cornering as the trailer gets pulled past the rear of the truck similar to a bumper pull trailer. To facilitate the longer wheelbase, the Safety Hitch has a steerable axle. Not just any axle but a Dana 70 front steering axle found on Super Duty Ford F450 Class 4 truck. Steering is the same on a drop axle cement truck with speed resistance allowing slow speed turning with highway speed keeping the axle aligned with the tow vehicle.
Then there's braking, hydraulic disc brakes on the Safety Hitch use an actuator. All of your brakes, truck, Safety Hitch and trailers being towed, are synchronized and the gain controlled using your trucks trailer brake controller. True proportional braking but with the correct balance where your trailer weight pushes on the Safety Hitch not the rear of your truck in hard dynamic braking. The difference in remarkable braking improvement, gives you a feeling of confidence in towing.
You know your vehicles front brakes are larger than rear brakes. When you brake hard, your vehicle nose dives putting more weight and dynamic force on the front brakes. But with a trailer, braking makes the trailer nose dive on the rear of your truck, lifting the trucks front and lowering your trucks ability for maximum braking.
With Safety Hitch, your truck can go back to braking efficiently with the trailer nose diving on the Safety Hitch with it's 14 inch hydraulic disc brake rotors.
Watch the YouTube Video Below
Braking, like you're never seen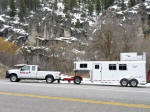 Not that I'm saying you want to brake hard and upset the horses, but in an emergency, stopping quicker shorter distance can save you and your family. We try to keep a safe distance between us and the car in front of us but cars keep pulling in our safety slot, forcing us to rely on braking.
For my last trip to Logan Utah to trade my 2008 Logan Coach for a 2010 Logan horse trailer, I used Safety Hitch for the trip through the Utah mountains coming in from Wyoming.  On curvy mountain roads, I use my hand control of my trailer brake controller. With Safety Hitch, braking was smooth and powerful.  Using the hand control of the trailer brake controller which only allows use of the trailer brakes and Safety Hitch brakes are useful on curves and slick roads. Disconnecting the brakes to the Safety Hitch for part of the trip was scary as using the trailer brakes alone didn't provide enough brakes, I had to go back to using the trucks brakes too. Safety Hitch is wonderful braking for mountains, No lapse in brake boost hydraulically, which electric over hydraulic brakes commonly have a lag before the vacuum or electric motor brake boost kicks in. Safety Hitch has 1600 psi hydraulic disc brakes as powerful as what your truck has.
Your trailer brake controller in your truck controls all the brakes. The Titan brake actuator controls the hydraulic brakes on the Safety Hitch. The custom circuit board on Safety Hitch allows all the brakes on the vehicle, Safety Hitch and trailer to synchronize working together. And an independent trailer brake controller on the Safety Hitch is used to control the speed of your trailer when using the auto connect and auto recovery.
Even Big Rigs can use a little help from Safety Hitch !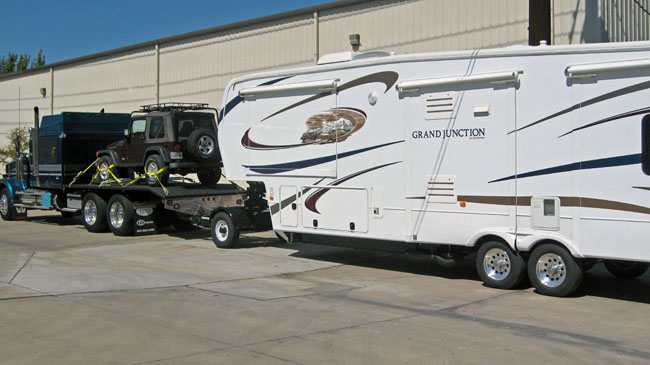 This experiment brought home the dramatic brake improvement with Automated Safety Hitch. Benefits of a dually as in better braking and cornering without being 8′ wide. While driving, count the dually's you see with damaged fenders, then look at your Starbucks drive thru window at the different colors on the bricks.
Automated Safety Hitch is a steerable drop axle for your pickup truck, van or SUV. Cement trucks have them, why not the towing public.

You can get more specs and details at Website, here I detail my experiences with Safety Hitch at 29,051 miles so far. We expect to tow over 20,000 miles this year with the Automated Safety Hitch. This will be an ongoing journal of what I learn, see and feel as I tow my horse trailer and sometimes two trailers across the USA.
American Automation Technologies Inc. started selling the Automated Safety Hitch in July 2008, 6 years of prototypes and testing with hundreds on the road today. Auto Safety Hitch takes weight off the truck and off the trailer  Safety Hitch has it's own brake controller just to control how fast the trailer connects or disconnects to the truck or how fast your trailer moves using the recovery system. Safety Hitch leaf springs are set up for the height of your truck, SUV or van. Ball plate 3/4″ thick, 1/4″ box plate. Grade 8 bolts and class C self locking nuts all made in the USA. Red light in winch box, so you can read instructions at night and not see spots. Circuit board  helps analyze problems with a light code. Stabilizer is like a overload shock spring, similar to what drop axles on cement trucks have.
Like a weight distributing hitch for goosenecks, Safety Hitch distributes trailer tongue weight to two truck axles. That's the biggest towing problem for newer 1/2 ton trucks, they have low axle ratio options, enough horsepower and torque and brakes for larger trailers, but have semi-floating rear axles that are not made for constant loads. With Automated Safety Hitch, the trailer tongue weight is spread out to the truck axle and the Safety Hitch axle.
Makes steering heavy like Ford trucks. According to Ford engineers, heavy steering makes it easier to steer straight with the steering centering. The tires on the Safety Hitch have toe in for a straight pull. Grease zerks on steer axle ball joints.
It's built like a tank, powder coated in what color you want. Joe Jamieson, aeronautical engineer, understands his product can be used for decades.  Landing gear wheel bearings are pressed in wheel for better side load strength. Two Warn 8K winches, deep cell battery and of course a 3 year warranty.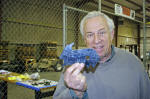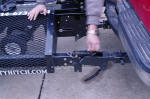 Joe Jamieson spent years testing and testing, changing and testing. Each part was tortured for weakness. Joe has the collection of parts that failed and the next generation that succeeded. I saw 5 years of prototypes at the factory. NASA would be proud. Pictures here of the attachment arms locking latch. It was changed many times after testing. Part of the self attaching system.
Gooseneck ball placement is adjustable for and aft or up and down. 3 point receiver hitch is Class V for 16k trailer by itself, when using with Automated Safety Hitch, it's tested for a 30k trailer with 6300 lb tongue weight. Look at allot of flatbed semi trailers, they will have 9 ft between the trailer axles and they don't steer. Does take a little more room to back up with the extra 9 ft. but you get use to it quickly.
Frees up truck bed, stabilizes short bed trucks and short wheelbase SUV's. You don't need a hydraulic jack on your trailer, as you can keep the Automated Safety Hitch hooked to your trailer. With gooseneck hitch in bed, there's more blind spots, with gooseneck on Safety Hitch, you can use the trucks rear view mirror to see the blind spots over the trucks rear bed. Modern 1/2 ton trucks have right axle ratio's, 6 speed auto's, big brakes, just no full floating axle, will give your 1/2 ton a second axle to help carry your trailers tongue weight and increase braking.
Don't need truck air bags or overloads as trailer tongue weight is spread out of two axles. Same Dana 70 steer axle used on Ford and Dodge one tons for millions of miles. I can get to my toolboxes and lower my tailgate. Welded structure, grade 8 bolts, Class C self locking nuts. 10 ply tires with 14 ply optional. Close fit and finish tolerances from the aeronautic field. Your truck bed can be your hay rack instead of a gooseneck hitch holder, with 1/2  the bed only for a hitch runway. SUV's and vans now can have better towing ability.
Turning
Pulls trailer to outside of turn, where as goosenecks turn to the inside of a turn. With Safety Hitch, you can turn corners without pulling out into traffic to make a wide turn. So instead of hurrying through a turn so you don't get hit by oncoming traffic, you can make a safe turn and stay in your lane the whole time. Jackknife to 130 degrees or when you hit your mirrors on your trailers fenders. This is fun, find a turn that you can't go threw with your trailer, hook up the Safety Hitch, drive past the corner and then backup to the inside and pull forward threw the middle of lane with the trailer snaking behind you.
Safety Hitch has automatic steering and alignment,  not a trailer, not a dolly, but braking steerable drop axle. Allows for vertical articulation over railroad tracks or when towed.
Rescue Me; Imagine Getting This Trailer Out When You Need It
A foot of snow in Colorado at night, then in the fifties the next morning for a mud hole.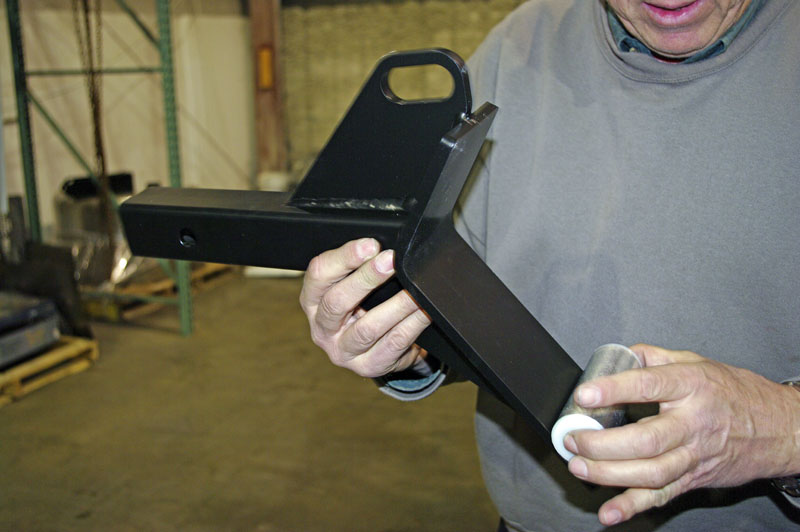 Auto recovery, another thing that's new. The top Warn winch will spool out 100 ft. of cable so you can get on dry high ground and pull your trailer to you like I did in a foot of Colorado wet snow. I just switched the power cables from the auto connect winch to the auto recovery winch and pulled the cable out to my truck around the corner past the barn and let the winch pull my trailer out of the snow onto the driveway. It's amazing, no rocking my truck back and forth in 4-wheel drive or slipping the clutch trying to get my trailer out of the snow turning to mud.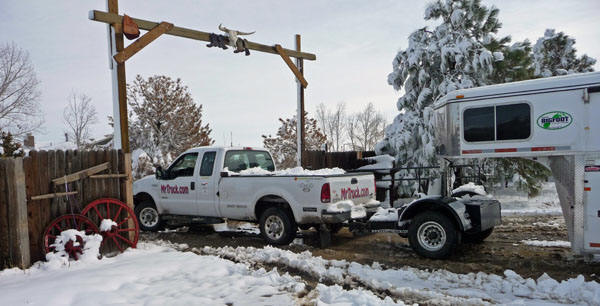 On the road again, just can't wait to get on…..
After towing my old Logan Coach through the snow storm, I pickup up my new Logan Coach in Utah and my new red Automated Safety Hitch. The black Safety Hitch I was using was a demo unit. The new Safety Hitch came all assembled, just took it out of the wood crate and rolled it under my new Logan Coach. Easy to hook up, leveled my trailer coupler to it and on the road again.
Automated Safety Hitch adds an axle to your pickup truck; Hooking up by yourself with just your Thumb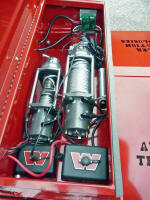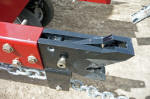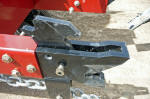 So easy to hookup with just one person, Safety Hitch aligns itself when you hook the outside chains to your vehicle and pull forward. The bottom Warm winch pulls the Safety Hitch to your vehicle, the latches hook to the receiver hitch arms and lock on.The middle arm on the receiver hitch pushes the dual landing gear up.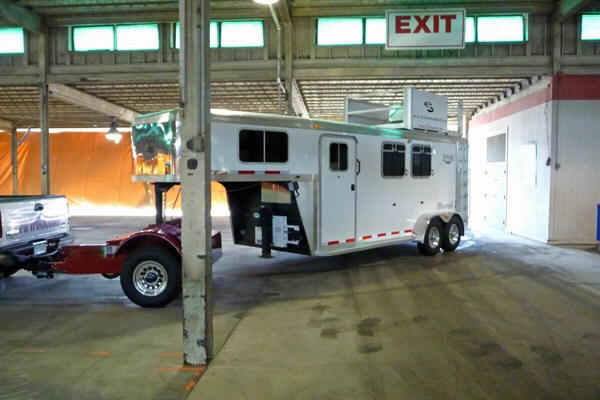 At the Equine Affaire in Columbus Ohio State Fairgrounds, in the famous Bricker Annex building, Safety Hitch allowed me to weave through all the poles. It's ring around the poles. Negotiating tight turns in a building is never easy, but easier using the Safety Hitch to follow the truck closer and allowing me to jackknife to the middle of the rows.
Are you Sure you Want a Dually? Or how much does a fiberglass fender cost?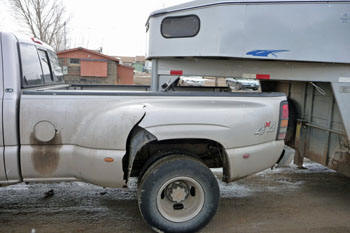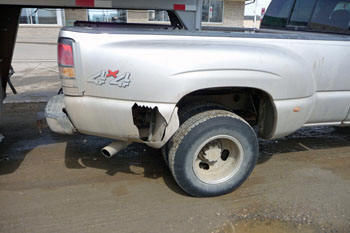 Yep, both sides, even with good mirrors it's hard to see around 8 ft of duals. A dually without some dings is harder to find than one pictures above. Dually's, one tire can go flat and you not know it, lug nuts can loosen and a tire comes off. It happened to me. Dually's wear all the tires. Automated Safety Hitch tires wear at the rate of the trailer. Dually trucks bounce more when empty, if you use air bags on the truck, you need to adjust the air pressure different from loaded to empty. The extra wind drag and rolling drag from the extra tires, pull down your fuel economy. If you use your vehicle by itself, a dually is just a pain, parking at the end of the parking lot so you can fit between the lines and open your doors.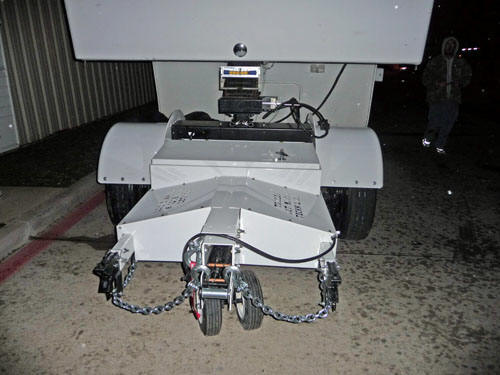 5th Wheel is adjustable and interchangeable with gooseneck.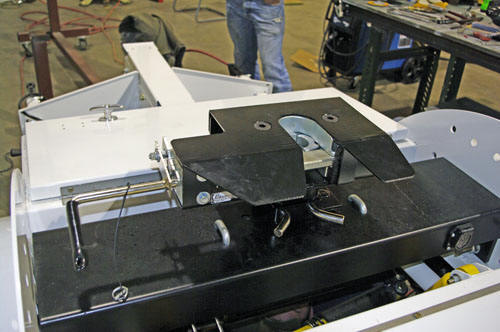 It's not going to make your Toyota Forerunner into a Peterbilt semi truck, but it can allow you to use your existing tow vehicle over having to upgrade to a dually or a 3/4 ton truck if what you have has adequate engine and drive train, but lacks braking and wheelbase properties. 1/2 ton trucks like the newer models Ford F150 and Toyota Tundra have upgraded brakes, engines, transmissions and lower axle ratio's to towing trailers. Their weak spot is the tall bed rail and semi-floating rear axles that put the load on axle shafts. Safety Hitch spreads out the trailer tongue weight to two axles and increases braking over 50%.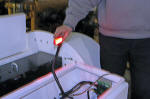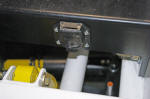 Red light with purpose, opening the front door turns on this red light. This light won't glare or give you white spots when reading the owners manual. Light is connected to the circuit board that trouble shoots with a light code. Picture right, RV 7 blade light plug.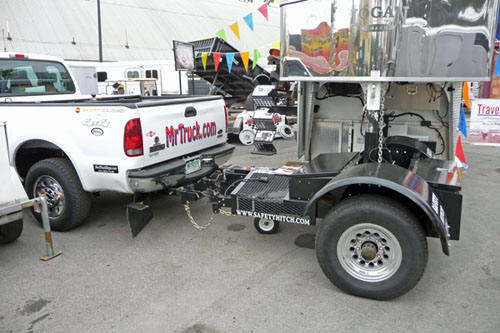 Talk about jackknife to the extreme, more than 90 degrees. Hitch design allows vertical flexing for railroad crossing, tow trucks and tire/road contact.The double safety chains are part of the automatic attachment design.
Automated Safety Hitch adds an axle to your pickup truck;    The Future of Horse Trailers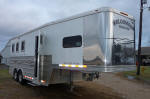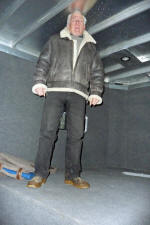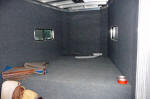 Though the Automated Safety Hitch is for RV 5th wheels as well as gooseneck trailers, 5th wheels already have room over the neck for bedrooms that you can stand up in. Horse trailer Living Quarter goosenecks on the other hand have caves for bedrooms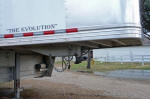 where you walk on your knees to make the bed.
Now there's a choice with Safety Hitch, you can have your trailer built with a 6 ft. ceiling over the gooseneck like Joe did with his custom Bloomer. Not only a tall room over the neck but longer too at 9 ft. With the Safety hitch you have the extra room now. And you can have your gooseneck coupler at 6 ft. instead of 8ft. for a stronger neck. More room to build a trailer around the Safety Hitch and you still can't run into your trailer at jackknife.
Putting it all Together
| | | | |
| --- | --- | --- | --- |
| | | | |
| No shortcuts on safety, grease zerks in steer axle, 14 inch brake rotor | Landing gear which supports the Safety hitch when not attached to your truck, its made for a safety pin to lock the wheels out | Landing gear, self centering and greasable | Nylon rollers on each frame are attached to the outside chains, pull the landing wheels out when disconnecting |
| | | | |
| All structural nuts are Class C self locking | All structural bolts are grade 8 and carry the load on the shoulder not the threads | The arms that pin into the Class V receiver hitch | Center arm supports some of the weight, pushes up the landing wheels and has the hole for attaching recovery cable |
| | | | |
| --- | --- | --- | --- |
| | | | |
| Modified Class V receiver with two extra arms for a 3-point connection to the Safety Hitch | Attachment arms in the receiver ready to connect | Rear box, Titan actuator gives boost and 1600 psi hydraulic pressure for Safety Hitch brakes | Two Warn winches in the front box, one for attachment and one for recovery |
| | | | |
| Recovery cable on top, 4 springs that control the landing gear below | Dana 70 steer axle, Safety Hitch can turn your truck into quadra-steer | Inside the landing gear, 4 springs stabilize it | The two slots in frame, guide the landing gear |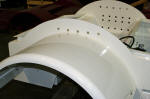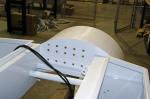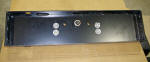 Low profile RV model and Gooseneck model have adjustment holes to move the hitch plate, (picture right) where you need it to balance the trailer tongue weight between you vehicles rear axle and the Safety Hitch axle.
And on Top of All This, The Product Improvement Program
Not something you normally see with products, but Automated Safety Hitch owners get automatic upgrades sent to them for free. Joe Jamieson is always looking for ways to improve his Safety Hitch and when he develops upgrades, tests them and sees the added value, he ships to all his customers. Ever hear of that before? Automated Safety Hitch, adds an axle to your pickup truck!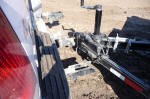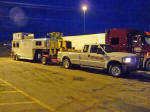 Bumper pull trailers at jackknife with outside attachment arms still attached picture left.
 Backed right into a slot next to a semi tractor-trailer at a truck stop, picture right.
Go ahead and ask questions, [email protected]
"What happens if one of the tires on this unit experiences a blow-out going into a hard curve at speed?" I think a blow out 9′ behind your trucks rear tires would have less effect on what you would feel in the cab and react too, than a blowout on the truck closer to you.
Designed by engineers, tested in an Independent Structural Lab, analyzed by certified by Professional Structural and Stress Analysis Engineers
RoadActive Suspension Truck Helper Springs Review and Comparison