Tpms for Trailers – MrTrailer Reviews: Trucks Towing Trailers and Trailer Accessories

Press Release: USRider Urges Horse Owners to Use Air Pressure Monitor
Electronic Device Helps Prevent Dangerous Blowouts. Lexington, Ky. (Sept. 8, 2006) – Flat tires are the leading cause of disablements involving horse trailers. USRider is involved in a research project with Dr. Tomas Gimenez to test the benefit (if any) of using air vs. nitrogen to inflate tow vehicle and horse trailer tires. An electronic air-pressure monitoring system is being used to assist with the research. During the research, Dr. Gimenez and USRider have noted significant safety benefits resulting from using this system. Rest of the report…
GM explains the need for tire pressure monitors, "Tire pressure monitoring is wonderful technology that has the potential to help make our roads safer," said Jim Gutting, director, GM Tire-Wheel Center. "But it's no substitute for being conscientious about tire maintenance. All vehicle owners should familiarize themselves with TPMS, how it works and what it can tell them about basic tire maintenance."
Low tire pressure-related crashes cause 660 fatalities and 33,000 injuries each year, according to the National Highway Traffic Safety Administration (NHTSA). Yet a survey earlier this year by the Rubber Manufacturers Association showed that three out of four drivers wash their car every month, but only one in five correctly checks their tire pressure. Rest of the Report…
On average, 1 in 4 tires on the road are running 27% low on pressure – shortening tire life by 30%. Each year there are some 660 roadway deaths, and 62,000 injuries due to problems associated with low tire pressure. Low tire pressures account for nearly 90% of all roadside problems and downtime.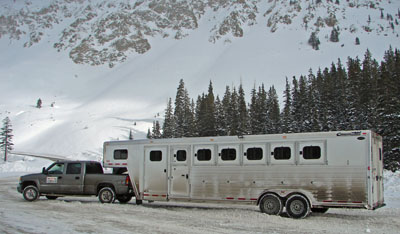 Left, not where you want a tire problem. Always important to know your tire pressure even when it's cold as you see left, coming out of Eisenhower Tunnel on I-70 at 11,000 ft in January. You know brakes even work better then the tires are still round.On one of my many adventures getting ready to tow a new 4 horse LQ Logan back from Utah to Colorado, my Pressure Pro beeped at me. It was telling me my front right truck tire was 46 psi instead of 55 psi that I had checked last. It's so nice checking all your tires manually or automatically with Pressure Pro. This was so needed in the trailer industry. It's mandatory that cars have a tire pressure monitor by 2007, but trailers are farther down the list if they are even on the list.
Brought to you by MrTruck.com, Hart, HorseTrailerWorld.com, Trail Blazer Magazine

Come see the "Hart Horse Trailer Safety and Tech Tour,"   With the latest trailer safety and technology accessories on exhibit on tour are;  Saddlematic  electric saddle rack , Load-Up electric bale loader  , Drink-up automatic water bowls inside and outside the trailer , Centramatic  automatic balancers, Outfitter  slide-in popup campers, Fastway RV  quick  attaching weight distributing hitch, PopUp  shortbed gooseneck extensions, SuperSprings  overload truck springs , Cushion EZ Clean  rubber floor and  Pressure Pro  tire pressure monitor for trailers .  We'll be displaying some helpful technology for safe towing. Come by, see our display and ask questions.
Schedule:
Grand Junction Mesa County Fairgrounds Sept. 29-Oct.1, 2006 CO, outside booth. 
All American Quarter Horse Congress Oct. 7-15 Columbus Ohio , Hart trailer outside booth. 
AQHA World Show Nov. 11-18 Ok City OK , Hart trailer booth 
NFR Dec. 2-11 Vegas NV at the Paint horse show , tenitive at the South Coast Casino
National Western Stock Show Jan. 6-21, 2007 Denver CO , inside booth.
Horse Expo Mar, 9-11 Denver CO , inside booth.
Minnesota Horse Expo April 27-29 Minneapolis  Hart trailer booth. 
Western States Horse Expo June 8-10 2007 Sacramento CA  Hart trailer booth. 
World Paint Horse Show June 25-July 2 2007 Ft. Worth TX  Hart trailer booth. 
MrTruck's Top Picks, Truck, SUV & Trailer Accessory Store, ENTER