"Logan Coach," Beauty of Aluminum, Strength of Steel !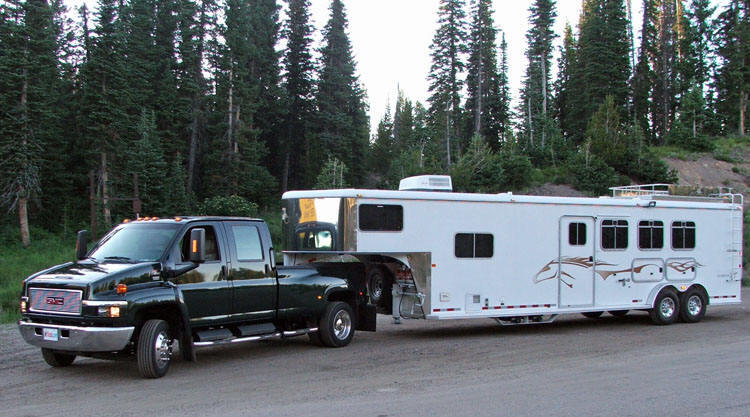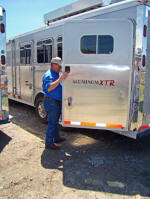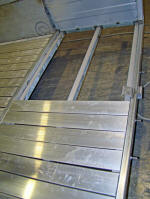 The New Logan Coach; an efficient leaner Logan sticks to what they do best, galvanized steel frames, aluminum skin and good looking value. Call it the resale value trailer. Bottom line, "beauty of aluminum and strength of steel." One of the few composite trailer brands that can go head to head with high end aluminum trailers for longevity.  Always improving and keeping it's roots with galvanized Flo-Coat steel frame coated with Vortex, more..  Logan Coach Horse Trailers, horse trailer review.

It's official, Dave Smerchek, owner of Titan Trailer Manufacturing headquartered in Waterville, Kansas, purchased Logan Coach April 8, 2009.  Plans are to continue producing the Logan Coach brand trailers in the same town they originated in, Logan, Utah, as a division of Titan Trailer Manufacturing, Inc.This union will allow Titan to expand to the West and Logan Coach to expand to the East with an economic advantage in volume and transportation costs.  Logan Coach is keeping their current dealer support team for a seamless transition to new ownership.Press Release….


I've had the opportunity to tow several Logan Coach trailers. Even towed a Logan Contender up Pikes Peak (14,000 ft) with a GMC Quadrasteer on the same road as the International Pikes Peak Hill Climb. (see article)
I towed a 3 horse LQ Logan Coach Aluminum XT to Steamboat Colorado from Denver and it towed straight and easy through the Rockies.  At Steamboat Lake Outfitters, we tied 3 horses to the outside D rings. The D rings are welded to the double post for the stall divider. The middle horse, Waldo the Appaloosa, reared and went down making the other horses jerk hard. The D rings held. Heavy duty like the rest of the trailer, made for decades of use, triple wall construction in the stall area and doors, you know, where the kicking occurs. See the MrTruck Logan Factory Review…

Formed fit walls, precise engineering and advanced building techniques allows Logan Coach to bend sidewalls around  vertical support columns. Not only does this give their trailers stronger vertical seams, it also keeps welds on the inside of the trailer walls, giving our trailers a cleaner look and a smoother finish.Enhanced Structural Integrity, Logan trailers are engineered for safety and feature thicker sidewalls and additional vertical support columns. These enhancements assure increased structural integrity in the event of an accident or rollover. Logan Coach
Logan Coach began producing top-of-the-line horse trailers in 1985 when a group of horse enthusiasts wanted to find a better way to make a finer quality product. They are the first manufacturer to build an all-galvanized trailer, distinguish themselves as the only manufacturer to use galvanized structural tubing, eliminating black steel tubing typically used by the competition. With 8 models of horse and livestock trailers, along with a motorcycle and tool/cargo trailer, Logan Coach is a full line trailer company. From galvanized steel trailers to galvanized steel framed, aluminum skinned enclosed horse trailers.


Logan Coach unveils it's new 6′ slide-out and new step for it's Prestige Living Quarters horse trailers.



Available on XT and XTR. Ultra 8′ Wide Aluminum Ultra LQ is available this year. Seven foot inside height or 7′ 6″ in LQs. LQs are done "in house" with Logan called Prestige Interiors, making them more affordable and warranty issues are handled easier and faster with just one source. Logan is truly a trailer you can say has the "biggest bang for the buck". Talk about options, it's a long list. I'll send you to the Logan Coach to see pages and pages of options.    See the MrTruck Logan Factory Review…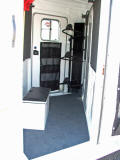 Mid tack walk through door is huge. A walk through tack room is super convenient. Unirack saddle and blanket rack has moveable bars. Everything is very adjustable so you can load the tack room the way you want and then change it.
Roomy bedroom, nice folding couch arrangement, the sliding sink is a hoot, it disappears. Factory LQs are economical.




Logan's can come from the factory will all the equipment you need. Swing out saddle racks, very functional like the rest of the tack room being adjustable & upgradeable. I've used a dozen Logan's in my truck & SUV reviews. The graphics are eye catching along with the diamond plate nose guard & fenders. They pull easy, simple to use & my horse models step in smartly.


Logan Bumper Pull Review, Coming Soon. 2006 Nissan Titan with a Logan Rembrandt straight load Thoroughbred/Warm blood trailer, left. 2005 Nissan Titan towing an Aluminum XT, right.   See the MrTruck Logan Factory Review…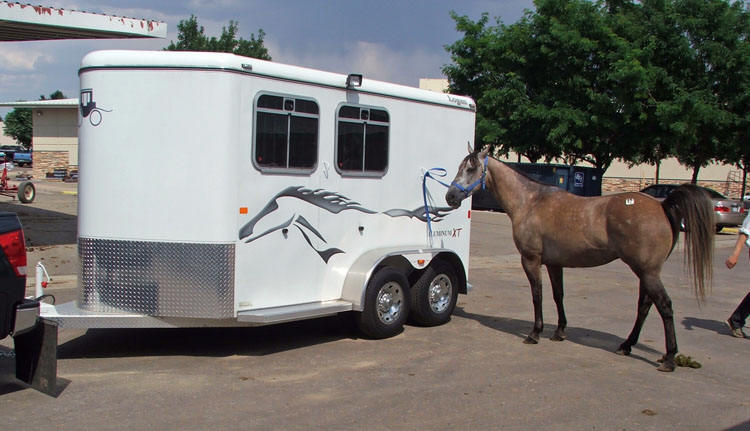 See the MrTruck Logan Factory Review….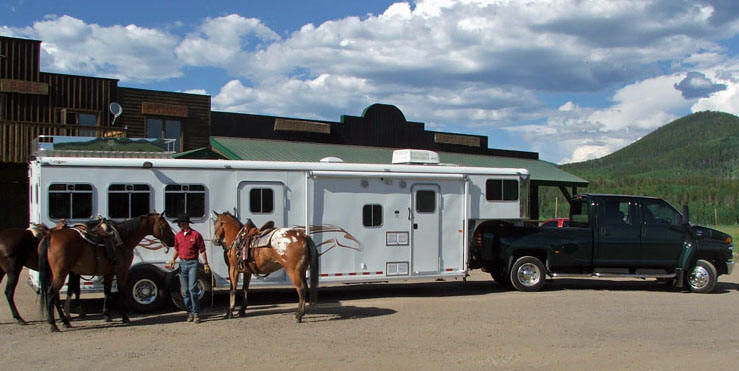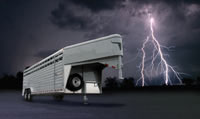 Stockman-

XT 

XT

XTR   Click for XT and XTR features
The Logan Contender, all-galvanized triple-wall trailer was the trailer we pulled up and down the mountains. A galvanized steel three horse slant good looking horse trailer from Transwest Truck and Trailer of Longmont CO. It has a large dressing/tack room. I liked the diamond deck plating in the nose, fenders and corner brace. Logan uses double posts where sheet metal meets. I like a large rear door. Besides more room to load, still being a farmer at heart I like to have trailers usable for many purposes, like hauling hay and helping the kids move out.
Logan Coach horse trailers are designed to protect you and your animals while traveling. It's easy to recognize the quality design, attractive appearance, all  galvanized steel construction.  Galvanized steel offers greatly enhanced rust protection over standard black steel. This means you can be assured that our trailers will remain both structurally sound and looking great for years to come. Logan Coach website
A better roof, Logan Coach is the only trailer company to build an aluminum roof and walls using acrylic adhesive. Other companies use VHB tape, an inferior quality bonding agent that attracts water and one that, over time, will draw moisture into the seams and weaken the roof itself. Logan uses the latest in modern automobile manufacturing technology to create a bonded roof and sidewalls. Notice how much cleaner and smoother the roof is because there are no rivets and no outside welds.
Don't forget to check out Logan's cargo trailers, made for you tools security, click for more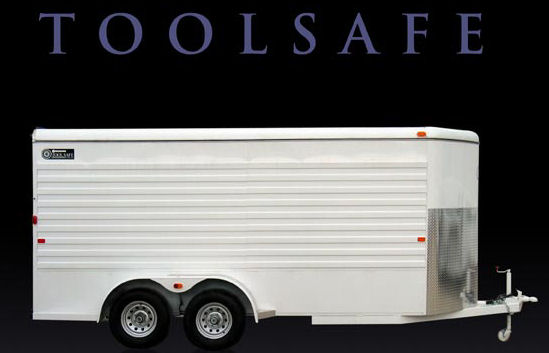 And see the AWESOME Silver Eagle Motorcycle Trailer, Click