Jack-E-Up, the better way to use your trailer jack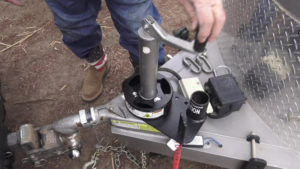 Stop bending your trailer jack. Protect your trucks tailgate, protect your SUV lift gate. Less jacking, less cranking, less work.  Your trailer jack only has one use and then it's in the way.
Powder coated, get your jack out of the way for climbing in the truck bed camper, tying down your bikes and ATV's or cargo. Leave your truck tailgate down for cargo and still pull your trailer. It's easy to bend a trailer jack in dips, pot holes and boat ramps.
For safety, you cross your safety chains under the trailer coupler. If you don't crank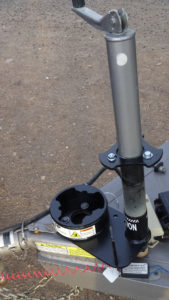 your jack all the way up or use Jack-E-Up and the trailer comes unhooked and drops on the road, the jack gets bent or broke and then you can't re-hook the trailer back on the truck ball. #1 reason for trailer problems is wrong size ball and forgetting to fasten the coupler is #2. It happens more often than you think. I've done it and was able to use the manual trailer brake control to get my rig to the side of the road and rehook.
 Store your jack in the trailer and no one can unhook and steal your trailer while connected to your truck. It's 10 minute install on your trailer. Works on electric jack, triangle base, round base jacks. Drop Jack-E-Up in the base, twist Jack-E-Up a 1/6 of a turn and jack it up, it locks into place so it can't come loose when unhooked.  When connected, pull the jack out and throw in truck or trailer or put in Jack-E-Up Station and pin in place in the optional Jack-E-Up Station.
HD model can handle 4500 lbs. tongue weight. Out of the way for a truck camper, use the trailer tongue as a step. Use on horse trailers, RV travel trailer, cargo trailer. Fast to use, fast to set up. Many  jacks don't go high enough. Do you know what a tailgate cost? Made in the US, money back warranty. So easy and fast to use, try one without risk and see for yourself what you're missing. I like them.
Jack-E-Up review and install video
Jack-E-Up Introduced at the 2016 NATDA convention in Nashville in second part of video 
10th Anniversary at NATDA with Jack-E-Up RV leveling jacks