Buying a Horse Trailer that Fits 

You have so many choices of trailers and bargains in this economy. Used trailers are selling well now, new trailer manufactures are scaling back. Trailer dealers are ordering in new trailers with less  options to get prices inline with what folks can afford now.  After you've asked your friends what they like about their trailers and checked out the top online horse and horse trailer forums, now you need to decide new or used and if you want aluminum, steel or a composite. How wide of a trailer do you need? My trailer is 6'9″, if I had a Living Quarters, it would be 8′ wide. If this is your first trailer, I suggest a 6 or 7′ wide for better visibility until you have some experience. Even though the trailer fenders may still make you 8'6″ wide, seeing all the way back to the end of the trailer is important as well as large trailer mirrors for your truck. Whether you are comparing new or used trailers, go find 5 year old trailers in the brand you are judging. Seeing how a used one holds up tells most of the story. For a used trailer, you know the routine; check the floors under the mats and under the trailer look at the wiring for junction boxes in enclosed wire loom for maintenance and upgrading. Look at the welds all over especially in the neck/tongue and door openings. Rust and or corrosion needs to be inspected, is it surface problems or is it deeper in frames? Take someone with you that has experience with trailers.

I've toured many horse trailer factories; some specialize in goosenecks, some bumper pulls. I wish there was a Consumer Reports for trailers, but there's not, and I can't visit all 80 some factories in the same model year to rate them. We'll cover the basics here so you can do your own trailer judging. The largest collection of horse trailers in one location to compare, is October in Ohio at the All American Quarter Horse Congress. It's the largest collection of horse trailer manufactures in one place. Listen to the sales pitch from dealers and take notes on what makes sense, just part of the sorting process to get the whole picture for what fits you and your horse. Folks become loyal to their trailer brands, kind of like religion and politics. Gather lots of opinions from friends and folks you see at events about their trailers but sort thru the noise with logic and common since. Don't get too worried, competition weeds out the really bad trailers as well does word of mouth, but you need some research to get a good trailer that will last, not stress your horses and be low maintenance. It's allot easier to make payments on a trailer you're happy with.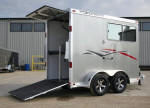 Conventional trailers, AKA, bumper pull and tag-long, all names for the trailer behind your tailgate. It connects to the rear bumper or generally now they connect to the rear receiver hitch that connects to the truck or SUV frame. Bumper pulls as I've called them for many decades, are basically cheaper than gooseneck trailers. They allow you to use your truck bed which you might need for a camper or hay. Because they attach to the rear of the tow vehicle, they have more leverage on the truck, which can make them sway more than a gooseneck. With a good weight distributing hitch with sway control, a conventional trailer can be very controllable and safe. Gooseneck trailers attach closer to the center of gravity of a truck, thus have less effect on truck movement. With less sway it takes less steering effort and goosenecks back up easier, because the pivot movement is less. Goosenecks are just generally easier handling and the better choice when you get over the 3 horse size, towed with a pickup truck. Goosenecks take a wider turn because of the pivot point which gives it a tighter turning circle but do watch the mail box and gates.
Top Tier, Middle Class and Entry Level
Some trailer manufactures will have an entry level line, middle class and a top tier line. Make sure you are comparing apples to apples with other brands. When you compare trailer prices, it will be easier to see which trailers are priced into the top tier and which trailers are entry level. To make it easier to narrow it down, compare brands in those categories.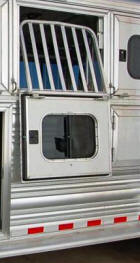 In the "Top Tier" group, aluminum trailers dominate. They have less corrosion and will generally look better in twenty years. You'll see heavy duty hinges, doors, double framed windows and drop down feed doors. Top aluminum trailers use extrusions where the frame work, floor and walls go together like Lego's. How is the gooseneck attached-reinforced, or is the tongue reinforced? I look at welds; this is usually a good way to tell you if you are looking at a top trailer or a entry level trailer. Since horse trailers can last for decades, consider how construction will affect resale value. Hinges on doors and windows compared to other trailers, is a good sign of which class the trailer is. Top Tier will usually have custom built hinges, doors and windows. Middle Class will have more off the shelf parts and RV style doors for dressing rooms.  It's very important to look at the rear door framing too. Some manufactures heavily gusset and fishplate the corners as this area with the largest opening being the first place for welds to crack.  Check out fit and finish, welds, paint, and look for unprotected wires. Wiring is one of the top problem areas with trailers. Top Tier trailers have protected wiring with conduit and junction boxes at axles for brake wires. Check out the electrical box for fuses, and a wiring diagram.
"Middle Class" has the majority of trailer brands. The majority of the parts will be off the shelf with RV doors and pre-made drop down feed doors and windows.  In steel trailers whether just the frame or the whole trailer is steel, the steel needs to be galvanized. Most cars and pickup trucks are made of steel sheet metal. You just don't see rust on cars anymore, and that's the zinc coating called galvanized. But there are still a few steel trailers out there that don't galvanize their steel or not all of it. One of those things to put on your list of questions for a steel or composite trailer, is what is galvanized or stainless steel and what's not. Some trailer manufactures powder coat their frames or use a sprayed on bed-liner type of application.
"Entry Level," is the last category.  Good trailers for a "light" budget or to start with. This class has some good trailers, but you get what you pay for. These trailers will vary more and need inspected more than the top tier that is more uniform. Steel trailers in this class may not be galvanized, the paint may not last. Aluminum trailers in the Entry Level category won't have pretty welds.
Buying a Horse Trailer that Fits 
Trailer Ed 101

After you decide your trailers construction type then you can judge what trailers in that category is built best. Quality construction is important 1rst for your horse's safety, your safety, maintenance, and resale value. Good horse trailers are braced well like a tank compared to a RV trailer, you can actually jack the trailer up by any corner and it won't flex. Don't do this with a RV trailer as the windows will pop out. Where you can see how the corners are braced, look at the gusset and fish plate reinforcing the corners. The majority of horse trailers are a unibody like a car, not body-on-frame like a truck. So the floor, walls and roof are all trussed together to make a frame, not just the floor.
Lift of the rubber mats and examine the floor. The floors in aluminum trailers are aluminum with support built in as extrusions. When you go to a major horse show or expo, in the trailer exhibit some dealers will have cut outs models of their floor and walls that will help understand the construction.
Latches can be a sign of the over all design. Simplicity is the key here, you want the slam latches on the stall dividers and doors to work well without much maintenance.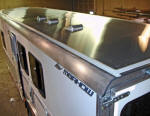 Check the kick wall (behind the horse) to see where it flexes. It should be reinforced where hoofs can contact it. This is another difference between the top tier and middle class, the amount of reinforcing in the kick wall. Most trailers are a combination of steel, aluminum, fiberglass etc. All aluminum trailers have steel axle sub frames and usually steel gooseneck frames. The majority of steel frame trailers now offer aluminum skin. Generally aluminum gooseneck trailers are lighter than steel, not always. In conventional pull, two and three horse trailers, aluminum, composite and steel trailers are very close in weight. Aluminum trailers cost more, corrode less than steel and have better resale value. There are some steel trailers that look great in 20 years, but there are more aluminum trailers that look great in 20 years, like a jet from the sixties, still shiny. But composite trailers with aluminum skin can look good down the road. I've looked at a steel framed, aluminum skinned Crownline Living Quarters built in the seventies. I was amazed at this 30 year old trailer didn't look a day over 10 years.
A fiberglass roof is 10-20 degrees cooler than aluminum or steel. It's not easy to build a fiberglass roof and they're not all made the same. Ask conversion companies which roofs they can walk on carrying an AC unit without worrying. Find out what the roof warranty is, no one likes a leaky roof.
Configurations
So many choices with trailer configurations, slant loads are very popular today, they take less room in trailer length verses straight load, which gives you more room for tack, dressing room or LQ. I've videoed horses in a slant load and they seem to be comfortable. I've seen video's of horses that only calmed down in a box stall. So there is no wrong answer, a personal choice. Box stalls work will with mare and colt and in the West I see a lot of horses happy in open stock trailers.

Reverse slant is logical for a horse bracing their butt against the wall instead of a shoulder for braking but they take up more space on a trailer with a loading area part of the trailer instead of the ground at the rear. I'd say reverse slant load trailers are the highest cost per horse for a trailer. But they do have nice big rear tack rooms. (picture right)  Straight loads have been around forever. These generally are the least expensive trailers. Straight loads make good starter trailers in an entry level trailer all the way up to very elaborate with all the bells and whistles.  My horses have to load in whatever trailer I'm reviewing that month and they do well in them all. I'm a fan of ramps, but it took longer for my horses to adapt to them because they all started on slants. But I've seen horses take to a straight load ramp trailer without hesitation that were always hauled in stock trailers.
Most horse trailers are open or enclosed. Open trailers are like stock trailers that I grew up with, a divider gate and walls, you're in business. Combination trailers are tall stock trailers that can have dividers and a tack room. Enclosed trailers are the cats meow, with two or three wall skins thick, insulation, padded stall dividers, roof vents, dressing room and drop down feed doors. And that's just the basics. You can have mangers with storage; drop down doors on both sides, front and rear tack rooms and cool graphics. Enclosed trailers are the answer to hauling in severe weather. We've come along ways from backing my truck in a ditch and loading my horse in the stock racks.
Axle Suspension
Leaf springs are on your base or entry level trailers and are fine for your hay trailer. Rubber torsion axles are the most common on horse trailers with an improved ride and take bumps independently. I would spend the extra money and get torsion axles. (tubes with rubber inside for the axle movement)  Torsion axles have a better ride for your horse than leaf springs. If you have flats and run out of spares, you can "hang" a torsion axle without a tire and still get to the next town or destination. In a evasive maneuver like swerving to avoid a deer or vehicle in your blind spot, leaf springs will load up with energy from the swerve and rebound the trailer back the other way too far. You will see more RV trailer accidents with leaf spring suspensions than horse trailer accidents with torsion axles and most of it comes from how the suspension reacts in emergency swerving.

Air ride axles or the new hybrid torsion/air axles give the softest ride and have the ability to dump air to lower your trailer for easier loading of your horses and walking into the Living Quarters. Rubber torsion axles give you around 2-3 inches of wheel travel. Air ride (air bags) axles can have 5 inches or more of wheel travel but are expensive.
Stiff sidewall bias-ply tires used to by the rule just like leaf springs. Radials that are load rated ST and LT are what's common on trailers today, not "P" passenger rated car tires. Steel belted radials have a softer ride and are dramatically more resistant to nails and other road hazards. Smaller conventional trailers will start with a 6 ply (C rating) going all the way up to 14 ply (G rating) on large Living Quarters. Trailer manufactures will match the tire rating to GVWR (Gross Vehicle Weight Rating,) they label the trailer with.
Most trailers will have electrical magnet drum brakes, one of my vices. The larger Living Quarters with 10,000 lb axles could have hydraulic drum or disc brakes. Electric over hydraulic disc brakes are gaining popularity because of dramatic shorter stopping distances. Like galvanized sheet metal, all new cars and most trucks have disc brakes, 20 years later maybe trailers will too. Spend the time to research good trailer brake controllers.
Floors
With aluminum trailers you get aluminum floors. They can be ribbed to keep the rubber mat from slipping and are usually linked together as plank and stringer in an extrusion. Composite and steel trailers can have aluminum, wood or Rumber.  Rumber is rebuilt rubber formed in tongue and groove planks. They need extra bracing compared to wood and can last decades. Generally no need for rubber mats. But Rumber can be slick with urine, works well with wood shavings. Some floors have a truck bedliner type sprayed on coating. Wood floor usually yellow pine, oak or fir can last decades if they are kept dry and cleaned.
Dividers, Walls and Windows


  Bring your tape measure. Stalls are not all the same width. Some trailer have a larger front or rear stall in a slant load. If your horse is taller or wider than most, you may want to size the trailer to your horse just like a saddle.  I like jail house open stalls for ventilation. Other folks like solid dividers for less playing (socializing). The more open the stall the cooler the stall in summer.  Several trailer companies are spraying a bedliner material on the inside walls. This does protect the wall from urine and such but doesn't absorb the impact of a kick like a thick rubber pad.
Insulation, compare between trailer brands especially important on LQ but for hot weather, insulation is a good thing everywhere with double and triple walls. This helps with extreme temperatures, humidity and noise. Without insulation, you have a tin can that pops and vibrates, not as appealing to your horse for loading the next trip. Can you reach the latch on the drop down feed doors? Look for padding anywhere your horse is. Besides on the stall dividers, managers and front wall, look above the rear door or anywhere the horse might swing a leg. Look at the rubber bumper in the rear of the trailer floor; be sure it covers any dangerous metal.
Before you get into trailer judging, don't forget to evaluate how much trailer your truck or SUV can handle. You should research Gross Vehicle Weight Rating of your tow vehicle, axle rating, tow rating and Gross CombinedWeight Rating. The GCWR has to include the loaded weight of your truck and trailer. Your trucks towing rating needs to at least equal the GVWR of your trailer. In the age of the internet, it's a popular choice to buy a trailer on the net sight unseen. In this case you'll want lots of pictures and some kind of guarantee that the trailer is sound with your right to inspect the trailer before the final payment.
Buying a Horse Trailer that Fits; By MrTruck