See all the new trucks @ MrTruck
2011 Super Duty, Fuel Efficient Fords

Towing Cat 988 loaders (85,000 lb) with F350's
Finally better fuel mileage, no diesel engine price increase, all new 6-speed automatic, standard exhaust brake and telescoping steering wheel, oh my!  You may think this is Ford's first diesel, in a truck in the USA, you're right. But Ford has diesels around the world. My New Holland swather in the eighties had a Ford industrial diesel, and Ford tractors had diesels built in England. Building the diesel engine and new 6-speed transmission in-house, is part of the answer to holding price down. Most semi diesel trucks, meeting the new emission standards implemented in January have gone up thousands of dollars using DEF (urea.) So far Ford and Dodge have not increased the diesel engine option cost.
Turbo lag is gone, we've been promised this before, and now smooth acceleration all the way to redline. Smooth shifting, no turbo lag, no jerk from the new exhaust brake, less jerk from grade shifting, it's as close to a car feel as I've ever felt in a heavy duty truck.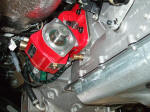 Seven percent grades, like we're used to in Colorado, provided a good test in Arizona towing trailers. Ideal towing truck with power telescoping and folding mirrors, telescoping steering wheel and power adjust pedals. Now that you're comfortable, launching a 24,000 lb triple axle trailer is smooth and quiet. You won't notice much when it shifts gears unless you're focused on the dash gauges. The new live all the time PTO (picture right) will let you run a sprayer, snow plow, dump bed etc. on the go.
New Engines and 6-Speed Automatic: The big news is fuel mileage. 18 % improvement for the diesel engine and 15% better mpg for the new 6.2L gas engine over the two engines it replaces. Driving a few hundred miles in Arizona from 4500 ft to 1500 ft with a 1000 lb payload onboard, the diesels I drove showed 20 to 23 mpg on the Ford info center screen. I'll get the 2011 Ford Super Duty trucks later, longer for review and will test tank to tank for real life fuel mileage.
The all new 6.7L Power Stroke diesel is reverse flow with the exhaust manifold in the valley below the dual compressor wheel turbo and the intake runners going above the turbo and back into the aluminum heads to flow to the outside of the heads. Two EGR coolers, two complete cooling systems and pumps called high temp and low temp cooling system on diesel. The gas models have just high temp cooling system. Each EGR cooler is cooled separately which was a trouble spot with previous diesels. Transmission, steering, intercooler and even engine cooling circulates thru the new separate radiators. Looking under the hood exposes the large radiator running up above the grill. Though it looks like a plumbers nightmare under hood, Ford claims engine service is simpler with less need to pull the cab for surgery.
The extra power allows higher axle ratio's similar to what semi truck have done for better fuel mileage. The engine can even lug down to 900 RPM and have the transmissions torque converter still locked. Another part of the MPG equation is the torque converter will lock up sooner and stay locked up longer in Tow Mode, acting like a manual transmission. With 4 transmission modes, normal, tow, progressive and manual, you can let the truck do the work, shift yourself or control in progressive mode what the highest gear will be. In tow haul mode, you can downshift by tapping on the brake all the way from 6 to 1 as the RPM's will allow. The lower torque peak power RPM of 1600 and double overdrive, letting the diesel engine run slower. Of course that helps quiet the engine.
The all-new Ford-engineered, Ford-designed, Ford-built 6.7-liter Power Stroke® V-8 turbocharged diesel engine has torque of  735 ft.-lb. (at 1,600 rpm) and 390 horsepower (at 2,800 rpm)  85 ft.-lb. and 40 horsepower more than the 6.4L. The new engine is B20 biodiesel compatible. The new dual spark plug 6.2-liter V-8 gasoline engine delivers 405 ft.-lb. of torque (at 4,500 rpm) and 385 horsepower (at 5,500 rpm) on regular gasoline is  E85 compatible.  These numbers represent an increase of 40 ft.-lb. of torque and 85 horsepower over the current 5.4-liter V-8. The 6.2L is overhead cam, large bore short stroke design. Ninety percent of the 6.2L gas engine power is available at 2,000 rpm.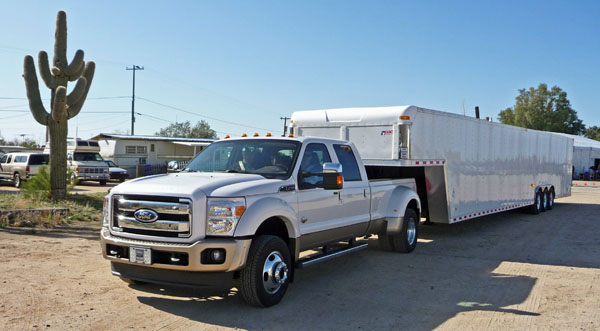 F450 Pickup: When Ford introduced the F450 pickup truck in 2008, it was the truck that could do it all. But fuel mileage was similar to a fire truck. So Ford replaced the 12 ply 19.5 inch tires with 17 inch 10 ply tires, went from 10 lug to 8 lug and increased the towing capacity by 200 lbs from 24,200 to 24,400 lbs. The GVWR went down from 14,500 lbs to 13,050 lbs, but the Gross Combined Weight Rating is still 33,000 lbs. The lower curb weight from lighter tires and wheels allowed the extra trailer capacity. The F450 pickup only comes in 4×4 crew cab long bed. It comes standard with the new factory gooseneck/5th wheel prep package and a 4.30 axle ratio. The DRW Ford F350 diesel only comes with a 3.73 axle ratio. The F250 diesel has a 3.55 standard ratio with 3.31 ratio option. The top speed on previous F450 pickup trucks was limited by the tires limit of 85 mph and now for 2011, the top speed can reach 95.
Towing: Ford again tops the towing field with the same trailer brake controller they introduced in 2005 (on the right side, pay attention Dodge and GM, ever see a semi-truck with the trailer brake control on the left side?) But this integrated factory brake controller can be adjusted in the dash display to work with electric over hydraulic trailer brakes and still will work with electric trailer brakes. For the extra torque and horsepower from the 6.7L Power Stroke, Ford added a larger ring and pinion in it's Sterling rear differentials. DRW (dually) drive trains have larger U-Joints this model. New steering gears in all the SD's and geometry on 4×2 trucks. 4×2's have a new equal length parallel steering linkage for equal wheel movement. The steering does feel better, less effort needed, which helps with road trip fatigue. This should help with snow plows and all the parallel parking we do by the barn.
The lower first transmission gear, 3.97 gives you great trailer launch ability. You won't miss the lower axle gears we're use to. The new 6R140 automatic transmission can manually shift all 6 gears. Tow/haul mode holds engine RPMs higher than usual before upshifting to help keep the truck from getting bogged down when it's towing, and it automatically downshifts the truck with a tap of the foot brake, as long as it won't take the engine over the rpm redline. The out going transmission took more foot pressure to grade shift down a gear.
I drove an F-250 diesel Lariat Crew Cab 4×4 SRW with an 8-foot box and 3.55:1 rear axle. Towing 9,900 pounds up 7% grades isn't much of a challenge for this configuration, which has a max conventional trailering capacity of 14,000 pounds and maximum fifth-wheel capacity of 15,700 pounds. We tested Hill Start Assist and it will hold the truck for a couple seconds while you go from brake to gas pedal.
Next I took a F450 pickup truck with 4.30 axle ratio up the hill with a triple axle 24,000 lb gooseneck. Now we're talking, this is what I go through the drive up window at Starbuck with. Great control coming down the hill with the automatic exhaust brake in tow mode, grade shifting and locking the highest gear to 3rd with progressive shift mode. Turning tight corners produced a shutter from the M80 Dana True Trac differential.
Lastly I took the new 6.2L gas powered F250 up the hill. Ford uses the same transmission in gas and diesel, 6 gears, with a low 1st gear at 3.97 gets the gas engine going with a trailer from the start smoothly. Nice spread of gears, same for diesel, instead of just a double overdrive for improved fuel mileage, Super Duty with the 6.2L gas engine actually can utilize all six gears, even direct is spaced more than 1 to 1. SRW only axle ration is the 3.73. Not the ratio we're used to for towing 10,000 lb trailers. On the grade Ford provided us with 9900 lb. conventional trailer, the 6.2 L howls pulling a trailer near red line 6000  rpm. Without a trailer, the 6.2L has as nice low torquey throttle sound, but under load, the engine is louder in the cab than the new diesel engine. The SRW trucks have rear differentials with E-Lock that you manually engage with the 4×4 switch.
Using the progressive shift option on the all new 6-speed 6R-140 automatic in tow mode, allows the driver to manage which gear holds the best RPM for proper torque range on the short stroke engine.  Not easy evaluating a gas engine right after a diesel. The all new 6.2L gasser feels stronger than 5.4L gas engine it replaces, with some of the performance improvement credited to the new 6-speed automatic transmissions gear spacing.  6.2L throttle response is good with a trailer, but you know it's not the 6.8L V-10 gas engine that's still available with DRW cab and chassis but only with last years 5-speed 5R110 automatic transmission.
Super Duty inherited the independent trailer braking to control sway from little brother F150 along with electronic stability control for controlling an empty truck when roads are slick. Side air bags and side curtains are now standard. Car safety standards have caught up to trucks.
Prep package for the factory 5th wheel goose combination hitch is  $400 for 24000 lb trailer capacity. Because of the different EPA Dyno testing for trucks over 14,000 lb. GVWR, cab & chassis F450/550 diesel is  300 horsepower and 660 ft. lbs of torque.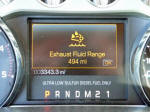 Service: Back to a 2 quart spin on oil filter. This is less mess than the cartridge 1 quart filter Ford has used since 2003.  In the pan, transmission filter good is for 150,000 miles of severe duty with a special dual media sump screen. The new Diesel Exhaust Fluid (urea) for the new 2010 lower federal emission standard Nox rating, is filled next to the diesel cap in the bigger fuel door. Super Duties hold 5.6 gallons, 6.3 on a Cab & Chassis model. The 4.2 LCD Productivity screen displays warnings when you need to add more DEF. Still dual fuel filters on the new diesel with a water drain on the primary fuel filter inside the drivers side frame. The engine oil drain plug is unique, no more taking the plug out or dropping it in the old oil, just insert a ratchet and a 1/4 turn on the plug.
| | | | |
| --- | --- | --- | --- |
| | | | |
| Brake controller, now for hydraulic trailer brakes, control center records facts for different trailers | Rear seat locking storage | …divider comes out and you can store the rifles |  New factory gooseneck ball and setup for 5th wheel |
| | | | |
| Trailer plug inside the bed | Telescoping steering wheel, I love it ! | Big fuel door for diesel and urea, I mean DEF | Dodge got away from the round bolt on dually fender, so Ford picked it up |
 Towed 24,000 lb trailers in Arizona