Ford 2009 F150, most popular vehicle fighting for position.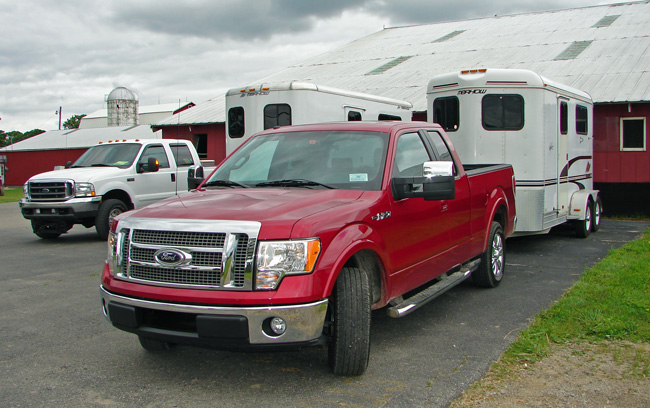 There is a trend with current fuel prices toward towing with 1/2 ton trucks verses 3/4 ton trucks. RV 5th-wheel trailers and horse trailer manufactures have introduced lighter trailers with lighter pin weights aimed at the 1/2 ton truck market. The mass majority of gooseneck and 5th-wheel trailers are still towed with 3/4 and one ton trucks. In comparing Ford, GM and Dodge 1/2 ton trucks compared to their 3/4 ton trucks with gas engines and they are very close in price, so it's not a hard choice with a larger trailer to get the 3/4 ton trucks. The exception is the Toyota Tundra with no big brother 3/4 ton, which explains why it's the leader in bed hitch sales for gooseneck and 5th-wheel trailers in 1/2 tons. Ford 2009 F150 first review.
The new 2009 Ford F150 is part of the trend to 1/2 trailering with the optional integrated trailer brake controller, similar to the option with Super Duty, first time extendable trailer mirrors and trailer sway control. Higher towing weight rating, higher payload, stronger frame, a new 6-speed auto tranny with grade shifting like big brother F250, make the F150 on the border of 3/4 ton capacity. The Roll Stability Control with trailer option detects when your trailer is swaying and controls the truck to counter act the trailer sway. With Max Trailer Tow Package option, when connected to a seven pin trailer wire, will also apply the trailer brakes automatically in a trailer sway situation.
Video at  Ford Michigan Proving Grounds of 2009 F150 verses Toyota Tundra 2008  it's a bumpy road
Video of MrTruck driving 2009 F150 at Ford MPG off-road course and you thought I just stayed at fancy hotels in Detroit
Owners are keeping trucks longer, with fuel economy on everyone's short list for truck judging. The 2009 Ford F150 has a 1.5 mpg improvement. For safety, new front fender frames like Ford Super Duty, hydro formed roof rail and side curtain air bags. Meets safety standards for 2010. Yaw and roll axes with two gyro's for Roll Stability Control and AdanceTrac electronic stability control. New high strength steel cab frame and ladder frame with redesigned cross member under the rear cab floor allowing a flat load floor and more frame strength. Ford moved the jack and amplifier from under the rear seat in SuperCrew.

New for 2009, a coil engaged E-locker rear differential replacing limited slip, works in Hi and Lo in 4×4. Three rear spring choices that are 6 inches longer than 2008 model, 3000 lb payload option, max towing at 11,300 lbs. 17,300 lb GCWR, a heavy duty package for 8200 lb GVWR with 10 ply tires. Class 4 receiver hitch on Trailer Tow package with a 7 pin RV plug, heavy duty cooling, auxiliary transmission cooler. Max Trailer Tow Package, has different rear springs with larger shackle bracket, and integrated rear bumper with class 4 receiver hitch. 20 to 1 steering. more gussets on receiver hitch.

New 6R80 automatic transmission with Tow Haul Mode has grade shifting like transmission in big brother Super Duty. In down hill situation, tapping on the brake will down shift the auto tranny, slowing you down.150k transmission service with short dip stick for technicians using synthetic oil. Gone is the six cylinder engine and manual transmission. Three engine choices, 4.6L with 4-speed auto transmission, 4.6L 3 valve with 6-speed auto with standard 3.15 axle ratio, and 5.4L 3 valve with 6-speed auto with standard 3.31 axle ratio. Four axle ratio's available, 3.15, 3.31,3.55,3.73
Six inch longer SuperCrew going to the longer front door and 6 inch longer wheelbase.  Boron added to the steel in cab B pillar.  More aerodynamics decrease wind noise by 9%.15#'s lighter frame, smaller muffler, 6-speed, higher axle ratio's in the battle with fuel economy. 250# over all weight reduction.
Touring the historic Rouge Manufacturing Complex  in Dearborn where Ford is still making history with F150 trucks in the Dearborn Truck Plant. Ford took a 1000 dealers through the plant and Michigan Proving Grounds demonstrating and educating the 2009 improvements to the F150.
At the Dearborn Truck Plant, DC torque guns measure the spins of the nuts for proper torque. All this data follows the truck through the assembly line. If a nut wasn't torqued the correct spins, the computer records which electric wrench on which nut by which technician and the line can be stopped and corrected.
| | | | | |
| --- | --- | --- | --- | --- |
| | | | | |
| Doors go on, doors go off. Alignment first then getting them out of the way. | In the final assembly plant, windshields attached by robots. | This is the torque wrench that attaches all the lug nuts at once. | Accordion skillet platforms raise trucks for easy reach. | Assembly system is adjustable to fit workers. |
| | | | | |
| Four wheel alignment at the plant. | Machines match the bed and cab in the air | New side steps. | Hydro formed roof frame for side air bags. | New truck headlights are focus aligned |
| | | | | |
| --- | --- | --- | --- | --- |
| | | | | |
| Acres of trucks, I'm in heaven! | Frames start upside down for axles & springs, then over. | Lights for final inspection | Cross member # 3 under the cab rear floor, flatter and stronger. | New 6R80 6-speed auto. |
| | | | | |
| New receiver hitch frame attachment | Six inch longer rear springs | First time tow mirrors for the F150 | Lighter muffler, lighter frame, cutting weight. | Good bye gas cap, now a self closing door. |

New-Model Quality Center for training in the 1924 plant next to the Detroit River. Where Ford's factory folk learn their job before they go to the assembly line. Ford's on track for improving the efficiently and quality building American trucks. Like GM in 2007 GMT900 platform, Ford has closed the gap in fit and finish.

Silver Creek testing lanes at the Michigan Proving Grounds. Bumps, grades, off-road mud holes and more. A fun place to compare truck brands.