Cimarron horse trailer 2010 | Review by Mr. Trailer

At horse expo's I tour, I hear folks say "Cimarron is the darling of the industry" from other manufactures. It's good to be noticed. I've noticed Cimarron leads the way on important upgrades. I toured the factory with Michael Terry, president of Cimarron Trailers. You have to be in shape to keep up with Michael, he has lots of energy and loves the trailer business. Even in the Great Recession, Cimarron Trailers is improving, expanding and zeroing in on efficiency. The factory is staying the same size, but putting out 25% more trailers. There is a handful of aluminum trailer manufactures at the top in premium trailers. None surpasses Cimarron's current models. I participate in a truck shootout just about every year, other auto journalist and myself put the trucks thru the paces and pick a winner. I'd be happy to do a shootout with the top trailers. The top trailers need smart engineering, custom doors and windows, top components, strong beautiful welds etc. The result is quality uniformity on all trailers from roof to axles. Where else would you build horse trailers, but the heart of Oklahoma, rich in trailer history, and has the qualified skilled workers.
Very much a group effort with labor and management on the same team, many workers and supervisors that have been with Cimarron since the beginning. Lean efficient manufacturing system creates savings per trailer built. That savings goes to employees bonues and qualitiy incentives. Good place to work.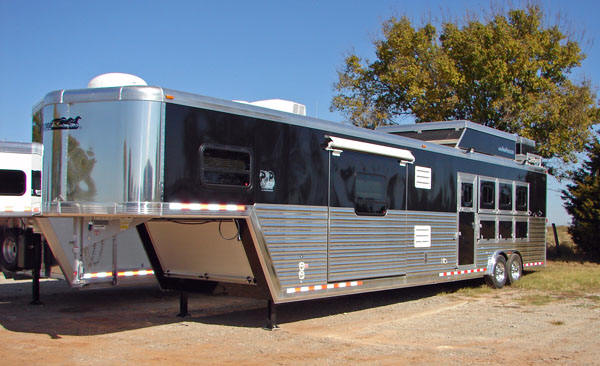 Beautiful trailers, the trademark of Cimarron, sells in a normal economy. In a recession Cimarron prove itself with a quality investment in a trailer that won't let you down on the road.
Michael Terry does his part managing costs and inventory control, so important for factory and dealer survival. His goal is to be around for the long term eliminating waste and increasing efficiency. Touring his trailer factory reveale the dramatic changes from 3 years ago with my last report.

From big Living Quarter trailers, to easy towing two horse bumper pulls, the strength is where you can't see it. Look at the framing (right picture,) it's massive, engineered for the suspension to flex not the frame. This is something truck manufactures have learned with stiffer frames they can dial in a better suspension.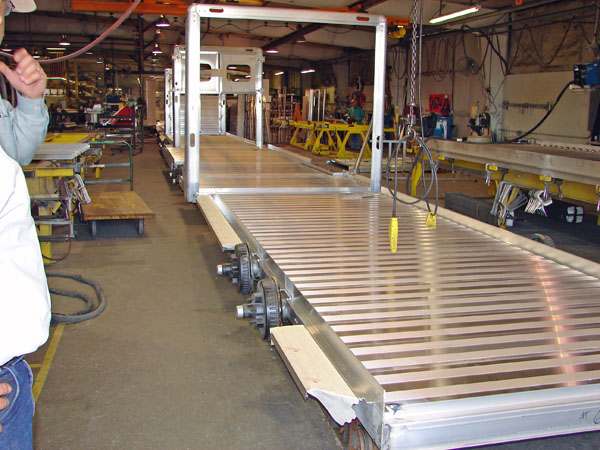 Assembly line efficiency and standardization, similar to Japanese auto makers.
Supplies are on carts instead of shelves, so they can come to the assembly line after being loaded from stock.
Less space, less time getting components to assembly line. Line is closer together, the parts roll to the trailer.
Lessons from Henry Ford's assembly line, only better.



Andy, the engineer using a 3D computer program can stress test components, speeding up improvements and strength in Cimarron trailers. Engineering changes such as steel rear corner boomerang, allows narrower corner post for a wider stronger door opening.Computer engineering allows 4″ wider and 2″ taller door, Huck bolts not welding the 1/4″ plate boomerang gusset, is stronger than typical welded fishplate.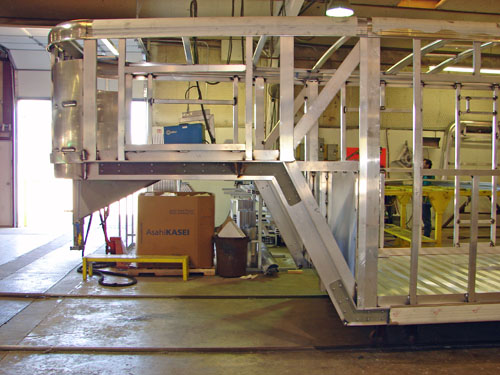 Strong Necks, You'll Never Worry About
Look at the bracing (picture left,) boomerang steel reinforcement huck bolted to the aluminum frame. Huck bolts, like giant rivets stay tight permanently, not lock washers, bolts and nuts.
Steel gooseneck has a 42″ wing gusset. Standard posts are 1 3/8″ x 2″ posts, 4″ wide posts at doors.

I've been in trailer factories where metal was welded on top of metal on top of metal to be sure of strength without knowing what was needed, no engineering, no understanding why they built it that way, not a Cimarron. The Cimarron way builds on purpose and tests.


Wider and longer trailers get a larger floor rail (right picture.)  9″ tall frame 1/4″ thick, using huck fasteners to attach to neck.The t-frames are one piece tail to tongue, with an off-set 3 inches on top and 6 inch on bottom. This allows for lower jams on side doors without cutting the frame and more protection below for water tanks. Each floor joint is double tongue and grooved interlocking with 6 " centers for a solid strong floor.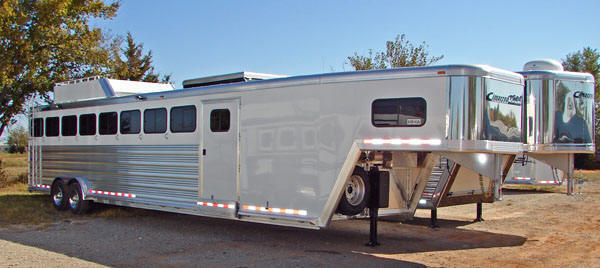 Look at the siding and smooth aluminum skin attached with 3M VHB Tapes. radius rocker panels finish the trailer neck.
18″ radius nose, safety bar grills, 34″ hip windows, lots of them.

| | | | | |
| --- | --- | --- | --- | --- |
| | | | | |
| Extruded floor sections go together like Lego's, more manufactures are switching | Flooring 6″ center I-beam double tongue-groove | Floor jigs makes welding at a comfortable height…. | and handles the largest piece of the puzzle | Rear bumper skid plate, you know you'll drag your butt sometime |
| | | | | |
| --- | --- | --- | --- | --- |
| | | | | |
| Stall dividers 1 1/2 inches thick | Fenders are bolted on,  replacing fenders will happen to you sometime on any trailer | Forklift loads carts, so welders can weld not load | Let the computer do the cutting and the parts always are the same size | Computer saw keeps the pieces the same size |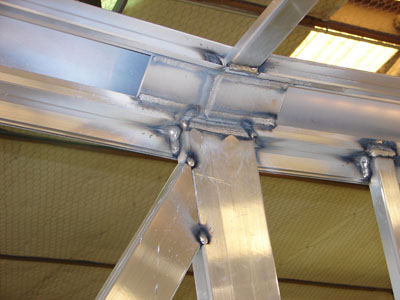 This is art, it's the joint where the wall angles into the nose, no gaps, great welds, great engineering and you don't see any of it after the trailer is built.Four inch radius post at drop down windows, two sides protect horse with smooth edges. Cimarron wider post is stronger than rectangle and c channel posts used in trailer brands.

Look at these pictures and see the engineering and welding skill in the joints. No gaps
| | | | | |
| --- | --- | --- | --- | --- |
| | | | | |
| 18″ radius nose is reinforced | Components come to the welders and at the right height, just like the auto makers | Safer environment with less injuries when you don't have to travel far for your parts | Extruded radius, strong aluminum corners | Drop down windows side latch easy to reach, have adjustable striker plate to stay tight |
| | | | | |
| --- | --- | --- | --- | --- |
| | | | | |
| Triple wall construction with 1 3/8″ styrofoam insulation |  Ribbed floor to hold mats, see the welds on the siding, 6005A aluminum alloy resistant to urine | 3M VHB Tapes, foam on tape quiets sound, not a tin can sound, easy to repair, no rivets stretching from expansion, smooth clean look | TIG welds are stronger, more nice welds to drool over on the kick wall which will be covered with a rubber mat | .090 kick plate, & rubber kick mat up to bottom of windows all around |
7'1″ height Lonestar stock trailer, gotta love chrome and black, bling, bling. Makes you want to go out an buy cows!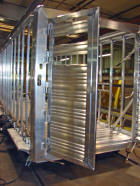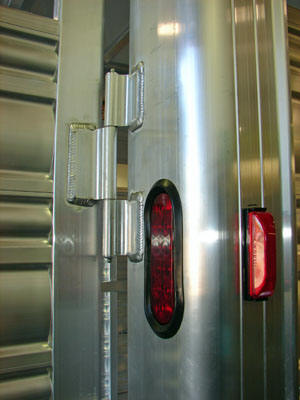 Triple framed doors with 4 hinges, look at the welds and grease zerks. Just one of the features to look for in a top tier trailer. Cimarron trailers are made for the long haul and decades of ownership.
 Five hinge stock trailer (picture at right.) Hauling cattle is a whole different ball game. Cattle don't stand still and they really test a trailer.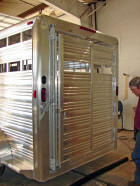 Efficiency manufacturing with a weeks order scheduled, parts built and aligned with assembly timing. Try to do a factory tour at Cimarron, it will be an education.
| | | | | |
| --- | --- | --- | --- | --- |
| | | | | |
|  1/2 inch honeycomb fiberglass. Quieter roof, not popping like aluminum | ..R3 fiberglass roof, 20 degrees cooler, quieter, supports my 280 #s of muscle | Bows under strong roof | New beautiful siding is a stronger….. | … new extrusion slat siding, bold lines, stronger design |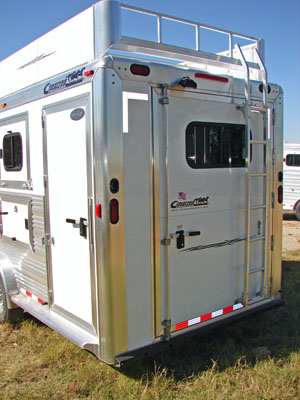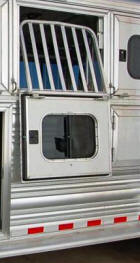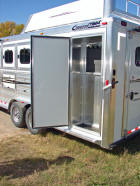 Corner broom closet tack room (left) allows larger rear door, nice for loading horses, golf carts, colts, ATV, ponies, hay, moving the kids to college, etc.

Safety guard grill (picture right) allows air flow and is easy to pull out, no 

latches but a channel it slides in which operates with the drop down window.
Cimarron, known for big trailers, lets you take it all with you on the road.
| | | | | |
| --- | --- | --- | --- | --- |
| | | | | |
| Eliminating the rear center post, adds flexibility. The rear doors can be opened independently | Even a running board on a 8 ft wide | These steps have been copied by others, but the original is still the best… | …new Heavy Duty, improved tread, blends with rocker panel. will fit older trailers | Metal work that Audi would brag about |
| | | | | |
| --- | --- | --- | --- | --- |
| | | | | |
| Beautiful nose, eighteen inch radius nose | Hay pods, for the wet states | Miles of tack room carpet | Spring loaded dividers, 1 1/2 in. thick, 3ft 3 in. wide, stalls with flush powder coated aluminum stall latch | LED tail lights, moved up. Trailers are acid washed twice before trailers ship |

 Big improvements to the rear end. Aluminum heavy duty casting cam lock latches are smooth, quiet and horse safe. Nylon Bushings make them easier to operate and quieter. Independent rear doors with  a new wiper seal, no need for a post, they are independent. The foam wiper seal allows wider rear door opening and with the collapsible rear tack room, there is more room for a mare and foal or 4 wheeler.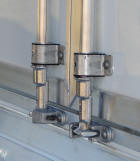 | | | | | |
| --- | --- | --- | --- | --- |
| | | | | |
| Tool free, adjustable saddle rack is removable | Powder coated aluminum, no carpet to mold. designed to keep the saddle from bucking off on our smooth interstates | Double struts on saddle rack makes swing out your heavy saddles easy | Heavier cam lock with slam latches, 3M tape makes the walls quieter, slam latch bushings are quieter | |
| | | | | |
|  Bulkhead covers up the important things | New ramp model has  heavy duty top door latches and extruded hinges | One key for the whole trailer, doors, windows and tack room | More calendar photo's | |

Michael Terry, president of Cimarron Trailers, is also the current president of the NATM the trailer manufacture organization, leading the way for safety standards for trailers. Cimarron used the SAE trailer process before the Society of Automotive Engineers, Trailer Standards become effective for towing vehicles.
2010 Models = 10th Anniversary of Cimarron = 10 Great Product Improvements!
1)      Taller Dividers– All of the stall dividers will now be 4 ½" taller in the "body" section of the divider.  This has been an option for the past couple years.  Due to the popularity of this option and the BOLD look of the dividers, this is a new standard feature on all Cimarron Trailers.  The added size of the body of the divider allows our dividers to fit a variety of sizes of horses while increasing the safety of our trailers.
2)      19" x 34" Windows on butt side of trailer and in Gooseneck– Airflow through a trailer is an important issue with livestock, especially horses.  The 19" tall x 34" long windows offer the maximum amount of airflow possible.  These windows are 4" taller than the windows that were used since the Norstar's debut in 2000.  The 19" windows have a great look and increase the available air space by 27%.
3)      Maintenance Free Self Adjusting Brakes– No more adjusting of brakes!  Dexter Axles have developed and now offer adjusting brakes on all sizes of axles.  Cimarron believes in safety and has chosen to purchase all of their electric brake axles with the wonderful feature of Self Adjusting Brakes. Now you have less maintenance with a new Cimarron Trailer.
4)      3 Dimensional Digitally Printed Graphics–    The three designs (Flame, Flow, & Barb) have been enhanced with 3 D digitally printed segments.  The type of graphic material has also been improved by using a proven 3M brand material.
5)      New Cimarron Logo Decals– Along with our new graphics, they have updated the look of the Cimarron Logos on all trailers.  The new logo has a 3D look and will make the 2010 model Cimarron trailers stand out.
6)      Extruded Heavy Duty Aluminum Hinge for Doors above rear ramps–   The popularity of the rear ramp option with doors above has increased dramatically over the past few years.  The doors above the ramp have to be hinged to wrap 270 degrees around the trailer body.  Our new hinge is an extruded aluminum design and is an improvement over the old system.
7)      Heavy Duty Gooseneck Couplers with 2 set bolts– All trailers that are over 32' long on the floor require the Reinforcement of the gooseneck option.  This option will now include the upgrade to a Coupler with 2 set bolts.  This increases the safety factor for the larger trailers.
8)      Heavy Duty Injection Molded Polypropylene Brush Trays–  These new brush trays will include the Cimarron logo and they will be replacing the aluminum brush trays.  They have a large capacity and are extremely well designed.
9)      Extruded Aluminum Fenders for Lonestar models– We have recently designed a new extrusion to be used on Cimarron Lonestar model trailers.  This new fender will have a non-slip surface and heavy duty design. Folks will not have to worry about standing on a fender to reach their livestock.  The traditional tear-drop fenders will still be available if a customer desires that option upgrade.
10)  Redesigned Saddle Rack Post Extrusion– Our adjustable saddle rack post has been re-engineered to add more value to the saddle rack post.  The new design is tubular in shape, reducing the flex in the post.  Additionally, the width has been reconfigured to enable the post to be used as a sidewall post, increasing the amount of usable space inside a tack room.
Aluminum deer deflectors, 60% lighter than steel. won't rust like my steel one. not much heavier than the factory bumper. I've seen a fawn go through a factory bumper and wipe out the diesel intercooler. Now your down for a few weeks repair. Some factory truck bumpers are plastic, not much protection. Cimarron makes such a cool looking bumper replacement that's lighter, cheaper and one of the few aluminum bumpers. It could outlast your next 3 trucks.

Heated crew house, I need one. When your trailer factory is in the middle of oil country, you end up making some oil trailers. I could use it as guest house.

I reviewed the Hybrid Air/Torsion Axle with 8 inches of wheel travel, almost 3 inches of drop for lowering the trailer to load. It's a soft ride that will keep your horses fresh when you arrive at your next event. The price will surprise you. Cimarron helped develop it.  Read More…

 Summer 2009