Gotta Like a Truck Named Bullet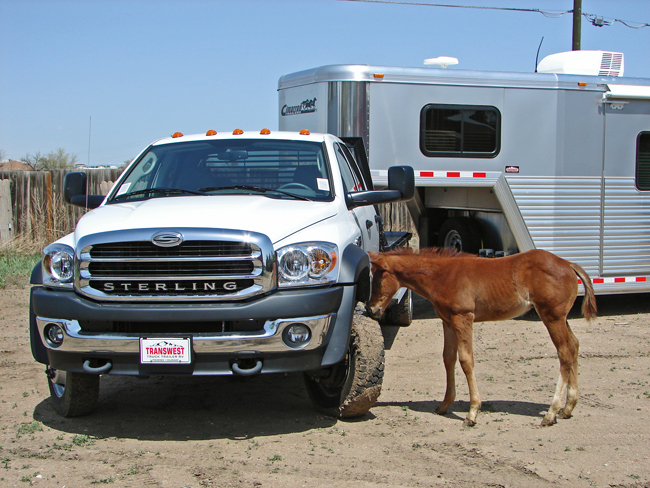 Nice having choices in class 4 and 5 trucks. Sterling's new Bullet cab and chassis 1 1/2 ton trucks make an excellent hauler truck, comes standard with a 52 gallon fuel tank, exhaust brake, 12 ply tires and the Aisin six-speed auto transmission with grade shifting. Mercedes Benz 6-speed manual is an option.  2010 emission compliant ahead of the other diesels. Long wheelbase made for a smooth ride in the truck I drove. The steering was tight. This is a truck you could drive all day and not be fatigued. Sterling Bullet towing Cimarron horse trailer.At first I didn't like the fixed spotter mirrors, then I figured out that I could adjust them with the power mirror but not independent of the main mirror. The 6-speed heavy duty Aisin auto, grade shifted a couple of times, using the built in exhaust brake, kept my foot off the brake coming down Loveland pass towing a Cimarron LQ horse trailer. The variable turbo sleeve controls air flow to the engine and closes making the exhaust brake. A unique efficient design. You can add a bed from 8′ to 16′ to the different wheel bases available. 7000 lb. front axle, 13,500 lb. rear axle on a 50,000 psi frame with 34″ frame railing to accommodate most aftermarket beds. 305 hp, 610 torque, rated lower than cousin Dodge 2500/3500, because it's designed to be loaded all the time in the commercial class. The Sterling Bullet CONV55 size, max GVWR is 19,500 lbs.
Aisin 6-speed auto with double overdrive is similar to the GM Allison T-1000. Transmission shifter stem button to shut off the overdrive, both of them. Tow mode button shifts you down to 5th gear. Both buttons off and you're in 6th gear for the best fuel mileage. Towing a big Cimarron LQ 3 horse at 2000 rpm 66 mph and 2100 rpm at 70 mph. Towing the Cimarron at 70 mph, I recorded 8.5 mph with a hard wind. With no wind, the Sterling improved to 9.5 mpg. If I slowed down to 65 mph, it improved to 10 mpg.
| | | | | |
| --- | --- | --- | --- | --- |
| | | | | |
| Big front fender flair, 10 bolt 19.5″ wheels with 12 ply tires |  Big front tow hooks | Serious work truck, rubber floor and power seat | Unlimited choice for beds | Looks right at home with a trailer |
| | | | | |
| The factory exhaust brake button, leave it on and it works automatically. | I'm hooked on GPS | Big cup holders incase we find a Starbachs. | Same dash you're use to in Dodge trucks. | 6.7 Cummins diesel is the only engine. |
Cadet Steel flatbed
Just the right amount of diamond plate trim. Under bed storage, lighted headache rack, recessed gooseneck hole with trailer plug and angled corners for room to the trailer.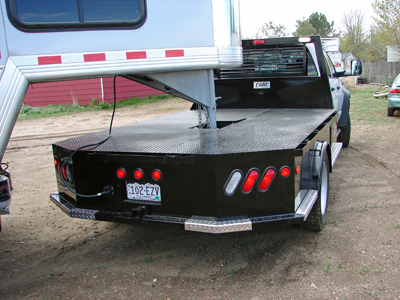 Twelve ft bed, lots of room behind the cab for things like hay bales, (picture right.) I'm a flatbed fan. Makes a nice work bench, hay hauler and hay rides. The weight of a steel flatbed improves the ride when the truck is empty. Just bolt on the tool boxes, vices, fuel tanks, welder, air compressor…….

Cousins, Sterling Bullet is related to Dodge 4500/5500 but you can get it worked on 24/7 at Freightliner and Sterling stores.
Cimarron Norstar with Outlaw Conversion


I towed an aluminum Cimarron Norstar 3 horse with a Outlaw LQ conversion. The short wall was 12 ft. with a 6ft. slide out. Probably the most popular size you see in LQ trailers today. Easy towing trailer up and over the Rockies. The generator was up in the hay rack, giving you more room under the mangers for the "extra stuff."
| | | | | |
| --- | --- | --- | --- | --- |
| | | | | |
|  A real ladder, to get to the generator | RV's wished they had this quality gen box | Separate battery box, look at the 45 degree welds | Easy access, fuel tank is under manger | A cool fiberglass roof you can walk on with sunlight's |
| | | | | |
| Water, spigot and shore line built into the good looking aluminum slats | Holding tanks tucked out of the way | Waste gates won't get drug off. Clean lines on a beautiful trailer. | Waste outlet is protected too | I like a window in the rear door, lots of ventilation for July and August |
| | | | | |
| --- | --- | --- | --- | --- |
| | | | | |
| Low load height, something to check for on a large gooseneck | Stalls of substance, 4 inch deeper now, aluminum slats have a finished look | Stud wall, the real thing. Solid not hinged. makes it nice for a storage area too when hauling less horses. | Mangers are sweet, | And you need a nice place to unwind too and dig into your hay bag |
| | | | | |
| Outlaw conversions… | solid wood…. | quality…. | room…. | innovative storage |