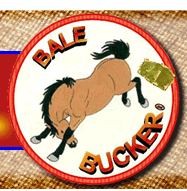 Bale Bucker
The Solution for an unused hay rack.


Can't always have a loader tractor nearby when you need it. And you don't always have two people to help load hay with a winch system. Bale Bucker lets you load 4 bales from the ground to your hay rack before you need to go on top and stack them. A lot of smart folks told me they were going to invent something like this, but too late, it's here and it's great ! Bale Bucker loads bales on your trailer.
I see several trailer ladders that are just plain flimsy. Bale Bucker comes with a heavy duty solid ladder rated at 280 lbs, how did they know my size? Check out the video near the bottom, you'll like it and want it. Then you'll have the freedom of getting hay when and where you want.  Ph. 208-896-4966  www.BaleBucker.com

My kind of work, pushing a button. You just pin the bale cradle to the ladder lift, add a bale and push the button. All made solid with powder coated steel, even the button is heavy duty. A simple design similar to a garage door rail, easy to install. No really, we've done many truck accessory installs here like air filter boxes and exhaust pipes. They say one hour install and three hours later we're still trying to get it all to fit. But the Bale Bucker can be installed in 30 minutes with 2 people and a drill. The screws and nuts are self locking. On top of the ladder is the steel box with the electric motor. The box is also a platform for the bale to set on and get placed in the hay rack by the next bale. A well thought out design and strong enough to outlast your trailer. Nine seconds a bale gets the chores done fast too.
Picture below, you can use Bale Bucker to get the bales in your barn loft as well as your horse trailer.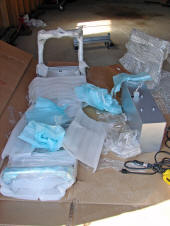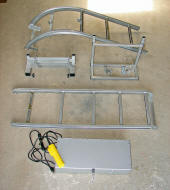 Your Bale Bucker comes in one box, mine came UPS, 103 lbs. It's wrapped up like King Tut's mummy. Carefully padded to keep the finish looking great. Instructions tell you to lay the ladder on the bubble wrap to bolt together. You'll have plenty of bubble wrap after you unwrap it.
The ladder brackets have padding to protect your trailer skin. The ladder steps have traction strips. When the bale cradle is at the top of the ladder, it doubles as a hand rail so you can safely climb in the rack.
Click pictures to enlarge.
Ph. 208-896-4966 www.BaleBucker.com
| | | | | |
| --- | --- | --- | --- | --- |
| | | | | |
| Ladder comes in two pieces | Bolts together with self tightening screws and nuts | Lining up the holes | Overlapping brackets make the ladder solid | The bottom padded ladder bracket. You can also see the stop in the rail for the bale cradle |
| | | | | |
| Good looking ladder | Top brackets are adjustable | Ladder brackets center bolts goes in a wall post | Bracket for attaching ladder to the hay rack | Motor box bolts to ladder |
| | | | | |
| --- | --- | --- | --- | --- |
| | | | | |
| Motor box doubles as bale shelf | Motor cable follows ladder | Pulleys keep cables off ladder | Ladder bale cradle | Bale cradle can also be hand rail for getting into hay rack |
| | | | | |
| Easy to load bales in the cradle | Up it goes or down, you can unload bales the same way | Nine seconds to the top | Bale sets on top of motor box | Next bale pushes the bale to hay rack |