AutoCurves.com

Models and Muscle Cars
2013 Ford Shelby GT500 Debuts as Fastest, Most Powerful Mustang Ever with 662 Horsepower, Track Speed of 200+ MPH
The new Ford Shelby GT500 is powered by an aluminum 5.8-liter supercharged V8 engine producing 662 horsepower and 631 lb.-ft. of torque. The most powerful engine ever in a North American production car propels the 3,852-pound vehicle to a top track speed of more than 200 mph, yet is exempt from gas-guzzler tax at a projected 15 mpg city, 24 mpg highway
Nearly every vehicle system has been optimized, including a new Brembo™ six-piston front caliper brake system, updated gearing for superior traction management, suspension tuning and a user-adjustable launch control that seamlessly works with the engine and chassis control systems
2013 Shelby GT500 sets a performance-driven design standard with new downforce-generating front grilles, an aggressive splitter, a new quad exhaust system and two new forged-aluminum wheel choices
Also new for 2013 is an optional Performance Package with electronically adjustable dampers and a Torsen® limited-slip differential. A Track Package can be added for all-out racetrack performance including three additional coolers
SHARE THIS: JPG | INTERACTIVE PDF | DETAILED PDF
DEARBORN, Mich., May 17, 2012 
– The 2013 Ford Shelby GT500 is about to go where no Mustang has gone before, with a complete package for everyday drivers and track-day enthusiasts alike, 662 horsepower and top track speeds of more than 200 mph.
"SVT keeps the Shelby GT500 on the cutting edge of technology and takes muscle car performance to new heights," said Hermann Salenbauch, director of Advanced Product Creation. "We encapsulated every aspect of performance in this car – whether it's 0-60 mph, top speed, racetrack or quarter-mile times. Beyond that, the daily driver also will find this car perfectly fits his or her needs."
The 5.8-liter V8 aluminum-block engine produces 662 horsepower and 631 lb.-ft. of torque, making it the highest-horsepower engine ever produced in North America. Nearly every part of the powertrain has been optimized for producing the additional horsepower, including a new supercharger, new cross-drilled block and heads, an all-forged engine rotating assembly, updated camshaft profiles, upgraded head gaskets, a new carbon fiber driveshaft and upgraded clutch, transmission and axle.
A larger and more efficient supercharger helping flow more air through the engine is key to producing the 662 horsepower. The new Twin Vortices Series 2300 blower creates 2.3 liters of displacement and is a unique design to the 5.8-liter engine.
The entire cooling system has been significantly updated on the new 5.8-liter engine. It now includes a high-capacity cooling fan, fan shroud with high-speed pressure-relief doors, a more efficient charge air cooler, a higher-flow intercooler pump and an intercooler heat exchanger whose volume is increased 36 percent. These components harmonize to consistently dissipate heat under extreme-use conditions.
"Every change we made is an improvement in horsepower and in airflow," said Jeff Albers, SVT Powertrain team leader. "The other changes are about making sure the parts can withstand the pressures when the engine is making that power."
The supercharger design includes four lobes with a 160-degree twist and has a drive ratio that spins 2.64 times faster than the previous model. The inlet air volume also has been increased 33 percent. Boost has been increased from 9 to 14 psi.
Other modifications for improved power include an upgraded camshaft profile, similar to the Ford GT. The cam lift for the intake and exhaust has been increased for improved airflow. Additionally, the redline is held at 6,250 rpm continuously, but allows for an over-rev to 7,000 rpm for eight seconds to extend the time to shift so that acceleration is higher and 0-60 mph and quarter-mile times can be faster.
The diameter of the bore has been upped from 90.5 to 93.5 millimeters to increase displacement and the fuel injector flow has been increased nearly 10 percent to get an equivalent amount of fuel to accompany the extra air.
Once the engine was able to make the power and pressures were increased, SVT made changes to ensure the engine was durable under those conditions. The connecting rods have been redesigned with a tapered, small end where they attach to the pistons. This improved design supports the load on the dome of the piston more efficiently.
Cooling fan capacity has been increased and a higher-efficiency intercooler added to keep the air entering the engine as cool as possible. An efficient, high-capacity flow pump has been added. These measures manage temperatures under extreme conditions.
To ensure the coolant flow is well balanced cylinder to cylinder, the block and heads have been cross-drilled for water to flow through.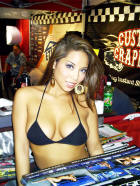 A single-piece carbon fiber driveshaft has been upgraded from the current two-piece steel design, which is lighter and stiffer and offers a higher torque capacity and improved NVH (noise, vibration and harshness) qualities.
"With the driveshaft we were able to eliminate a joint and add enough stiffness and drive capacity to get us to our top speed and handle the torque," said Jamal Hameedi, SVT chief engineer. "The car makes so much power and torque that we needed to go through the entire driveline system to ensure it moves to the wheels in a manageable way."
The clutch has increased torque and rpm capacity and uses a dual-disc design. The diameter and clamp load have been increased and the clutch-facing material has been revised for additional resistance to burst and improved transfer of power.
Another key piece of the driveline, the transmission, offers upgraded gears, bearings and housing so it can properly manage the torque. The final drive ratio has been changed to 3.31:1 for optimized overall vehicle gearing to complement the high-powered torque produced. Every gear besides fourth has been optimized for competing performance metrics.
The engine also carries over the use of the state-of-the-art Plasma Transferred Wire Arc liner coating, a process that applies a 150-micron composite coating that contains nanoparticles on the internal surfaces of engine cylinder bores, replacing cast-iron liners typically used in aluminum engine blocks.
The new engine also continues to be exempt from the gas-guzzler tax, delivering a projected 15 mpg city, 24 mpg highway. That is 5 mpg better than the 2012 Chevrolet Camaro ZL1.
Functional, stylish enhancements
Design enhancements for 2013 include all-new signature lighting with two LED bars that command attention in the front and rear. The rocker panels running along the car are now body-color, adding a more premium look. Additionally, the rear end has a new high-gloss black panel between the taillamps and a diffuser that surrounds a new quad-tip exhaust.
The 2013 Shelby GT500 offers two new sets of forged-aluminum wheels, including a unique wheel for cars with the optional packages. The 19-inch front and 20-inch rear wheels are coupled with Goodyear Eagle® F1 SuperCar G: 2 tires on all configurations.
Freshened with the dark finish and updated spoke designs, the wheels appear even more sinister and aggressive but offer the benefit of being extremely lightweight.
To commemorate the 20th anniversary of SVT, badging will be used throughout the interior and exterior of the car to celebrate the many years of performance vehicles. The official launch of SVT came during the 1992 Chicago Auto Show with the unveiling of the 1993 SVT Mustang Cobra and SVT F-150 Lightning. The 1993 SVT Mustang Cobra offered a 235-horsepower 5.0-liter V8 engine, showing just how far the products have come over 20 years.
Significant work has been done in aerodynamics to ensure the Shelby GT500 has proper downforce for performance at all speeds. Using high-tech computational fluid dynamics (CFD), engineers were able to determine exactly where the air was going, to optimize cooling. The result is a car that tracks more securely and feels more planted to the road at higher speeds.
A new front splitter and black-painted upper and lower grille inserts that expose the radiator drive the functional style changes to the Shelby GT500. The exposed radiator helps funnel air and cools the internals of the vehicle systems. The larger splitter helps create downforce when the car hits top speeds.
Engineers faced competing goals of top speed, racetrack performance, cooling and fuel economy, and worked to find a balance that meets all needs. To reduce lift, the team reworked the front upper and lower grilles and developed an integrated air dam. In the rear, a high Gurney flap helps reduce lift.
By reducing drag and creating downforce, the loads and moments on the front fascia increased. CFD pressure maps indicated how much load would be put on the front body and helped confirm that plastic wasn't deforming, the fasteners could handle it, the body structure could support it and the front end wasn't sagging.
Superior ride
The new Shelby GT500 driving dynamics have been overhauled, now working in concert with Goodyear tires. New Brembo™ brakes with six-piston calipers in front and the new wheels also required unique suspension tuning to ensure everything works harmoniously.
Handling, all AdvanceTrac® The previously available unique traction control system and electronic stability control settings help drivers achieve maximum performance whether on the street or the track. settings and steering assist levels within selectable steering also have been tuned to account for the updated content on the car.
Both systems can be completely disabled in controlled track situations where maximum driver skill is utilized, or fully engaged for safety during normal driving or in less-than-ideal traction conditions. Intermediate sport mode allows drivers to push their cars hard at the track without completely disabling the safety systems, permitting more aggressive driving before the traction control and electronic stability control systems intervene.
The upgraded Brembo brake system complements the other changes on the 2013 Shelby GT500 for control and fade-free stops in road and race situations. The new system has 380-millimeter front rotors. The rear comes with 350-millimeter rotors. Both are larger than the previous model.
A high-tech, user-friendly launch control system is part of the new functionality on Shelby GT500. The system lets drivers set the tach needle to a desired launch rpm depending on the tire temperature, street surface or other conditions. Floor the throttle and the engine will rev to the preset rpm until the clutch is released, helping with acceleration and vehicle control from a standing start.
Going further
Sometimes Ford Shelby GT500 customers want to enjoy their car on surface streets. Other times they just want to let loose on the track. Two new optional packages on the 2013 car give them the choice.
"The adjustable dampers let us develop our car on the track without any compromise," said Kerry Baldori, Ford SVT Global Performance Vehicles chief engineer. "Before, we had to tune the car with street implications in mind. Now we can go as extreme as we want on the track setting and still offer the customer a comfortable ride on the road."
Available as part of the optional Performance Package, the feature is accessed on the dash with a simple push of a button. Normal mode gives customers a comfortable ride over road irregularities. Sport mode is all about performance, delivering improved response time on the track, and less body roll while cornering and pitch under braking. A Torsen® limited-slip differential also comes with the Performance Package, which helps the rear suspension deliver torque and traction under the most demanding conditions on the track.
The monotube damper is key in giving drivers fade-free performance for extended hot laps. Typical dampers will fade and soften, so they don't handle as well – the monotube design prevents that from happening.
SVT worked with Bilstein™ for nearly a year to fine-tune the technology for Shelby GT500, the first production application of the product in North America.
The Torsen limited-slip differential with a 2.8:1 torque bias ratio helps the rear suspension deliver torque and traction under the demanding conditions encountered on the track. The differential is instrumental in improving torque bias so that the level of traction is increased.
Enthusiasts can upgrade their Performance Package with an additional Track Package for all-out racetrack performance. The option comes with an external engine oil cooler, rear differential cooler and transmission cooler for further durability. The cooling package also circulates air from an area of high-pressure stagnation with a low impact to drag and lift. The coolers play an essential role in preventing crucial components from overheating under high-speed conditions.
"The standard cooling systems are more than adequate for spirited driving, but for avid racers or track-day fans, we've provisioned for an upgraded cooling package," said Albers. "It will cool the car in almost any condition and let it live up to its performance capabilities."
SVT engineering focused on making the coupe with the Track Package completely geared toward racetrack performance. That meant making the suspension have superior control in high-speed turns and dips.
Information at your fingertips
Key to helping Shelby GT500 customers take advantage of all the capability is the new productivity screen. The screen offers menu options, giving the customer important information related to vehicle performance. The menu is navigated through a five-way control button located on the steering wheel. The LCD is positioned between the tachometer and speedometer; the SVT logo greets the customer at key-on.
A dashboard screen provides vehicle status information for important driving parameters such as launch control, AdvanceTrac, selectable steering or the Bilstein damper setting. There's also a shift light that appears as the SVT logo that illuminates and chimes when the rpm shift is reached.
Also unique to the productivity screen is Track Apps™, which delivers performance metrics for drivers who want to put their car through its paces on the track.
An accelerometer shows the g-force the car is pulling from left to right. Drivers also can track their fastest times with the acceleration timer screen, which offers options including 0-30 mph, 0-60 mph, 0-100 mph, eighth-mile and quarter-mile. Both an automatic start and countdown start complete with a drag racing start light are available.
The brake performance screen indicates stopping time and distance for speeds of 60-0 or 100-0. The view/clear results screen lets drivers take a look at their top times, including their all-time best. They can also review their last results and saved results from the acceleration timer and brake performance screen.
A closer look at the base menu options, each of which can be customized by the customer:
Settings: Drivers are able to
Turn on and set launch control feature
Select Bilstein damper mode
Access AdvanceTrac settings
Set steering feel – sport, standard or comfort
Update MyColor®
Gauge mode: Checking temperature/engine operation
Air-to-fuel ratio
Cylinder head temperature
Inlet air temperature
Oil temperature
Transmission temperature
Trip computer: Counting the miles
Information on two trips available
Trip time and mileage
Gallons of fuel used and miles per gallon
Set oil life percentage
Information: Navigate and view warnings
The system check screen displays information such as oil life, engine hours, engine idle hours and open doors
Warnings, such as "Left door ajar," can be displayed graphically
Fuel economy: Up-to-the-second information
Fuel history can be broken down to three time periods
Five resets are available to track fuel history
Fuel economy displays miles to empty, as well as average and instantaneous miles per gallon
View/clear results
Cluster-specific
The 2013 Shelby GT500 also includes upgraded cluster features to give drivers even more information. The speedometer is now set to 220 mph and an over-rev feature allows the engine to operate up to 7,000 rpm for eight seconds before decreasing back to 6,250 rpm.
Coupled with that feature is a dual-color tachometer that provides amber warning at redline, when the over-rev feature is engaged. Once the over-rev times out, the redline returns to red.
The 2013 Ford Shelby GT500 is built at AutoAlliance International Plant in Flat Rock, Mich., and is available now.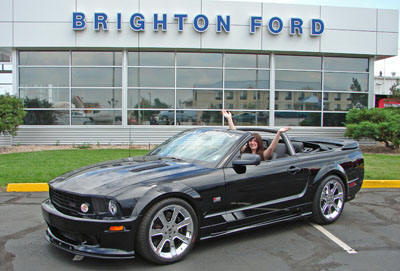 The newest Saleen dealer in the USA is Brighton Ford of Colorado. The all new Mustang body & performance is greatly enhanced with the Saleen option. See the selection online and call Frank for an appointment. I'll probably be sitting in one with a grin on my face! 1-888-806-8083
Chevrolet announces the 2010 Camaro TRANSFORMERS Special Edition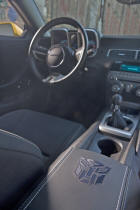 DETROIT – Fans of the new Camaro and the blockbuster TRANSFORMERS movies can now combine their love of the car and the films with the Chevrolet Camaro TRANSFORMERS Special Edition announced today at Comic-Con in San Diego.
"When the first TRANSFORMERS movie was setting box office records, we had countless customers asking to purchase the 'BUMBLEBEE' Camaro," said Karen Rafferty, product marketing director, Chevrolet. "Now, they can buy one with the new Camaro TRANSFORMERS Special Edition. Streets all over North America will be buzzing in no time." More specs and pictures…
The all-new 2009 Dodge Challenger delivers the best of modern American muscle-car characteristics—unmistakable design, world-class handling, powerful engines and technology.
The all-new 2009 Dodge Challenger R/T Classic goes further with even more memorable blast-from-the-past design cues. The all-new 2009 Dodge Challenger R/T Classic starts at $34,005 (including $725 destination) and is available for ordering now at Dodge dealerships nationwide. 
"Our all-new 2009 Dodge Challenger R/T Classic is more than a modern-day muscle machine, it pays homage to one of the most storied nameplates in automotive history," said Dan Knott, Vice President—Car / Minivan / SRT Product Team, Chrysler LLC. "With heritage-inspired dual-wide body-side R/T stripes, original 'Challenger' heritage badging and the newest generation of our legendary 5.7-liter HEMI® V-8 engine, the new 2009 Dodge Challenger R/T Classic delivers the greatness of our pony car past with advanced fuel-efficient muscle." 
Based on the powerful 2009 Dodge Challenger R/T, the Dodge Challenger R/T Classic not only delivers a menacing look and premium equipment—its powertrain delivers an unforgettable punch. With dual throwback A-line body-side R/T stripes, 'Challenger' fender badging in classic script, large 20-inch polished-chrome heritage wheels with all-season performance tires, classic egg-crate grille with heritage 'R/T' badge, body-color rear spoiler and chromed fuel-filler door—the Dodge Challenger R/T Classic is unmistakable. 
"Dodge Challenger has a rich performance heritage and the 2009 Dodge Challenger R/T Classic encompasses numerous technologies that allow great on-road performance while delivering proven-quality and refinement to ensure its place in the Dodge pony car history," said Knott. 
The 2009 Dodge Challenger R/T Classic tucks its legendary 5.7-liter HEMI® V-8 engine under a long, raised performance hood with functional hood scoops to increase engine cooling. The newest generation 5.7-liter HEMI® V-8 engine features dual variable-cam timing (VCT) and dual ignition (two spark plugs per cylinder) to increase power and torque, while improving refinement and efficiency. 
When paired with the Tremec six-speed manual transmission, the 2009 Dodge Challenger R/T Classic features the performance-minded Track Pak's precision-shift "pistol-grip" shifter, bright pedals, Electronic Stability Program (ESP) with defeatable traction control, Hill Start Assist (HSA), four-wheel disc performance braking system and an anti-spin 3.92 differential. A performance-tuned dual exhaust optimizes engine back pressure and exhaust throatiness by replacing the standard under-floor muffler with two low-restriction bottle resonators. The result, a powerful 376 horsepower (280 kW) and 410 lb.-ft. of torque (556 N•m) that can accelerate the Dodge Challenger R/T Classic from zero to 60 mph in less than 6 seconds. 
An available five-speed automatic transmission with Auto Stick provides efficiency and responsiveness in the 2009 Dodge Challenger R/T Classic. An aggressive first-gear ratio provides outstanding launch performance, while the transmission's fully-adaptive electronic control delivers more responsiveness without harshness. 
When paired with the automatic transmission, the new-generation 5.7-liter HEMI® V-8 includes the fuel-saving multi-displacement system (MDS) allowing Dodge Challenger R/T Classic to operate economically on four cylinders, or produce 372 horsepower (277 kW) and 401 lb.-ft. of torque (544 N•m) when all eight cylinders are needed. 
On the interior, the trapezoidal theme of the door-panel cove and gauge cluster, dark headliner and slanted shifter console are inspired by the original Dodge Challenger. Inspiration from the past continues with a "four bomb" gauge cluster with deep easy-to-read white faces. Premium leather-trimmed bucket seats with heat are well-bolstered and finished with French-seamed stitching. The advanced uconnect gps with voice recognition, navigation with real-time traffic and Universal Customer Interface (UCI) is available on the Dodge Challenger R/T Classic. 
The 2009 Dodge Challenger R/T Classic offers exceptional rear seating for a two-door coupe, achieving best-in-class rear head (37.4 inches) and leg (32.6 inches) room compared with the competition. Coupled with best-in-class cargo space (16.2 cu. ft.)—equal to the Dodge Charger—the all-new 2009 Dodge Challenger R/T Classic offers comfort and functionality. 
The all-new 2009 Dodge Challenger R/T Classic is available in Brilliant Black Crystal Pearl, Bright Silver Metallic, Stone White and three Dodge heritage colors—HEMI® Orange, TorRed and B5 Blue. Dodge dealerships nationwide are now accepting orders for the all-new 2009 Dodge Challenger R/T Classic. 
2009 Dodge Challenger R/T Classic Production 
Production of the all-new 2009 Dodge Challenger R/T Classic will start in February 2009 at the Brampton Assembly plant in Brampton, Ontario, Canada. It will be built on the same assembly line as the award-winning and quality-proven Dodge Charger and Chrysler 300. 
All-new 2009 Dodge Challenger 
The all-new 2009 Dodge Challenger merges the best American muscle-car characteristics—unmistakable design, world-class handling, powerful engines and technology—to delight driving enthusiasts across several generations. The Dodge Challenger accommodates five-passengers in a two-door coupe produced from the company's proven rear-wheel-drive platform. With three models of head-turning styling, two legendary HEMI® V-8 engines choices, more than 25 safety and security features and modern amenities including uconnect gps with voice-activated navigation system and real-time traffic available—the 2009 Dodge Challenger delivers the brand's "bold, powerful and capable" credo. 
Dodge Brand 
With a work-hard, play-hard attitude, the Dodge brand continues to offer a full line of cars, trucks, SUVs, commercial vehicles and sales-leading, fifth generation minivan in 2009. This year, Dodge will add to the award-winning Ram lineup with the introduction of the all-new 2010 Dodge Ram 2500 Heavy Duty and 3500 Chassis Cab.
Dodge introduced several new vehicles in 2008, including the all-new 2009 Dodge Journey, the 2009 Dodge Challenger and the 2009 Dodge Ram. Dodge also celebrated the 25th anniversary of the minivan during the 2009 model year. With more than 65 minivan-firsts introduced since 1983 and more than 12 million Dodge and Chrysler minivans sold, Chrysler LLC has solidified its leadership in the segment. The 2009 Dodge Grand Caravan continues to set the mark in minivan value with more than 40 new or improved features from the previous generation, including unsurpassed 17 city / 25 highway mpg fuel economy. The 2009 Dodge Grand Caravan is also the first minivan in the segment to feature the all-new Blind Spot Monitoring and Rear Cross Path advance safety systems.
LEANER, MEANER 2010 FORD MUSTANG MODERNIZED, WITH MORE REFINEMENT, NEW LOOK INSIDE, OUT
New muscular, sculptured exterior design is a modern evolution of Mustang heritage
Powerful new interior design features world-class craftsmanship, upgraded materials and new technology
Performance improvements – larger wheels, retuned suspension and increased horsepower – developed from engineering experience on the race track and from special editions including the Mustang Bullitt
LOS ANGELES, Nov. 18, 2008 – Muscle goes modern for 2010 as the Ford Mustang – America's favorite muscle car for 45 years straight – hits the streets with a new exterior design; new world-class interior featuring well-crafted materials and updated technology; and a V-8 with even more horsepower and an even throatier signature Mustang exhaust sound.
Combine those elements with the new Mustang's improved handling characteristics, more standard safety and technology features and its already-strong safety and quality performance and reputation, and it's easy to see how the muscle car known around the world delivers on the promise of fast, fun and affordable performance for a whole new era.
"More than 9 million customers have made Mustang one of the world's most beloved automotive and cultural icons," said Mark Fields, Ford's president of The Americas.  "Making sure this modern legend lives up to their expectations has been a driving force for the team, which went to great lengths – gathering customer input everywhere from race tracks to Main Streets in cities throughout the U.S. – working to create the best Mustang ever."
For 2010, the team delivered.  "The new Mustang marks new levels of both power and refinement," said Paul Randle, Mustang chief engineer.  "We've designed and engineered this to be the next classic Mustang that everyone talks about for years and years."
In true Mustang tradition, there is a "steed for every need."  At launch, customers can choose from a V-6 or V-8 with their choice of coupe, convertible or innovative glass roof, plus several new options and features delivering the opportunity for customers to personalize their cleaner, meaner-looking Mustangs. 
"The best Mustangs have always been the ones that connect young America with the spirit of the times – and the 2010 does exactly that," said J Mays, Ford's group vice president of Design.  "The new Mustang is close to the magnetic center of the original, fully loaded with the swagger you'd expect, but with modern refinement and attention to detail like you've never seen in a muscle car."
It starts with the more aggressive grille, punctuated with the first new Mustang emblem since the car's introduction in 1964.  Both the V-6 and GT have brand-new sculptured front-end designs unique to each model.  The headlamps and turn indicators, now integrated into one unit, are modern interpretations inspired by the 1970 Mustang.  On the V-6, the fog lamps are located on the lower fascia, while on the GT, the fog lamps are again located in the upper grille – but are smaller than the outgoing model, similar to the original lamps of the 1967-68 models that inspired them.    
"We understand Mustang's heritage and iconic status it has in the world and as a symbol of Americana," said Peter Horbury, executive director of Design, The Americas.  "We wanted to create a face that is more muscular but unquestionably, unequivocally Mustang and carry that spirit through to the entire car."
The exterior sheet metal, except for the fast-back roofline, is all new for 2010.  At the front, the new headlamps, lower fascias, fenders and grille are capped by a powerdome hood that adds to the muscular appearance while functionally allowing for enhanced air cooling of the engine.  
Mustang's washer-fluid nozzles are tucked into the cowl, while the antenna has been moved to the rear, both of which create a cleaner appearance while also reducing wind noise.
Front rear fenders feature taut, sculptured wheel flares, like a tight skin stretched over the wheels.  A classic spear character line on the doors leads to a modern indication of "hip" rear fenders.  "It helps give the car aggressive, forward direction, like it's ready to jump," said Doug Gaffka, Mustang chief designer.
The rear end design features aggressively angled rear corners, a sculptured decklid and prominent rear badge. A rear-view camera incorporated into the spoiler is available on some models.
A notable new tail lamp design features three LED bulbs firing sequentially from the inside for turn indication.  The sequential bulbs were a distinct Mustang feature in the '60s and comeback to the 2010 for the first time since then.  Locating the reverse lamps vertically creates a modern version of the Ford classic three-lens taillamp. 
The best of new, heritage
Cleverly combining modern technology with Mustang heritage is a signature of the 2010 model, in terms of both design and engineering.
"All of the Bullitt elements are the base foundation of the GT," said Randle, noting engine and chassis improvements.  "We also applied some improvements gained from Mustang racing.  We're learning constantly and always giving that to the customer on the base car."
The wheel-and-tire combinations are 1 inch bigger across the board, ranging from 17 to 19 inches, which helps improve handling and braking.  The shocks have been retuned on all models as well.
"We adjusted the springs, stabilizer bars and shocks to better balance the ride, steering and handling for all models, which results in a more engaging driving experience," adds Mustang Vehicle Engineering manager Tom Barnes.  "The 2010 Mustangs feel more controlled for steering and handling, yet retain a good ride balance."
The 2010 Mustang 4.6-liter V-8 benefits from innovations from the popular Bullitt model.  Power has increased to 315 horsepower.
"It runs on regular gasoline, but if you put in premium it has adaptive calibration that will give you even better mid-range torque," Barnes said, adding that Easy Fuel™, Ford's innovative capless fuel system, is standard on all models.
"It's an upgrade to the most-robust, most-accessorized engine in the marketplace today," Randle added.  "No one has the reliability, no one has the upgraded options.  This is a fantastic engine, proven on the race track, the drag strip and on the highway."
AdvanceTrac™ Electronic Stability Control (ESC) is now standard and complements Mustang's all-speed traction control and anti-lock braking system (ABS).
"It gives a driver a little more confidence that in any type of condition the car will maintain what they want it to do," Barnes said. "The 2010 Mustang improves ride quality and maintains world-class steering and handling."
In addition to all of the design and driving dynamics improvements, the 2010 Ford Mustang is engineered to maintain its top government safety ratings.  Standard safety equipment includes: dual stage front driver and passenger air bags; front seat-mounted side air bags; and, Ford's Personal Safety System. 
Interior leads in design, materials, content and comfort
Like the exterior, the interior design is all new with world-class materials and execution.  
The powerful new one-piece instrument panel design is crafted in seamless soft-touch TPO (Thermoplastic Olefin) skin fully encompassing available genuine aluminum-finish panels.  Mustang's chromed-ringed gauges and dual-vane air register vents are precisely crafted and positioned.
"That's the difference between good enough and exceptional," said Gary Morales, Interior Design manager.  "We wouldn't accept anything less than leadership design and world-class craftsmanship."
The instrument panel and console flow as one shape, another strong connection to Mustang heritage.  The seats and arm rests have softer materials with high-quality stitching. 
The new center stack design adds the latest version of Ford SYNC™, with new features 911 Assist and Vehicle Health Report.  Drivers also can customize their ambient and instrument lighting through the My Color™ system, which features 125 color options.
"The centerstack is quite progressive.  The electronic finish panel containing the audio and climate control buttons and knobs are integrated into the finish panel," said Kim Zielinski, Mustang Instrument Panel engineer, 2010 Mustang.  "I believe the customers will really like the new look."
In addition to the improvements in technology and comfort, drivers will notice a quieter ride. "It's much more vault-like," Barnes said.  "But we maintained the signature Mustang sound."
The upgraded instrument panel along with new sound deadeners added to select areas helped improve interior quietness, especially at high speeds or on rough roads.  All the better to hear that famous Mustang roar.
With a completely redone exterior that echoes the classic Mustang designs of the past, an interior featuring world-class materials, numerous technology upgrades and an improved driving experience, the 2010 Mustang is poised to become the latest classic in the proud line of Ford's iconic American muscle car.
"The 2010 Mustang is drop-dead gorgeous," Randle said.  "This car marks the best efforts of 45 years of passion and enthusiasm among the best designers, engineers and manufacturing experts in the business, and we can't wait for everyone to see it and start driving it."
The 2010 Mustang will be built at the Auto Alliance International Plant in Flat Rock, Mich.
Chevrolet Announces Pricing for the 2010 Camaro
Lineup Includes Fun and Efficient V-6 models rated at 27 mpg and High-Performance Camaro SS


DETROIT – Chevrolet today announced pricing for the all-new, 2010 Camaro. It starts at $22,995 MSRP for the V-6-powered LS model, and $30,995 for the V-8-powered Camaro SS (all prices include $750 destination charge). Customer ordering opened on Oct. 13, with production scheduled to start in the first quarter of 2009.
"The wait is almost over," said Ed Peper, GM North America vice president, Chevrolet. "The return of the Camaro gives sports car enthusiasts a reason to rejoice. It's a 21 st century sports car with a distinctly American legacy.
More than 600,000 enthusiasts have requested information on the Camaro since its production was announced. Chevrolet is reaching out to give them the opportunity to be the first to order one.
The Chevy.com/Camaro Web site carries information regarding early ordering, along with vehicle packaging information, a specification sheet and anticipated frequently asked questions about the ordering process.
Production is scheduled to begin in mid-February at GM's Oshawa, Ontario production facility, with dealership deliveries shortly thereafter. Complementing the Camaro's introduction is a range of performance, appearance and convenience accessories – including 21-inch wheels and tires; ground effects and stripe kits; and even a classic-styled Hurst shifter – that customers can order and have installed at their dealership. In some cases, the cost of the accessories and their installation can be rolled into the monthly payments.
"My Own Worst Enemy"
Enthusiasts will see the new Camaro this fall as part of NBC's new drama, "My Own Worst Enemy." It stars Christian Slater as a man with two personalities – a suburban dad and covert spy – with the Camaro featured prominently, along with the new Chevy Traverse crossover. The show premiers Oct. 13, the same day ordering opens for the Camaro.
Camaro's supporting role on "My Own Worst Enemy" follows its big-screen debut as the Autobot named Bumblebee in the blockbuster 2007 movie, "Transformers."
World-class performance, American heritage
Built on GM's new, global rear-wheel-drive architecture, the Camaro is offered in V-6-powered LS and LT models, as well as the V-8-powered SS. All models and powertrain combinations are matched with fuel-saving six-speed transmissions. Advanced technologies, including engines with direct injection and Active Fuel Management, enable a satisfying balance of exhilarating performance and good fuel economy.
Camaro product highlights also include:
Sleek styling with heritage cues and 10 available exterior colors
Four-wheel independent suspension system, including a 4.5-link rear suspension
Four-wheel disc brake systems standard on all models, including four-piston Brembo calipers on SS models
StabiliTrak stability control system and traction control standard on all models
Family of 18-, 19- and 20-inch wheels
Six standard air bags, including head curtain side-impact air bags and front seat-mounted thorax side air bags
RS appearance package available on LT and SS, including HID headlamps with integrated halo rings, spoiler, specific taillamps and 20-inch wheels
Bluetooth phone connectivity
USB connectivity
Remote vehicle starting system
OnStar
XM Satellite Radio
Under the hood, Camaro LS and LT use a 3.6L engine with variable valve timing to optimize performance and fuel economy. It is rated at an estimated 300 horsepower (224 kW) and 273 lb.-ft. of torque (370 Nm). A six-speed manual transmission is standard with the 3.6L engine; a Hydra-Matic 6L50 electronically controlled six-speed automatic, with TAPshift control, is available. LS and LT models are estimated at 27 mpg in highway driving, for great fuel economy to complement their fun driving experience.
The high-performance Camaro SS is equipped with a powerful 6.2L V-8, with a choice of a six-speed manual or six-speed automatic transmission. Manual transmission-equipped models receive the LS3 engine, estimated at 422 horsepower (315 kW) and 408 lb.-ft. of torque (553 Nm). It is paired with a TR6060 six-speed transmission.
A new, L99 V-8 engine is used on automatic transmission-equipped SS models. It is based on the LS3, but also includes GM's fuel-saving Active Fuel Management feature. It is estimated at 400 horsepower (299 kW) and 395 lb.-ft. of torque (535 Nm). It is matched with a Hydra-Matic 6L80 six-speed transmission that helps delivers an estimated 23 mpg on the highway.
All-new 2009 Dodge Challenger 
Nearly 40 Years Later, Dodge Redefines Modern American Muscle
Re-creation of vintage American muscle car blends nostalgic flair with modern engineering and technology 
Five-passenger, two-door coupe produced from proven Dodge Charger and Chrysler 300 platform 
First modern-day, HEMI®-powered car offered with precision-shift, six-speed manual transmission 
New-generation 5.7-liter HEMI V-8 delivers increased fuel economy (on average 4 percent) with improved horsepower (more than 30 hp) and torque (up to 20 lb.-ft.)  5.7-liter HEMI goes from zero to 60 mph in less than six seconds  SRT-exclusive 6.1-liter HEMI V-8 engine goes from zero to 60 mph in less than five seconds  Best-in-class rear head (37.4 inches) and leg (32.6 inches) room provides spacious back seat for up to three adults 
Best-in-class trunk space (16.2 cu. ft.) equal to the Dodge Charger  High-mounted seat-back lever for simple, one-handed operation; enables second-row passengers to enter and exit with ease  More than 25 safety and security features including supplemental side-curtain air bags, advanced multi-stage air bags, Electronic Stability Program (ESP) and anti-lock brakes  Equipped with cutting-edge technology, including uconnect gps with touch-screen radio and navigation, uconnect phone featuring Bluetooth® technology, Keyless Go push-button start and Remote Start  To ensure quality, Dodge Challenger engineers logged nearly 3.2 million customer-equivalent miles in the development process  Pricing from $22,545 (including $725 destination)  All-new 2009 Dodge Challenger lineup to arrive this fall
 
Auburn Hills, Mich., Aug 17, 2008  –  The all-new 2009 Dodge Challenger merges the best American muscle-car characteristics — unmistakable design, world-class handling, powerful engines and technology — to delight driving enthusiasts across several generations.
"Our all-new 2009 Dodge Challenger is a modern-day muscle machine representing the best from the past and present," said Mike Accavitti, Director – Dodge Brand and SRT Global Marketing, Chrysler LLC. "Nearly 40 years following the debut of the original, we are bringing Dodge Challenger back and loading it with essential hardware, styling and technology desired by today's buyer."
The Dodge Challenger is a five-passenger, two-door coupe produced from Chrysler's proven rear-wheel-drive platform that delivers the Dodge Charger and Chrysler 300. Developed with Dodge's credo of "bold, powerful and capable," the Challenger delivers a modern two-door muscle car.
Three models will be offered in North America: Dodge Challenger SE, Dodge Challenger R/T and Dodge Challenger SRT8®.
Essential Hardware 
The Dodge Challenger SE, powered by the 3.5-liter High Output V-6 with a four-speed automatic transmission, produces 250 horsepower (186 kW) and 250 lb.-ft. of torque (339 N•m).
The Dodge Challenger R/T features the new-generation 5.7-liter HEMI® V-8 engine with a five-speed automatic transmission that produces 372 horsepower (277 kW) and 400 lb.-ft. of torque (544 N•m). For 2009, the HEMI engine is upgraded to get, on average, a 4 percent improvement in fuel economy, an increase of more than 30 horsepower and up to 20 lb.-ft. improved torque over a greater range of engine speeds. The Dodge Challenger R/T also offers a precision-shift, six-speed manual transmission — the first for a new-generation HEMI-powered car — that produces 376 horsepower (280 kW) and 410 lb.-ft. of torque (556 N•m) when running on premium fuel. The Dodge Challenger R/T can go from zero to 60 mph in less than six seconds.
The 2009 Dodge Challenger SRT8 features an SRT-exclusive 6.1-liter HEMI V-8 engine mated with a new-for-2009 six-speed manual transmission or a five-speed automatic transmission with Auto Stick that generates a blistering 425 horsepower (317 kW) and 420 lb.-ft. of torque (569 N•m). The vehicle can go from zero to 60 mph in less than five seconds.
Patterned off the Dodge Charger architecture, the front short- and long-arm suspension and five-link independent rear suspension system on all Dodge Challenger models provides excellent ride and handling characteristics.
Essential Styling 
The Dodge Challenger design team stayed true to the concept revealed at the 2006 North American International Auto Show, while drawing upon elements from the original Challenger. The result: a bold, aggressive muscle machine that blends nostalgia with modern Dodge style.
"Our designers captured the mind's-eye view of what people today remember about the Dodge Challenger from nearly 40 years ago," said Trevor Creed, Senior Vice President – Design, Chrysler LLC. "Their challenge was to excite today's customer by capturing the emotion of the original Challenger, while offering today's comfort and performance."
On the exterior, the long, raised performance hood with scoops and recessed grille with round dual headlamps are reminiscent of the original Dodge Challenger. The bold A-line, or character line, that runs from stem to stern gives the all-new 2009 Dodge Challenger an instantly recognizable muscle-car profile. Retro dual rectangular exhaust outlets complete the look from the rear.
On the interior, the trapezoidal theme of the door-panel cove and gauge cluster, dark headliner and slanted shifter console are inspired by the original Dodge Challenger. The modern interpretation of the Dodge Challenger offers exceptional rear seating for a two-door coupe, achieving best-in-class rear head (37.4 inches) and leg (32.6 inches) room compared to the competition. Coupled with best-in-class cargo space (16.2 cu. ft.) — equal to the Dodge Charger — the all-new 2009 Dodge Challenger offers added comfort and functionality.
Essential Technology 
The all-new 2009 Dodge Challenger offers customers a full range of innovative technologies including: 
uconnect gps provides cutting-edge audio and navigation with integrated voice recognition and touch screen for easy operation
uconnect phone provides convenient, voice-activated communication with Bluetooth® cellular phones 
uconnect studios with SIRIUS® Digital Satellite Radio offers a variety of commercial-free radio programs and music 
Keyless Go allows the driver to start the vehicle with the simple push of a button 
Remote Start starts a secured vehicle with the key fob
More than 25 Safety and Security Features 
Dodge Challenger offers more than 25 safety and security features including: 
Supplemental Side-curtain Air Bags extend protection to all outboard front- and rear-seat passengers 
Anti-lock Brakes (ABS) modulate the brakes for the driver to provide steering control while braking 
Electronic Stability Program (ESP) applies selective braking or throttle reduction to control oversteer and understeer 
Brake Assist ensures maximum braking action during panic stops 
All-speed Traction Control reduces the throttle and/or applies selective braking to optimize traction during acceleration 
Hill Start Assist (HSA) for Manual Transmission application assists the driver in launching the vehicle on an incline 
Automatic Headlamps turn headlamps on at dusk and off in the daylight without driver intervention 
Tire Pressure Monitoring (TPM) alerts driver about low tire pressure(s) in order to facilitate safe handling
2009 Dodge Challenger Production 
The all-new 2009 Dodge Challenger will be built at the Brampton Assembly plant in Brampton, Ontario, Canada. It will be built on the same assembly line as the Dodge Charger and Chrysler 300.
2005 Dodge Ram SRT-10 Review Below


Dodge trucks I my perceptive have always been a farm truck the work horse of the farm but somehow my perceptive has changed a lot with the new 2005 STR10. The exterior of the SRT10 test truck was bright red which fit it well. The front end of the truck is lowered for aerodynamics and takes on a mean appearance with its grill and hood. The front fascia helps direct air toward the brakes to cool down. You can tell that this bad boy isn't going to have any problems getting air.
The truck is fitted with 22 inch polished aluminum rims that gives the truck a great platform to burn unneeded rubber. The center caps on the rims have the Dodge Ram  symbol and make you want to grab something as they spin. The rear end of this truck looks just as mean as the front with its dual exhaust tips and spoiler that is mounted on the rear tailgate it gives it a look that has speed written all over it.
The interior of this truck screams just as loud as the exterior. The seats of this truck are trimmed out in leather and suede with SRT10 embroider in the headrests. Fitted with an Infinity stereo and speaks and a hidden amplifier that is under the middle seat the SRT10 thumps and has more than enough sound.
The exterior and interior of this truck are very desirable but his truck is all about power. The SRT10 is the fastest production truck to date and is ahead of Ford's fastest truck the Lighting. The SRT10 has a roaring 500 horsepower with its 8.3-liter V10 Viper motor. Pushing 525 pounds of torque this bad boy will throw you back in your seat.
Having that much horsepower and torque the six-speed transmission with a Hurst shifter makes it a thrill ride as you glide through the gears. The truck not only has power but stability and seems to hold the road great. Reaching high speeds and turning this truck gave no indication that it would slip and lose control.
Coming down the hills from Estes Park, Colorado this truck was stable through sharp corners and gives the driver total control when other trucks would slide and lose control. Out in the plains of Colorado and in my neck of the woods this truck screamed down the road going a 140mph and testing the brakes from that speed brought an unbelievable smooth controlled stop. This maneuver proved the control of the ABS computer and made me wonder why the truck didn't come with a four point seat belt like it's cousin the Viper does.