Ready for Snow? Or do you remember last winter?
H. Kent Sundling, www.MrTruck.com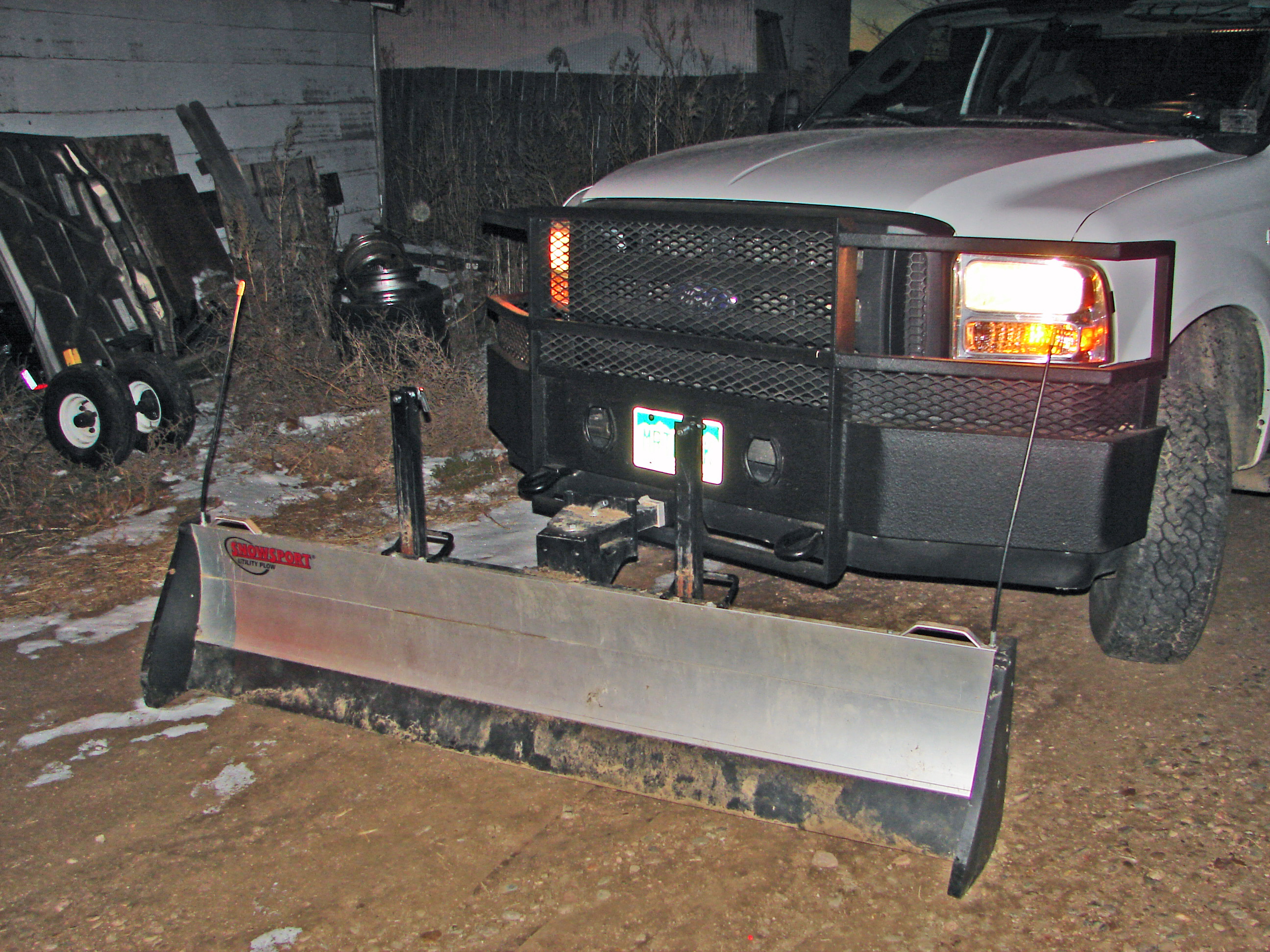 SNOWSPORT Consumer Plow
Yeah I remember December 20th a couple years ago, my wife's birthday and our first 2 ft snow storm in Colorado for the season, with snow almost every weekend until spring. I had a snow plow on my lawn tractor with chains for the small area's and the Snowsport plowing backwards attached to the receiver. This year I got a Sandhills Body Guard  front bumper with a 2 inch receiver tube so I can plow snow forwards. I like plowing forward. Last winter I pushed some old froze snow with the Snowsport consumer plow, it surprised me how well it pushed the ice piles. As a consumer plow, it works great for your driveway, barnway, corral alley and short roads. It's all mechanical, you can angle the plow by pulling a pin. The push frame does all the work. It self levels as the plow floats on the push arms. Ag Web Consumer Snow Plow.
The plow is extruded aluminum and easy to lift off the push frame arms. For plowing you drop the plow and go. The thick one inch rubber edge is also what the plow glides back on when you back up. No electric or hydraulics to maintain. Seven ft. wide, eighteen inches tall is just right attached to a pickup truck or full-size SUV. In up position you can use your headlights. The blade weighs only 110 lbs. Installs on front receiver or rear receiver two inch hitch. There is a bracket you can buy for the front bumper for mounting the plow from Draw Tite. Handles on the top of the plow make it easy to lift the plow onto the push frame one side at a time for transport. Heavy rubber box corner lips load more snow when you are plowing with the blade straight.  Extruded aluminum pieces slide together for simple assembly. Quick twist pins hold the plow up. The SnowSport comes with corner rods to see where the edge of your plow is.
I've used my SnowSport plow to push large round bales into my horse pen. It self adjusts well. I have a small gravel road to my back yard. When I plow snow on it, the gravel stays and the snow goes. My neighbor was plowing our back road with his ATV and a lawn tractor plow. He was so happy to see me with my SnowSport.
For more info for the Agricover SnowSport go to http://www.agricover.com/
Author H. Kent Sundling writes for AgWeb.com via a special agreement with MrTruck.com.