Snow Chains
by H. Kent Sundling  www.MrTruck.com
On the farm decades ago, we didn't have a 4×4 truck. On my dually, I would take the outside duals off and chain up the inside duals. This worked well especially with limited slip differential. Now at least in Colorado, 4×4 pickup trucks are the most popular. But on the mountain passes even on Interstates, chains are used often in the winter. Six and seven percent grades test how much traction it takes to move a truck uphill on hard packed snow and ice especially with a trailer. Chains and textile socks can help you turn that corner and have stopping ability when you can't even stand up on the road.  Just having chains with you makes you feel better when the white stuff starts accumulating. Snow chain options for your pickup truck.
AutoSock

 Your can see from the picture how snug AutoSock is to your tire.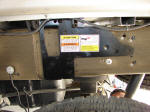 AutoSocks are popular in Europe and on luxury cars here. So simple to use with elastic bands holding them to the tire. Reinforced GripTech webbing, Auto Socks won't take your fender off if they get loose and they're quiet. The secret magic fibers become more "hairy" with use as the hairs are manufactured right angle to tire rotation for grip and to channel off water.  Machine washable, comes with a storage bag. Easy to mount and dismount even in cold and stormy weather. Maximum use speed is 30 miles per hour. AutoSocks are lightweight and self-centering. won't damage your expensive alloy wheels. Works on vehicles with low clearance between the tire and the fender, as well as with ABS.
For more info http://autosock.com/
Super Z  LT Truck Cable Chains by SCC

 From this picture you can see the diagonal cable marks in the snow.
I'm in Colorado and we have many mountain passes that lawfully require "steel" chains during snow storms. And State Troopers won't take time to listen to your excuse and pleading if you brake that law. The fine is expensive.  Shur Grip chains are well built and designed. You can attach the chains to your tires without moving the vehicle like we are used to with normal chains due to a split in the outside cable that hooks making 3 attachment splices. Rubber tensioner keeps the chains tight and self adjust. Keeping the chains properly tight is the secret to meeting the SAE class "S" requirement for limited clearance between the fender and tire. Works with ABS and traction control. Rated to use up to 30 mph.
Z-Chain for Emergency Vehicles
Z-Chain, another product from SCC is designed to fit tight without a rubber tensioner. Made for speed on slick surfaces designedfor police, fire, ambulance and other professional fleets, with aggressive traction performance and extreme durability. I interviewed an engineer whom rode on a test run with the Z-Chain at 80 mph. Not something you'd do without training, but emergency folks are like NASCAR drivers with a mission.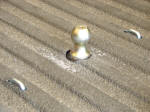 Picture shows the manganese alloy cross members and high speed fastener for the unique Z-Chain for emergency vehicles.