2009 Chevy Silverado, Little Brother has a Six-Speed. Towing a Logan Coach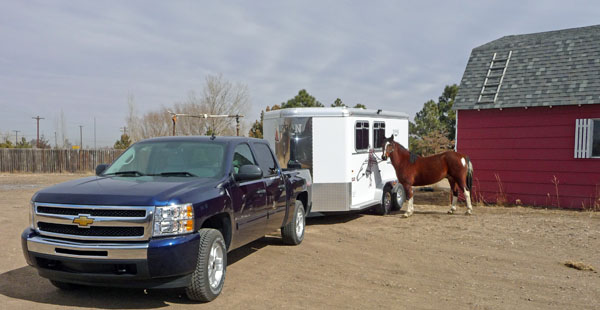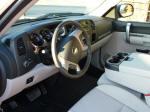 Enjoyed the 6-speed auto with the GM 6.0L and 6.2L gas engines, now it's an option with the 5.3L in the Power Pack Plus package. Crew cab short beds are the most popular truck configurations sold. Someday trailer manufactures will catch on and build goosenecks for the 5.5′ beds these 1/2 ton crew cabs have or at least for the 6.5′ beds on 3/4 ton trucks. The 5.3L with Active Fuel Management (runs on half the cylinders without a load) and Flexfuel E85, it's possible to get 20 mpg on the cheapest gas. The new 6L80 six-speed auto of course helps mpg with double overdrives and more gears spaced right for power in the lower gears, allows using a higher final axle ratio like the 3.42 my review truck came with. This combination is good for lighter trailers (6000 lb horse trailer.) 2009 Silverado 1500 towing Logan Coach.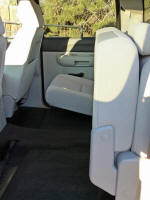 Crew cabs are the new "mini" van with folding rear seats for hauling cargo inside and cup holders galore. The standard powertrain warranty is 5 year/100,000 warranty now, which use to be just for diesels. Factory option trailer brake controller, new for GM 1/2 tons, takes the worry out of hooking up and you can get it serviced at any GM store. I just wish it was on the right side of the steering column.
I'm getting spoiled with the dual temp zone controls. I remember laughing when I saw this system a decade ago in Oldsmobile's. Of course now driver and passenger zones have a real difference in temperature for me and momma in the front row. Though the bed is a little deeper than pre-2007, Two inches deeper behind the cab and one inch at the tailgate, it's still easy to reach in the bed for tools or coolers. Are you listening Ford and Toyota, we can't reach four inches more to the bed floor.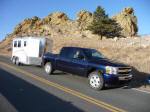 Towing the Logan to Estes Park on the curves and grades, swerving around the bicycles, the Silverado 6-speed tranny holds each gear well even out of tow mode, It's torque converter stays locked in longer for constant power. The 5.3L V-8 with 315 hp/338 lb. ft torque was enough for a 2-horse trailer. Silverado crew cab has a balanced wheel base even with a 5.5′ bed, the trailer didn't sway. Manual shifting with a button on the shift stim, is good for mountain roads. Eighteen inch Bridgestone tires corner well with tread sipes made for traction. Park assist beeper automatically shuts off with a trailer blocking rear sensor, nice instead of me having to shut off each time I drive as in other brands.
The complete package with stability control, Stabilitrak a must for trucks, improving empty truck handling and emergency situations. A locking rear differential, HD Trailering Equipment pkg. including HD Cooling, Off Road Suspension pkg with skid plates, and High Capacity Air Cleaner, it's equipped right for a small trailer. The rest of the specs: GVWR 7000 lbs, Payload 1714 lbs, towing 9500 lbs MPG 14 city, 20 highway and a MSRP of $38185.
| | | | |
| --- | --- | --- | --- |
| | | | |
| Optional trailer brake controller built in, nice, just on the wrong side of the steering wheel | Trailer gain scale built into the dash, I run gain around 8 | Even tells you a trailer is following you | Great location for the trailer socket, you can see it and stays away from the road gunk |
| | | | |
| Off road package with skid plates | Flexfuel, sometimes it's cheaper | The new mini van, crew cabs with cub holders and folding seats | Eighteen inch tires handle well on mountain roads |
Logan Coach 2H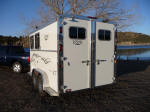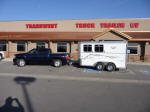 In a slow economy, value is key for trailer sales, Logan Coach makes a galvanized steel, aluminum skin horse trailer that looks sharp and is thousands cheaper than all aluminum trailers. I towed the Aluminum XT to Estes Park and back. Plenty of bling, bling stainless steel on the outside, all aluminum roof. Logan gives you plenty of goodies from a padded boot box to hat rack and door organizer. Insulated triple wall construction and Vortex rubber coating add to the quiet factor that horses like. Vortex is like sprayed-in truck bedliners. Logan also uses it on the aluminum floor which is spaced to let urine leave the trailer called "Whiz Proof."
| | | | | |
| --- | --- | --- | --- | --- |
| | | | | |
| Aluminum and steel | Even aluminum dividers | Whiz Proof floor, gapped for drainage | The roof bows and skin are aluminum | Steel frame as you can see the corner reinforcement |
| | | | | |
| All the toys, apple fork, hose, hat rack etc. | Padded boot box, oh my | Double LED brake lights for being seen | Door organizer, mines full | Water tank snug in the corner, next on my list |
Thanks for Transwest Truck Trailer RV for use of the Logan Coach horse trailer www.TrailerWest.com