Toyota Land Cruiser and Old Faithful

First time I herded Buffalo, I mean Bison and my first trip to Yellowstone, was a kick driving the all new 2008 Toyota Land Cruiser 200 series. The Land Cruiser was Toyota's first vehicle to the US back in 1957, same year I appeared on the planet. The new model replaces the 100 series from a decade ago. The majority of Cruisers are sold in Africa and the Middle East. Made for extreme weather and "make your own roads." Designed for longer life than a typical vehicle. All new 2008 Toyota Cruiser review.
Yellowstone rush hour (picture below.) Drove by some of Ted Turner's spread coming in from Montana to Yellowstone National Park. Can't believe it's my first time to Montana. It's just not on the way to anywhere. You have to go there on purpose. Beautiful Rockies around Big Sky.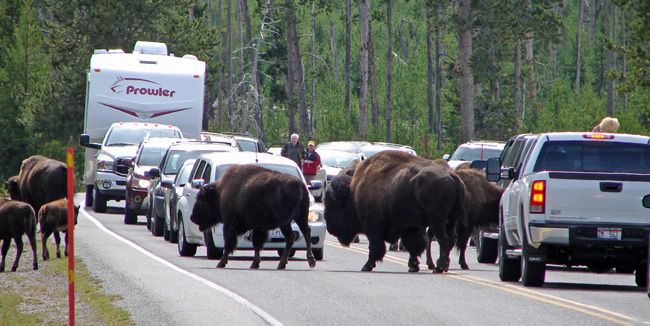 The Cruiser, makes a great tow vehicle. The ride and handling is smooth, you fill like you're in a solid vehicle with very little outside influence like wind making no difference with a heavy 5690 lb curb weight. The Land Cruiser has the tightest steering I can remember. This makes driving fatigue go away. This solidness lends to the quietness too, making the radio sound like you are in a luxury car. As an all-wheel drive, fuel mileage isn't a strong point. I got 6.7 mpg towing a horse trailer. Without a trailer, fuel mileage is typical of SUV's in this size. Toyota reports the mpg is up 12% over the last model, EPA rated at 13 city/18 highway mpg.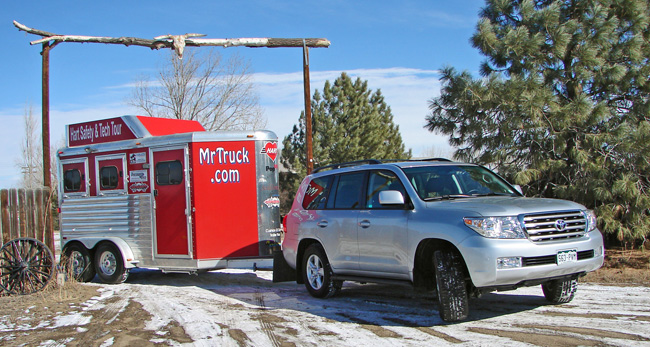 The Cruiser has a towing capacity of 8500 lbs. Built in receiver hitch. GVWR of 7275 lbs, a 3.9 axle ratio 5.7L V-8, 6 speed automatic with 381 horse power and 401 torque. Same engine as the Tundra with water cooled engine oil cooler. MSRP is $63200, but there's sophisticated features that you can't get on other luxury SUV's. 10 air bags, 7speed fan, a  4 zone independent temperature control,  micro-dust and pollen filter and built like a tank. Push button start, with the Smart Key in your pocket, pushing one button on the door will unlock your door. Looks like keys are a thing of the past.
Awesome suspension that automatically disconnects the front and rear anti-sway bars called Kinetic Dynamic Suspension. A system developed in Australia links the anti-sway bars to a hydraulic cylinder that will loosen the stiffness when excessive wheel travel is detected. So you have an instant rock climber automatically.
But that's not all, the Cruiser has a 3 speed Crawl in low range that will go 1-2 or 3 mph and do all the work. In other words drive into a snow bank or a mud puddle and all you do is steer. The Cruiser will brake the wheels and control traction to get you unstuck by itself. Now that's more useful than automatic parallel parking.  Downhill Assist Control takes over coming off the mountain controlling your speed downhill automatically. Automatically is the theme here. Land Cruiser just needs you along to steer for now.
Artificial Intelligence controls the 6speed transmission according to your driving habits. Sealed 6-speed tranny never needs service. 4-wheel traction control with center differential having Limited Slip, but traction control replaces axle differential Limited Slip.
The ABS is self adjusting for different road types. Of course the Cruiser has tire pressure monitoring but even the full size spare. A-frame front suspension, 4-link coil-springs at the rear, boxed ladder frame with larger frame rail cross-sections 40% stiffer hydro formed cross members . Hydraulic brake booster like diesel trucks, front brakes have 4-piston calipers.
Stainless steel exhaust system automatic adjusts for lower noise at idle and opens up for less back pressure at road speeds. There are even ball joints on the exhaust system to reduce vibration. ( So much for the muffler bearing jokes, Dee.)
Tailgate with storage
Controls are easy and many, a fun drive that's additive.
Geysers and steam, so much to see. I'll be back to Yellowstone.


Amazing to be that close to the big bulls. I told one of the New York journalist with us to chase the bulls away from the Cruiser. She looked pretty scared as she did laps around the Cruiser, running from the harry horned dudes. I told the officer (picture right), the buffalo started it. She blamed us on the traffic jam. But the Bison move slowly across the lanes.
 Waiting on Old Faithful
Got lost on the way back to Big Sky Resort, saw wonderful rivers and Ravens large enough fly away with a camera.