The All New 2007 Tahoe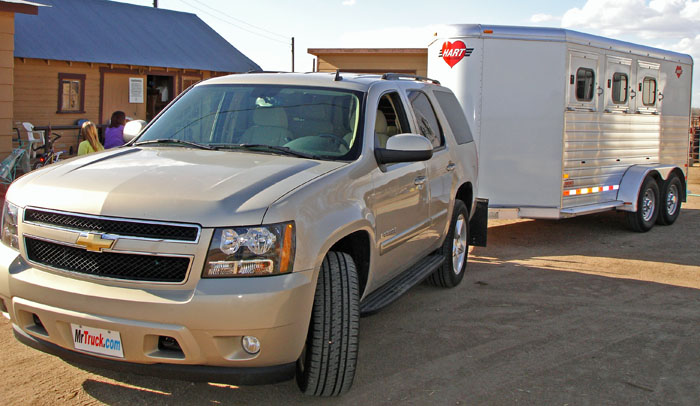 Bold new look for the 2007 Tahoe with the all new GMT900 platform which will be shared with all the GM full size SUV's and trucks. In the dash, the gauges look custom, in black background. Control knobs feel good with grippy rubber. All New 2007 Chey Tahoe tows horse trailers.
New Active Fuel Management Cylinder Deactivation shows in the dash (picture left) when switching from V8 to V4, all seamless you wouldn't know it if you didn't look at the indicator in the dash. This is part of reason this new Tahoe gets 21 highway mpg EPA rating on the 4×4.. Even with a bolder bigger nose, the Tahoe has 8% less drag as wind resistance. The dash has more digital info with a tire pressure read out and tranny temp gauge. This SUV is tighter, a more precise build with closer tolerance on sheet metal, doors, even the dash reflects GM's commitment to improve quality. The flex fuel 5.3L not as fast at the old one or so it seems to me but in tow mode it picks up acceleration. The cup holder moves forward and back to fit you. The door handle have a softer grip. Passes my hat test, a truck should fit a cowboy hat. Finally the cruise control is in the steering wheel. I first saw Ford put cruise control buttons in the wheel in 1973. But for decades GM as put it in the blinker control along with too many other switches. Never liked it there, finally in the steering wheel.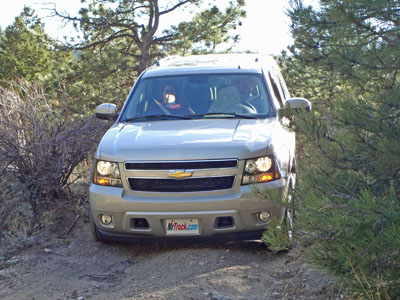 The interior looks great with a lowered dash, custom gauges, clean lines. The little hump over the dash looks sculptured.
Third row seats lift out like a suite case and slides on a track with handle. LTZ power lift gate is fun to play with. Backup camera in GPS screen is one of my favorite features. Auto level with air shocks is good for towing and hooking. Remote start makes sense here in Colorado, I need to finish my coffee while I remote start the Tahoe out my window.
5.3L Vortec V-8 with Active Fuel Management and Flex Fuel E85 which was the big buzz word at the Detroit Auto Show this year. EPA 15 and 21 mpg, as we need better mpg at $3 gas. I think every GM press conference I've been to this year talked about E85. I'm for farm grown fuel. Standard Stabilitrak electronic stability control should be in everything. This automatically keeps the Tahoe going the same direction you steer it even when slick conditions try to change directions. It's more complicated than that, but that was explained in a previous article about Yaw and Gyro's.
Premium Smooth Ride suspension,  gives you automatic leveling which works fast for leveling your third row relatives or your trailer. Second row seats with headrests block vision as well as the big C-pillar. So take time looking for you blind spots on the right side.
5.3L Vortec with 320 hp/340 ft-lb torque has a 3.73 axle ratio, my choice giving you 7700lb towing capacity. Basically the same 4 speed automatic. The Caddy and Denali get the 6 speed auto. Also to help the mpg's, electric cooling fan, variable displacement AC compressor for 3 to 5% increase in fuel economy and electric power steering, eliminating the pump, hoses and hydraulic fluid. Can you believe that, no power steering fluid to check.
The new look is selling well. Smooth dash with a lowered dash all has the class look. A smart improvement over 06 model.
Rich dash, the knobs just feel good. Cup holder moves forward. The digital dash readout for tire pressure, tranny temp & more.
Three rows of seats with remote folding second row seats on the LTZ. The third row folds up like a suitcase and rolls out.
 Remote lift gate is fun to play with. When you can see your ball on the GPS screen as you back up to the trailer, life if good.
I pulled this Hart Medallion 3 horse aluminum horse trailer with the 07 Tahoe, don't they look good together. The Tahoe has rear coil springs as do most SUV's now so be sure to use a weight distributing hitch when towing over 5000lbs.
Thanks to Transwest Truck RV for the Hart trailer www.TrailerWest.com
and to Sonshine Acres for "Rock" Buckskin stallion www.Sonshineacres.net