Correctrack spacers can save lives and dramatically improve how your truck, van or SUV handles on gravel roads and pavement.
SORRY THE COMPANY DOESN'T MAKE THEM ANYMORE
I went out to ranch that a friend owns, (yes I still have a friend or two) and tested out the Correctrack rear-wheel alignment system in the rugged wild west. The test truck was a 1997 Ford 4x4 F250 crew cab diesel. The rear axle on this Heavy Duty F250 was almost 3 inches narrower than the front axle.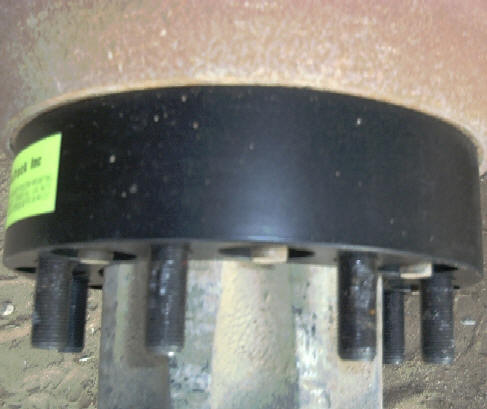 On this particular model we had to trim some of the beveled end of the axle studs to make sure they didn't stick out past the spacer.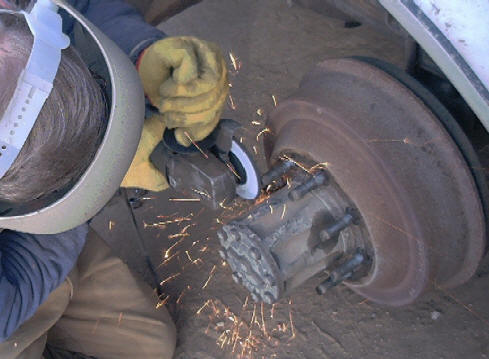 After we trimmed the studs, the spacer was flush with the wheel studs. Not all vehicles will need a trim. These spacers are heavy duty weighing over 13 pounds each.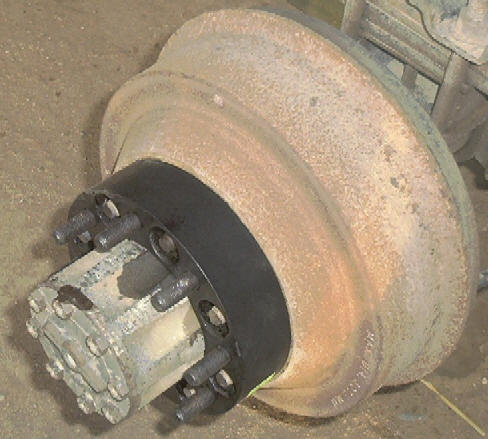 I've driven a few million miles on gravel roads, and I consider them the most dangerous type of surface. Dirt roads constantly change, with rain ruts, washboards, gravel ribbons, it all can be different any day. The soft shoulder is always a danger trying to suck you down the ditch. The better handling your truck is, the more control you have for those ever changing conditions. You can feel the extra pull the ruts and gravel windrows put to your trucks steering and the bounce the washboards cause the rear axle of an empty truck.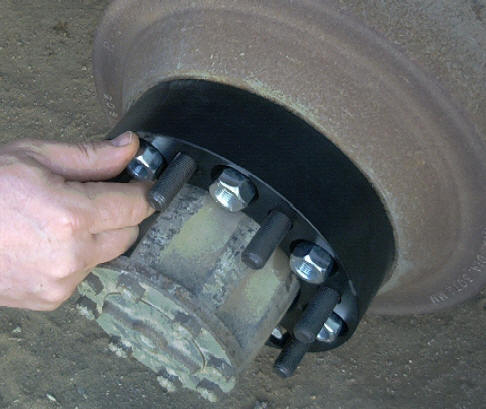 It was very simple and easy adding the Correctrack spacers. Once the spacers and wheels were torqued down, we were ready for the test. I watched the rear wheel tracking in the yard on the way to the road and looked like a match. Going down the same dirt roads, that I took before we added Correctrack, you could immediately tell the difference! The ruts didn't pull you and the washboard didn't make the back axle jump from side to side.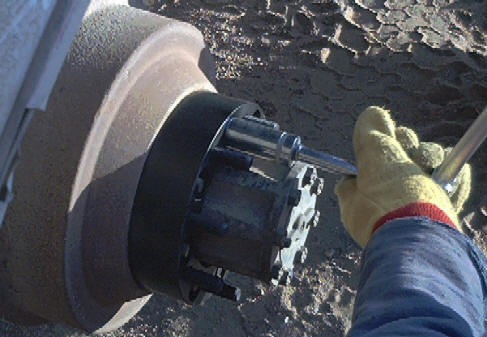 Turning corners was even different with less rear sliding. The truck was just easier to drive with less movement from the steering wheel do to road feedback. And with a trailer on the truck you could feel the better control with less over steer to drive straight. I wouldn't of thought that I would see such a dramatic change in the effort it takes to handle the truck with the spacers added. Don't forget the pavement, you still have washboards, semi truck ruts, pot-holes and the cargo that falls out of the back of someone else's truck you're following. Evasive maneuvers can happen at anytime and you want a rear axle wide enough to help you control the fishtailing and leaning on turns. There is a reason sports cars, such as a Chevy Corvette, and stock cars have wider rear tires. It's all about control.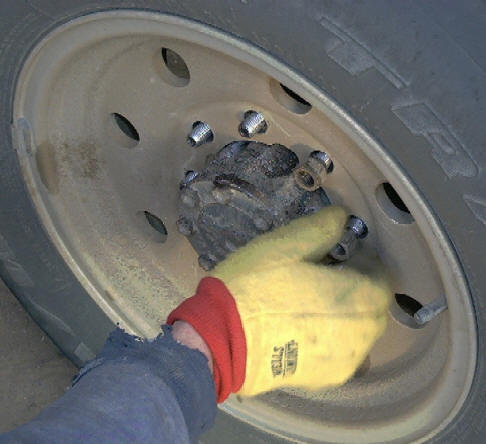 Basically a rear axle that is narrower than the front axle doesn't even sound logical. Do you suppose it's a cheaper way to build trucks? Would you order a truck that way on purpose? The older Heavy Duty Fords, 97 4x4 and back can have this problem, older Dodge trucks heavy duty 4x4 and most of the GM 4x4 Light Duty 2500 and Heavy Duty 2500 still today have a narrower rear axle tracking. Also GM heavy duty 4x4 Suburbans and Yukon XL's can have a narrower rear axle. GM did solve it with the newer full size vans. Ford and Dodge still have a narrower rear axle on the heavy duty vans your church and school use. It's easy to figure out, just go measure your truck and van.
The question you might have with such a well built heavy duty alignment spacer is, will this cause strain to the rear axle bearings. The Correctrack spacer kit has completed a Daimler Chrysler K-1 durability test and warrants the rear axle bearings to 100,000 original miles. Know of any truck manufacture that does that? Call Correctrack Inc. for warranty details. ph. 1-888-862-2167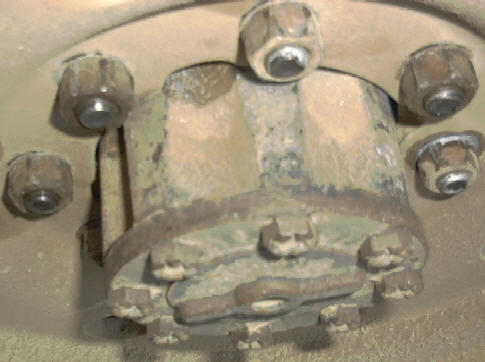 You still have plenty of wheel stud left if you have to grind some of the stud bevel. Correct wheel tracking, you can feel the difference.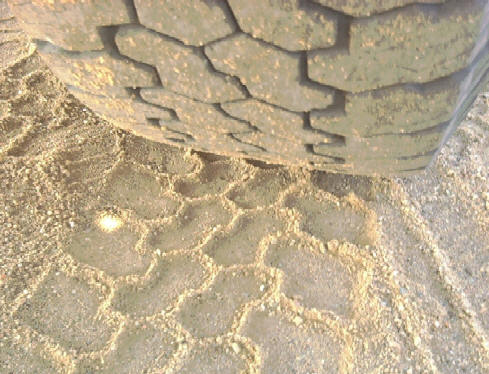 Measure your truck or van axles to see if it's tracking or constantly making new tracks. Do you suppose following the same track will help fuel mileage? If you want an edge on safety for your truck and trailer handling, this is something to try. You can even send them back if you don't like them. No risk, I like it! Correctrack Rear-Wheel Alignment System. I liked this safety product so much, I'm selling them on this website.
| | |
| --- | --- |
| | |
| Here we are mounting the CT Spacers on a brand new 2003 GMC HD 2500 4x4 crew cab. | Plenty of wheel stud left after mounting the spacer on this new GM 2003 HD 2599truck. |
Corrects front-to-rear tracking difference!
STABILIZES towing
ELIMINATES steering problems
CORRECTS tracking
IMPROVES handling
ENHANCES vehicle appearance
CorrecTrack Inc. - Recommended Applications
GMC & CHEVROLET

1980-1991 ¾-ton & 1 ton 4x4 trucks & Suburbans, 2" thick spacer (9/16" stud )

1992-1999 ¾-ton & 1-ton 4x4 trucks & Suburbans, 2" thick spacer (14mm stud)

2000-2004 ¾-ton 4x4 trucks & Suburbans, 1 ½" thick spacer (14mm stud)

2000-2004 ¾ & 1-ton 4x4 trucks, 2" thick spacer (14mm stud)
FORD

Early through 1997 Ford F250 & F350 single rear wheel

¾-ton & 1-ton 4x4 trucks, 2" thick spacer (9/16" stud)

E-350 vans & conversions, 2" thick spacer (9/16" stud)

DODGE

Early ¾-ton & 1-ton 4x4 single rear wheel trucks, 2" thick spacer (9/16" stud)

Early-1997 Dodge 3500 van, 2" thick spacer (1/2" stud)

1998-2003 Dodge 3500 van, 2" thick spacer (9/16" stud)
* Standard Equipment on 2002 Pleasure-Way Motorhome Vans


The Best Rear Wheel Alignment System.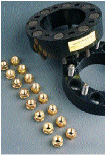 Ever wonder why your truck fishtails easily

empty. We've all come to believe that a truck with no weight in the bed, drives a little squirrelly. I've learned that there is a way to correct that and many more driving characteristics we've come to accept as normal truck behavior. GM truck, Suburban, and RV Conversion Van owners need this. Ford and Dodge full size vans need this product! Just measure your axles to Cure your Truck now, Click for More.... I was surprised that the Ford 1997 F250 we tried the spacers on, was over 3 inches narrower at the rear axle. Ever see a race care that was narrower at the rear?
HOME PAGE 1 PAGE 2 PAGE 3 PAGE 4

MrTruck's Top Picks, Truck, SUV & Trailer Accessory Store, ENTER