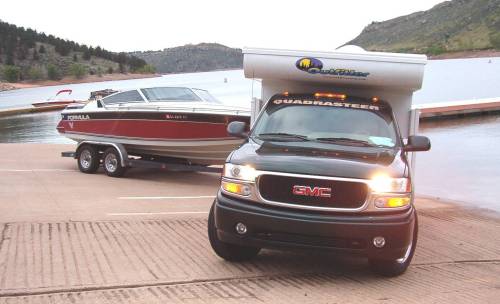 GM 2002-2005 Quadrasteer , Who's Next 2007- ?
More articles below, Wards, Automotive News
It's a sad day in the towing world today. Quadrasteer introduced in the first year of the GMC Denali in 2002, has been canceled by GM. 4-wheel-steering is the best advance this reporter has ever seen in bumper tow trailer control, safety and handling as well as all that for the vehicle and parking was amazing. I had one of the original GMC Denali Quadrasteer on display at the gate of the All American Quarter Horse Congress last year. I've towed many trailers with the QS trucks and Suburban. We towed a horse trailer up Pikes Peak, towed two trailers at a time and barrel raced it.
Originally in 2002 when GM first introduced the Quadrasteer, they had it priced into the truck's standard features at $7000. Not that it wasn't worth that much, but it was a price that kept sales down. It's this price greed from GM that I blame on the down fall of Quadrasteer. In 2003 when Quadrasteer was added to more Chevy and GMC lines and the price was dropped to $4995, dealers did stock them but, the QS option was equal to a diesel option, again not inline with the market. So in 2004, after the cat is out of the bag, GM dropped the price to $1995, which is a bargain, but dealers who ordered in the 03's at the $4995 price where stung and didn't order many for 04. This lack of national inventory meant many folks had to order their Quadrasteer from the factory, many without even getting a chance to drive one first.
Four-Wheel-Steer was a project at Delphi for approximately 10 years. Handling, safety, towing, parking of the Quadrasteer where intensely tested. Steering with all 4 wheels was fully automatic, designed to automatically compensate for car washes, backing, hard cornering with a trailer and highway speed sideways lane changes. Quadrasteer can also be shut off, and a tow mode to keep you from turning into your trailer hitch.
I was so impressed with Quadrasteer that I built a website around it as www.QuadrasteerClub.com with great response. Delphi even sent their engineers to our forum to answer detailed questions. (this was bold move). But GM has sold less than 20,000 Quadrasteers from 2002 to 2005. You can still buy a new 2005 Quadrasteer but ordering them will soon be over. We've added a national directory of the new Quadasteers left in the country to our website.
Folks who own Quadrasteer love them, reporters call them a cult. But it's hard to describe the difference they make with a trailer. I considered them the greatest safety option for trailering since the "weight distributing hitch". But it's still possible to see Quadrasteer on another truck brand. Nissan has expressed interest in it as Car and Driver Magazine reported last spring (2004). So if you are in the market for a towing vehicle for a bumper pull horse trailer, I highly recommend Quadrasteer. The Denali that I drove last summer was rated to tow 10,300#'s.

I hope we do see Quadrasteer back in the future. We're waiting to see what Nissan is going to do.
Our staff debated how to break the news to our members. First you're sad, then angry, now we're looking to the future. Let GM know how disappointed we all are in their lack of marketing and understanding how happy Quadrasteer owners are driving these trucks and SUV's. We will be offering a free classified section on our home page for Quadrasteer trucks and SUV's for sale or wanted to buy. Buy your Quadrasteer now, they will be disappearing fast when the official announcement comes from GM.

> GM to drop Quadrasteer option > By Richard Truett Automotive News / February 16, 2005 > >
DETROIT -- General Motors is dropping the innovative steer-by-wire steering system available on its full-sized pickups and SUVs at the end of the 2005 model year. > > Quadrasteer won't be offered on GM's new generation of pickups and SUVs due in 2006 as 2007 models. > > The technology, supplied by Delphi Corp., has been offered on the Chevrolet Silverado, GMC Sierra trucks and numerous big SUVs, such as the GMC Denali and Chevrolet Suburban. > > Quadrasteer shortened the turning radius of the trucks and made it easier to back up with a trailer hitched to the vehicle. > > But GM has sold just 16,500 vehicles equipped with Quadrasteer since the system became available in 2002. GM negotiated exclusive use of the technology from Delphi. > > An industry analyst who tracks suppliers and technology says the Quadrasteer system was excellent technology that worked well. But it faced several hurdles: > > * Quadrasteer was priced too high. When it debuted in 2002, it was part of a $4,495 option package, which was too much money for one option for many buyers. > * Even when GM lowered Quadrasteer's price to $2,000, it still didn't sell because dealers failed to communicate to potential buyers the capability of the system, according to the analyst. > * Because GM wrangled an exclusive out of Delphi, the supplier was not able to market the system to other automakers. Had Delphi been able to sell Quadrasteer to more than one automaker, the component costs would have come down as Delphi realized savings from the economies of scale that come with higher production. > > With Quadrasteer, the rear wheels turned up to 12 degrees in the opposite direction of the front wheels, enabling a full-sized heavy duty Silverado or Sierra to turn a corner in a tight 36.5 feet, a radius that is best on the market. The Nissan Titan makes a turn in 45 feet while the Toyota Tundra can turn a circle in just over 44 feet. > > Such maneuverability makes it easier for a driver to tow a trailer or boat or park in tight spaces. It also improves high speed cornering by keeping the vehicle more stable. > > A salesman at Huffines Chevrolet in Lewisville, Texas, near Dallas, said few customers asked about Quadrasteer, that it was a hard truck to sell and that it wouldn't be missed. He said it catered to too narrow a buyer, such as those who tow trailers. > > Delphi spokeswoman Carrie Wright said the technology is not dead and other automakers have expressed interest in the system. But no contracts have been signed. > > Wright said Quadrasteer can be adapted for use on cars. "We are still very passionate about Quadrasteer," Wright said. "Part of the reason is extreme consumer enthusiasm. They're enthusiasm keeps ours high. We are pretty optimistic about long term future of it." > > GM isn't the first automaker to fail with a four-wheel steering system. > > From the 1988-94, Honda offered four-wheel steering on the Prelude coupe, but it did not sell well. And in 1990, Mazda offered a similar system on the 626. It also didn't catch on. > > Chevrolet spokesman Mike Stoller says the division did promote Quadrasteer in a variety of ways. He said a Chevrolet survey last year asked potential truck buyers if they knew about Quadrasteer. > > Stoller said, "It showed that 78 percent of full-size truck buyers or intenders knew what it was and just didn't want to buy it."
> > You may e-mail Richard Truett at [email protected]
> > <mailto:[email protected]> > > >
****************************************************************************************
GM Dropping Quadrasteer

By Tom Murphy and Brian Corbett

WardsAuto.com, Feb 11 2005

GM is phasing out Quadrasteer as an option on fullsize pickups and SUVs. Take rates on the 4-wheel steering system reached only 1.4% in 2004, GM data indicate.
General Motors Corp. will discontinue its Quadrasteer 4-wheel steering technology as an option on fullsize pickups and SUVs by the end of the '05 model year, Ward's learns, and the feature will not appear on the next-generation GMT900 fullsize vehicles, which begin production next year.
Quadrasteer, developed by Delphi Corp., was an expensive option that was extremely popular with a small number of buyers but was not profitable.
GM dropped Quadrasteer's price to $1,995 last year.
The phaseout begins this spring with the GMC Yukon XL and Chevy Suburban three-quarter-ton SUVs, which will free up space at GM's Arlington, TX, assembly plant as it tools up for production of GMT900 vehicles.
GM also will drop Quadrasteer from its GMC Sierra and Chevy Silverado half-ton extended-cab pickups and Sierra and Silverado heavy-duty crew cab pickups. GM purchased a fixed number of axles equipped with Quadrasteer. Once they are gone, GM will sell no more vehicles with the feature.
In 2004, GM sold a mere 5,502 vehicles equipped with Quadrasteer – most of them Sierra half-ton pickups, according to Ward's data.
Data indicates penetration rates for Quadrasteer on the Chevy and GMC vehicles were 0.9% in 2002, 2.1% in 2003 and 1.4% in 2004.
Web chat rooms make it evident Quadrasteer, which Delphi first delivered to GM in 2002, has established a cult-like following.
The technology, which provides compact car maneuverability in a fullsize pickup, is proving popular with owners because it takes the fear out of tight parking spots. It also is helpful for hauling trailers.
Within Delphi, Quadrasteer's future appears in question, although the supplier has attempted to sell the technology to other auto makers as well.
Delphi has dispersed the engineers who worked on Quadrasteer at a facility in Saginaw, MI, which suggests future generations of the technology will not be forthcoming.
GM dealers say they have been hearing for more than a year that Quadrasteer was being discontinued, causing many to stop offering the option to buyers.
One dealer tells Ward's that Quadrasteer will be available on a handful of vehicles only for another month as a "last hurrah."
However, the GMC dealer says he has no plans to order more Quadrasteer-equipped vehicles, because those he had earlier were difficult to sell.
GM previously has admitted it botched the rollout of Quadrasteer with exorbitant pricing. It initially was packaged priced at about $7,000 with a host of other features.
In 2003, the price came down to $4,495, and a $2,000 rebate eventually was offered, as well. Quadrasteer remained packaged with other features.
In 2004, the option price fell further to $1,995, with no rebates. Many dealers, according to consumer chat rooms, were unaware of the price cuts and dissuaded buyers from the feature, saying it was too expensive.
At a 2003 automotive conference in Traverse City, MI, Gary Cowger, president of GM North America, took responsibility for Quadrasteer's rollout. (See related story: GM Will 'Repackage' Quadrasteer)
"Quadrasteer was our problem," he said at the time, as GM was repackaging it at a lower price. "It didn't get the kind of penetration we expected."
The failure of Quadrasteer marks the second time in less than three years GM has discontinued a groundbreaking technology following lackluster interest from consumers. In September 2003, GM confirmed to Ward's it was dropping its Pro-Tec composite pickup box after only two years of production. (See related story: GM Drops Composite Pickup Box)
While Quadrasteer and Pro-Tec did not have any performance shortcomings and provided significant benefits to consumers, the technologies were high priced and difficult to market.