PML Ford F250 Differential Covers Install, American Functional Art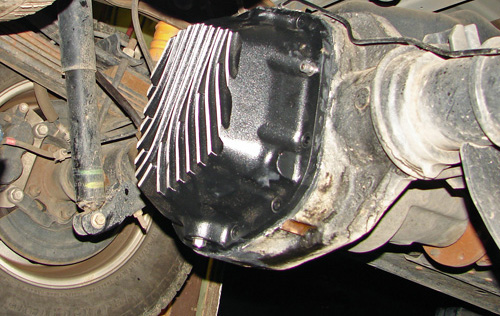 If you've read your trucks owner manual, there is a different schedule for normal use and "severe or trailer towing". For some maintenance schedules you change oil twice as often for severe use. Towing stress creates heat, heat breaks down the oil faster and you know what happens next. A lot of us overload our trailers especially using 3/4 and one ton pickups. My 2006 Ford F250 came with synthetic gear oil in the rear differential but regular gear oil in the front diff. When you open your factory diff cover, if you haven't changed oil for the first time, you'll find metal filings. No factory drain plug, no factory magnet to catch the metal filings. One of those manufacture things where they don't care about or figure you won't know about. That's why the accessory world flourishes, to finish the job of building your truck right.

PML does it right, with heavy duty cast aluminum 3/16 inch thick with 3/8's inch flange. Compared to a stamped piece of tin. See the picture, left, PML covers have exterior fins and a couple pints extra oil capacity for cooling your hard working oil, and look at the size difference. A fill plug and a magnetic drain plug, make future maintenance easy with PML. Made in the USA and what else would you want?


The ugly factory beast, no drain hole, low oil capacity, can you suck all the gunk out at service time? Right picture, a beautiful rear, cover with cooling fins, more oil, less heat, magnetic drain and a fill plug.

Hardest part of the install is prying the old pans off. Our truck had 40k miles and the factory gasket was doing it's job. Leaving the top bolt in, the pry bar opened the pan and let the oil drain. We used a Lok wheel on a air gun to take the factory gasket off the differential face. Brakes parts cleaner finishes the job, cleans the surface of the gasket surface on diff and cover and dries fast.
| | | | | |
| --- | --- | --- | --- | --- |
| | | | | |
| Putty knife my foot, instead of bending several putty knifes, we used a pry bar to remove the old cover. | Lok wheel and air gun get the old gasket off fast. Just be careful to get it all out of the exposed differential. | Brake parts cleaner speeds up cleaning the gasket surface, but again clean it all out of the open diff. | Nice hardware comes with the PML covers. Hex bolts with washers, magnetic drain plug and a fill plug. | Drain plug, fill plug. |
| | | | | |
| We used CRC brake parts cleaner and for a quick gasket, it's hard to beat Permatex "Right Stuff" | Using the "Right Stuff" squeezes out like party cheese, as per PML instructions, we stayed on the inside of the bolt holes. | Going back together is easy, smiling as you improve the looks of your truck. The PML instructions give you the torque ratings for the bolts. Tightening in a star pattern just like your wheels. | I like Amsoil, used the factory viscosity weight 75w-140 for the rear and since it will be synthetic now, I went a little heavier with 75w-110 for the front differential. | Most folks will use a pump for adding gear oil, but we had room and the fill hole was easy to access, so a funnel worked just fine. |
| | | | | |
| --- | --- | --- | --- | --- |
| | | | | |
| PML, made in America just like me. I love it when I find great truck accessories that didn't have a long boat ride from a communist country. | The front differential was a little harder to get to the cover with all the steering rods and tracking bar. | Front pans, old and new. With the price of trucks, we are keeping trucks longer. These are the types of accessories that will get you those extra trouble free miles. | Room for the extra oil capacity and the cooling fins. It just looks cool. | Again, enough room to just pour the oil in with a tube on the oil bottle. |
Look at your owners manual for fluid capacity. The rear will be increased by a quart and the front by a little over half a quart. The front diff cover has the fill plug on the side so when it's full it will run out. The rear diff cover measuring the oil going in is more important.

Rear Ford Sterling 12 bolt Part # 10816 black powder coat, $220 also available in cast finish and polished.

Front Ford Dana 60, 10 bolt Part # 10737 black powder coat $220 also available in cast finish and polished.
Worth looking under your truck at !
PML Differential Cover Features:
Increased oil capacity for cooler temperatures
Sand-cast aluminum with raised cooling fins
3/16-inch thick wall construction to add strength to differential housing
3/8-inch thick gasket flange will not bend when bolts are tightened
Machined gasket surface for a secure seal using RTV or factory reuseable gasket
Oil changes without removing the cover
All hardware provided, including magnetic drain plug
Available in as-cast aluminum, black powder coated, and polished finishes
PML recommends RTV by Permatex for use sealing PML differential covers. RTV is readily available at most auto parts stores.
Permatex 26B High Temp RTV for temperature ranges -75F through 650F
Permatex 27B High Temp Sensor Safe RTV for temperature ranges -75F through 650F
Permatex 6B Sensor Safe Blue RTV for temperature ranges -65F through 500F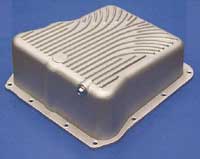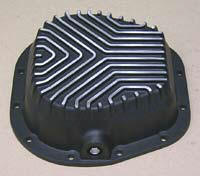 PML transmisson pans and differential covers. More oil capacity, less heat. Order now.
For more info on covering and cooling your front and rear end http://www.yourcovers.com