Fastway® e2™ Hitch
Don't waste your vacation time wrestling with add-ons to get sway control! It's just not worth it. Instead, choose the Fastway® e2™ hitch with Integrated Sway Control.
With the Fastway e2 hitch there's nothing extra to buy and install. Nothing extra to store. Nothing extra to remove before you can back into your campsite, or make a u-turn. For a faster, easier and safer towing experience, get a Fastway e2 hitch today!
Integrated Sway Control
The Fastway e2™ hitches have the convenience of Integrated Sway Control™ built into the hitch; so you have sway control engaged whenever you are hitched up and towing. The e2™ utilizes unique sway control brackets instead of old 'add-on' sway bars or cam type attachments that are added to chain style hitches. Integrated sway control offers many benefits including no backing or turning restrictions, and simple and easy to understand adjustments. Built with sway control in mind, the e2™ hitch is better than a chain style hitch with add-on sway control devices.
Sway Control Brackets


The unique rigid sway control brackets provide the convenience of integrated Sway Control™ through two points of linear steel on steel friction. Instead of the spring arm swinging back and forth freely at the bottom of a chain, e2's spring arms rest on top of a bare metal bracket. This improvement alone significantly reduces driver fatigue and stress while towing, not to mention making it easier to use than chain style hitches on the market.
Weight Distribution
Without proper weight distribution drivers can experience highway hop, loss of steering control, and sagging of the tow vehicle.

The e2 hitch changes the way the tow vehicle and trailer couple together. It creates a bridge between them, helping them work together like one unit instead of two, and distributing the weight more evenly to the axles of both vehicles. When set up properly, the steering wheels will stay more firmly planted on the ground.

Round Bar Style Hitches

Complete with 90-02-4100 standard shank




Ball extra, sold below

Part #
Max Tongue
Max Trailer
94-00-0600
600 lbs.

6,000 lbs.

$324 add to cart
94-00-0800
800 lbs.

8,000 lbs.

$324 add to cart
94-00-1000
1000 lbs.

10,000 lbs.

$324 add to cart
Part Number for extra shanks

90-02-4100 shank 9.25", 12" long

adjustable shank (best for straight settings) average (3" drop/ 7" rise)

Included free with WDH Hitch purchase

Email questions,

or

90-02-4200 shank 9.25", 12" long

adjustable shank (best for a slight Rise or Drop) slight (4" drop/ 8" rise)

90-02-4300 shank 11.25", 12" long

adjustable shank (best for a deep Rise or Drop) Deep (6" drop/ 10" rise)

90-02-4400 shank 14", 12" long

adjustable shank (best for a deep Rise or Drop) Deep (9" drop/ 13" rise)

90-02-4500 shank 9.25", 18" long

adjustable shank (best for a deep Rise or Drop) Deep (3" drop/ 7" rise)

90-02-4600 shank 9.25", 18" long

adjustable shank (best for a deep Rise or Drop) Deep (4" drop/ 8" rise)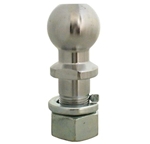 Ball bolts need to be (1-1/4) 1.25 inches thick and (2-1/4) 2.25 inches long.

Add to cart 2" ball 8k now $17

Add to cart 2 5/16 ball 10k now $18

Add to cart 2 5/16 ball 12k now $23

Trailer tongue spring arm bracketss 24" to 27" on the A-frame tongue