Power Vision says it all.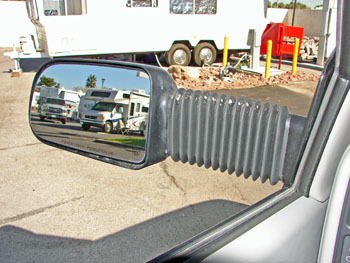 Power Vision truck mirrors were the first mirrors I've seen that telescoped out. Nice to be able to extend the mirrors without getting out.
This install does take some skill and time. The toughest part is connecting a wire to both mirrors.
Heavy mirrors, which translates to less vibration on the road. Our test truck was a 2004 Chevy HD 2500.
  Disconnect the battery, take the door panels off, which includes the mid door buttons and screws. The wiring harness is color coded, just match the connectors, looks better than the factory wires in the door. Even comes with the Christmas tree push in connectors. You'll want to use Lok-Tite on the mirror bolts. The plastic that is stuck to the door has a purpose, so don't remove it, just feed the wiring harness through it. It's for road wind dampening. Lon used a template to make the door switch hole. We installed in the door handle recess so I wouldn't bump it with my knee.
Lon of Transwest Truck Trailer RV, did a professional job, taking time to make the mirror switch look like factory. The hardest part was running the wire through the dash to the passenger door.
MrTruck's Top Picks, Truck, SUV & Trailer Accessory Store, ENTER