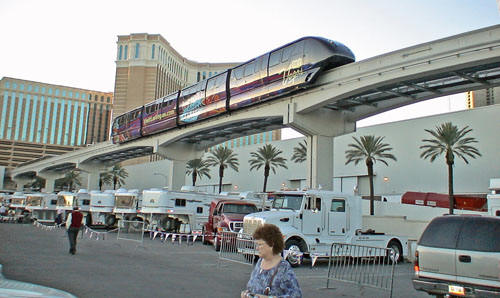 Just finished, Paint Vegas and the NFR at Vegas. South Point Equestrian Center is Awesome. This is the home of Bluetooth Cowboys, all walking around talking to themselves.
I could have gone broke at Cowboy Christmas at the Convention Center, Country Christmas at the Sands and Cowboy Marketplace at Mandalay Bay. All the goodies I really, really need!
One of the locals showed me his 6 pack, makes me want to dig the Bow Flex out of the garage. I've never had a tattoo, but this would have to be the one I'd get. This is the year of the diesel truck. Have pictures below of the new Dodge 3500 HD and 6.7L and 6-speed auto. This is one of the few horse tailored events that starts at 10 am. Vega can make anybody stay up late.
| | | | | |
| --- | --- | --- | --- | --- |
| | | | | |
| I wish it was all the the convention center like SEMA | Equestrian Center at South Point Casino | Yeah this is Vegas, you need to walk slowly to see everything | I need a talking horse | Boots for those long toe nails |
| | | | | |
| Big sculptures | Rands Custom Hats | Very nice fountains | No shortage of hats | My kind of furniture |
| | | | | |
| --- | --- | --- | --- | --- |
| | | | | |
| Rare early LQ | Sport Chassis booth. | Home made cactus | Rocking Horses, 1st class | Custom saddles everywhere |
| | | | | |
| Celebrity's were on hand. Here is Buck Taylor | Belt buckles were everywhere | Todd Swaim | Paul Bunion gets his spurs from the same place I do | I want a wagon wheel lamp and a elk chandelier |
| | | | | |
| --- | --- | --- | --- | --- |
| | | | | |
| Acres of vendors | If you can't find it at Cowboy Christmas, you ain't look'n | Well made riding horses | This looks like my office after longhorn hunting season | Lots of art and sculpture |
| | | | | |
| Dodge had the new diesel and auto at Cowboy Christmas | New Aisin AS68RC 6-speed auto, | has a HD torque converter | New 6.7L Cummins |  New throttle butterfly, like Duramax |
| | | | | |
| --- | --- | --- | --- | --- |
| | | | | |
| We did a video of the new Sport Chassis P2, it will air on MrTruck.TV | Cutaway of B&W | The art work was amazing | Summit Hauler at Paint Vegas | You just can't have enough wagon wheels |
| | | | | |
| Bloomer "Evolution" models. Got to have flames on your trailer | Stampede Conversions, I'm a fan of hair on hide. | Platinum Coach was everywhere in every building | Logan Coach was there | Here is a toy for your horse, it wobbles but it won't fall down |
| | | | | |
| --- | --- | --- | --- | --- |
| | | | | |
| Laredo Conversions had a GM 6500 | New from Canada, Rubber Ride Hitches. Works like a torsion axle | Outlaw Conversion in a Hart | Also in a Hart, outside faucet and control center | Kiefer Built with a tall hay rack |
| | | | | |
| Featherlite Interior | Circle J had a booth with Hooters | Got to have a barn wood cooler | Elk antenna's | I keep discovering more hat makers from Colorado |
| | | | | |
| --- | --- | --- | --- | --- |
| | | | | |
| Reverse slant Hart | Here is a G2 conversion with front bath in a Merhow from Triple T | Logan has a red trailer | Toter C5500 from Triple T | Sculpture with a message |
| | | | | |
| 15 gallon hat | Limo's heading to the NFR | Lakota made it to Vegas | Spirit from Kansas with a G2 conversion | G2 conversion with barn wood and corrugated |
| | | | | |
| --- | --- | --- | --- | --- |
| | | | | |
| Platte Valley Saddle | The new Dodge 3500 HD is out with the 6.7L Cummins | Mobil Roof Loading Systems was popular at the Sands | Cinch conversion Monroe | Bunkhouse Conversion in a Bloomer |
| | | | | |
| Several roping robots | Duster Camper Conversion | Santa needs a Pete from Lonestar | Sport Chassis  P2 |   it dumps SRW |
MrTruck's Top Picks, Truck, SUV & Trailer Accessory Store, ENTER