Merhow, More than 50 years of Horse Transportation Experience and a Warranty that Tops the Industry.
review and pictures by H. Kent Sundling (MrTruck)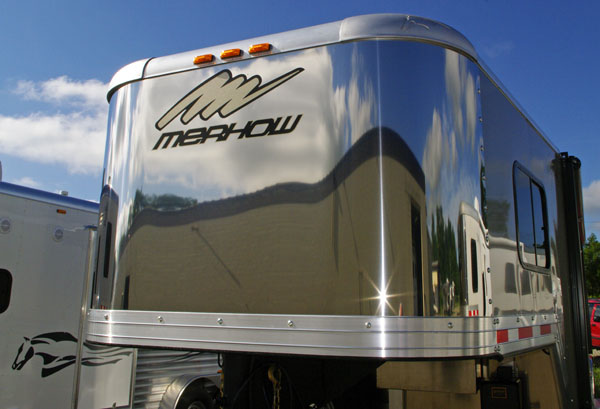 It's a Beautiful Nose for a Solid Trailer
It's the Heavy Duty solid horse trailer, with a massive full-length header beam for straight wrinkle free walls and new triple framed feed doors. Tall shiny trailers, with subtle horse carvings in the nose corners, is a 50 year old plus company with design, style and structural integrity. That's why it's still around when many other horse trailer companies have closed their doors.I revisited the Horsepitality Company in 2010. Surviving the Great Recession, Merhow is still selling all the trailers they can build. Quality trailers, with very low warranty issues even though they have one of the longest warranties in the horse trailer business (eight years.) Dave Elchert bought the company in 1989, and believes that making happy customers make happy horses. Picture right, shows Dave demonstrating the new Verylite heavy duty drop down feed doors.
Inside the beautiful nose is the frame that keeps it that way for decades. This is how unibody construction works, the walls, roof and floor all make the frame, here's the beef. Merhow uses closed tubing construction in the frame, not C-channel. The diagonal frame posts and larger beam below the cove, stiffen the structure (picture left). Picture right shows the beam continuing through from the neck past the triple framed neck post, to the end of the trailer. This strength keeps the walls straight and wrinkle free.
 Same concern for trailer suspension, Merhow sets the torsion axle angle for the best ride for the horse. Grease fittings on all access doors and ramps. All exposed metal is sprayed with truck bedliner. Heavy duty padding on all dividers. Rubber lining on stall, bulkhead and toe walls is 36". Rubber lining on butt wall is 48".
Merhow has three trailer lines with the latest in trailer technology and popularity, Verylite, Equistar and AlumaStar. From aluminum over steel trailers to all aluminum. Known for quality, the in-house engineer averages 3.5 hours per trailer using Auto Cad computer to build trailers and to customize changes. Once the floor plan is decided on by dealers and customers, the engineer and conversion company make plans. Merhow's factory is in Northern Indiana, right in the middle of RV country next to the largest suppliers and many conversion companies. Still built by hand, one at a time, Merhow is an original with a long pedigree. Merhow used to be thought of as an Eastern trailer, now there are dealers coast to coast.  www.Merhow.com
Verylite, the high end heavy duty all aluminum trailer featuring 6061-T6 aluminum alloy in all key areas. Complete 8-year warranty.  The extruded sidewall sections are .060 thick and feature special welding strips to reduce the weld marks where the material is welded to the sidewall uprights. The Verylite aluminum trailer is built for strength.  The aluminum interlocking floor planks are 1" tall and are supported by 2 x 4x 1/8 I-beams placed on 12" centers.
3M VHB bonding  on roof and walls, exterior baked enamel aluminum attached using 3M VHB two faced tape for a better look, easier to repair, heat doesn't affect it, doesn't bubble like rivets can. Two face tape eliminates screws and rivets that can rust and leak.
| | | | |
| --- | --- | --- | --- |
| | | | |
| Floor jig, keeping the floor flat | Aluminum floor I-beam cross members boxed in with angle and closed tubing | Wall jigs keep each trailer fitting the same | Trailer starts up on stands to stay square |
| | | | |
|  Corner post for the rear doors | Surface mounted hinge pin is graphite, no need for lube | Under the floor shows the cross members and side rail reinforcements | Rear frame hoop, the secret to doors that fit for the life of the trailer |
| | | | |
| --- | --- | --- | --- |
| | | | |
| The neck post becomes triple post with header beam interconnecting … |  …for strong wrinkle free reinforced neck posts. 93″ nose is plated, you cannot overbuild an 8′ wide | Goosenecks have changed since my last visit 3/16″ wing gusset for stiffest necks | Jack wall is strong with massive neck gussets |
| | | | |
| --- | --- | --- | --- |
| | | | |
| Massive neck is steel coated with… | …undercoat that you see on truck bedliner beds | Two set bolts and a thru pin and bedliner coating on the steel coupler | All exposed metal is coated. |
| | | | |
| --- | --- | --- | --- |
| | | | |
| The aluminum frame tubing is welded to the aluminum angle framing that caps the I-beam floor cross members. | This makes the floor rails 3 times as thick. Axle trolleys are undercoated then attached to the aluminum frame | Axle trolley integrates with aluminum angle frame rail which holds the closed tubing | A well braced TIG welded rear frame corner |
Merhow trailers starts here on stands to stay straight through the welding process, not depending on tires to keep the framework level. Extruded radius roof edges and rear corners are the anchors for the walls and roofs. Window frames are double posted. Edge extruded radius are boxed with 3/16″ plate above windows, doors and slide outs. A true unibody where the floor, walls and roof are all part of the frame.
Above left, rear corner fishplate reinforces the rear double posts and radius roof edge tie the rear door frame together. Next, stall post is well anchored to the roof and floor.  Double post at the doors, keeping openings square and doors fitting decades later. You can see the gussets above right that strengthen the slide out frames and jack wall. The Merhow aluminum skeleton is massive connecting the walls, floor, roof and neck to be solid. This is why you won't see wrinkled skin on a Merhow.
Extruded sidewall aluminum sheets interlock with built in support strips on the backside to weld to the wall posts without the weld burn on the outside. At Merhow, inside welds are common, to leave a smoother outer surface.

Manger and feed doors (picture right) are triple framed and made in-house, standard on Verylite. This is one of the many big improvements in the new Heavy Duty Merhow. More HD drop down feed doors below.
| | | | |
| --- | --- | --- | --- |
| | | | |
| Drop down doors with new easier handles | This is one way to tell a well-built trailer, heavy duty hinges and double framed drop down windows and manger doors | Feed doors, all beefier | Beefy bars protect your horse |
| | | | |
| Big drop down windows with heavy duty framing | Double ties, HD feed doors and ventilated manger dividers | Manger pan, funnels feed to the middle | Manger storage doors are built with heave duty hinges like everything else Merhow does |
Floors on Verylite
Interlocking tongue and grove extruded floor with cross members spaced every 12 inches, has ribs on the floor surface to keep the mats from sliding around on the Verylite model and provide more rigidity. The floor has many drain holes.
The AlumaStar is the newest addition with a full line of models to choose from, standard gooseneck, bumper pull, or living quarter models.  The AlumaStar comes standard with torsion axles, padded rounded tubular aluminum dividers, aluminum rivet fasteners, 32 x 26 drop down feed windows (in slant loads) and more.
| | | | |
| --- | --- | --- | --- |
| | | | |
| Undercoated steel gooseneck bolts to the aluminum main gusset… | …counter sunk bolts connect to main gusset, above gusset is plate to stiffen the gusset | Nose frame for the bottom trim | The neck is a strong truss |
| | | | |
| Replaceable jack |  Rear roof drip lip | Bus window wall frame | Dave Elchert believes in large drop down feed doors and windows |
Equistar, the high end coated steel frame trailer with a one piece aluminum roof and skin attached with 3M tape. The inside is all aluminum including roof bows and rear hoop with aluminum trim. The  floor frame is undercoated and then treated wood is taped and screwed to it to stop floor squeaks . Complete M-ARMOR 8 year warranty. Aluminum rounded stall dividers are standard. Bumper pull trailers have double A-frames.
Construction
| | | | |
| --- | --- | --- | --- |
| | | | |
| Wood plank flooring is screwed to the stringers and taped for a quieter floor | Coated steel frame | Axle framework and steel frame are undercoated. | Unibody steel cage is reinforced for ramps and wing doors |
| | | | |
| Floor frame tubing reinforced around the 1/4 inch wall axle saddle and again double framed in the tongue | Bumper pull trailer tongues are double framed steel. | Steel floor jig keeps the floor level during welding | All the ends are capped. 1/4 inch tubing frame, not C-channel. 3/16″ angle cross members. |
 Bumper pulls can have front windows, nice for light and horses don't think they are loading into a cave. Side crank jacks are at the rear of A-frame tongue for better leverage when cranking and out of the way of your trucks tailgate. Nice when using a truck camper. This allows easier hitching to the tow vehicle.Bulldog couplers on bumper pull trailers are an improvement (picture right.)
Sliding Straight Load or Carriage Transport
Take an eight ft. tall straight load trailer, then make the divider slide to the wall. Now you have room for the carriage. This particular trailer has a box stall up front with a side and rear ramp. Why not build your trailer the way you want?
Merhow axles have Dexter Nev-R-Adjust and Nev-R-Lube for the way we really service our trailers, just like your front wheel drive car, sealed wheel bearings have been around since the eighties. And self-adjusting brakes take the worry out of knowing how well your brakes work no matter how often you tow.Verylite door hinge pin (right) are graphite, so they must be Nev-R-Grease-the-Hinge. The theme here is low maintenance, less worry. Think about future resale value, as a horse trailer well maintained or a trailer with these new features will be on the shopping list of future buyers.
LED lights with the right height on the tail are standard as well as the jack wall rock guard on Merhows.
LQ and Dressing Room Step
Merhow step folds up below the door. It lifts up but doesn't block the door. Merhow does lots of business in Canada where roads can be very rough, this step doesn't plug up with rocks.
Merhow as a tall trailer has more room in the neck bedroom. Seven and a half and eight ft. tall trailers give you choices, but the eight ft trailer opens up the bedroom space. Using several brands of conversion companies also give you more choices for your Living Quarters. Merhow builds their own all aluminum slide-out rooms to control strength. So your trailer never goes down the road with a hole in the side to the conversion company.
Living Quarters and Slide-Outs
Merhow sells 60% of their trailers with Living Quarters. The slide out opening is braced, anchored and reinforced. The 1/8″ radius top edge is boxed in above the slide out. 1/4 " thick gusset plate top and bottom next to opening. As seen in the left picture, the bottom has a 1/4″ gusset to brace the slide out opening and a 1/4″ thick gusset standard for bracing the neck posts. The wider posts at the neck are 1/4″ thick. Extra roof bows above the hole.
Norco premium slide moves all 4 corners evenly. This self adjusting, balanced cable system is used in many RV's.
| | | | |
| --- | --- | --- | --- |
| | | | |
| Slide-outs are all aluminum, see the floor braces. One strong slide-out frame, Merhow builds all of its slide-outs | Look at the header beam at top of slider, gusset is welded to beam then plate welded on top of that for the cable guide | Slide-out drive is anchored to the header beam that runs the full length of the trailer | The side-out is matched to trailer wall, three windows and lots of room |
Roof
One piece aluminum roof.  Roof sealant applied with care, stays pliable looks great. Rubber sealant never hardens, is self leveling and is used on expensive Class A motor homes. Roof bows are taped to prevent vibration, Tape can move with roofs expansion and contraction. This double sided tape secures the exterior walls too. Rear roof edge has an overhang with a rubber edge guard.
This roof is smooth with less wind drag. One of the best looking roofs in the industry.
Good looking stall divider, lined and insulated, light in each stall,  with max air flow
Classy Curved Stall Dividers
Love the stall dividers, round tube like an expensive horse barn would have. Well padded, spring loaded and good looking!! One hand operation, made with 6061 T6 aluminum. Something about curves, they just make you look. Stud divider above, that slides off quickly when you don't need it. Rear stall divider doesn't need an extension as they fit well against the tack wall with no corners & a 60/40 rear door, your horse will have no problem loading. Above right, bending press.
This will make you feel safe, look at the braces, gussets and beams between the slide-out and the jack wall (click on picture). Merhow still uses auto cad to adjust for custom trailers, everyone wants something different and this is the economy to get your way. Merhow floor frame rails have a triple thickness with aluminum angle and tubing anchoring the I-beam floor cross members, diagonal bracing in the walls and a header beam for a trailer that flexes only at its suspension.
The right spread on the 4 brake light LEDs can be seen by the guy behind the guy behind you.
| | | | |
| --- | --- | --- | --- |
| | | | |
| The steel gooseneck frame goes all the way back to the jack wall | Bows are doubled reinforced for ac… | and roof bows are braced together, for maximum strength | Big windows with a light in each stall 30 x20 buss windows standard |
| | | | |
| All aluminum cam latches on the doors eliminate rust | Mud room/ mid tack keep your LQ clean | I think all trailer doors need storage bins | Tall slight angle on wheel wells on 8′ wide trailers, keeps horses from climbing on them |
I tested the ladder on the heavy duty hay rack, my 280 lbs didn't move it. Merhow has one of the strongest hay racks I've seen. Even the top rail will support weight.
Ramps 4.5ft ramp instead of 4 ft. for less slope to climb
Ramps are to make it easier for your horse to load, so the longer the ramp the better. Springs between each greasable hinge help lift the ramp. Picture left, shows just how easy the ramps lift up. The ramp rubber is improved for better grip. The twist in ramp spring is preloaded a 1/2 twist so the ramp can always land on the ground.
| | | | |
| --- | --- | --- | --- |
| | | | |
| Attractive full width ramp,  look at all the springs on this built on ramp | Ramp has no gap to trailer floor | Covered ramp hinge keeps springs clean and protects your horses feet | Diamond plate rock guard adds to the good looking ramp |
| | | | |
| Light easy one-handed lifting ramps, since you have to raise and lower to use the door |  Ramps are insulated so theydon't sound hollow to a horse. | When ramps are built into a trailer it looks great and seals better | Side ramps have extra frame gussets to keep wall strong |
Manger Storage
Merhow's manger storage has carpeted walls and a removable wall at the rear to slide in ladders and long stuff. White hose (picture left) is the drain from the manger trough. Carpeted wall below manger and rear tack for bridle hooks quiets hanging tack. White bottom panel (picture right) is the same removable panel as seen from the outside for the long stuff.
Wrap around rear hinges on AlumaStar and Equistar allows doors to swing and lock to the side of the trailer

Four face mount hinges for the Verylite tall trailers

 

Even the screen door has a kick plate
Does your light have a horse around it ?
Optional fans help in the lined and insulated stalls
Rain gutter over the door, you know they are built for wet country
Big butt bar, sounds like a rap song
Straight load head divider
Rear Collapsible Tack
Having a removable rear tack and removable center post, gives you so many choices from loading your golf cart to hauling hay and moving your kids to college. The Verylite rear double framed doors and seals, interlocking flushmount 60-40 doors for a 50 inch horse opening is very versatile.  The rubber gasket all around in the door channel opening on Verylite creates a double seal door with a recessed gasket for a great seal for controlling the weather in the horse stall and keeping your tack dry. Cam latches above and below the doors brace the rear doors like semi-truck trailers.
As seen in this picture, the collapsed tack wall and removable post gives you options.
| | | | |
| --- | --- | --- | --- |
| | | | |
| The Verylite rear doors are sealed like the rest of the horse area | You wouldn't know the center post comes out | The center post does come out, great job of precise fit | Now your tack can stay dry in a rear collapsible tack room |
Tack Rooms
Notice all the bridle hooks picture left. Rear tack wall will fold or remove as will saddle tree. Two blanket bars and brush box (slant loads) and carpeted bridle wall. Adjustable saddle rack in the Verylite goes up and down. Saddle rack in the front tack folds against the wall when you want more room in the dressing room.
 One thing to look at with a horse trailer manufacture that is 50 years old, warranty issues haven't caused problems and resale value on a trailer goes along with a long history. As a smaller family company, changes and improvements happen sooner. Changes can be made anytime prior to production.
60% of RV's come from Elkhart IN giving Merhow the bulk of suppliers and workforce in their backyard. Living Quarter conversion companies are nearby as well. This gives you many choices to finish a Merhow the way you want.
Doesn't that look inviting, light with lined walls and with the insulated roof option for noise reduction and cooler in summer, it's horse travel 1st class. Rounding slotted dividers, make the interior open and non threatening. Double taillights in the right place to be seen close up and back. As seen in the left picture, the rear stall divider folds against the tack wall without needing an extension.
Breast Bar
This is just not a breast bar, but a 8″ padded gate in a straight load with slam latches. Left, hinges everywhere, in case you need it to take a trailer apart to get a down horse out safely.
Merhow's wrap around door hinges are made to fold around the trailer out of the way and out of the wind. Hinges are heavy duty.
Merhow takes sealing seriously. Every window and seam is caulked, even the floor. The more you look at Merhow, the more details you'll notice. 
The gray and black tanks are tucked under out of the way close to the axles. This is where being in "RV Country" pays off. Top RV suppliers bring the latest RV innovative products to Merhow.
| | | | |
| --- | --- | --- | --- |
| | | | |
| Grease fittings on all access doors and ramps. | Special lights for trailer inspection. | It takes talent to cut and install the rubber wall  and ramp liner. | Where wires go through the frame, Merhow uses grommets to protect the wire |