Trucks Pulling Trailers and Trailer Accessories
Intelli-Hitch adjustable receiver hitch with built in trailer brake controller
Centramatic Automatic On-board Tire and Wheel Balancers
Merhow, 50 years of Horse Transportation Experience.
review and pictures by H. Kent Sundling (MrTruck)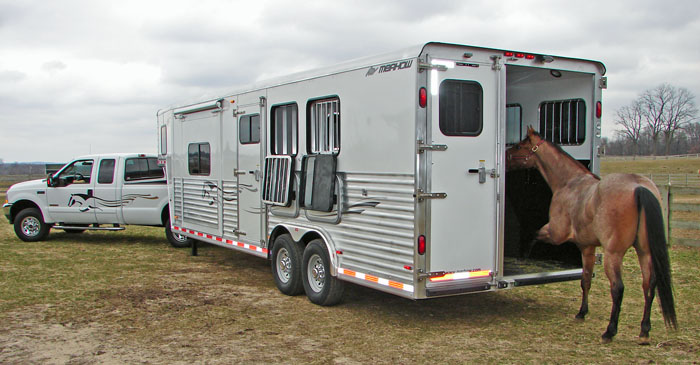 The Horsepitality Company – Merhow Horse Trailers. Starting in 1955 with straight load trailers for English riders, Merhow expanded to three trailer lines with the latest in trailer technology and popularity. From aluminum over steel trailers to all aluminum. Known for quality, Merhow is a trailer your grandfather can tell you about. Customizable trailers with a history of Beauty and Brawn. The in-house engineer average 3.5 hours per trailer using Auto Cad computer to build trailers and to customize changes. Once the floor plan is decided on by dealers and customers, the engineer and conversion company make plans. Merhow's factory is in Northern Indiana, right in the middle of RV country next to the largest suppliers and many conversion companies. Still built by hand, one at a time, Merhow is an original with a long pedigree.
Dave Elchert bought the company in 89, he knows Merhow horse trailers and personally takes the calls from folks needing parts for 30 and 40 year old trailers. Dave is a Marine veteran who loves horses. His discipline keeps things moving ahead, on schedule at Merhow. I had a hard time keeping up with Dave on my factory tour. Dave believes that making happy customers make happy horses, we're all part of the circle.At Merhow, skilled workers specialize in each area of the trailer manufacture process. Last year Merhow had a style change from olive green aluminum bottom trim to thicker extruded aluminum reinforcing the steel outer rail. One thing to look at with a horse trailer manufacture that is 50 years old, warranty issues haven't caused problems and resale value on a trailer goes along with a long history. As a smaller family company, changes and improvements happen sooner. Changes can be made anytime to production.60% of RV's come from Elkhart IN giving Merhow the bulk of suppliers and workforce in their backyard. Living Quarter conversion companies are nearby as well. This gives you many choices to finish a Merhow the way you want.

Doesn't that look inviting, light with lined walls and with the insulated roof option for noise reduction and cooler in summer, it's horse travel 1rst class. Rounding slotted dividers, make the interior open and non threatening. Double taillights in the right place to be seen close up and back. As seen in the left picture, the rear stall divider folds against the tack wall without needing an extension.
.All Living Quarter trailers and all straight load trailers are 7'6″ tall inside for greater horse comfort. All trailer sidewalls are fully lined and insulated from top to bottom. The all aluminum Verylite Living Quarter chassis features huge 32″ x 26″ drop down feed windows with independent face guards, complete ceiling insulation and L.E.D. exterior lights. A two-way roof vent and stall light is provided for each horse.
White exterior baked enamel aluminum attached using 3M VHB two faced tape for a better look, easier to repair, heat doesn't affect it, doesn't bubble like rivets can. Two face tape eliminates screws and rivets that can rust and leak. Grease fittings on all access doors and ramps. All exposed metal is sprayed with truck bedliner. Heavy duty padding on all dividers. Rubber lining on stall, bulkhead and toe walls is 36". Rubber lining on butt wall is 48".
One piece aluminum roof is sealed. Rubber stall mats. One light in each stall and rings for feed bags. Horse ties are bolted all the way through the wall as are hinges. Choice of custom graphics. All pass through doors have windows.
 Merhow has 2 lines of horse trailer designs, Equistar and Verylite.
Aluminum roof and skin over steel chassis with wood plank treated floors. Optional Rumber or aluminum flooring. Complete 5 year warranty. Coated steel frame with full undercoating. Painted tubular steel stall dividers, roof bows and rear hoop are aluminum. Aluminum stall dividers are also available.
All-aluminum trailer featuring 6061-T6 aluminum in all key areas. Complete 5 year warranty.  The extruded sidewall sections are .060 thick and feature special welding strips to reduce the weld marks where the material is welded to the sidewall uprights.Aluminum interlocking tongue and grove floor with cross members spaced every 6 inches. The Verylite aluminum floor is.125 thick.
It's a Beautiful Nose
Horse graphic from the trailer exterior wall is new to the cast aluminum nose radius caps. The welds are on the inside to give a smooth good looking nose. Subtle and cool. I want them for my truck. This is the new look for Merhow. Soft radius nose like Airstream.The company is 50 years old, but the design, style and structural integrity is all modern. Metal and aluminum have evolved and so has Merhow. For less drag and ever popular short bed trucks, Merhow goosenecks angle in 2 feet for the narrow modern nose.
Roof
One piece aluminum roof.  Roof sealant applied with care, stays pliable looks great. Rubber sealant never hardens, is used on expensive Class A motorhomes. Roof bows are taped to prevent leaking, Tape can move with roofs expansion and contraction. This double sided tape secures the exterior walls too.  Rear roof has an overhang with a rubber edge guard.                   This roof is smooth with less wind drag.                    One of the best looking roofs in the industry.
Classy Curved Stall Dividers
Love the stall dividers, round tube like an expensive horse barn would have. Well padded, spring loaded and good looking!! One hand operation, made with 6061 T6 aluminum. Something about curves, they just make you look.
Stud divider above, that slides off quickly when you don't need it. Rear stall divider doesn't need an extension as they fit well against the tack wall with no corners & a 60/40 rear door, your horse will have no problem loading. Above right, bending press.
Breast Bar
This is just not a breast bar, but a 8″ padded gate in a straight load with slam latches. Left, hinges everywhere, incase you need it to take a trailer apart to get a down horse out safely.
Ramps
Light, one-handed spring-loaded ramps with grease zerks. Ramps are insulated so they don't sound hollow to a horse.  When ramps are built into a trailer it looks great and seals better. Replaceable latch, bolt clear through the door. Seal around doors.
| | |
| --- | --- |
| | Covered ramp hinge protects your horses feet and keeps the ramp hinges cleaner. |
8 Foot Trailer Fender Slanted Cover
Tall slight angle on fenders on 8′ wide trailers, keeps horses from climbing fenders. Good job of padding fender & 48″ butt wall.
Axle Frame with Aluminum Floor
Massive steel frame for the axle framework, 1/4″ steel tubing is double framed where the angle iron attaches it to the rigid aluminum floor and frames the floor opening for the axles. Extruded aluminum rail is welded to the floor and the steel rail bolts to it and the axle frame. Then aluminum trim goes on the outside of all that. Call it a sandwich of strength keeping the floor straight and solid.
Living Quarters – Merhow Horse Trailers
Merhow sells 60% of their trailers with Living Quarters. The slide out opening is braced, anchored and reinforced. The 1/8″ radius top edge is boxed in above the slide out. 1/4 " thick gusset plate top and bottom next to opening. As seen in the left picture, the bottom has a 1/4″ gusset to brace the slide out opening and a 1/4″ thick gusset standard for bracing the neck posts. The wider posts at the neck are 1/4″ thick. Extra roof bows above the hole.Norco premium slide moves all 4 corners evenly. This self adjusting, balanced cable system is used in many RV's.
Norco moves the slide out from all four corners. Works similar to a garage door system, but Norco cables automatically adjust and equalize. This popular slide out mechanism doesn't take much space away from the Living Quarters.
Great effort to line up the siding with the trailer and slide out. Skin goes on the slide out frame after it goes in the trailer and lines up with outside panels. A look to be proud of. Right, double jacks on a LQ. That's the way I like them.
I'm a fan of the Texas star, it just looks right in a horse trailer. Being next to RV country in Indiana, Merhow has several choices for conversion companies close by. Living quarters conversions by  Sierra, Showtime, Double Duty, Har Mar, Custom Conversion and Precision Quarters are just a few that are located in the immediate vicinity of Bristol, Indiana. I like an optional grill gas outlet. Top right, can't have too much gas, the horizontal tank is for the propane generator. Propane rack and battery box standard on LQ. Living Quarter's have loading lights standard.
Nice woodwork trim looks rich. Of course the toilet seat has a star. Bedroom with a sliding privacy door. Bunk beds are very popular as are mud rooms. Merhow engineers work closely with LQ conversion companies to get the quality & layout you want.
Floors on Verylite
Interlocking tongue and grove .125″ extruded floor with cross members spaced every 6 inches, has ribs on the floor surface to keep the mats from sliding around on the Verylite model and provide more rigidity. Steel rail the full length of the trailer and neck. Counter sunk bolts in the steel rail for the 1/2″ bolts. The floor has many drain holes.
 LQ and Dressing Room Step
 Living Quarter and dressing room step is heavy duty with a latch. You're not going to drag it off.
Goosenecks
Make it strong then cover it up and make it pretty and stronger, that steel rail runs the full length of the trailer, then is covered with aluminum trim.
Steel rail is welded and bolted in neck, countersunk 1/2″ bolts in floor rail and neck. All exposed metal is bedliner coated.
You can see the large metal box frame and gussets in the gooseneck. Big 1/2″ bolts in the frame rail and neck and extra steel plates in the angles are bolted and welded on the inside of the upright angles under the neck. Another metal sandwich, we should call it multiple plies of metal. You can tell the floor and neck are stiff when you tow a Merhow, the trailer is tight and the axles move not the whole trailer.
Steel Framework, Equistar
Unibody steel cage reinforced around the axles and again double framed in the tongue.  All the ends are capped. Tubing frame, not C-channel. Angle iron cross members.
On this steel bumper pull frame, you can see the double frame tongue that goes under the trailer frame and attaches to the side rail. The frame is undercoated. 1 1/2″ X 1 1/2″ X 3/16″ angle iron cross members. Side rail are 2″ X  4″ tubing that is capped on the end. Where the horses front legs stand in the trailer, the frame cross members are closer together. Above right, no it wasn't lightning but frame stiffener (camber.) Axle framework and steel cage are undercoated.
Aluminum, Verylite
Merhow trailers starts here on stands to stay straight through the welding process, not depending on tires to keep the framework level. Extruded radius roof edges and rear corners are the anchors for the walls and roofs. Window frames are double posted. Edge extruded radius are boxed with 3/16″ plate above windows, doors and slide outs. A true unibody where the floor, walls and roof are all part of the frame.
Above left, rear corner fishplate reinforces the rear double posts and radius roof edge tie the rear door frame together. Next, stall post is well anchored to the roof and floor.  Double post at the doors, keeping openings square and doors fitting decades later. The wall sits in the aluminum side rail channel that's welded to the floor.
  Extruded sidewall aluminum sheets interlock with built in support strips on the backside to weld to the wall posts without the weld burn on the outside. At Merhow, inside welds are common, to leave a smoother outer surface.
You can see the front wall of the trailer is made for the gooseneck frame to sit in it. Steel framed gooseneck is finished with aluminum nose frame. Then the upright posts from the main trailer and the upright post of the neck frame are welded and gusseted together. An extremely well attached neck.
My version of time lapse photography, but you get the picture of the trailer body and gooseneck becoming one.
Below left is the aluminum 6061-T6 neck gusset that's large and 1/4″ thick. You can see all the framework that connects the trailer body and the gooseneck. Gooseneck framework has solid corners and diagonal bracing.
Below left is a Verylite bumper pull trailer framed. You can see the aluminum tongue frame going under the trailer. Next is LQ interior wall done right. Truss bracing in the neck sidewall, well insulated. Nose piece has welds on the inside for a smoother nose on the outside.  Look at all the braces. The neck is completely framed, than welded to the floor and walls with double posts and gussets.
Below left, extruded radius is boxed over the neck/wall union. Double framed windows and roof bow is reinforced in middle. Neck floor is welded threw the center, below. Refined nose with solid gussets in front and corners. Look at that wall. Merhow roof vents are closer to the horse's head.
Steel outer rail connects to axle framework 4″ wide and 1/4″ thick running the full length of the trailer. The aluminum trim goes on outside of the steel rail. The steel rail connects to the steel axle frame and up the gooseneck on the edge of the large neck gusset, clear to the front of the nose. No short cuts here.
Tack Rooms
Above left, the rear tack wall folded, removable saddle tree (1 per stall – up to 4), two blanket bars and brush box (slant loads). Also includes removable center post and independent rear doors with dual cam latches. Bridle wall is carpeted as is dressing room floor.  Adjustable saddle rack goes up and down and in and out 3 positions. Saddle rack in the front tack folds against the wall when you want more room in the dressing room.
Windows
Window latches in the middle, are easy to reach. Bolt on horse ties, can be replaced. Windows are caulked inside and out. Double framed around windows. I like windows in the bulkhead. Above right, this door connects the LQ and first stall.
Below Merhow is maneuverable. I towed it with a long bed, but the narrow nose and good bedrail clearance will fit most trucks.
Below left, easy to reach feed doors with latch in the middle, not on top. Next, one hand stall divider latch will work for everyone. Big drop down feed doors, face guards, screens and large finished storage compartments.
Merhow is serious about insulation. 1″ closed cell foam insulation in walls, bulkheads and nose.
Above, I towed this 3 horse Verylite with a 11′ short wall and 8′ slide out, over the rolling hills and winding roads south of Bristol Indiana.  It towed great. Right, last stall doesn't need an extension, it opens up wide and fits tack wall, look at all the room.
Open and wide, 60-40 rear doors that fold around to the wall out of the way and wind, plenty of room for the horse to enter. Fully independent rear doors showing saddle rack with adjustable height saddle holders, blanket bars, brush box, bridle hooks and padded butt bar. Good placement of rear lights, lower lights should be low for close traffic and high lights warn traffic far enough away.
Sprayed on bedliner on steel parts of the neck, and all exposed metal. Keeps the new look for years.
Safe padded manger set up. Detailed, finished like a LQ for your horse. The slats on the stall divider and manger allow air flow and light, two things your horse buddies like.
Merhow trailers are built on steel stands to stay square, straight and level through the whole welding process.
Bumper pull trailer tongues are double framed aluminum or steel.  Side crank jacks are at the rear of A-frame. This allows easier hitching to the tow vehicle. Tailgate is usable even when the trailer is hitched.
30 year old Merhow trailers come back to the factory for maintenance repairs and new paint. It pays to buy from a company with experience and longevity.
Merhow's offset door hinges are made to fold around the trailer out of the way and out of the wind. Hinges are heavy duty. At right, heavy duty hinges for stall dividers.
Merhow takes sealing seriously. Every window and seam is caulked, even the floor. The more you look at Merhow, the more details you'll notice.
Replaceable aluminum fenders have rubber guard on the edge, looks good. Gooseneck rail has the rubber guard too. If you bump your head hooking up those wonderful safety chains, you'll appreciate it.
The water goes in, the water goes out. I like outside faucets on LQ's. The gray and black tanks are tucked under out of the way close to the axles. This is where being in "RV Country" pays off. Top RV suppliers bring the latest RV innovative products to Merhow.
| | | | | |
| --- | --- | --- | --- | --- |
| | | | | |
|  Roll-Right 2 speed landing gear jack, chrome looks classy. |  Lots of chrome | An idea of how custom trailers are the norm at Merhow. | Narrow and long. | Unique color. |
| | | | | |
| --- | --- | --- | --- | --- |
| | | | | |
| Grease fittings on all access doors and ramps. | Heavy duty hay rack. | Special lights for trailer inspection. | It takes talent to cut and install the rubber wall  and ramp liner. | Big Trailers too. |
| | | | | |
| Rain gutter over doors. | Factory ramp trailer looks great. | Older model Merhow's you'll see over the decades still working for their owners. | Where wires go through the frame, Merhow uses grommets to protect the wire | Straight load, white, windows, airy, just a happy place. |
Merhow headquarters, beautiful downtown Bristol Indiana.  The trees have been around a long time too.Style change from olive green aluminum trim to thicker extruded aluminum.Merhow Magic is exceeding customer expectation.
Thanks to Colonial Ridge Horse Boarding and Don Miller from Bristol Indiana for the horse models.
Visit Merhow's website for more details, www.Merhow.com
      Review by H. Kent Sundling (MrTruck)
Couldn't throw away the extra pictures. There might me something here that would answer a question for you.