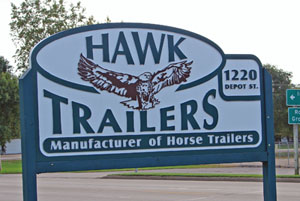 Hawk Horse Trailer Review;
The first thing that sets Hawk apart from the crowd is the brilliant paint scheme. Such sharp looking trailers with matching fenders, roof edges and graphics are painted on not decaled on. Hawk can even match the paint on your truck. It's a lot of fun touring horse trailer factories. The personalities behind Hawk Trailers have a vision for the future and a love for horses. My first trip to Manawa Wisconsin, not the first state I think of when looking for horse trailer manufactures. But it's still an area near steel mills and talented welders. Hawk is primarily sold in the Eastern US, Southeast, Midwest, and Canada not because we couldn't use them in the West, but because the factory is at full capacity supplying inventory to the dealers they have now. While in Ron Winter's office (Ron shown at right talking to customers), I saw the stack of dealer applications waiting to be approved when extra trailer production is available. The 3 owners of Hawk Trailers (Brian Timm, Sean Bruechert and Joel VanDenHout) are conservative and more concerned about quality than growth, a philosophy worth copying.
Usually I headline an article with a new trailer. But a used Hawk (below) could pass for new. I've seen several used ones now and even one rolled by a Tornado. That's a good way to judge a trailer or a truck. Find one 5 years old and see how they're holding up. There's a good reason Hawk owners are proud of their trailers. Proving that small companies with quality trailers paying attention to details and listening to their customers, can compete with the national corporations for trailer sales.
Instead of an assembly line, Hawk uses individual booths to handle all the different size trailers.  This prevents a large trailer from clogging up the line.  Also makes it easier to custom build trailers without affecting the flow.  Workers are trained to handle all the building jobs. This flexibility allows technicians to go work on any trailer. There are 26 standard models. In house engineers at Hawk help customers and dealers design custom trailers or rearrange standard models. Farther down the article I explain the raised "people" floor and ramps, yes I'm still raving about ramps. Check out all the pictures, at least a million, I mean several hundred.
Composite Process of Galvannealed, Gatorshield, Galvanized, Powder Coat, Fiberglass & T-Coat
Even "all aluminum" trailers have metal axles, axle frame boxes and metal gooseneck coupler frames. So a combination of materials seems logical, just as in the automobile industry. When talking about steel trailers, you hear about Galvannealed often. Just like in the automobile industry, using zinc coated galvanized metal is a mature technology, actually 100 years old. Metal has evolved to keep your new steel truck from rusting and now steel trailers use hot dip galvanizing called Galvannealed. Which is a brand name for a process where carbon steel is dipped in zinc and then heated to coat the metal with zinc-iron alloy. This is a bonding process which makes it superior to galvanized and makes the metal easier to paint and weld.  Now the next improvement to metal is Zinc- Iron electro Galvannealed steel from the electrolytic process.  Also another brand name for a metal treatment process is Gatorshield which is a triple layer Flo-Coat. The tensile strength in Gatorshield is similar to the frame on class 6 trucks. Hawk Trailers uses some galvanized,  some Galvannealed and a lot of Gatorshield galvanized metal in their trailers, each for their appropriate use. Don't let the tech stuff bore you, more exciting details down a few paragraphs.
Now we have the frame and interior walls covered. Then the floor is covered with the standard treated #1 Southern Yellow Pine or optional Rumber, insulation is added and then the outer aluminum sheets are taped into place. Next Hawk takes the trailer to the paint booth where it is caulked and covered with Epoxy. Taping is becoming the standard for aluminum sheets, allowing easier repairs from a traffic accident. Same with the fiberglass fenders, that bolt on, easy replacement. The aluminum sheets are pre-baked in either white or silver. This coating eliminates the need for acid washing the aluminum shell. You know low maintenance, just soap and water and your trailer is clean again.
Now add the one piece Gatorshield steel reinforced fiberglass roof to keep the water out, stay cool and is quiet. Then back to the paint booth for the roof trim, fenders and cool graphics. You can use the color code from your truck or SUV to match the paint. Color coordinated is my middle name. Folks will stop talking just to watch your rig pull up and then they will be excited or jealous. So much care goes in to the details, like fully removable powder coated interior parts, epoxy on all the metal, and painted on graphics. Black T-coated latches, bolts and hardware (right) is another detail to prevent corrosion. Developed for the military & used on boats, Black T is a combination of thin coat polymers so not interfering with latch function.
Replaceable color coordinated fiberglass fenders. We all know fenders are the first casualty of a tight corner. Fiber glass is lighter than steel, cheaper to replace than aluminum. Hawk uses extra core matting on the radius of the fenders. Reinforced fenders (right) you can see the bolts that hold the fender on (left.) I inspected a Hawk trailer rolled in a tornado, the fenders where undamaged even though the trailer was on it's side. Hawk adds aluminum diamond plate to the fenders that match the gravel guard up front.
| | |
| --- | --- |
| Z iron frame on the jig for the start of the trailer is galvanized 8 gauge steel. The Z iron is also used in gooseneck frame gussets. | 11 gauge tubing roll bar, frames the rear door. And yes it's designed for roll over protection. |
| | |
| --- | --- |
| Double walls all the way to the roof, Galvannealed sheet metal inside, strong and washable with soap and water. Insulated inside the walls, outside is aluminum for long lasting beauty. | Insulation makes for a quieter ride just like your truck cab. |
| | | | | |
| --- | --- | --- | --- | --- |
| | | | | |
| Aluminum skin is taped on. Easier to fix | Plasma cutter blowing windows | When the frame is galvanized steel, you don't have to "frame in" for the axles | Z iron frame reinforced to attach fenders. | Inside skin, double walled not just window level, all the way to the roof.. |
| | | | | |
| --- | --- | --- | --- | --- |
| | | | | |
| Hawk makes their own doors with stainless steel piano hinges | Piano hinges on tack/dressing room and LQ have a seal on both sides. | Tie downs are anchored to the wall posts | Gussets are added to LQ's as the steel liner is replaced with conversion components | Barrel hinges have grease zerks. Stainless steel pins and plastic bushings. |
Hawk Horse Trailer Review: Roof
#1 Roof frame jig for bows and reinforced plates for air vents and AC.

 

#2 The fiberglass process, harder than you think.
| | |
| --- | --- |
| #3 Impregnating the Gatorshield steel frame into the fiberglass roof. It becomes one and one piece, nice. | #4 When it's finished, it's gorgeous, strong and brings out light. Reinforced for vents, stall dividers and AC. |
| | |
| --- | --- |
| Lets see you walk on a RV Roof, left. Roof fits the walls and nose to a T, (right.) | I wanted to show you that the fiberglass top is white, from the side you just see the matching paint. It's one cool roof. |
Raised Dressing Room-LQ Floor
| | |
| --- | --- |
|   | Pay attention here, this is unique, Hawk raises the floor on dressing rooms and LQ's. So the urine, water etc, doesn't roll under the wall to the dressing room smelling up your area. This also gives you a flat door threshold, easy to enter and sweep out. Great idea ! |
| | |
| --- | --- |
| Raised LQ floor frame, such a unique feature. And it provides the perfect place to mount and protect the holding tanks for your LQ. | Dressing room flat floor, no threshold, great for sweeping out, staying dry and not tripping over. |
Rumber is my favorite option, with it's 20 year warranty. Forget mats, forget wood. Made out of 65% recycled rubber, 35% recycled plastic. It has a surface like rubber mats for traction. Tongue and groove so it fits like wood. But it won't splinter, rot or crack and no maintenance. And it's only a few hundred dollars more than wood. A wise investment.
  Ron Winter (sales manager) built a trailer using the ideas we had on the forum at HorseTrailerWorld.com using my survey. Ron gets points for listening to us.
Most of the features on the list can be added if not ordered that way. We're talking 4 LED tail lights, an organizer added to the tack/dressing room, bucket attached to the outside, open slatted stall divider, rear spot light, more outside ties etc.
Ramps
It's no secret I'm a fan of ramps. Ramps are standard on Hawk trailers. You can choose other doors too for a slant load and with rear tack room you can have 60/40 doors. Hawk trailers are not high off the ground and can be stepped into easily enough, but this is what I talked about earlier, that vision thing from the owners of Hawk trailers, they want safety first for your horses.
Hawk ramps are strong but light. I like ramps, put them on both ends and I'm even happier. If I was a horse I would want to walk in and walk out, forget reverse. Side ramp hinges (right) are covered and seal up well when closed.
Rubber covered ramps are spring loaded and built into the trailer, not an add-on. This makes it look sharp and not stick out like a delivery truck. You know what I'm talking about.
Spring loaded ramps are standard with storm doors. The walls and doors are fully lined and insulated. With the fiberglass roof, windows galore and opened storm doors, you have a comfortable ventilated summer horse transport. Close it up and your are ready for winter. The galvanized steel framed fiberglass roof and insulation make the trailer quiet also.Our horse model was an Arabian Pinto (below) 14.3 hands. And his friend Judy Barth modeled loading and closing the easy ramp. We appreciate the help from Jeff and Judy Barth of Sunset Ranch with their beautiful Egyptian Arabians. Judy is 5'1″ and had no problem lifting the ramps.

85% of Hawk owners are women, you know, the smart and picky ones. Check out our loading pictures below.
Goosenecks
Yes Hawk passed my test for reinforced necks. On flatbed trailers I've owned decades ago on the farm, I actually pulled a few necks apart. When a gooseneck becomes a bumper pull accidentally, that made me nervous. When we fixed those necks I learned what to look for. Hawk gooseneck frames use the same main frame galvanized metal and are epoxy coated after the welding is done. As the pictures show, the metal isn't butt welded, it's lapped over and shaped and fish plated.
Hawk Horse Trailer Review: Yes More Details and Custom trailers below
Sealed fuse box like your truck, with emergency break-away battery. The black wire in the fuse box gives you a constant hot wire when the trailer is connected to the truck. You can turn on dress area, horse area, and load lights without turning on your clearance lights.
Pads, everywhere your horse goes, all Hawk trailers have the head bumper at the rear opening above door (left). Pads are on the side walls and dividers for the side by side trailers and on the dividers on the slant loads.
Light interior, bulkhead window, it's just plain inviting. Bulkhead window slides (right). Feed bags are standard. Solid center dividers and head dividers are standard. Tubular dividers are optional. Plenty of happy horse options.
The dividers are all made to completely come out of the trailer. This helps move your teenagers to college and you could take the insides apart by hand to get a spooked horse out of a jam. The divider posts are anchored to the roof to allow the divider to swing and not need a rear post that just gets in the way.  All removable interior parts are powder coated. This means the stall dividers, breast/butt bars, and posts. Butt and breast bars are self aligning to their pins (right).
Cam latches on full rear doors (left). Hawk has shields over the operating rods for the cam latches on upper storm doors (Doors over Ramps) right.
A butterfly latch with paddle latch can be used on walk out and escape doors for extra safety and security This works out great on a living quarter trailer with a escape door for the first horse. You can open the door from the inside to get out of the trailer. Another unique feature for adding convenience.
I like cameras for seeing the horses and backing up. Makes since to utilize the latest technology for safe backing.One of my favorite safety features (right) Weight Distributing Hitches. Very glad to see WDH spring arm brackets option.
The outside skin is on (left) and the roof is up on blocks waiting to be fitted. Seeing trailers go from start to finish is a thrill watching Hawk Trailers do it right.
Tornado, this gooseneck of 2001 vintage was tossed around by a tornado and landed on it's side. Very little damage, just a crack in the roof and minor scrapes. The reinforced fiberglass fenders held the weight of the trailer as it landed on it's side. The fenders were just scratched.
Hawk Horse Trailer Review: Custom Trailers and Miniature Horse/Llama
Hawk Trailers make custom miniature horse trailers. Cute as a button miniature horse and llama trailers. Made like their bigger cousins. Yes mini's have ramps along with personalities. I may have to go in the mini business!
Hawk Trailers also custom builds horse trailers for the Equispirit Trailer Company.
Can't keep Ron away from the horses, shown here in conference with his horses, Smokey and Dancer. Ron Winter and his wife were trailer dealers for years before coming to Hawk. This gives Ron a unique understanding of what customers want and what trailer dealers need to give those customers what they want.
Ron's talking to more customers, classy Egyptian Arabians from Jeff and Judy Barth of Sunset Ranch.  Ron Winter, a Viet Nam Vet, kept Hawks flag from 9/11. I'm still amazed at how affected we all were by 9/11 as I travel around the country.
Can you tell which trailer is 8 years old (left)?  I told them to stop parking used trailers next to new trailers, I get confused. Can't tell the story without loads of pictures to load.
For more info www.HawkTrailers.com