2011 Heavy Duty GM's, More Power, More Frame and More Suspension
by H. Kent Sundling  www.MrTruck.com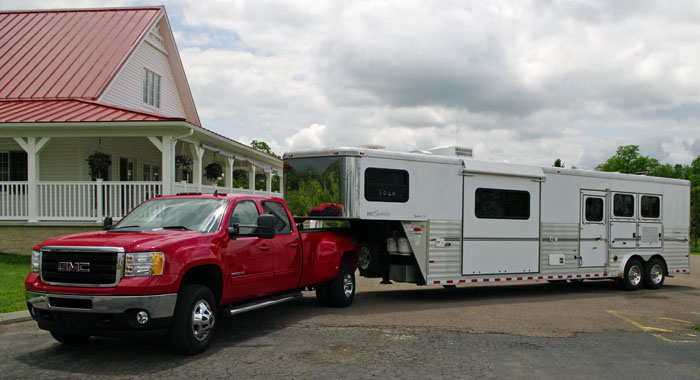 In 2007, GM truck had major improvements with fit and finish, after 30 years got rid of the side terminal batteries along with shoulder belts built into the sets and finally cruise control went from the blinker stem to the steering wheel, I was happy. Now for 2011, GM went massive truck improvement, as in frame, suspension, payload and towing ability puts Chevy and GMC HD trucks at the top of their segment. It's improvements we all want and of course the power and fuel mileage have also improved. The new suspension keeps the power under control and tires planted on the pavement. The new exhaust brake adds stopping power to grade shifting from the Allison tranny and larger brake rotors this year.  If the integrated trailer brake controller were on the right side of the dash, I might call it the perfect diesel truck made for your largest trailers.
New in the heavy duty model is the high end Denali. Ford's King Ranch now has competition with you owners that spend my kind of all day time in your truck. The big changes are under the skin. The body hasn't changed significantly, just more breathing room for the Duramax diesel with a wider center hole in the bumpers.
New steering box, ratio's and linkage add up to tighter steering changes and the new Hydraulic body mounts on the C-pillar, improved the crew cab ride. It's a truck that takes the work out of all day towing on what's left of our Interstate highways and finally a 36 gallon fuel tank to find the cheaper fuel at the next town.
GM took us to the "outback" of Maryland near Flintstone. I started off towing a 12,800 lb horse trailer, 8.5′ wide up switchbacks on a logging road with a 3500 Sierra Duramax (LML 397 hp, 765 torque) diesel dually. It was fun dodging trees with the truck mirrors, but the truck was easy to control. The Allison grade shifting and the new exhaust brake kept my foot off the brake. The exhaust brake closes the vanes on the turbine side of the turbo to create back pressure. It's fully integrated with the Allison 1000 6-speed automatic transmission. The exhaust brake has an on/off switch with four operational modes: tow/haul mode engaged, tow/haul mode disengaged, cruise control on and cruise control off. So you can toggle down gears by switching from auto to manual with the cruise on, it's just too easy.
The new GM steering was smooth and easy, I could see the trailer brake controller gain in the instrument cluster close to the gauges I watch. 12,800 lb horse trailer held 4th gear well, kept it right under 3000 on a 9% grade.172 degree tranny temp over hills in Maryland showed how little work the Allison transmission was doing. Using tow haul mode, down shifts are early to hold for more braking, holding range longer so less gear hunting which is fully integrated with the exhaust brake.
I then towed a 10,500 lb skid steer trailer with the new comfy 2500 Denali  6.0L (360 horsepower and 380 pounds-feet of torque) V-8 gasser and  3.73 axle ratio. The gasser held 5000 rpm long in tow mode then shifted at 5600 RPM, dropped to 3500 RPM for the next gear which is a good range for staying in the power band. Variable valve timing, along with a strengthened version of the Hydra-Matic 6L90 six-speed automatic transmission including a larger output shaft, has more low-rpm power for towing.
The new rearview camera, stays on for a few seconds after reverse, which is neat for double checking, the trailer hitch. OnStar, saved us more than once with onboard directions when we were lost in the Maryland media launch,  we just pushed the OnStar button, told them were we wanted to go and the new directions were beamed to our truck with turn by turn navigation just like the Starship Enterprise.
Brakes.
And they get better when loaded, 14″ rotors, almost the same size front and back with more than an one inch increase, and proportional brakes that can change pressure front to back where the most brakes are needed with a load. I remember on the farm driving mostly on dirt roads. That gravel ate my trailer brake magnets, so I knew my trailer brakes wouldn't always work, duals helped but GM can balance brake pressure to help with the tongue weight of a trailer pushing on the wrong end for max braking. The hydroboost brake booster calibration takes less pedal effort.
2011 GM SRW trucks have trailer sway control with integrated trailer brake control, to brake the sway out of a conventional trailer if the problem arises. A big deal for trailer safety. With hill start assist, the truck and trailer brakes hold a couple seconds while you go from brake pedal to gas pedal. The revised Allison auto has automatic grade braking, intelligent brake assist and exhaust brake on the Duramax diesel. Towing trailers is getting safer and easier.
Denali and friends waiting for us to chow down and hit the road.
Suspension
New asymmetrical design is from unequal front and rear spring half lengths, which minimize axle hop and enhance traction control efficiency better than anything I've had on pavement. StabiliTrak electronic stability control system on all single-rear-wheel models greatly improves an empty trucks handling on slick roads. New overload spring frame bumpers are now adjustable with different pinion angles and longer wheelbase to dial in the rear suspension.  2500HD models feature a two-stage leaf-spring design, while 3500HD models have a three-stage design. All models feature 3-inch-wide leaf springs that are 20-percent wider than previous models.
The larger leaf-spring design supports increased rear gross axle weight ratings across the board. On the 2500HD models, the rating is 6,200 pounds, up from 6,084. On 3500HD models, the rating increases to 7,050 pounds on single-rear-wheel models and 9,375 pounds on dual-rear-wheel models – the latter representing a nearly 14-percent increase over the previous 8,200-pound rating.
2011 GM 3500 duallys can tow up to 21,700 lb gooseneck/5th wheel trailers with a 6635 lb payload. GCWR is 29,200 lbs, 17,000 lb conventional trailer without weight distributing. That's impressive, SRW (single rear wheel) trucks are rated at 13,000 lbs conventional trailer without WDH (weight distributing hitch) and DRW (dual rear wheel) trucks are rated at 17,000 lb without WDH.
The independent front suspension has forged steel upper control arms, cast iron lower arms with bigger shock towers and a pair of urethane jounce bumpers on each side, instead of one. Torsion bars and torsion bar attachment frame is larger and adjustable. 5 different torsion arms rating instead of one. The trim height is adjusted on each bar via a single bolt, easily allowing the height to be changed to account for the weight of a snow plow or other accessories
Hydraulic rear cab mount for GM HD's have improved the ride for a noticeable difference after Dodge HD did it last year, 2010. I've driven the 2010 Dodge 3500 dually Mega cab, Ford F350 dually crew cab and a 2011 GMC Denali crew cab dually back to back. GM for me felt the softest ride.Like semi-trucks with air ride, air cab and air axles, what worries me is with better riding trucks, the Interstates will just keep on getting worse and we won't notice it as much. Towing trailers on Interstates this year, which we should rename, Off-road states, my rig has broken headlights, broken batteries and key locks that have popped out on impact with potholes.
Mark Cieslak, vehicle chief engineer explained the new frame, which is still 3 piece, hydroformed front section, the rest is boxed totally increasing beam stiffness by 20%, frame bending strength by 92%, and torsional rigidity by 5 times. It's easier to fine tune the suspension with a stiffer frame. Ladder frame cross members are welded instead of rivets with an extra round cross member above the spare tire. The rear frame section is welded down below the hump in front of the rear axle, last model had the frame seam right over the axle where your gooseneck hitch goes, picture left.
Larger wheel hub and bearing assemblies support the new brake system and the rear rotors attach to the wheel hubs for easier servicing. Larger bolt circles, longer wheel bases and wider tracks, it's just a bigger truck designed for the size of trailers and loads we really use.
All 4×4 applications can carry snow plows because of the 25% increase in 6000 lb front axle. The GMC Denali isn't the only pretty one,  the 2011 Chevy has a steel chrome bumper instead of the gaudy giant plastic chrome bumper introduced in 2007.
Gary Arvan, the Chief Engineer presented the latest LML Duramax version with best in class 397 horse power and 765 ft. lbs of torque. High-pressure (30,000 psi) Piezo-actuated fuel system for greater fuel efficiency (11% fuel improvement,) better performance and reduced emissions. Cooled exhaust gas recirculation (EGR) is dual cooled with a hot bypass. New injectors, pump, and a unique downstream fuel injector past the turbo just for regeneration keeps the heat out of the engine which is a benefit with B20 bio diesel compatible. New fuel filter on the Duramax diesel, better for trapping water, and filter switch for warning when filter needs changed. According to GM, the glow plugs on this efficient diesel will start in 3 seconds at 20 below zero.
The new emissions diesel uses urea (DEF) which basically costs what it saves in improved MPG (2% diesel exhaust fluid or urea). The tank is outside the frame under the passenger side of the cab, picture left. It holds 5.3 gallons with a range close to an oil change 5, 000 to 8,000 miles. The fill cab is under the hood (picture right,) easier for filling with gallon jugs but not as accessible for fuel island pumps.
Combustion and after-treatment have been optimized to provide about 700 miles between diesel particulate filter regenerations – a 75-percent improvement over the previous system and significant contributor to improved fuel efficiency, as the regeneration process requires extra fuel.
Kevin Wayman Chief engineer with Allison, explained the improvements to the new Allison 1000 6-speed auto. The torque converter has a new two sided lockup clutch, twice as much as before to handle the extra power from the LML Duramax. A new stator for torque multiplication  new valve body, modified clutches, stiffened case for drive train power and larger output shaft on 4×4's. Fifty-seven new parts, made for the extra diesel power and new integrated exhaust brake.
| | | |
| --- | --- | --- |
| | | |
| Though 4500-5500 are gone, GM still has cab & Chassis 3500 with a narrow straight frame and different rear leaf stacks | Judging by the beefier 2011 GM HD's, they are preparing for the SAE Trailer Standards for 2013 and proving what GM trucks are capable of |  I had a choice of trailers, you know which one I took. Horse trailers tow so much easier than RV's. Lower center of gravity, axles back farther, torsion axles and heavy duty construction |
| | | |
| Old A-frame, single shock tower, stamped upper arm | New A-frame, double bolt shock tower, cast upper arm | 14 inch Brakes almost the same size front and rear, an inch larger than old model |
Picture above is the rolling chassis with old C-Channel rear frame on the left side and the new totally boxed frame on the right. You can see the difference in the receiver hitch and safety chain brackets. It says "stronger."