Titan Trailers Ruff Neck Flatbeds, Made for Heavy Loads Every Day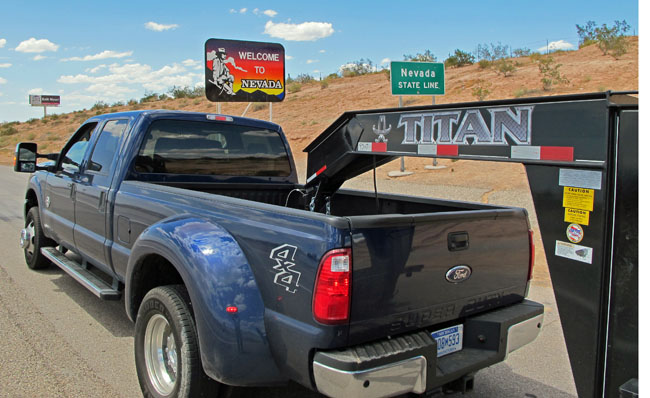 I've used flatbed trailers more that any other type of trailer. Hauled hay, wool, tractors, buildings etc. When I was in the custom haying business, I'd put a tractor with loader hooked to a big round baler on my flatbed and put up hay all over Colorado. I've had trailer house axles, triple axles, greaseable and oil bath axles. It's easy to overload a flatbed and I did many times on the farm.
I like Titan Trailers, made in Kansas with lots of iron. The Rough Neck's we used in our "2011 Heavy-Duty Hurt Locker Shootout Truck Comparison were tested with nearly 10 ton's of bricks, right at the maximum capacities of the new one ton Ram, GM and Ford dually's we used.
Titan Trailer provided us with the three brand-new, 30-foot gooseneck flatbed trailers. Each empty trailer had a curb weight of about 7,100 pounds. The Ruff Neck flatbeds feature tandem dual-rear-wheel 10,000-pound rear axles to support some of the heaviest loads you can tow with a pickup.
The 3 trailers had tandem dually oil bath Dexter axles, heavy duty slipper springs, 24′ flatbed floors with 6′ dovetails. The treated 2×8″ wood floors were 1 piece planks with angle iron hold downs on the ends. The ramps were 6′ wide glides, spring loaded deck plate that can be pinned in their upright position for more room for tractors. We pinned the ramps up to give us more wind resistance in testing truck speed at the Chrysler Proving Ground near Yucca Arizona.
All Titan's come with recessed sealed LED lights of course. These trailers had dual pin spring loaded jacks rated 12,500 lbs each. The springs in the jacks made hooking and unhooking up easy, which we did dozens of time in the truck comparison tests. Upfront is a big chain box with a lockable lid between the jacks. The trailer frame is coated with an automotive sealant. I reported on the DuPont paint process in my Titan Trailer factory review, Titan has the best paint of any trailer I've reviewed.
Under the floor planks are 3 inch C-channel cross members on 16 inch centers. The floor outside rub rail  5″ channel has stake pockets and round tubing for ropes and chains. The gooseneck uses the  same I-Beam as the frame, the Rough Neck version that we used, angles the neck I-beam down for a shorter stronger coupler tube. Titan's wiring is top notch also, conduit wiring, junction boxes at the axles and the trailer electrical wire at the neck goes to a junction box.
Loaded at almost 10 ton each towing 2200 miles from 50 to 110 degrees and up to 80 mph, we took the trucks and trailers to the extreme. Never a problem even with the severe brake tests we did in Arizona. Maximum load, 110 degrees and 80 mph, that's why were called test dummies.
Pinning the ramps upright gives you more loaded space for what you drive off.  The big springs make the 6 x 4 ft ramps easy to lift. 6 ft wide glide ramps give you full use of the deck. With the ramps in upright position, holes in the deck plate show lights.
3″ channel cross members on 16″ centers with braces, see how well the springs are attached. As the sign says, 10 and 12 % grades on the desert and 100 plus heat, this stretch was fun with a 90 degree turn at the bottom of the hill.
For more info;  http://titantrailer.com/
Titan Trailers Ruff Neck Flatbeds: By MrTruck