Featherlite Factory Tour, Ahead of the Curve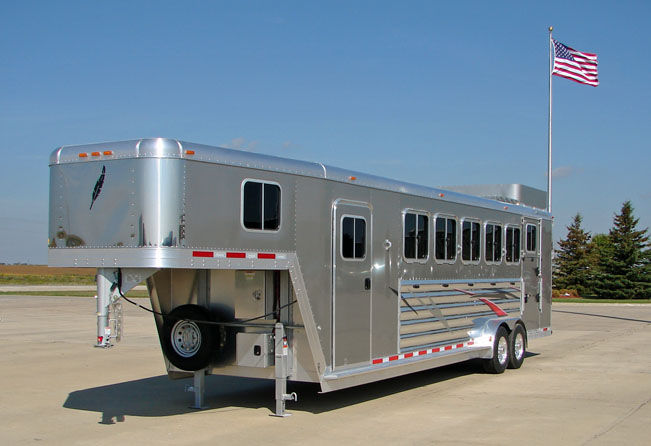 Acres of trailers, you could run across the rooftops for miles and end up in a corn field. Featherlite can pump out thousands of trailers a year, from horse trailers, cargo trailers, car haulers, NASCAR race trailers, specialty semi trailers, helicopter pads and portable emergency rooms for events like Katrina. Featherlite was the first aluminum specialty trailer born in 1973 when I was sophomore in high school. It will surprise you just how dominate Featherlite is in big event trailers. The new transferrable warranty program also showcases Featherlite's commitment to the customer. Featherlite's eight-year limited warranty now stays with trailers when traded in at a Featherlite dealer for a new Featherlite trailer. Featherlite Trailer Factory Review.
Traveled North of John Deere to Cresco Iowa, in the middle of corn country to see one of the most efficient trailer factories. Everything is streamlined, coordinated and innovative with employees that have stayed with the company for decades. Complex and professional manufacturing, helps with uniformity, trailers built by the same workers for 10-20 and beyond years. Small town values with work ethic. Driving past the corn fields, out of the small town of Cresco, you see world class manufacturing that reminds me of Detroit and the big 3 auto makers computer based efficient plants. I've toured many truck plants with their robot welders and sophisticated assembly lines, Featherlite is the most impressive trailer factory I've toured. Smooth flowing professional production is the best way I can describe it.
Randy Lewis gave me the tour and history lesson of Featherlite from it's creation in Oklahoma to the move to Iowa and now Featherlite is a division of UTC. Being a valuable part of a larger corporation, adds stability in tough economic times. Featherlite's parent, Universal Trailer, is the largest trailer company in America and offers Featherlite advantages other companies don't have. While many trailer companies have gone out of business, Featherlite has increased its commitment to customers, offering them an exciting launch of new trailer models, trailer enhancements and a new generation of "lite-priced" trailers just in the last year. Featherlite is the oldest aluminum trailer manufacturer in the nation.
Trailer manufacturing starts at the bottom. Featherlite is the smoothest blend joining axle sub-frame and aluminum floor frame. This is engineering, every piece has a purpose that connects like fine woodwork. Most trailer companies add axle frames to the floor so they stand out separately. Featherlite axle frames have the same floor I-beams inside and out in a streamlined axle trolley with aluminum stringers in the axle trolley below. Featherlite started the trend in1985 with torsion axles, ahead of the crowd. Better ride than leaf springs and safer.
| | | | | |
| --- | --- | --- | --- | --- |
| | | | | |
| Acres of axles, ready for the thousands of trailers | Axle jig keeps them straight | Steel axle sub-frame starts on a trolley upside down just like truck manufacturing | One of the few trailer manufactures that blend the floor and axle sub-frame | Takes a big machine to flip over the floor. Better welds when you can move the work |
| | | | | |
| Floor frame on rails, you can see the floor ribs that channel urine out the rear | Rolling to the next rail | then the bulkhead squares up the front | It's fun to watch the trailers evolve down the line | Corrugated floor with grooves for holding mats in place and channeling urine |
| | | | | |
| --- | --- | --- | --- | --- |
| | | | | |
| Wall jigs keeps the uniformity going | Walls fit like a puzzle to the floor | Car trailer on the rail | Efficiently producing small  cargo trailers as well | Grommets protect the wire harness running thru the frame |
New Model 9405: Compact 1 or 2-horse Featherlite trailer with flip-up rear door and a ramp is just a good looking trailer. Futuristic look with windows up front where they do the most good, wrap around tail lights. A real looker that will get noticed on the road.
Watching small aluminum trailers being built as they go together is a piece of streamlined flowing art.
Unique Goosenecks, with Industry Exclusive Robot Welder
It's fun to watch, like a Star Wars movie. Lights flashing, sparks flying, a robot arm that spins all around the gooseneck frame. Welding the fitted metal in it's own jig platform, it's fast and again, the theme is efficiency. For robots to work, tight tolerances for proper fit are the norm with 1/100 of inch tolerance for robot to weld the gooseneck. An accurate metal saw fits the gooseneck pieces.
CNC, plasma cutting machines make holes with precession making easier to repair when parts fit, big difference when you change lights, having a nice smooth hole that fits as well as doors and windows.
| | | | | |
| --- | --- | --- | --- | --- |
| | | | | |
| Welding robot just like the big boys in Detroit | The steel frame is in a close tolerance jig | Welding sparks flying like a Terminator movie | Final product, identical gooseneck frames | and of course it fits the trailer like a glove |
| | | | | |
| Neck platform on it's way to the bulkhead | Neck gussets are engineered and welded right to blend in with walls | Big overhead cranes move the heavy stuff down the multiple assembly lanes | Framing extrusions | Gates and windows roll to assembly line |
Model 8415: 8 ft. wide combo trailer perfect for hauling livestock or horses. Shown with new brandywine color.Your trailer won't blend in with the common trailers at events.Featherlite new wave siding can be aluminum, painted or polished.
| | | | | |
| --- | --- | --- | --- | --- |
| | | | | |
| Gate posts, with CNC precision cut holes. Having everything fit the same makes future repairs easier for the trailer dealer | Heavy duty livestock tailgate, nice light cutout for you, won't cut your finger on when you change lights | Here is the corner LED lights install, such a slick look. Five hinges on this heavy duty livestock gate | Beefy side door so you don't ask "where's the beef" | Still on rails, several rows of trailers make their way through the massive plant |
| | | | | |
| Door and gate jigs keep it uniform | then doors come to the line, keeping it behind the yellow line | Parts are on lined up for the assembly line | Close up of how smooth CNC cutting is | Dividers ready between lines |
| | | | | |
| --- | --- | --- | --- | --- |
| | | | | |
| Bumper pull trailers on a rail staying level | Aluminum floor grooves together | Framing conventional trailer, yellow lines again | Stall divider latches | Nose frames waiting by the rail |
Left: Model 8117: New 2010 Featherlite livestock trailer with wood floor.Right: Among Featherlite's biggest innovations are the new "Step-Safe" rear gates, featured in their livestock trailers. Featherlite is offering this popular option for their rear gates in addition to the center gates. "Step-Safe" gates help prevent livestock slippage, convenient for farmers and ranchers too.  Rollup rear gate on Model 8127
Roof, You Know How Important It Is
| | | | | |
| --- | --- | --- | --- | --- |
| | | | | |
| The machine that attaches the roof skin to the cove extrusion | roof seam sealed with pierce and roll, same technique used by aircraft manufacturers | Roof is formed including lights | The roof ladies are fast, they swing completed roof over a row to the trailer to be fitted | On goes the top with ease several times a day |
| | | | | |
| The gooseneck machine lines up the nose and roof | It's skill sliding the wall skin under the roof | Roof drops into place | Goes together like a puzzle with reinforced rear gate corners sliding into the extruded roof cove | Nose sheets riveted |
| | | | | |
| --- | --- | --- | --- | --- |
| | | | | |
| Nicely fit walls and roof | Reinforced corners | Reinforced at the bulkhead neck | Double walled |  New wave siding, all the bling bling |
| | | | | |
| The bulkhead gusset is covered with wall sheet metal for a refined look | Featherlite makes some big horse trailers | Triple rack and pinion slides out go smooooth | Plenty of room in the managers | Insulated, ventilated and fans, ready for southern summers |
Reverse load, one of the many specialty trailers Featherlite produces. A comfortable configuration for your horse, allowing them to brace with their hip instead of shoulder on sudden stops. This allows more of the rear of the trailer to become a gigantic tack room.
Featherlite streamlined engineering for thousands of uniform trailers a year. Unlimited configurations and options.
Model 4926: Featherlite's trailers, including this car hauler, are available with up to 3 different colors. Featherlite's newest colors include green, orange, yellow and brandywine.
Featherlite dealers, (200 across the US and Canada) have taken delivery on almost all the trailers on the Featherlite corporate lot; dealer inventory in locations all over the U.S. and Canada now offers customers bigger and better selection in horse, car, livestock and recreational trailers.

Featherlite knows how to ship trailers across the country in a big way.
Variety of trailer types give Featherlite dealers more options that customers need. So many new options and features makes the slogan "Ahead of the Curve" fit well, which is the theme of having Featherlite trailers that fit you, your horses, your business and your hobbies. What I don't hear much about in the trailer business is parts and service. It's a big part of the auto business. When you have a dealer network the size of Featherlite, parts and service is important for healthy business and customer relations. Featherlite also has a fleet of delivery trucks and trolley doubles to keep their dealers supplied.
| | | | | |
| --- | --- | --- | --- | --- |
| | | | | |
| Featherlite has large selection of auto and cargo trailers | Trailers have their build list on them | Aluminum flatbeds of course | Bull hauler straight deck | Enclosed baby pig haulers |
| | | | | |
| Drop down people haulers, seen these at The All American Quarter Horse Congress | Special purpose trailers, probably top secret | Featherlite makes one of the premiere open car trailers | Rancher style, can't get better aerodynamic nose | An easier way to reach inside |
Featherlite Specialty Trailers, in a Class of Their Own. Mobile ER to NASCAR
From USDA mobile labs, mobile x-ray for port security, mobile medical and disaster support trailers to mobile stages for music and theater. Featherlite is well known in NASCAR racing circuit. Next time you are at public event, look at the big trailers and see the Feather logo.
| | | | | |
| --- | --- | --- | --- | --- |
| | | | | |
| Emergency Room on the go, miles of wiring | Now that's a real slide out | the slide out even has it's own door | Mobile stage | Race car trailer with car lift |
| | | | | |
| Massive car trailer, staircase to neck | Starts with heavy duty axle trolley bridge | This one has to be the elephant bus | Even a trailer to land helicopters | |
Model 1651: In addition to trailers, Featherlite makes truck beds for pickups redesigned radius-style pickup truck bed. The bed offers a "headache rack", stake pockets and a trap door to install a gooseneck or fifth wheel connection.
Featherlite Country Estate 53 ft. 4 horse trailer was a big splash at the All American Quarter Horse Congress last year.  Details.
Featherlite has Innovative Manufacturing Systems and Machines.
Featherlite has pioneered innovative new manufacturing techniques in the trailer industry. Not your typical plant, parts come to the assembly line, all tools have a specific place, welders are overhead. Several lines of trailers come through the plants side by side. Dedicated interiors building keeps the specialty trailers rolling out. Designers and engineers make the magic with art and science. This is reflected in the awesome graphics and refined look of Featherlite trailers. Look at the Medalist horse trailer to see trailer beauty. The current build is 40% horse trailers, 25% stock trailers, cargo, specialty and auto make up the balance.
| | | | | |
| --- | --- | --- | --- | --- |
| | | | | |
| Big trailer take big floor frames | Custom counters for the specialty trailers | Woodworking shop | Specialized metal works | Everything in it's place, I need to send my teenagers to work here |
| | | | | |
| Big sophisticated saws | Shaping metal | Sodium hydroxide acid wash and steam cleaners make the trailers shine when they leave | Featherlite is a green company, returning water with a lower ph level and acid | Million gallons of water a month flows through the plants, environmentally friendly and responsible |
Featherlite Announces Aggressive Product Launch Despite Tough Market
"At Featherlite, we think the proper response to an underperforming economy is to over-perform," Randy Lewis, Featherlite's national sales manager, said. "We wanted to outdo ourselves with both product innovation and customer benefit."
| | |
| --- | --- |
| European style horse trailer. One piece mangers, large horse opening and in-out ramps. | Model 8533: Featherlite's newest gooseneck horse trailer with 6'7" width and dressing room with 46" short wall |
| Model 9409: Featherlite's new bumper pull horse trailer is available in a 2 or 3-horse configuration and comes with Featherlite's new standard chrome glass windows exclusively on Featherlite's. | Rounding out Featherlite's star innovations is the new power lift package on the 3110 car trailer. This option tilts the trailer bed down to the ground, eliminating the need for ramps. |
| Medalist is in a class by it's self. This is the trailer that started the wrap around LED tail lights, chrome windows and tuck and roll stall pads. Bling, bling, makes pride of ownership. | Sierra "Lite" Living Quarters will be welcome to trailer buyers on a budget, too. This option is for horse trailer owners who want frugality without sacrificing all the frills. |
Ice fishing, Featherlite is aggressively targeting niche markets with their new releases. North American residents above the Mason-Dixon Line will love the "Freedom" trailer for ice fishermen. This comfortable trailer boasts sofa and swing-down beds, a kitchenette, bath and a flat screen TV. It also has fresh water and electricity inputs, and a hydraulic lift lets the trailer sit flush against the ice. Why get bored waiting for the fish to bite?  The Freedom serves double duty in the summertime as a toy hauler, perfect for ATVs, motorcycles or bicycles. It also makes a wonderful trailer to take on extended camping or hunting trips.
| | |
| --- | --- |
| Another trailer well-suited to outdoor activities is the 1609 "Mod Pod," especially with its new camper package. The "Mod Pod" transforms from trailer to camper in minutes and is tough enough to take off the beaten path. This is a trailer for cyclists, hikers and other explorers. |   Featherlite Model 4926 with optional living quarters is great for hauling all types of toys – ATVs, motorcycles, dune buggies and more! |
| | |
Featherlite is as close to auto manufacturing as you can get. It's a lesson in engineering, efficiency and practical design. Starting the aluminum trailer craze, Featherlite leading the way as we see more companies switch to aluminum. It's nice to see the vision become the trend. Efficient manufacturing, no waste, built more like trucks with strength, built to be light for easy pulling and less fuel.